Sydney Beaches
Water sports are very important for the Sydneysiders, and the very fine beaches round Sydney give plenty of opportunity for practicing them. Within the harbor area there are many sheltered beaches, and outside it, on the coast, surfers are catered to by more exposed beaches with high surf. However the danger from sharks cannot be emphasized too strongly. The surfing beaches on the Pacific are patrolled during the long summer season by volunteer lifeguards, who also run very popular lifesaving competitions. Swimmers should keep within the marked areas, which are designed to protect swimmers from surfers as well as from sharks.
Related Attractions
Bondi Beach
Bondi is undoubtedly Australia's best known beach, with terraces of pretty Victorian houses which give it the air of a fashionable resort. It is only 15 minutes from the city center by car, alternatively you can take the Bondi and Bay.
North Beaches
North of Sydney, the beaches of Collaroy and Palm Beach are much frequented, and the popular Pacific beach of Manly is served by a high-speed ferry from Circular Quay. At Koala Beach (opened in 1999) you can watch the comic antics of these marsupials.
South Beaches
South of Bondi, the popular bathing beaches of Tamarama,, Bronte, Coogee and Maroubra are also good for surfing. Botany Bay, with its sharks, is more suited to boating and sailing than to swimming.
Port Jackson Beaches
The bathing beaches in the Port Jackson area (Nielsen Park, Balmoral, Camp Cove) are very popular with the locals and are considered safe, but the water is badly polluted, since much of the city's sewage is discharged into the sea, inadequately treated, near the beaches.
Map of Sydney Attractions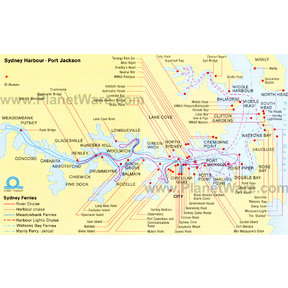 Sydney Map