Gold Coast Attractions
It is claimed that nowhere else in Australia are there so many luxury hotels, resort complexes, motels, apartments, guesthouses and youth hostels, such a range of entertainments and sports facilities, such opportunities for enjoying yourself or for shopping, as on the Gold Coast.
Surfers Paradise, Australia
Surfers Paradise - 'Surfers' for short - is Australia's best known seaside holiday center. The place takes its name from the Surfers Paradise Hotel which was established here in 1923. After the Second World War it enjoyed a great boom, based on its three alliterative assets, 'sun, surf and sand'. This led to tremendous building activity, and the seafront, with its beautiful beach of fine sand, is now lined with high-rise hotels and apartment blocks. Surfers Paradise attracts its visitors with an immense range of entertainments, sporting and leisure activities and its active night life.To the south of Surfers Paradise is Broadbeach. 18km north at Oxenford, is Movie World, where old film sets have been recreated by Warner Bros.
Coolangatta, Australia
Coolangatta, which was settled at an early stage, has plantations of tropical fruit ('Avocado Land') and has all the tourist facilities (restaurants, hotels in all price categories, shops) typical of this commercialized holiday coast. Here too is the Gold Coast's airport.Coolangatta is separated from Tweed Heads in New South Wales, which is similarly equipped to cater for holidaymakers, by the estuary of the Tweed River. Its development into a holiday resort began in 1903, when the railroad line from Nerang was built, though there was a guesthouse on Marine Parade as early as 1885.Cook gave the name Point Danger to the cape, falling sheer down to the sea, on the north side of the Tweed estuary, from which there are magnificent views of the coast and the ocean. On the boundary between Queensland and New South Wales is a monument to Cook which is also a lighthouse, erected in 1970 on the 200th anniversary of Cook's passage this way.
Springbrook National Park
2159ha.Springbrook National Park is within easy reach of Brisbane for a day trip from the Gold Coast. It was created by the amalgamation of the smaller reserves of Gwongorella, Warrie, Mount Cougal and Mount Wunburra. The park is dominated by the imposing rock faces (up to 900m high) and gorges of the McPherson Range. There are expanses of rain forest and many orchids, and a rich and varied bird life.From walking trails in the park there are fine views of the hills and the coasts.
Natural Bridge (Arch) National Park
200ha.The central feature of this national park is a waterfall which plunges down into a basalt cave from which the water flows under a natural basalt arch. There are attractive trails from the picnic area to the river through largely unspoiled rain forest and to a viewpoint from which Mount Warning, a lava plug which is a remnant of a large shield volcano, can be seen, affording fascinating views of the scenic beauties of this small national park.
Cleveland, Australia
With its excellent situation on the coast, Cleveland (pop. 6580) had a fair prospect of becoming the principal port and ultimately capital of the colony; but unfortunately when the governor of the day, George Gipps, paid an official visit to the town it was low tide, and the governor was so put off by the mud flats over which he had to trudge that the choice fell on Brisbane. And so Cleveland has remained a quiet small town to which people come for a restful holiday.There remain a number of historic buildings from the time when Cleveland had great plans for the future, including the Grand View Hotel (1849), the old courthouse (1853), now a restaurant, and Cleveland Lighthouse (1847-64).
Surroundings
There are a number of handsome old mansions around Cleveland, notably Whepstead Manor at Wellington Point (1874), now a restaurant, and Ormiston House (1862).
Nerang, Australia
Nerang (pop. 10,000) is a little town on the Nerang River. Its popularity as a holiday resort has led to a considerable increase in population. Apart from the Gold Coast with all its attractions for visitors and holidaymakers the main area of tourist interest is the beautiful Numinbah valley. Other attractions, further afield, are Springbrook National Park with its waterfalls and viewpoints and Natural Arch National Park.
Currumbin, Australia
Currumbin is noted mainly for the Currumbin Sanctuary, a wildlife reserve owned by the National Trust. It is the home of many thousand brightly colored rainbow lorikeets, which will eat from visitors' hands and even perch on their heads. In and around the town there are a wide range of entertainments and opportunities for wildlife viewing, as well as hotels, motels and caravan/camping parks.
Southport, Australia
Southport, the first settlement on the Gold Coast, was founded in 1875. It is now the business and commercial center of this busy holiday area, with every conceivable facility for leisure activities, entertainment, sport and shopping. Its situation at the outflow of the Nerang River into the Broadwater, sheltered by the offshore island of South Stradbroke, makes it ideal for every kind of water sport.
Fisherman's Wharf
Fisherman's Wharf is a shopping and entertainment center in the style of a fishing village, with restaurants and a large boating harbor. From here boats sail to South Stradbroke Island, to Sanctuary Cove with its resort complexes and to Dreamworld, a theme park at Coomera, with a gold rush town, Koala sanctuary and fun rides.
Seaworld
Sea World is the largest commercial marine park in Australia, with numerous shows (performing dolphins and sea lions, a water-ski ballet) and sideshows, and a monorail offering fine views of the park.
Beaudesert, Australia
Beaudesert (pop. 5030) near the border with New South Wales, is an agricultural center (beef cattle, dairy farming, arable farming).Features of the town include; St Mary's Church (timber-built), Royal Hotel, old post office (19th C), and an interesting Pioneer Museum.
Surroundings
Beaudesert is a good base for excursions to the Gold Coast by way of Tamborine and to Lamington National Park.
Lamington National Park
20,000ha.Lamington National Park (established 1915), with excellent visitor facilities, is one of the state's most popular national parks. It was named after Lord Lamington, governor of Queensland.The park lies in hilly country (the Border Ranges) in the extreme southeast of Queensland, with a plateau (900-1200m) extending along the McPherson Range, which falls steeply down on the south side in cliffs and gorges. The hills are remnants of the ancient Mount Warning shield volcano.The park contains over 500 waterfalls, tropical and subtropical rain forest and beech forests in the higher regions, with a very varied fauna (more than 190 species of birds).There is an excellent network of walking trails in the park, with a total length of over 150km. The best views are to be had from trails in the south of the park.







Map of Gold Coast Attractions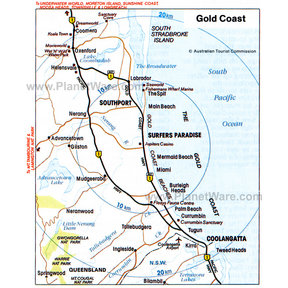 Map - Gold Coast