Darling Harbour, Sydney
South-west of the Rocks is Darling Harbour, best seen from the water in all its new splendor. From Chinatown, or from the Town Hall or Central Station, it is only a short walk to the varied attractions of this recently restored and rehabilitated area of 54 ha, formerly occupied by dilapidated docks and railway lines. These have now given place to a huge waterfront leisure and tourist park, with a great variety of entertainments and amusements, exhibitions and museums, reached and circled by a monorail system (TNT Harbour Link Monorail; main station on Haymarket, near the Entertainment Centre) running at a height of 5.5 m above the city streets and often almost grazing historic old buildings.Powerhouse Museum, the Harbourside Festival Marketplace, Tumbalong Park and the magnificent Sydney Aquarium are all features of Darling Harbour.
Related Attractions
Sydney Aquarium
Sydney Aquarium gives visitors the impression that they are under the sea.Exhibits include dangerous creatures such as sharks and stonefish, as well as the various habitats in the surrounding oceans and rivers.
Australian National Maritime Museum
A palm-fringed promenade runs round Darling Harbour from the aquarium to the Australian National Maritime Museum covers the eventful history of Australian seafaring with displays of ships and articles on those whose livelihood depends on the sea; also on explorers, convicts and immigrants.
Harbourside Shopping Centre
Right on the waterfront is Harbourside Shopping Centre (1996), which from the start was generally agreed to be the city's best place to shop. It contains over 200 shops selling the latest creations of international fashion houses, expensive jewelry and duty-free goods.
Chinese Garden
The traditional-style Chinese Garden was designed by gardeners from Guangzhoug, the Chinese province which is twinned with New South Wales.
IMAX Theatre
The IMAX Theatre has a screen eight storeys high on which disaster, action, and special 3D movies are shown to maximum effect.
Sydney Fish Market
Stretching along Gipps Street is Australia's largest fish market, which is particularly busy early in the morning. There are several good fish restaurants in the nearby Waterfront Shopping Arcade.Sydney Fish Market is the largest market of its kind in the Southern Hemisphere and the world's second largest seafood market, based on variety, outside of Japan.
Sydney Convention and Exhibition Centre
Powerhouse Museum
The Powerhouse Museum was opened in 1988 after the reconstruction of an old power station and tram depot. It is one of Australia's largest museums (35,000 sq m), with over 30 different exhibitions on art, science and technology.
Sydney Entertainment Centre
The huge Sydney Entertainment Centre on Haymarket was built in 1982, before the Darling Harbour project was planned. With seating for an audience of 12,000, it is used for rock concerts, sporting events, musicals and circus shows.
Pyrmont Bridge
At the end of Market Street is Pyrmont Bridge (1902), an old swing bridge which provides access to the monorail.
More Darling Harbour Pictures
Map of Sydney Attractions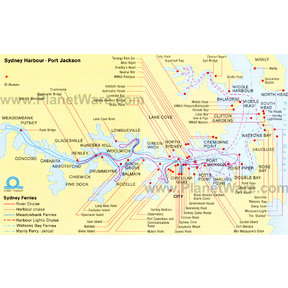 Sydney Map