Sydney Tourist Attractions
Sydney (pop. 3.4 million), the oldest, largest and handsomest of Australian cities, lies amid a unique intermingling of land and water on Jackson Bay, its natural harbor, on the southeast coast of the Australian continent.
ENLARGE MAP
PRINT MAP
EMBED < >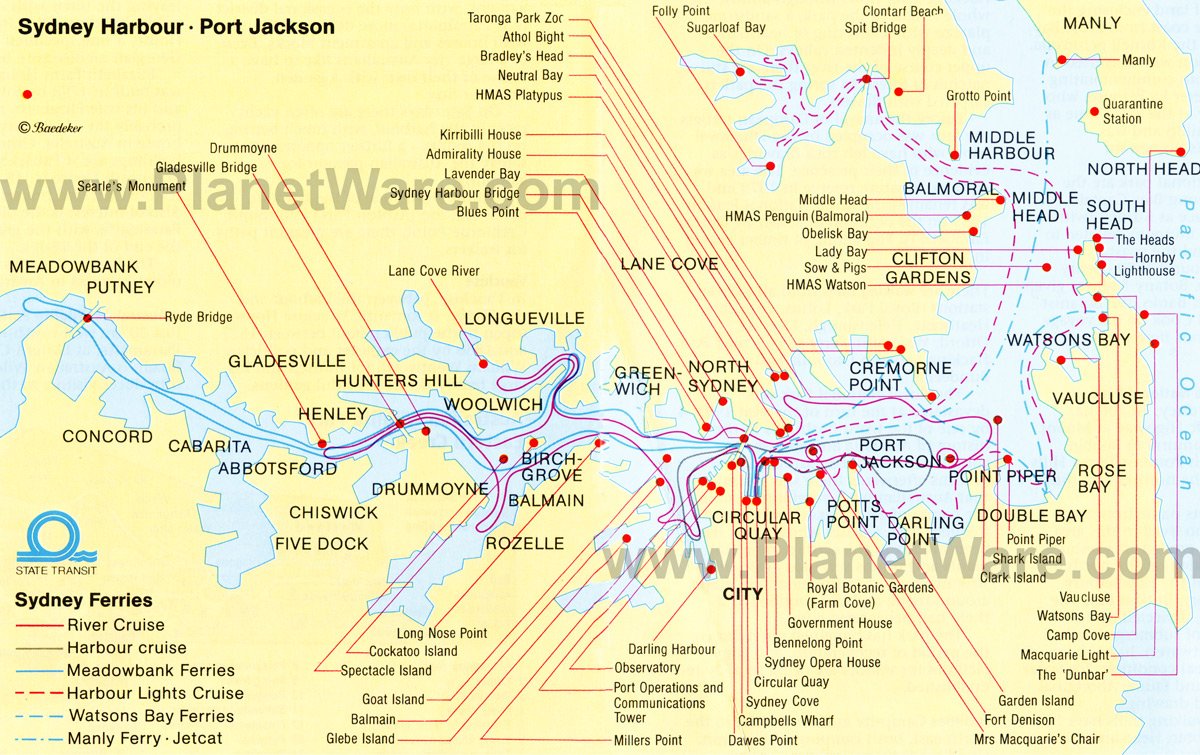 Sydney Map - Attractions
East Sydney
In East Sydney, beyond a chain of beautiful parks, are the city's oldest and most interesting suburbs: Woolloomooloo, Kings Cross and Paddington. Farther east and to the south are numerous other suburbs, interspersed with parks, gardens and lakes, extending to the most favored suburbs directly on the Pacific and to Botany Bay, with the airport. Visitors arriving in Sydney by air - by far the majority - are landing at almost the same place as Captain Cook over two centuries ago.
North Sydney, Australia
North Sydney with its numerous suburbs and satellite towns and its beautiful beaches on the Pacific, separated from the city center by the harbor, has developed independently in the last few decades into an important administrative and commercial center. The eight-lane Harbour Bridge can no longer cope with the heavy volume of traffic at certain times and in 1992, after long planning, it was supplemented by a tunnel under the harbor.
Taronga Zoo
From Circular Quay there are boats to Taronga Park Zoo, beautifully situated on a large tongue of land on the north side of the harbor.The animals at the Zoo are from each continent including Africa and Asia.
Address:
Bradleys Head Road, Box 20, Mosman, NSW 2088, Australia
Sydney Explorer Bus
The best introduction to the sights of Sydney is a trip on a red Sydney Explorer Bus, which travels on a circular route with 26 stops near the major sights in the city center and the harbor area. The buses run at 15-minute intervals from 9.30am-9pm. With a day ticket passengers can get off and on the bus as often as they please.
Sydney Sightseeing Flights
The sights of Sydney can be seen from the air. Sightseeing flights in light aircraft are run by Red Baron Scenic Flights from Bankstown Aerodrome, southwest of the city. There are also helicopter flights over the harbor, the beaches and the city center.
Address:
Georges Hall, Box 76, Sydney, NSW 2198, Australia