Queen's Domain, Hobart
Queen's Domain is a large public open space which was part of Macquarie's 1811 plan, with a variety of sports facilities (tennis center, Olympic pool, cricket ground, athletic center), an adventure playground, the Botanical Gardens and Government House.
Related Attractions
Government House
Government House is one of the finest buildings of the kind in Australia. Built of sandstone in Tudor style, with 70 rooms and numerous chimneys, it was completed in 1858. It is not open to the public.
Royal Tasmanian Botanical Gardens
The Royal Tasmanian Botanical Gardens (13.5ha) were originally laid out in 1818. Among their principal attractions are the tropical house, the fern house, the rose garden, a water lily pool, a rock garden with native Australian plants, a herb garden, a Japanese garden and a flower clock. There is also an observatory in the grounds.
Antipodean Voyage Fountain
The Antipodean Voyage Fountain or French Memorial Fountain (1972) was carved by the Tasmanian sculptor Stephen Walker from the weather-resistant wood of the Huon pine. It commemorates the French expedition which surveyed Tasmanian waters in the 1770s.
Arthur Wall
The Arthur Wall was built in 1829, with a heating system for tropical plants.
Tasman Bridge
One of Hobart's landmarks is the Tasman Bridge (1964), which spans the Derwent River in a bold arch, borne on numerous piers, linking Queen's Domain with the suburb of Montagu. Eleven years after its construction a cargo vessel rammed one of the piers, threatening the bridge with collapse and a replacement bridge was built a few kilometers north. The Tasman Bridge is now once again operating normally.
Map of Hobart Attractions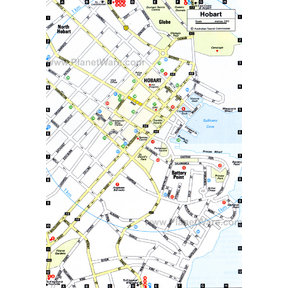 Hobart Map
More Hobart Attractions
Popular Destinations Nearby