Heligoland Tourist Attractions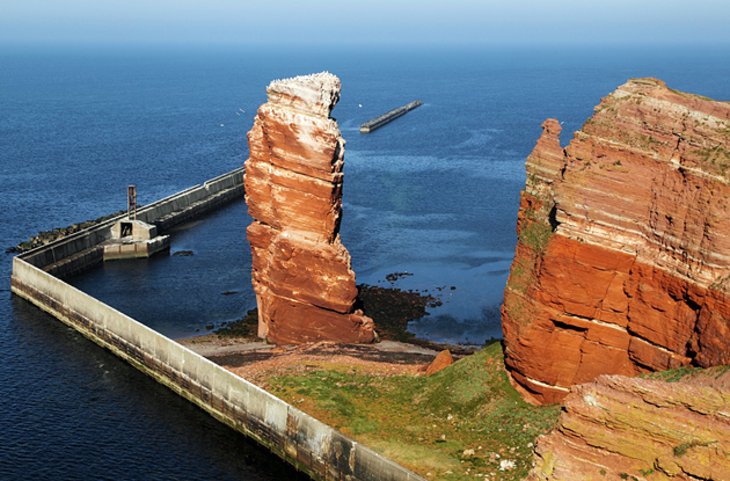 Heligoland
Situation and characteristicsThe island of Heligoland (Helgoland in German) lies in the Deutsche Bucht (Heligoland Bay) some 70km/45mi from the Elbe estuary and 50km/30mi west of the Eiderstedt peninsula.
Unterland
Unterland, on the southeast side of Heligoland, has been completely redeveloped since 1952, with the Kurhaus, the Town Hall (1961) and numerous hotels and guesthouses. To the north are the Biological Research Station, with a sea water aquarium, and the spa installations, with a heated open-air sea water swimming pool.
Mittelland
Southwest of Unterland on Heligoland is the rather higher Mittelland, formed when the fortifications were blown up in 1947. To the south is the artificially constructed harbor (trips round the island from the landing-stage).
Oberland
Oberland, linked with Unterland on Heligoland by a lift and a flight of 181 steps, is a triangle of rock some 1,500 m/1,650yd long and up to 500 m/550yd across, largely flat and grass-covered, rising to a height of 58 m/190ft above the sea. On the east side lies the village (rebuilt), with St Nicholas's Church (1959; tower 33 m/108ft high) and the bird-watching station. The former anti-aircraft tower to the west of the village is now a lighthouse. At the northern tip of the island are an isolated stack known as the Hengst (Stallion) or "Lange Anna" ("Big Anna") and the Lummenfelsen (Guillemots' Rock), the highest point on the island.There is an attractive walk round the island on the cliff-top path.
Düne
About 1.5km/1mi east of Unterland on Heligoland, separated from it by an arm of the sea some 10 m/35ft deep (ferry), is the little island of Düne. There is good bathing on the beaches on the north and south sides of the island (Nordstrand, Südstrand), with a camping site and an area for nude bathing (FKK). At the east end is the airstrip used by the local air service.
Popular Pages