Berlin Zoo
Tierpark
The extensive Tierpark in Berlin was originally the park of Friedrichsfelde Palace, laid out by Benjamin Raule for the Great Elector at the end of the 17th C. The Palace itself, dating from the 18th C, was restored between 1966-81 and is now used for concerts and other cultural purposes. It also houses the exhibition "Life of the Upper Classes in the 18th/19th C."Opened in July, 1955 (buildings and layout designed by Heinrich Dathe), the Tierpark has an area of 160 hectares/395 acres, 22.7km/14mi of paths and 2.6 hectares/6.5 acres of lakes and ponds.
Important Information:
Address:
Am Tierpark 125, D-10307 Berlin, Germany
Opening hours:
Jan 1 to Mar 20:
9am-4pm
Mar 21 to Sep 14:
9am-6pm
Sep 15 to Oct 25:
9am-5pm
Oct 26 to Dec 31:
9am-4pm
Always opened on:
Christmas Eve - Christian (Dec 24)
Entrance fee in EUR:
Family €70.00, Adult €11.00, Students €8.00, Child 15 & under €5.50, Child 3 & under FREE
It has a total of 5,000 animals in some 1,000 species. Compared with the Zoological Gardens in West Berlin, the Tierpark is much more spacious and has a less restricted form of layout. In some parts it is still waiting to be developed. Worth a visit is the polar-bear house with its large swimming pool and artificial ice floes. The new crocodile and hummingbird house was opened in 1987, and the elephant house is even more recent. Unique in Europe is a family of takins (horned ruminants) from Burma. The gardens are beautifully planted with rare species of plants, including 530 different orchids.
Berlin Zoo Highlight
Alfred Brehm Animal House
A particular feature of interest is the Alfred-Brehm-Haus in the south of the Berlin Tierpark. It is a spacious glass hall where nearly a hundred species of birds can fly freely amid tropical vegetation, and an unusually large area for beasts of prey with areas where they can roam at will. A breed of Indian lions forms the showpiece of the collection.
Map - Berlin Zoo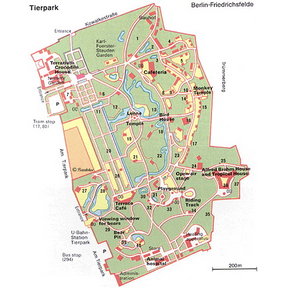 Map - Berlin - Tierpark
Berlin Zoo Pictures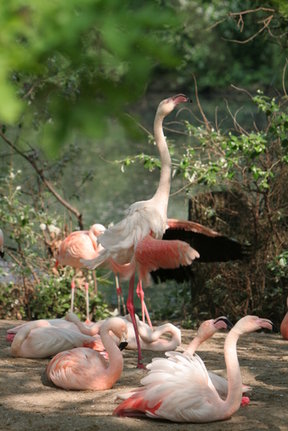 Map of Berlin Attractions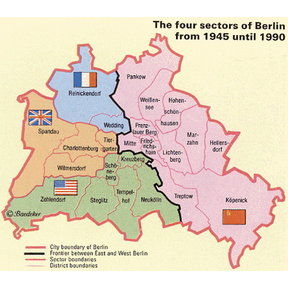 Berlin Map