Kangaroo Island Attractions
The first European settlers arrived on the island in 1838, but lack of water, food and building timber led many of them to leave again and settle round Adelaide instead.Kangaroo Island has, apart from kangaroos, many tourist attractions - varied coastal scenery with bizarre rock formations, stalactitic caves and beautiful beaches. It has a rich variety of fauna (including a colony of sea lions in Seal Bay) and a total of 16 nature reserves, including the interesting Flinders Chase National Park at the west end of the island, Cape Gantheaume on the southeast coast and Kelly Hill Conservation Park on the southwest coast. The rugged cliffs on the south coast have been eaten away by the fierce surf. On Cape Borda, at the northwestern tip of the island, is an old lighthouse.
Remarkable Rocks
Flinders Chase National Park
590 sq.kmThe whole western end of Kangaroo Island is occupied by Flinders Chase National Park. The park has a notably rich flora and fauna (particularly birds).
Kingscote, Australia
The main center and principal port of Kangaroo Island is Kingscote (pop. 1500), where European settlers established their first base before moving on to the southern mainland of Australia. The National Trust Museum illustrates the history of the island.
American River, Australia
The fishing village and holiday resort of American River lies near the isthmus leading to the Dudley Peninsula. It takes its name from the American seamen who built a boat here in 1803-4.






Map of Kangaroo Island Attractions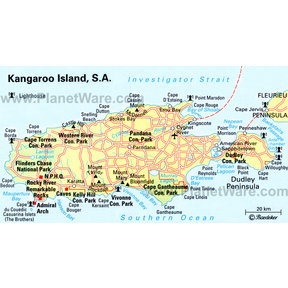 Map - Kangaroo Island