Best Time to Visit Vietnam
The hustle and bustle of the cities, the white beaches, and the rice paddies in the countryside-Vietnam is a traveler's dream. No matter which corner of this country you're hoping to explore, picking the right time to visit can make or break your trip.
The best time to visit most of Vietnam is during the dry season, which lasts from December to February. These are also the cooler months, which in the north of the country can get quite chilly at night.
Most of Vietnam's climate is considered tropical and is characterized by strong monsoon seasons, very high humidity, and lots of rain (often accompanied by dangerous winds).
During the hot season, Vietnam's high humidity makes the country feel more uncomfortable than other Southeast Asian destinations. In the north of the country, and especially in the mountain areas, the weather is more temperate, with a hot and a cold period.
From tropical storms to pleasant sunny days to even snow, find out the best months to travel around, which ones to avoid, and how the seasons differ throughout the country.
Best Time of Year to Visit Vietnam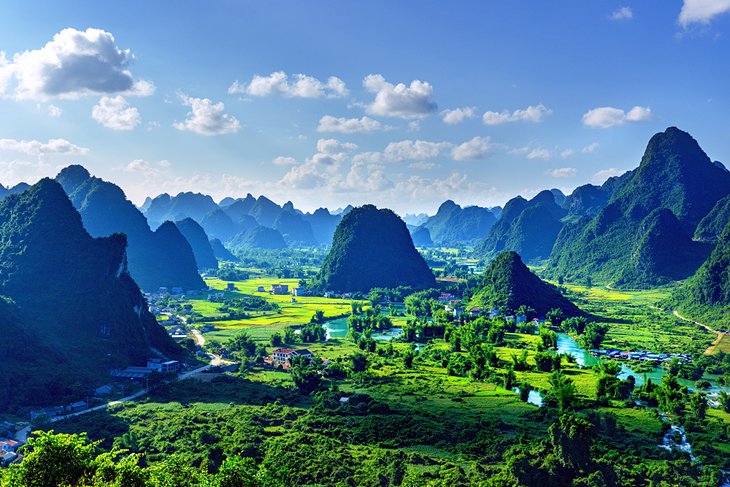 The months between December and February are the driest in most of Vietnam, a time when you don't have to worry about the cities flooding, countryside roads becoming impassable, and monsoon rains affecting your travel plans. Depending on where you're heading, though, those months can also feel cold. This is especially true in the mountains.
For city travel, this is a great time to visit, as the humidity is lower, and the temperatures are comfortable for long days out exploring. For countryside exploring, these months also offer you better weather, less mud, and lower humidity for jungle trekking.
If you're after lower prices, you'll have to move your travel plans to the rainy season, where you should be able to find amazing deals on flights and accommodations — and, if you arrive early in the season, not as much rain as you might expect in most of the country.
Best Season to Visit Vietnam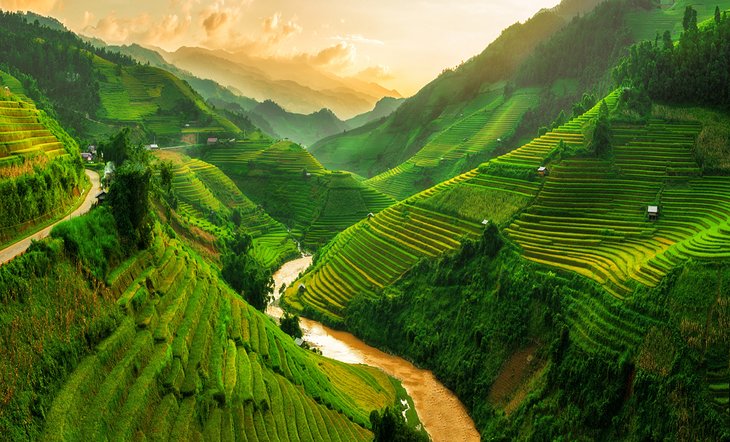 Vietnam is unique in Southeast Asia because it experiences true winter in the northern regions. Capital city Hanoi, the Sapa mountains, and parts of Halong Bay have two distinct seasons: summer (May to October) and winter (November to April).
Winters see average temperatures just under 20 degrees Celsius, although it can often be warmer during the day. In the far north, and especially in mountain towns, temperatures can get into the single digits. Hoang Lien Son Mountain and the Bat Xat Commun in the Sapa area can sometimes see snow in winter.
The winter season in places like Hanoi feels like a mild spring, and it's a great time to visit, with smaller crowds around. During the summer, these areas can reach temperatures in the mid-30s Celsius, with high humidity and occasionally heavy rains.
The one exception to the rule is Halong Bay, located less than three hours from Hanoi in the north of the country. Known for its junk boat cruises, kayaking, and hidden beaches, Halong Bay might be a bit too cold to truly enjoy during Vietnam's winter months. Instead, plan your trip between October to December, when it's just hot enough to enjoy the weather with a lot less rain.
The rest of Vietnam experiences seasons as dry and wet. Rainy season in Vietnam means monsoon rains and typhoons in coastal areas. It rains heavily and regularly between May and November, and many areas get flooded or experience very strong winds that sometimes knock off electricity or internet connections, even in the city center.
Dry season is the best time to visit Central and Southern Vietnam, including towns like Hoi An, Danang, Ho Chi Minh City, and anything around the Mekong Delta. Temperatures in these areas stay around 25 to 35 degrees Celsius year-round, but the dry season brings sunny days and little rain, except for short afternoon showers.
Best Month to Visit Vietnam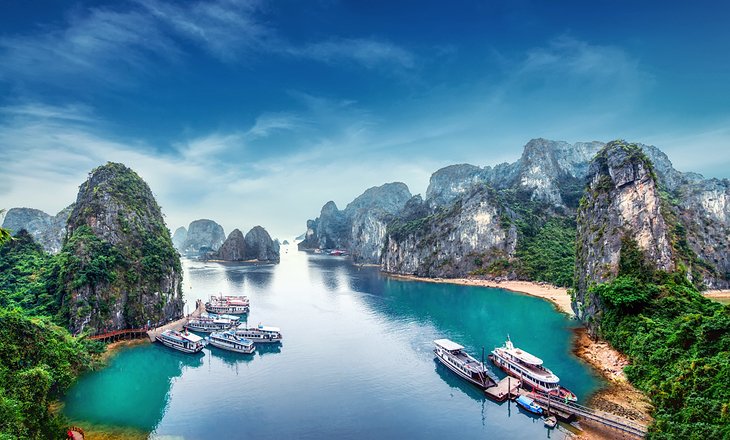 If you're heading to Central or South Vietnam, February is a great month to visit. Between December and February, the skies are sunny, it only rains about two days in the entire month, the humidity is relatively low (by Vietnam standards), and the water temperature remains around 27 to 28 degrees Celsius-perfect for swimming and water sports.
The rainy season doesn't start until May, so March and April are also relatively good months, though the number of rainy days doubles, and the average temperatures go up from an even 30 degrees in February to about 34 degrees Celsius by the time May rolls around.
Tet (the Lunar New Year) is Vietnam's biggest festival, and it falls either in January or February every year-hotels and flights are more expensive around Tet, but the country is also colorful and full of festivities during this time, so it's a great time to visit.
December is the driest month in Northern Vietnam, with just three days of rain and temperatures in the very comfortable 22 degrees Celsius range. Winter nights can be chilly, but unless you're going to the mountains, that usually just means having to wear a light jacket.
Water temperature is cooler, so if you're heading to Halong Bay, this might not be a great time for swimming or kayaking. Otherwise, this is a great time to snag travel deals, visit your favorite destinations without bumping into people, and just in general enjoy a more relaxed time.
Best Time to Visit Hanoi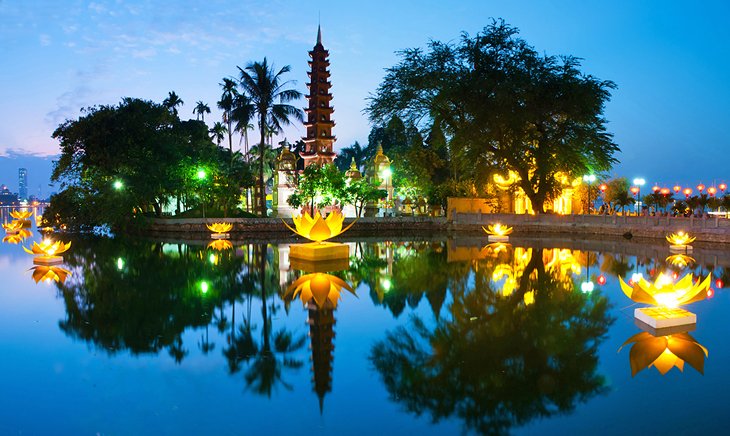 Hanoi has a humid, tropical monsoon climate clearly divided into a hot and cold season. While temperatures during the "cold" season rarely go under 15 degrees Celsius in the city, it can feel chilly at night, especially when it's windy. During the day, the months between November and February see temperatures in the low to mid-20s, dry weather, and lots of sun. This is a great time to walk the narrow alleyways of Hanoi, explore the markets, and visit temples.
If you'd rather have warmer temperatures during your trip, the months of April and October offer average temperatures in the mid-20s and plenty of blue skies. Hanoi sees heavy rains between June and September, so by the time October rolls around, the city is drying up and experiencing more comfortable temperatures.
In April, the rains and the scorching hot temperatures haven't arrived yet, so it's a nice period to get lots of sun without the extreme humidity. Keep in mind that these two months are very popular with travelers, so you'll see bigger crowds and higher prices.
Best Time to Visit Ho Chi Minh City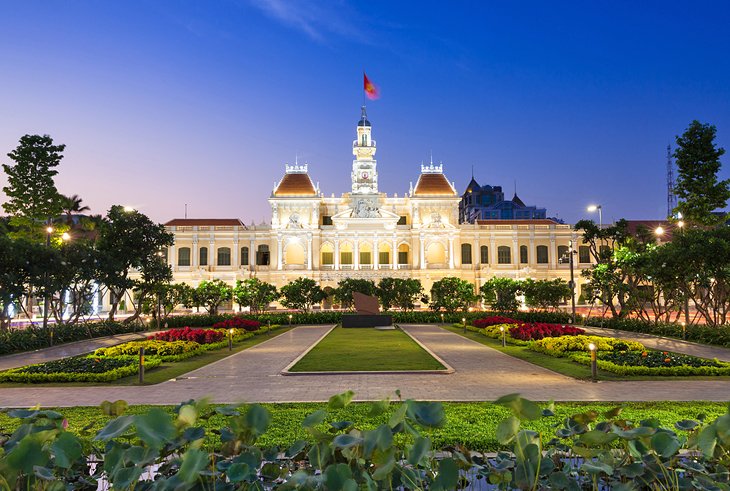 Located in the south of the country, Ho Chi Minh (or Saigon) doesn't have a cold season, and temperatures remain steady in the 30s all year long. Instead, Saigon experiences a dry and a wet season, with tropical storms causing heavy rains, very high humidity, and often flooding between May and September.
This is a good time to visit if you're on a budget, as accommodation prices are considerably lower, but be ready to walk in the rain a lot or spend time indoors on a daily basis as the rains fall over the city. August and September are the rainiest months, so skipping those times at least guarantees some clear skies in between rain showers.
High season runs from December to April-it's dry with plenty of sunny skies, and in December you might experience a few cool nights where temperatures can fall to just under 20 degrees Celsius. After that, however, temperatures start to rise and by March, they sometimes get into the 40s.
Because the humidity is slightly lower (around 70 percent rather than high 80s), it will be slightly more bearable, but March and April are usually not the best months to visit if you plan on spending a lot of time outdoors.
Best Time to Visit Danang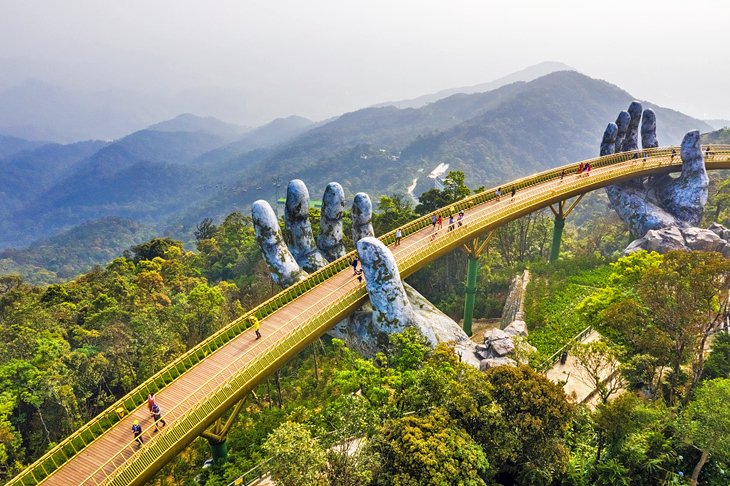 A former French colonial port, Danang is famous for its soft sandy beaches and a beautiful coastline of clear blue waters. Danang is also very close to the ancient town of Hoi An and the Imperial City of Hue-three major destinations in Central Vietnam for anybody interested in a mix of tropical paradise and ancient history.
Most tourists arriving in Danang want to experience some beach time, including a stop at the luxurious five-kilometer-long Non Nuoc Beach, and for that, the period between February and May is best. April can see some rain, and by June, the temperatures are going up fast — by the time August rolls around, it is scorching hot with temperatures in the mid-30s.
But February and March are just perfect and your best bet for sunny beach time and bearable temperatures in the mid to high 20s Celsius. This is a very popular tourist season for both locals and foreigners, so be prepared for higher prices and busier beaches.
While the rainy season is often an okay time to visit other areas of Vietnam, Danang is not a good monsoon-season destination. Strong winds and dangerous tropical storms have been known to hit the coastline in September and October and cause massive flooding. The rain is constant and heavy, and the roads slippery and dangerous.
The months between January and March are a better compromise if you're arriving during the rainy season. Flooding is rare at this time, and the rain usually comes in short bursts, almost always in the afternoons.
Best Time to Visit Vietnam Caves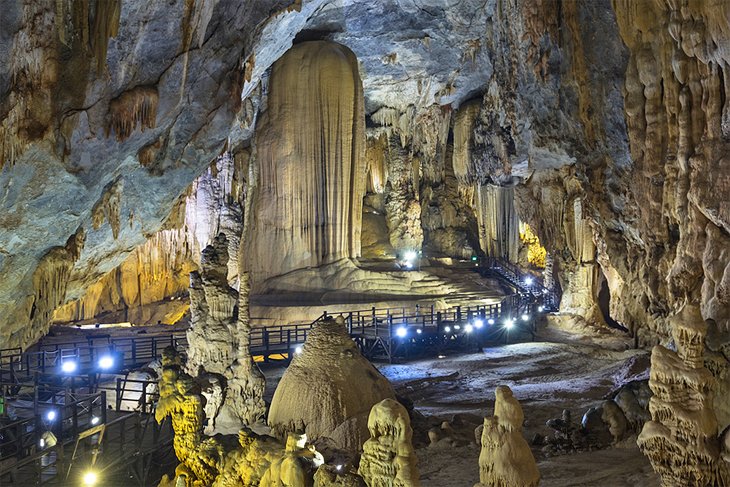 Vietnam is home to many limestone caves, including vast networks of caves with their own underground rivers, trees, and vegetation, and some of the world's tallest stalagmites. Phong Nha-Ke Bang National Park is Vietnam's main caving destination with over 300 caves and grottoes, including the world's largest natural cave, Hang Son Ðoòng.
Phong Nha-Ke Bang National Park is located in north-central Vietnam and experiences a cold and hot season. During the cold season, temperatures average 18 degrees Celsius but can get into the single digits. This is not the best time to visit the caves, as the temperature inside is even lower.
Although the park is open year-round, this area of the country sees heavy rains between July and December. Not only is this inconvenient during the long, slippery trek required to reach the cave, but the rain can also cause flooding and dangerous conditions inside and near the entrance of the cave.
The months between February and April are ideal for a visit — it's dry and not too hot, with temperatures in the mid-20s, so the long jungle trek needed to reach the cave will feel bearable. Although the rain doesn't arrive until July, May and June are very hot and humid months, with temperatures in the mid-30s and much higher humidity.
Best Time to Visit Vietnam and Cambodia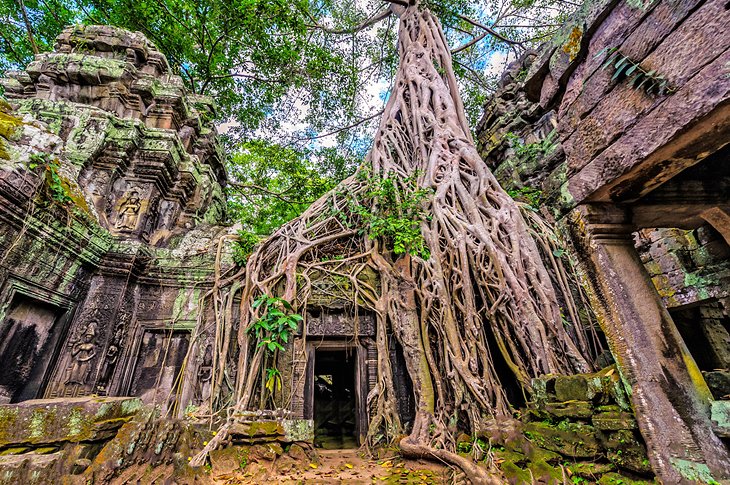 The climate in Southern Vietnam and Cambodia are very similar, so combining a trip to these regions into one trip shouldn't be too difficult. Cambodia has a shorter monsoon season, which runs from June to October, while Southern Vietnam sees rains starting in May and lasting until November.
March and April are good for a visit, as the rainy season hasn't started yet in either country-although this is considered the high season in both countries, crowds are starting to thin out, and prices are slowly coming down, so you should be able to land some good deals in these months. Expect temperatures in the 30s; lots of sunshine; and calm, clear waters if you're heading to the coast in either Cambodia or Vietnam.
If lower prices are important, you might need to move your trip a little later and risk running into some rain. The heaviest rains in both countries fall later in the wet season, so traveling in May/June usually guarantees you'll skip the worst storms and at most have to deal with afternoon or overnight showers.
The wet season is hot and humid, with temperatures that often reach into the 40s, but it's also a very green and lush season and a quieter time to visit without so many people around. Smaller crowds translate to better pictures, especially at Angkor Wat and Halong Bay, as well as lower prices on both flights and accommodations.
More Related Articles on PlanetWare.com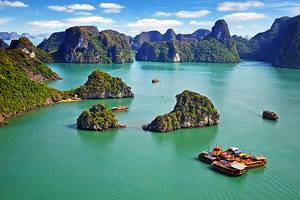 Getting Ready: If you're in the early stages of planning your trip to Vietnam, take a look at our article on the Best Places to Visit in Vietnam for some ideas on what to add to your itinerary. For sun and sand ideas, see our guide to the Best Beaches in Vietnam.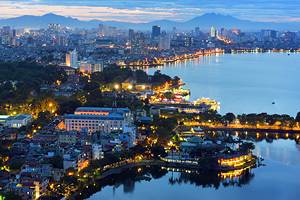 Urban Escapes: Whether you're heading to the capital or just stopping by quickly on your way to sandy beaches, Hanoi has much to offer, as you'll see in our Top-Rated Tourist Attractions in Hanoi article. The same is true of loud, chaotic, and fascinating Saigon-take a look at what there is to see and do there in our piece on the Top Tourist Attractions in Ho Chi Minh City & Easy Day Trips.