Where to Stay in Lucerne: Best Areas & Hotels
Excellent hotels in all categories for families, groups, couples, or singles are spread around both sides of the Reuss River as it empties into Lake Lucerne. The best place for travelers to stay is in or near the car-free, cobblestoned Old Town (Altstadt). It is a diminutive section of the north side of this tiny town, connected to the southern area (city center) by a series of bridges, including the iconic Chapel Bridge, a 14th-century, wooden pedestrian bridge, and the oldest covered bridge in Europe. Because the city is so compact, even rooms in the city center are an easy walk to Old Town sightseeing, shopping, and curiosities.
Where to Stay in Lucerne for Luxury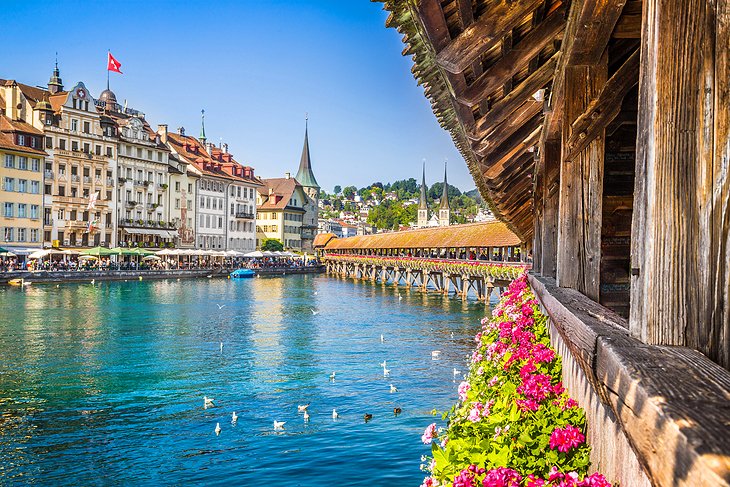 Hotel Schweizerhof Luzern is where Mark Twain, Leo Tolstoy, and Richard Wagner have stayed, and the same family operates this distinguished luxury address five generations later.
Boasting possibly the best city view of Lake Lucerne, the Alps, and Old Town, this magnificent hotel takes its five-star service ethic seriously, spoiling guests with a level of comfort, nourishment, and hospitality difficult to surpass.
Renaissance Lucerne Hotel beckons distinguished travelers with a city center location only three minutes' walk from the station. Housed in the former City Palais, this contemporary retrofit stuns the senses with sharp lines, exquisite colors, and championship service standards. The on-site gym and workout room compliment the availability of babysitting, room service, and a talented concierge.
Radisson Blu Hotel, Lucerne offers upscale guests proximity to the yacht club at the edge of the city center. Fashionably hip architecture radiates a rainbow of colors, and the spacious rooms, glimmering with light reflected from Lake Lucerne, invite views over the distant Alps, or relaxing in the finery of designer furnishings, art details, and feng shui.
Featuring Neo-Renaissance and new Baroque architecture throughout, The Grand Hotel National is another top luxury choice. The rooms and suites at this historic hotel, which dates back to the late 1800s, have an old-world, elegant vibe and cater to couples and families alike. Amenities at this 5-star hotel include a restaurant, indoor swimming pool (rare for Lucerne), a spa, and a fitness room. The property is also dog friendly.
Where to Stay in Lucerne: Mid-Range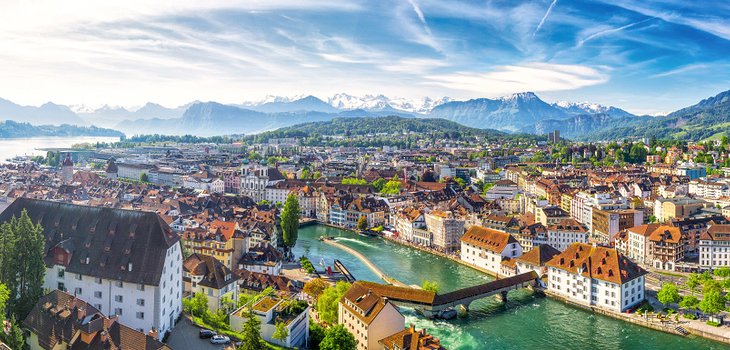 Hotel des Alpes comes with remarkable views of its namesake snow-capped mountains and is set on the Reuss River overlooking Lake Lucerne and the Chapel Bridge in Old Town. Breakfast is included in the room rate, the professional staff is charming and responsive, and delicious fresh dining is available on-site as well.
Hotel Krone Luzern marries comfort with value in a quaint Old Town corner. Complimentary breakfast has numerous options, rooms are spotless and comfortable, and staff members act as if each is a concierge, supplying information, suggestions, and directions in a friendly manner.
Ameron Hotel Flora Luzern boasts newly renovated units and air conditioning (a big deal in Europe), with an idyllic location in the city center near the Chapel Bridge, train station, and tour boat dock, and offers underground parking. Rooms provide free Wi-Fi, along with complimentary snacks, soft drinks, and even an espresso machine.
Where to Stay in Lucerne on a Budget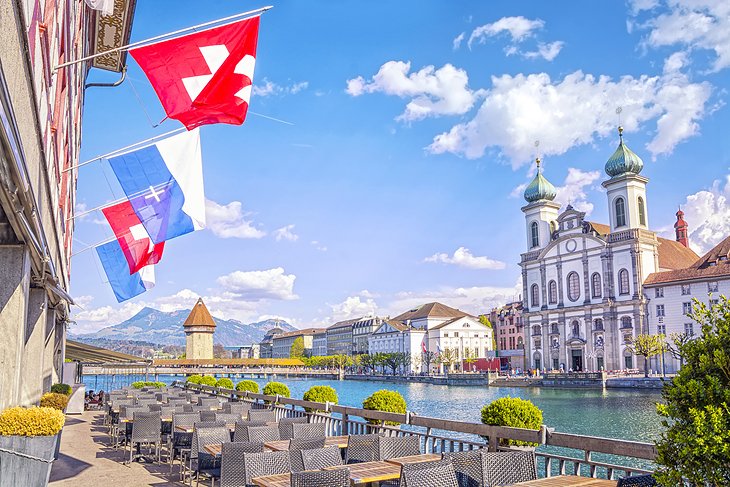 Hotel Alpha is conveniently located in the city center, surrounded by recreational options like basketball hoops, a soccer field, and even tennis courts, while also being within an easy walk to Old Town sights, dining options, and entertainment venues. The hotel offers clean rooms in good condition, a complimentary buffet breakfast, and free Wi-Fi, and there's even a yoga ashram across the street.
ibis budget Luzern City offers small, clean rooms in the city center near the train station. Vending machines, a microwave, and dining area are on the main floor, with super Chinese and Italian dining options in the immediate neighborhood. Buffet breakfast is included, Wi-Fi is free, and the staff are helpful and multilingual.
Hotel Restaurant Spatz is a quick bus ride to Old Town sights, attractions, and events, while providing warm Swiss hospitality. From its shuttered windows and balconies overlooking a charming quarter of the city center and the Alps, to the gracious complimentary breakfast, free parking, and Wi-Fi, this tiny hotel is a gem. There are family rooms, and the staff is memorable for their care and attention.
Where to Stay in Lucerne for Families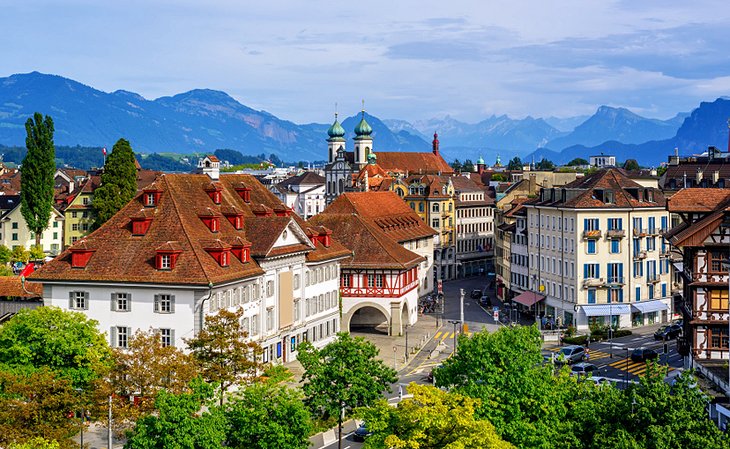 CASCADA Boutique Hotel distinguishes itself by presenting spacious, air-conditioned family rooms, individually decorated with unique waterfall murals. Hungry troops will get their fill with complimentary breakfast eggs cooked to suit any palate, plus guests can choose from a full stock of muesli, fruit, yogurt, and bakery goods.
The hotel is immediately next door to the main train station and an easy walk to all Old Town and city center sightseeing attractions. The multilingual staff makes every effort to create a fun visit for you and your kids by providing suggested itineraries for traveling families.
Seehotel Hermitage Luzern serves all family members by offering a luxurious, fun waterfront location, just outside the crowded core of Lucerne, plus a bevy of on-site treats and options that appeal to children and adults alike. Relax on a hammock overlooking Lake Lucerne, hop on an afternoon boat tour to gaze at the Alps, visit the wellness center, or go for a morning swim along the private waterfront. The hotel even offers bicycles for testing your inner Olympian.
Families that want a budget-friendly bed and breakfast experience will want to check out B&B Bettstatt. About a 10-minute walk to the main train station, it offers perks like kids under five stay free and a delicious morning breakfast buffet that is included in your rate.
The rooms are tidy and simple with wood floors. Not all rooms have private bathrooms, so make sure you check what you are booking. The B&B also offers a few apartments with separate living rooms and en-suite bathrooms.
Hotel Pilatus-Kulm is another family-friendly property located high up on Mt. Pilatus just outside of Lucerne. This historic three-star hotel is heritage-protected and dates back to 1890, although it was completely redone in 2010. Today, it has a charming, modern mountain vibe and just 27 rooms and three suites. Kids will be wowed by the stunning views in all directions, and the hotel offers a number of ways for families to explore the great outdoors surrounding it.
Where to Stay in Lucerne for Romance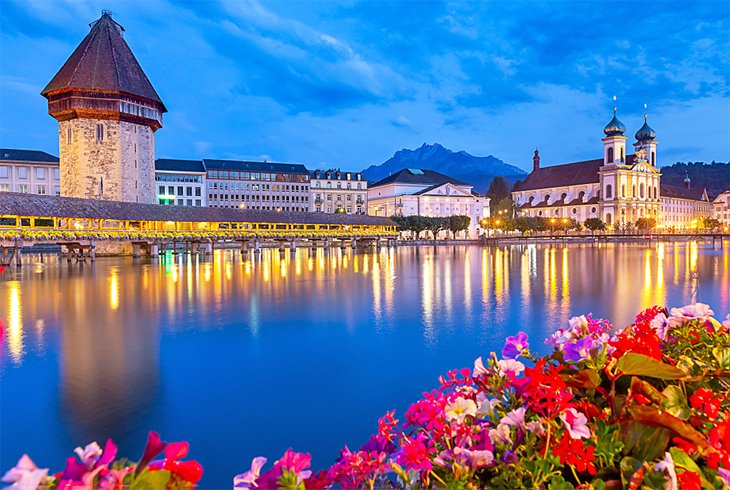 Hotel des Balances underlines the magic, mystery, and splendor of bedding down in a sumptuous Old Town waterfront hotel waiting to spoil you. Romance is in the air upon entering the front door, and follows couples throughout the impeccably decorated suites, common areas laden with charm, and an exhaustive list of services and amenities.
The dining terrace overlooks the famous Chapel Bridge crossing the Reuss River, and checking in here means access to sightseeing treats, shopping, strolling the ancient cobblestone streets, and boat tours of Lake Lucerne.
Art Deco Hotel Montana Luzern is a tranquil luxury option with a panoramic view over Lake Lucerne. A stone's throw from all the fashionable shops, unusual museums, historical monuments, and entertainment venues, this hotel is truly memorable. Couples can snuggle into the comfortable rooms, enjoy the spa services and dining excellence, or stroll through this quaint city savoring its panoply of goodies.
Hotel Wilden Mann is another romantic option popular with couples. This boutique, four-star, historic hotel in the Old Town is an elegant, period affair with charming, individually decorated rooms.
There are just 48 rooms, and each is furnished with its own colors and flair. Rooms also come in a number of styles, including two romantic junior suites - book the one on the fourth floor for a private terrace. Breakfast is included in the rate, and there are two dining options for dinner: a French restaurant and a laid-back bistro. The hotel is also pet-friendly with a fee.
Built in 1875, Hotel Beau Sejour Lucerne is a romantic Belle Epoque property. The design-focused hotel features fabulous art installations and fun wallpaper throughout. Fronting the lake, many rooms and suites have views of the water from furnished balconies. Rooms also feature comfy beds and bright colors.
Amenities include a complimentary breakfast with hot and cold selections. It can be served in the dining room, or on the sunny verandah with lake views. There is paid parking on-site, and guests can also borrow bicycles.