Switzerland in Pictures: 15 Beautiful Places to Photograph
Mirror-like lakes, snowcapped mountain ranges that seem to go on forever, and fairy-tale little villages–it's hard to find a corner in Switzerland that's not postcard-worthy. Whether you're heading here to ski some of the world's best slopes, try their world-famous cheese and chocolate, or explore their stunning Alpine lakes, Switzerland won't disappoint.
Because of its location in the center of Europe, Switzerland is incredibly diverse–the perfect place to capture amazing photos no matter where you go.
Note: Some businesses may be temporarily closed due to recent global health and safety issues.
1. Matterhorn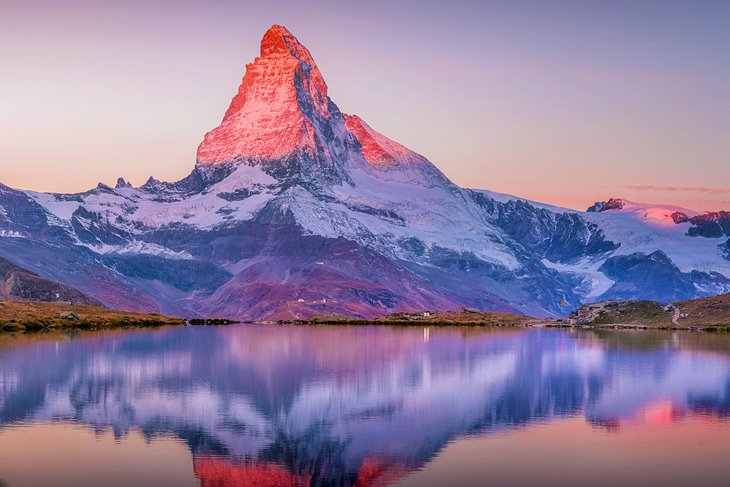 Autumn is a magical time to photograph the almighty Matterhorn mountain reflected on the mirror-like surface of Stellisee Lake. Sitting on the border between Italy and Switzerland, the Matterhorn is one of the highest peaks in Europe and a very popular destination for climbers.
2. Zermatt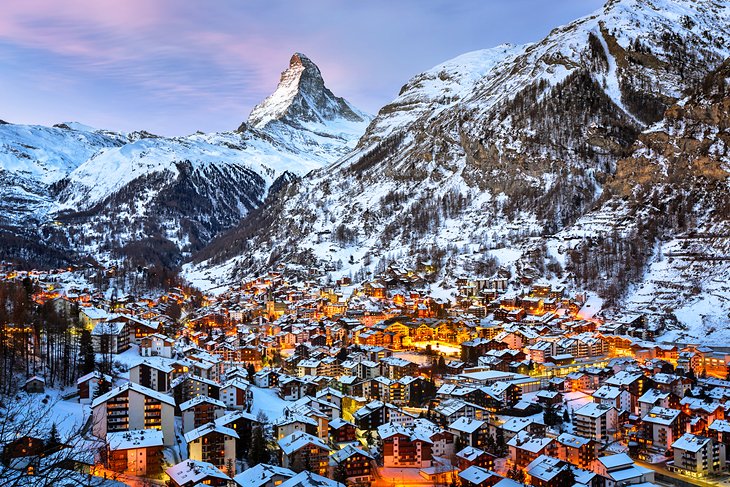 The Matterhorn peak stands guard on the background over Zermatt town. Although it sits in a valley, Zermatt is located at a high elevation, and it's the starting point for many mountaineers hoping to climb the Swiss Alps. It's also the start of the Haute Route, a popular alpine hiking trail that ends in Chamonix, France, 200 kilometers away.
Accommodation: Where to Stay in Zermatt: Best Areas & Hotels
3. Zurich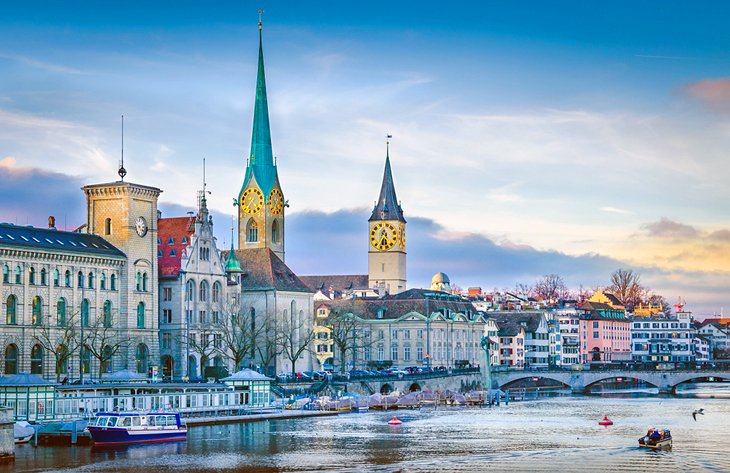 Lake Zurich cuts through Switzerland's largest city and is a very popular swimming spot in summer, when water temperatures reach over 20 degrees Celsius. Located right next to the water, the tower of the Fraumünster Church–a former women's only abbey–is one of Zurich's most recognizable landmarks. Picture possibilities here are almost endless.
Accommodation: Where to Stay in Zurich: Best Areas & Hotels
4. Saint Moritz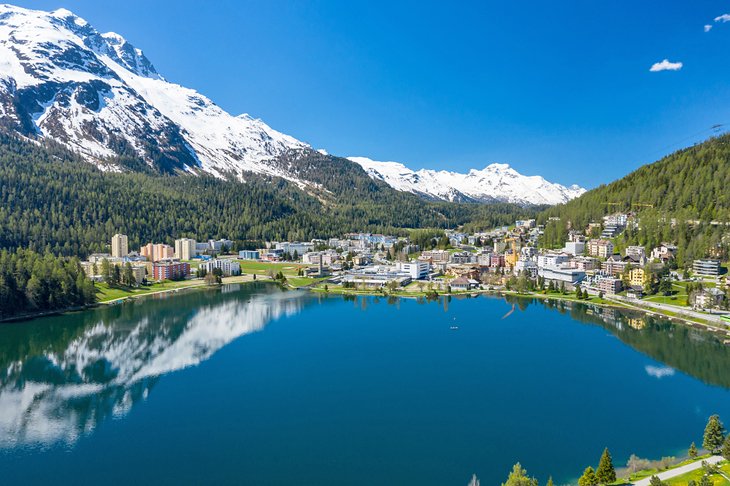 St. Moritz is Switzerland's most famous winter wonderland. Located 1,800 meters above sea level, St. Moritz has been a major winter sports resort since the 1800s — both the Winter Olympic Games and the FIS Alpine World Ski Championships have been hosted here more than once. St. Moritz is also a popular destination for cross-country skiing because of its powdery soft snowfall throughout the entire winter.
5. Grindelwald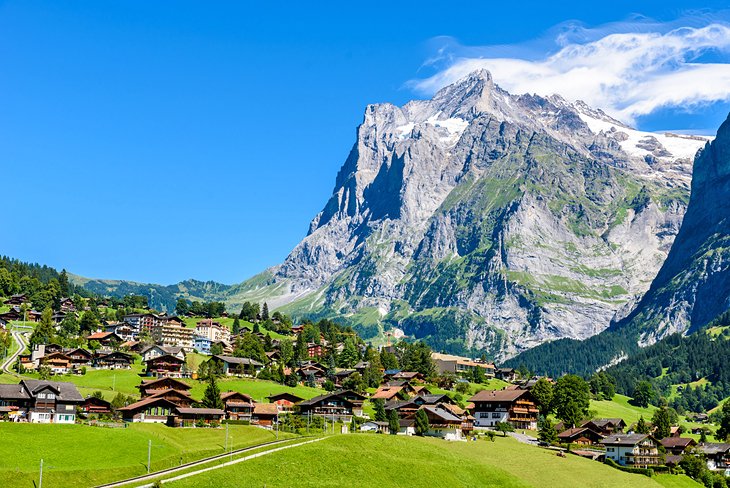 Surrounded by lush green pastures and located over 1,000 meters above sea level, the village of Grindelwald is a major ski destination but also a very popular area for both summer and winter hiking. The Eiger glacier, right behind the town, provides some of the country's best skiing routes for the experienced.
6. Lake Maggiore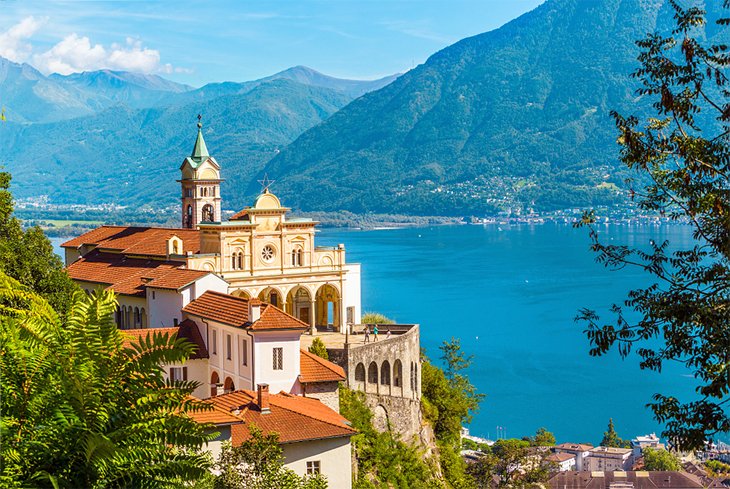 The Madonna del Sasso church–home to beautiful frescoes, stucco statues, and medieval canvases–looks over the Swiss side of Lake Maggiore. The other shoreline of this glacial lake falls within Italy, where it's surrounded by mountains and home to several islands. Holiday resorts, breathtaking views, and the mildest climate in Switzerland make this a popular summer destination.
7. Lauterbrunnen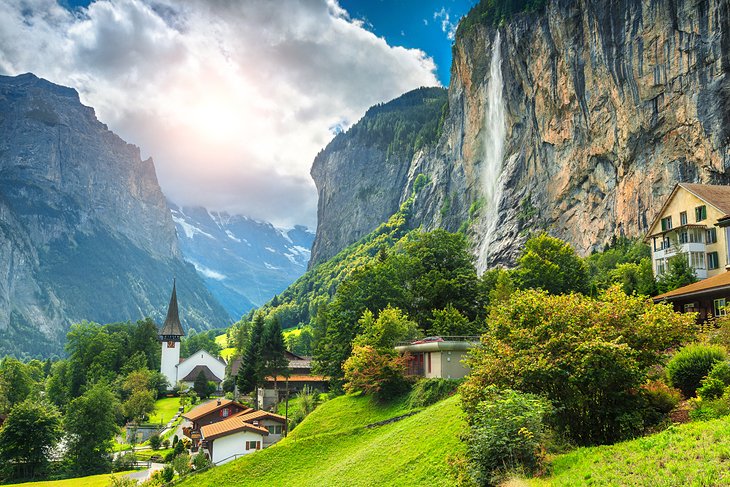 The Staubbach waterfall sits just over the village of Lauterbrunnen–almost 300 meters high and often just a stream that melts into mist on its way down into the valley. Lauterbrunnen's location in one of the deepest valleys in the Alpine chain makes the town a great destination for the world's most dangerous sport, wingsuit flying.
8. Lake Lucerne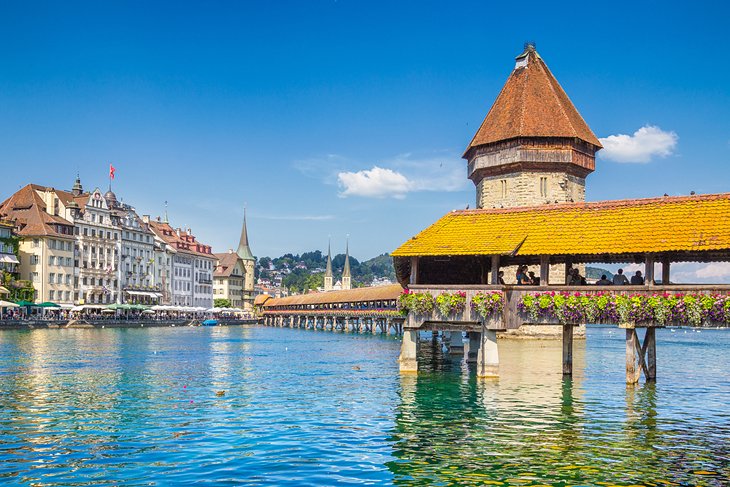 The Chapel Bridge over Lake Lucerne is one of the most picturesque spots in town. Originally built in the 1400s, Chapel Bridge is the oldest covered wooden footbridge in Europe. The lake's shoreline touches villages, steep mountains, and valleys as it extends for 114 square kilometers in central Switzerland.
Accommodation: Where to Stay in Lucerne: Best Areas & Hotels
9. Brienz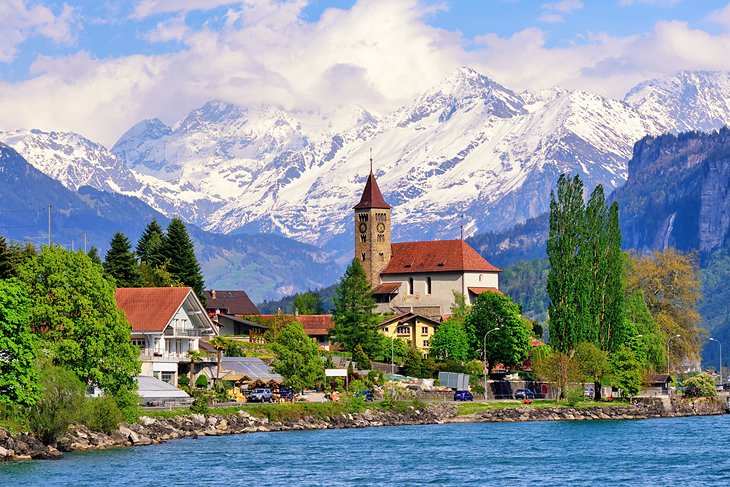 Brienz sits at the foot of the Brienzer Rothorn, the tallest mountain of the Emmental Alps. A quiet village with just over 3,000 residents on the shores of a turquoise-colored lake, Brienz has a history that dates back to the Bronze Age. Today, Brienz is well known for its woodcarving tradition, seen prominently in the building of wooden chalets and other architecture in town.
10. Gotthard Pass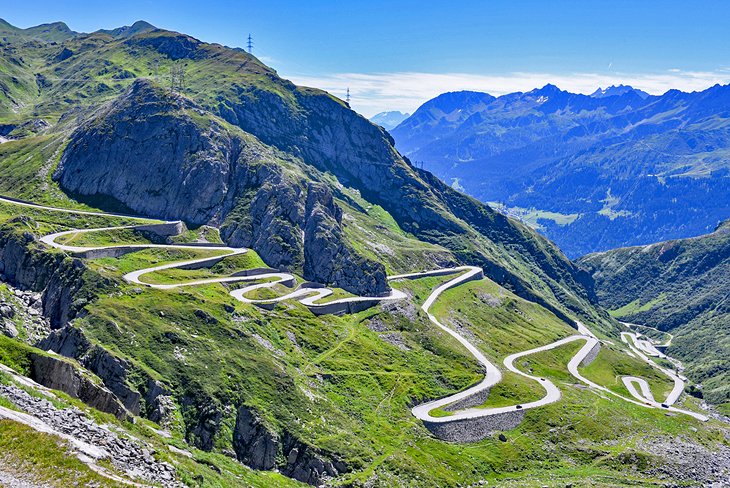 The Gotthard Pass is a road 64 kilometers long and 2,106 meters up in the Swiss Alps. Stunning alpine views reward drivers who dare to take to the tight serpentine turns and the high cliffs, with unsecured drops across the mountains. The pass is only open between June and October because of dangerous driving conditions during the colder, snowy months.
11. Interlaken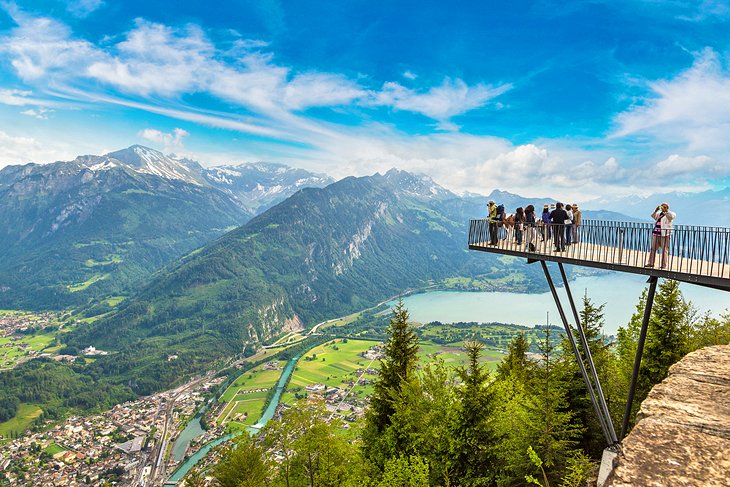 Surrounded by alpine glaciers and forested mountains, the resort town of Interlaken–and its many timber houses–is set deep into a valley and in between two turquoise-water lakes. There are several observation decks on the hills around town, from where you can catch panoramic views of the Alps around.
12. Rhine Falls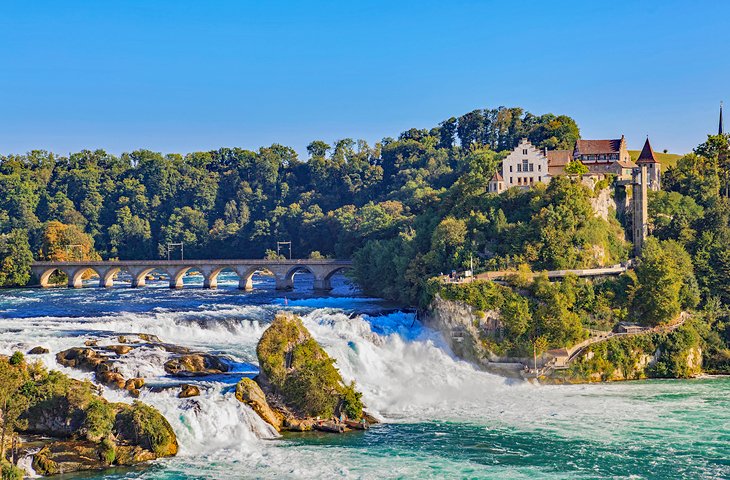 The largest waterfall–23 meters high and 150 meters wide–in Europe flows on the Rhine river, past castle Laufen, the Wörth Castle, and several coastline villages. Viewing platforms are set on both sides of the river for those who want to experience the misty roaring of the water up close.
13. Chateau de Chillon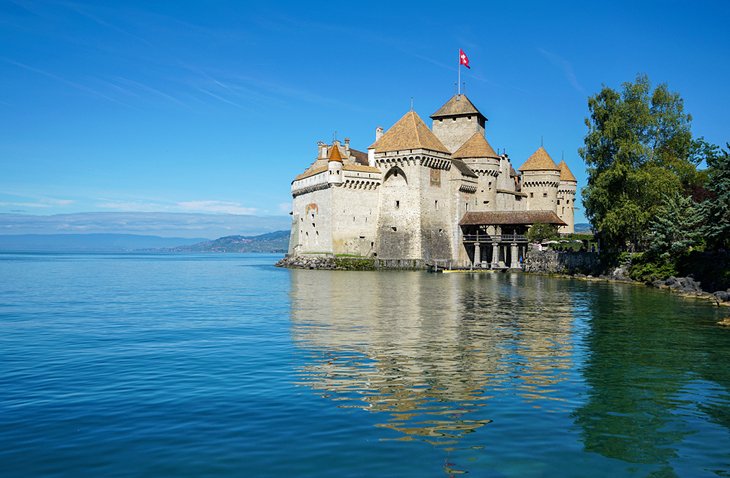 Once a Roman outpost, Chillon is now home to the most visited island castle in Switzerland. Victor Hugo, Lord Byron, and Alexander Dumas have all written about the romantic medieval fortress that is also one of the best-preserved medieval castles in Europe. The castle, which is located right over Lake Geneva and offers striking views of the Alps, is equally impressive inside thanks to its medieval frescoes.
14. Mürren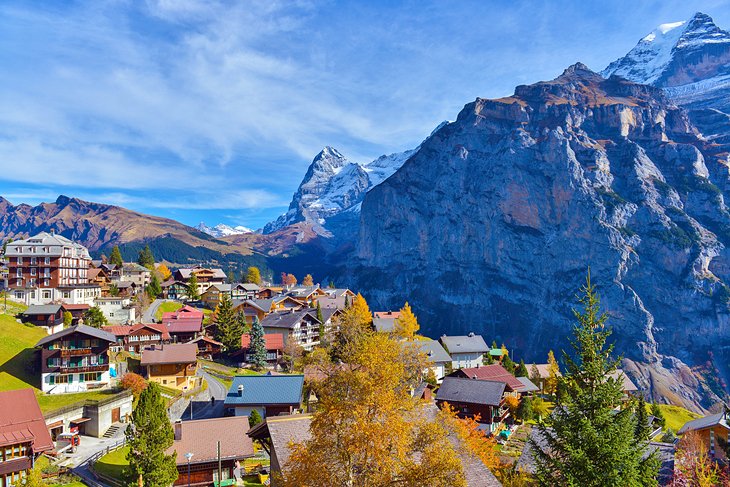 Murren is a tiny village of 450 inhabitants, 1,638 meters up in the Bernese Highlands. Murren's stunning location means it offers a perfect view of three massive mountains around: Monch, Eiger, and Jungfrau. There are no roads up to the village–the only way up and down the mountain is via train or cable cars, which connect Murren to a number of nearby towns.
15. Bern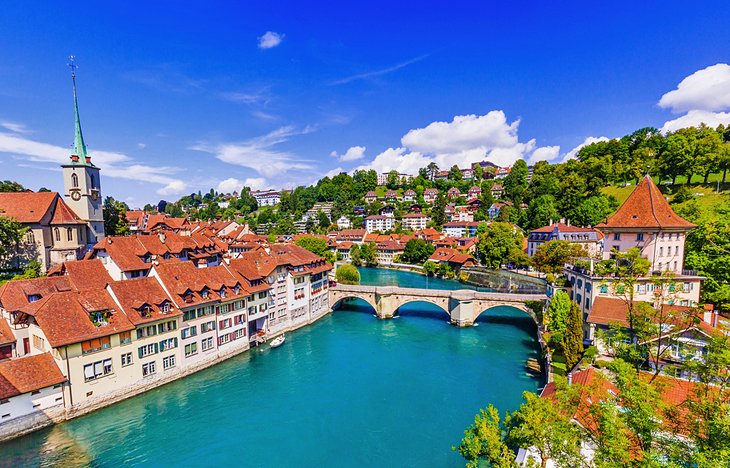 Red-tiled roofs line up against the Aare river and its turquoise waters. Switzerland's capital is also one of its oldest cities, a place recognized as a UNESCO World Culture Heritage site. There are 18 stone bridges crossing over the Aare–some, as the Untertorbrücke bridge, dating all the way back to the 1400s.
More Related Articles on PlanetWare.com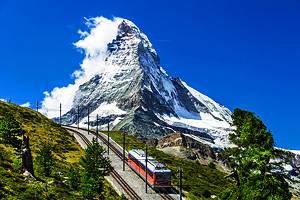 Sightseeing in Switzerland: Planning a visit to Switzerland and don't know where to start? Take a look at our Top-Rated Tourist Attractions in Switzerland to get ideas on the must-see destinations to add to your list. If you're arriving in winter and want to experience the magic of the slopes, check out our article: Top-Rated Ski Resorts in Switzerland for a list of the snow destinations you shouldn't miss.