Best Time to Visit Switzerland
One of the most important considerations in planning your vacation is the season and the best time to visit for the activities you're interested in. Switzerland's breathtaking scenery, world-class ski resorts, and beautiful mountain lakes seem reason enough to visit the country at least once. But this tiny nation in the center of Europe has so much more to offer visitors than snow.
Some of Europe's most pristine natural parks are located here, and warm-weather visitors will have a chance to explore the many valleys and rolling hills covered in flowers. In summer, Switzerland is a magical hiking destination, with Grindelwald, Interlaken, and Zermatt offering never-ending scenic trails.
Rain, snow, or sunshine, Switzerland is always beautiful – it's all a matter of deciding which season offers the kind of beauty you want to experience.
Best Time of the Year to Visit Switzerland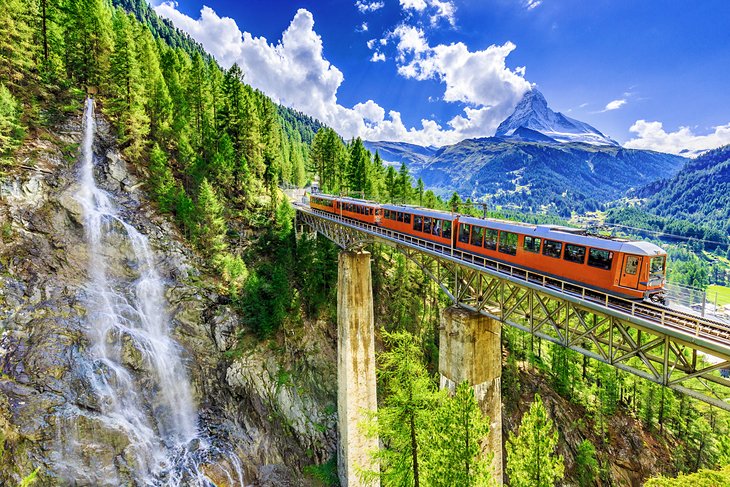 The best time to visit Switzerland depends partly on why you're going there. If you're going for the skiing, then of course winter is the best time to visit. For mountain hiking, summer is best, as it's warm even high up in the mountains, and you won't encounter much rain to disrupt your outdoor plans.
If your visit to Switzerland will include a bit of everything, then the months between April and June are your best choice. You'll still find some snow if you arrive early in this period, and warm days if you arrive later on.
Temperatures vary between 15 and 22 degrees Celsius, and you'll get a bit of rain, but you'll also see long days with plenty of sunshine, perfect for hiking and sightseeing. May is the most unpredictable month weather-wise – you might see rain and cold evenings or sunshine with temperatures in the low 20s.
Since the summer crowds don't arrive until July, and the winter crowds are long gone, you'll get more privacy and a chance to grab better deals on flights and accommodations.
Best Season to Visit Switzerland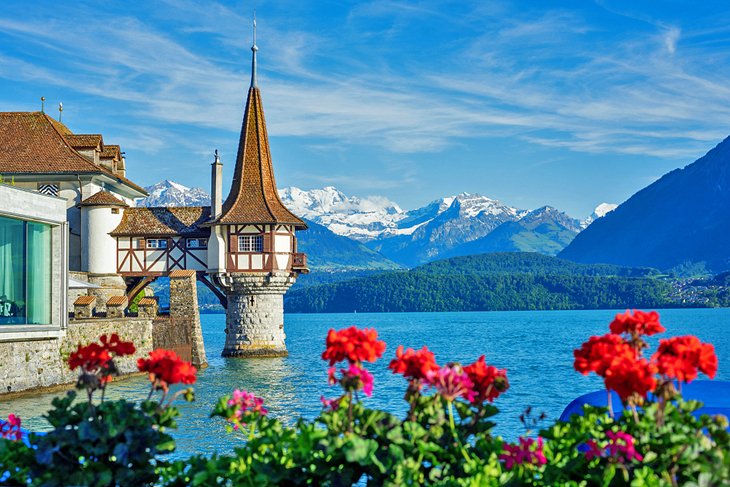 The seasons in Switzerland are well defined – you'll experience warm, sunny summers and very cold, snowy winters, with a range of temperatures and weather conditions in between, depending on the month.
Spring: There are few things more stunning than a Swiss meadow covered in wildflowers – and spring is the time to see that in Switzerland. In the mountains, you can still find lots of snow at higher-elevation resorts in March, and with temperatures reaching up to 11 degrees Celsius and lots of sunshine, this is a great month to take to the slopes.
Crowds are also thin, prices are starting to go down, and you'll get over 11 hours of daylight in March – perfect to catch the best of both worlds.
By March, temperatures are already in the mid-teens with lots of rain. Hikers are starting to replace skiers, but you'll need waterproof clothing and plenty of layers for mountain trekking in April – the weather changes fast, and nights are chilly. May is a very rainy month with up to 17-18 days seeing some precipitation.
Summer: Mountain cable cars open in June to coincide with the start of the hiking season. This is the best month to visit if you're planning on taking to the trails, as most hikers arrive in July and August, making June a nice month to explore without bumping into hundreds of other explorers along the way.
At high altitudes, some trails might still have snow in June, but the popular hiking areas around Canton Valais and Lake Lucerne experience perfect weather this month: temperatures around 20 degrees Celsius and lots of daylight, as the sun doesn't set until 9:30pm.
Summer rain is unpredictable in Switzerland – some summers are very wet, while others see very little rain.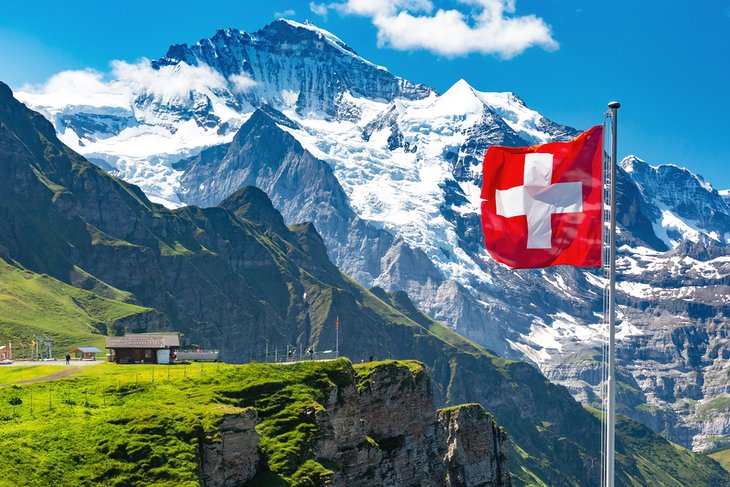 July and August are crowded, and prices for flights and accommodations go up significantly. August is the perfect month for lake swimming and hiking in high altitudes, but also for open-air events, such as the Lake Thun Music Fest and Switzerland's largest outdoor concert, the Paleo Rock Festival in Nyon.
Fall: September and October hold a special kind of magic in Switzerland. Fog is starting to set in, there's very little rain, the trees are changing colors, and the air has that crispness that makes this the perfect time for hiking in the mountains.
Trees change into shades of reds and yellows early on at high altitudes, and funiculars stop running before the end of October – so if you're planning on doing some mountain trekking, don't wait until too late in the season.
By November, temperatures are down into the single digits in the daytime and just above freezing at night. While it doesn't rain much in November, you could start seeing some snow, so pack waterproof boots and a thicker jacket.
Winter: Winter is when tourists flock to the country to play in the snow. Although ski resorts open in November and don't usually close until April, December to February are the best months for snow sports and also the busiest.
Expect prices for accommodations to skyrocket near the mountains; most cities also see higher prices in December, as people arrive to explore the Christmas markets and spend the holidays surrounded by snowcapped mountains. There are plenty of things to do in Switzerland in winter, even if you're not a skier – thermal baths and spending the night in an igloo are fun examples – so don't let the cold weather intimidate you.
The winter climate can be unpredictable, with temperatures just above or below 0 degrees Celsius in December and January. Precipitation (in the form of rain, snow or sleet) is common for up to 16 days in December, and January will see at least a tiny bit of snow everywhere in the country. By February, you can expect more hours of sunlight and temperatures that can reach up to 6 degrees Celsius during the day.
Best Month to Visit Switzerland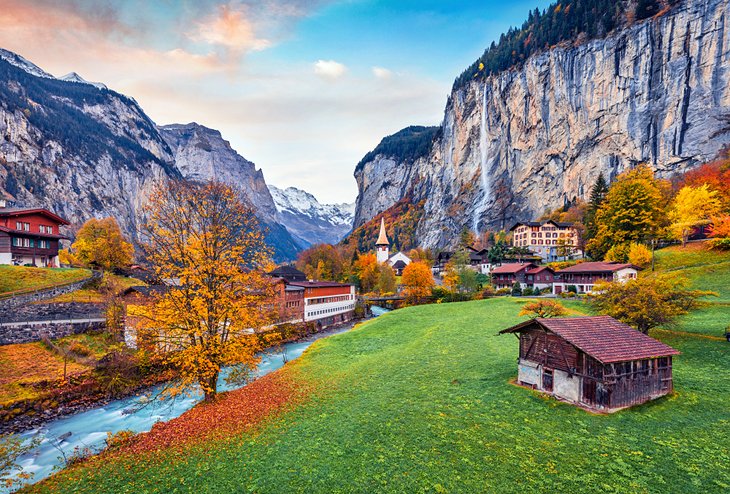 If you're an avid skier or snow-sports lover, nothing beats a trip to Switzerland in winter, especially during the months of January and February – this is considered winter high season, perfect for skiing but also for a good chance of getting soft powdery snow in cities and valleys.
But winter also means that a lot of destinations are off-limits, most hiking trails are closed, it's wet and dark, and a lot of tourist attractions work on a reduced schedule or don't open at all.
For outdoor activities that don't involve snow, September and October is the best time to visit. While mountain trails can already see snow by late October, valleys and lower-altitude trails are great in September and October, when you get a chance to catch the trees changing colors, the crowds on the trails are very thin, and the weather is wonderfully cool and crisp.
Temperatures during October are in the low teens, though it can get as low as 7 degrees Celsius at night (layers are your friend this month).
The first half of October is still considered shoulder season, while the second half falls under the low season. This is the best time for budget-friendly flights and accommodations, plus discounts on travel packages and tours if you're traveling that way.
Best Time to Ski in Switzerland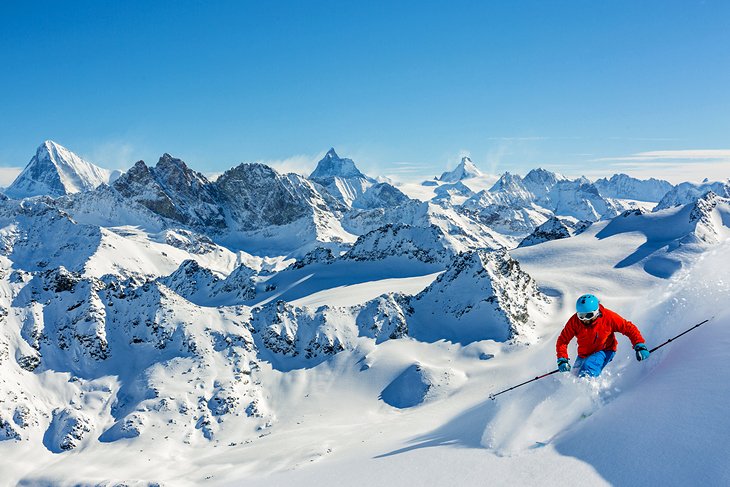 While the skiing season starts in November and lasts for almost six months, the best time to ski is in January and February. These are also the most crowded months on the slopes – people flock to the mountains in early January, as soon as the holidays are over; in February, when European children have school holidays, the ski resorts get very crowded again. During these two busy periods, many resorts require a stay of at least seven days.
Aside from crowds, these months also bring the coldest weather and some of the highest airfares and hotel prices. Even if money is no object, you will still need to make reservations months in advance if you want to stay near the slopes.
If the chaos of winter is too much for you, Zermatt and Theodul glacier –with slopes at 12,000 feet – offer skiing year-round. In summer, sports enthusiasts can jump into the Klein Matterhorn cable car to reach the high-speed runs of the advanced slopes high up. Beginners can stay lower, where there's a ski school.
Best Places to Visit in Switzerland in Winter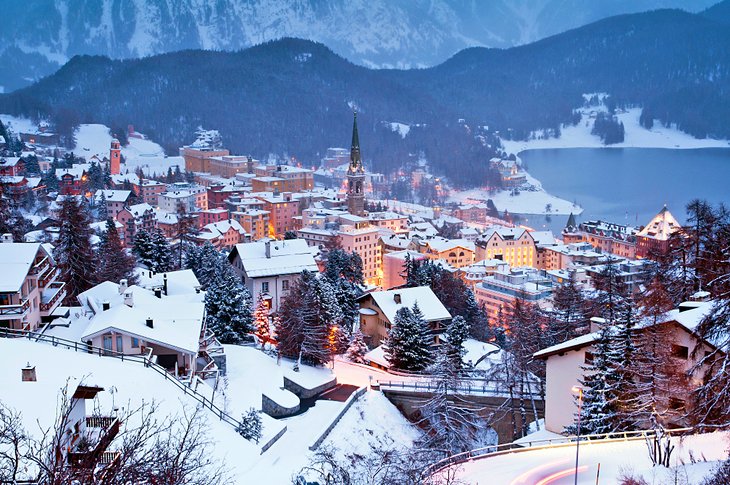 You don't have to be a skier to admire the beauty of St. Moritz, Switzerland's number one alpine destination in winter. This tiny resort town offers world-class skiing, but also plenty of groomed trails for snowshoe trekking and iron-rich mineral hot springs. St. Moritz's lake freezes in winter, providing the arena for ice polo, cricket matches, and ice-skating.
The Bernina Express, considered one of the most scenic train rides in the world, departs from St. Moritz and travels through Alpine valleys, towering glaciers, and the Brusio Spiral Viaduct in one of Europe's highest-altitude train routes.
The views are particularly stunning in winter, and you can take a short or a long trip, depending on your plans – the trip to the last stop in the town of Tirano, Italy, takes only four hours.
While the slopes are busy in winter, Switzerland's stunning cities are a great destination in the colder months. Once the Christmas markets have closed and the bigger crowds moved on, Zurich, Basel, Bern, and Zermatt are a delight to explore on foot.
Places like Lake Lucerne, a busy and expensive summer destination, transform into a serene winter wonderland in January and February. And St. Gallen, with its car-free streets and health resort Davos (the highest town in the Alps), is also a great winter destination in Switzerland.
Best Time to Visit the Swiss Alps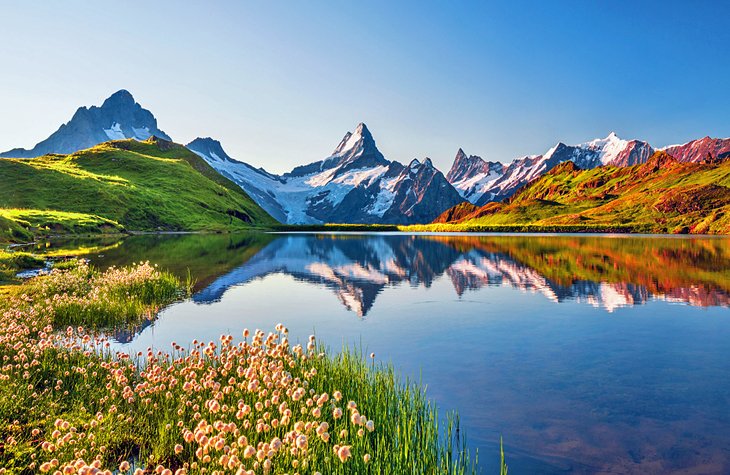 The Swiss Alps are home to Switzerland's most famous mountain, the Matterhorn, as well as the Great Aletsch Glacier, authentic Swiss villages like Grindelwald, and a never-ending range of valleys and rolling hills covered in wildflowers.
While you might associate the Swiss Alps with snowcapped mountains, the best time to visit is actually from June until October, when the weather is mild, it doesn't rain much, and nature is flourishing everywhere you go. This is prime time for hiking and mountain biking but aside from July and August, you won't run into massive crowds on the mountains.
The cable cars – often necessary to reach the highest trails – are all open between July and September. If you arrive before or after those months, check in advance that they're already or still running; it usually depends on snow accumulation, so it might vary from year to year.
With temperatures ranging from the high 20s to the teens in these times – and even lower at night-- the only thing for sure is that the weather is hard to predict. Bring a jacket and dress in layers, especially in the evenings. The higher you are, the colder it gets (and fast) once the sun goes down.
If you have your heart set on wintery sights, the Swiss Alps offer plenty of opportunities for snow hikes, cross-country skiing, and sledding. Keep in mind that while you'll see plenty of snow at mountains like Jungfraujoch and Mittelallalin, lower-elevation peaks might not get as much of it. For example, during warm winters, the mountains around Lake Lucerne don't get a lot of snow.
More Related Articles on PlanetWare.com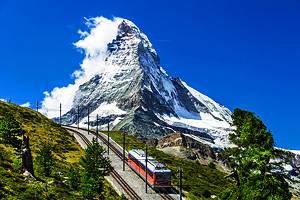 Planning Your Trip: If you're in the early planning stages of your trip, take a look at our article on the Top-Rated Tourist Attractions in Switzerland for some inspiration. Or start with the Best Resorts in Switzerland and plan your trip around the best snow destinations in the country.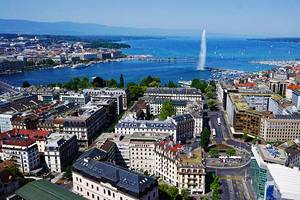 Cities and Nature: If both urban and natural attractions are on your radar, head over to check out the Attractions & Things to Do in Geneva, which include the stunning Lake Geneva and its background of snowcapped mountains. If you're looking for nature and unique sights, St. Moritz is a great starting point for your adventures.