Where to Stay in Venice: Best Areas & Hotels
Venice is divided into six neighborhoods called sestieri, four of which border on the Grand Canal as it winds through the city in a giant S curve. The fast and frequent Vaporetto boats travel the Grand Canal, along the perimeter of the city and to the outlying islands, so almost any place you stay is within easy reach of all the tourist attractions.
Because you can't take a taxi to your hotel–and even water taxis can't reach those not on canals–the distance from a Vaporetto stop and the number of bridges (which have stairs) to cross should be a consideration in choosing a hotel.
Some locations in Venice are especially convenient for tourists arriving from the airport, as those boats arrive at San Zaccaria, just a short walk from St. Mark's Square. If your hotel is in that row facing the Grand Canal, you're almost home, and if it's close to St. Mark's, you can wheel your luggage there easily (although you may have some steps to navigate).
Likewise, if your hotel is near any other stop along the Grand Canal or elsewhere, you can hop onto the Vaporetto at San Zaccaria and ride to your stop. If you arrive by train at Santa Lucia or by car at Porta Roma, you will also be handy to the Vaporetto on the Grand Canal. If your hotel is not near a Vaporetto stop, you will need to take a water taxi or perhaps hire a porter for your luggage.
Where to Stay in Venice for Sightseeing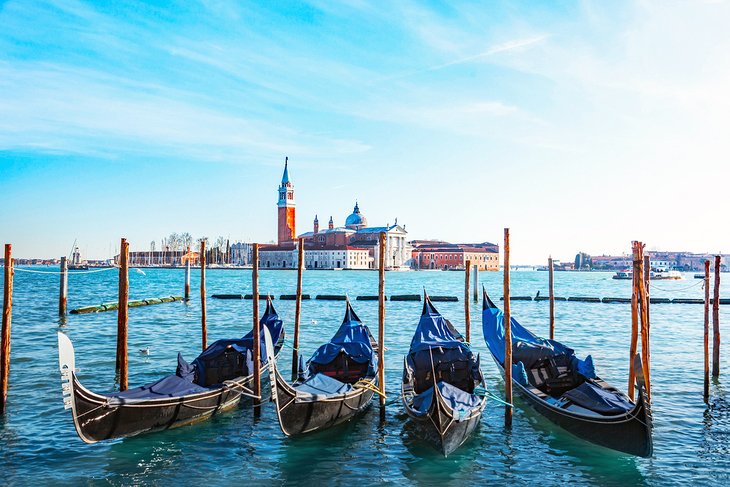 While a hotel located close to St. Mark's Square or between here and the Rialto is handy, it's not essential for sightseeing. You'll have to walk or take the Vaporetto between attractions anyway, so distance from a stop is more important.
But the most convenient location for many attractions is in San Marco, in the general area between St. Mark's Square and Rialto or along the lagoon toward Arsenale. Although this is the most central location in Venice, hotels here don't need to be the most expensive. For example, the budget-friendly Hotel Rio Venezia is just behind St. Mark's Basilica, only a block from the Grand Canal.
The highly rated Starhotels Splendid Venice is on the Mercerie, about halfway between St. Mark's and Rialto; it's on a small canal, and has a rooftop terrace.
Right in front of the San Zaccaria vaporetto stop and a five-minute walk along the lagoon to the Ducal Palace and St. Mark's, Hotel Savoia & Jolanda has luxury suites and rooms overlooking the Venetian Lagoon and the island of San Giorgio. Some of the bright, airy rooms have small balconies.
The restored 16th-century palazzo that is now Hotel Bisanzio was once the home and studio of the important Venetian sculptor, Alessandro Vittoria. An elevator, air-conditioning, LCD TV, and other amenities added to the palazzo assure guests the best features of both centuries. The hotel is a few steps from St. Mark's Square and six minutes from the San Marco — Zaccaria vaporetto stop.
Where to Stay in Venice for Luxury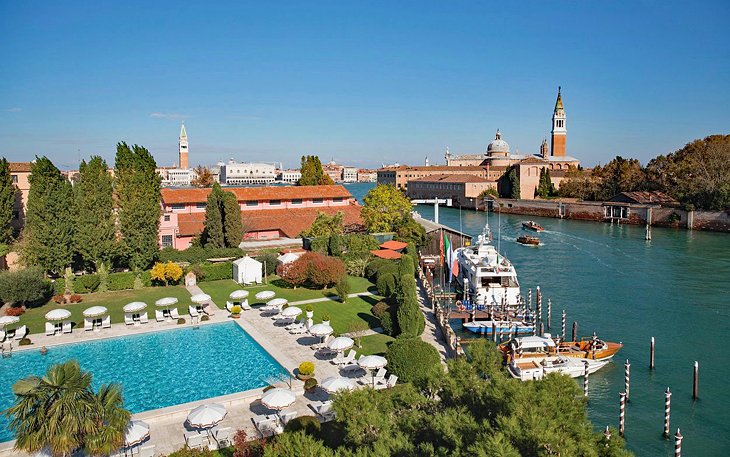 Strict building regulations to protect both the historical integrity and the fragile foundations of the city have kept Venice free of modern hotel blocks. Instead, its luxury hotels are often in carefully preserved and restored palaces of noble families. The Gritti Palace, A Luxury Collection Hotel, for example, was the home of a Venetian Doge and is conveniently close to St. Mark's. Its large rooms, with balconies overlooking the Grand Canal or a quiet piazza, are sumptuously decorated.
The smaller family-owned Al Ponte Antico Hotel, one of Venice's most highly rated hotels, is also in a renovated palazzo. Its terrace overlooks Rialto Bridge, and the included breakfasts are cooked to order.
The Hotel Londra Palace is in one of the city's most enviable settings, with its balconies overlooking the lagoon at the San Zaccaria Vaporetto stop, where boats arrive from the airport. It's a three-minute walk from St. Mark's, and the included breakfast makes it even better value.
If an outdoor swimming pool is important, and you are looking for a serene place to escape from the constant motion of Venice, Cipriani, A Belmond Hotel, Venice is sequestered on Giudecca Island, across the lagoon from the city. A private launch takes guests to St. Mark's, and the hotel has a spa and tennis courts, as well as a Michelin-starred restaurant.
Where to Stay in Venice: Mid-Range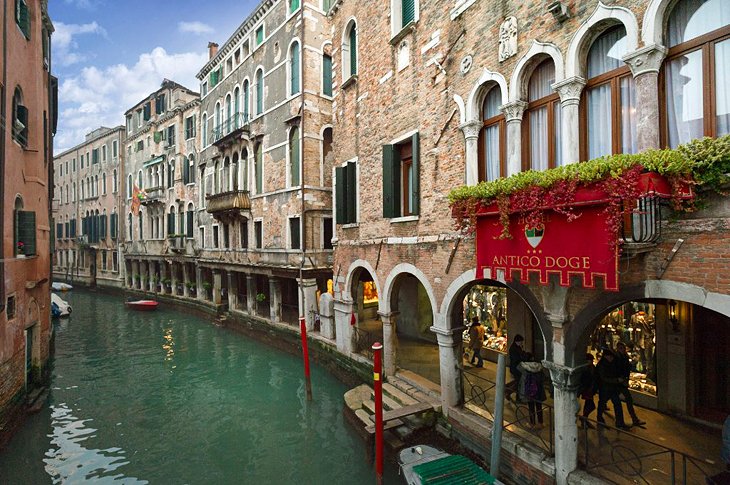 Several mid-range hotels in Venice offer luxuries and prime locations without a luxury price tag, making them especially good value for tourists. Hotel Palazzo Vitturi occupies a Byzantine-Gothic palace with many of its original historic features, including Murano glass chandeliers, frescoed ceilings, and inlaid floors. The location, in the charming Campo Santa Maria Formosa, is in a quiet neighborhood only five minutes from the main tourist attractions. Attention to details–rain showers, hot breakfasts, and impeccable service–makes this an especially good value.
Within sight of the Rialto Bridge and only a 10-minute walk from St. Mark's, the highly rated NH Collection Venezia Palazzo Barocci overlooks the Grand Canal at the San Angelo Vaporetto stop. Its large rooms are modern and bright.
Less than a 10-minute walk from Rialto Bridge and less than 15 minutes from all the major attractions and things to do, the Hotel Antico Doge is in Cannaregio, close to the beautiful Ca' d'Oro palace. Directly in front of the hotel is a Vaporetto stop and also a traghetto gondola crossing to Rialto market. Rooms are on the large side for Venice, and breakfast is included.
Where to Stay in Venice on a Budget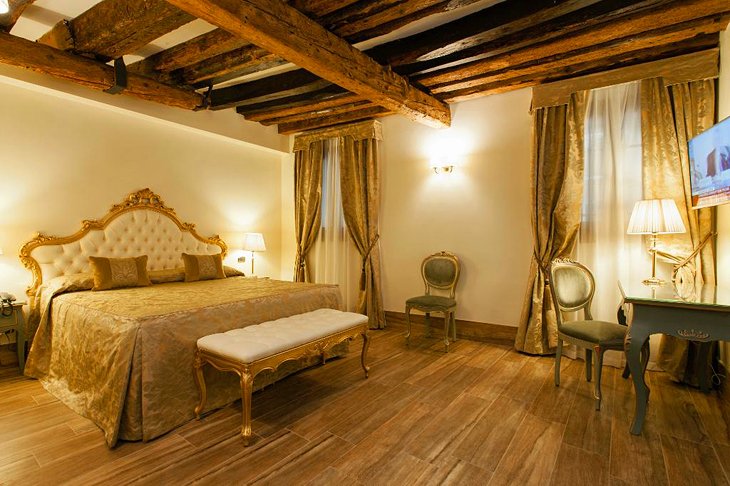 Although Venice is an expensive city to stay in, there are budget options in convenient locations. Don't expect spacious rooms and lavish décor, but you can expect comfortable and hospitable surroundings. Rooms at Hotel Al Ponte Mocenigo, many of them with balconies, overlook the Grand Canal or a courtyard. Close to the San Stae Vaporetto stop, which is only three stops from the train station, the hotel is a five-minute walk from Rialto.
Hotel Ai Cavalieri di Venezia, on a small canal beyond Rialto, also includes breakfast in the rate. The location is handy to both Rialto and St. Mark's, each less than a 10-minute walk away.
The charmingly old-fashioned Hotel Ca' Dogaressa is a five-minute walk from a Vaporetto stop on the Grand Canal, and the boat to the airport stops right outside the hotel. Rooms have safes and mini-refrigerators. The hotel is in Cannaregio, where you'll find cafes and restaurants that are less expensive than those in the heavily touristed areas, but it's only a few minutes from the top attractions.
While the island of Lido is only a short boat ride from San Marco, it seems like a world apart from the bustling streets of the inner city, and except in the hottest summer months, hotels are less expensive. At Residence Le Ville del Lido, you can enjoy a spacious room or suite, some with terraces, only 10 yards from the beach and a five-minute walk from the Vaporetto landing. There is a swimming pool, open from May to late October, and private parking, a boon to those arriving in Venice by car (a car ferry connects to the mainland).
Where to Stay in Venice for Couples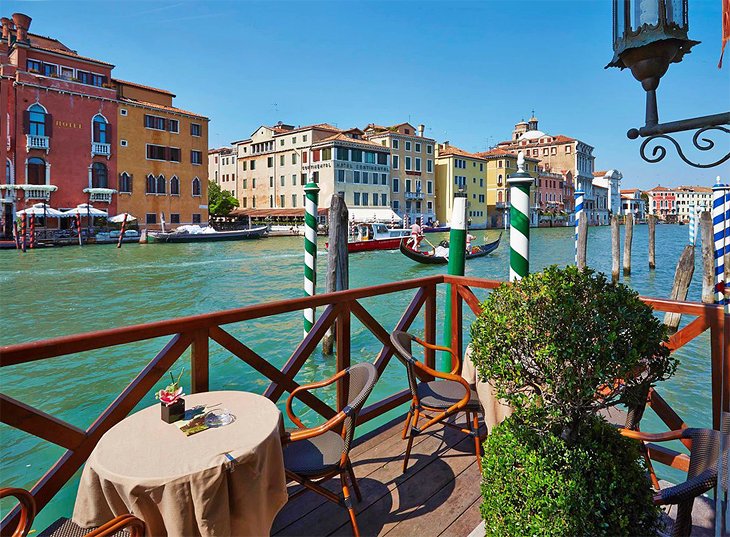 It's hard to be in Venice and not feel the romance in the air: misty pink mornings with the sun shimmering on a canal, graceful gondolas gliding past, palazzo windows framed in sensuous curves, violins playing in Piazza San Marco, the moon rising over the lagoon. The whole city seems made for romance.
You can get away from the busy main streets, but be only a few minutes from San Marco by choosing a hotel in the quiet tip of Dorsoduro. Beside the church of Santa Maria Salute and only a few steps from the Vaporetto stop (the next stop is across the canal at San Marco), Ca' Maria Adele is a serene, romantic, and superbly elegant boutique hotel near the Guggenheim Collection. Antiques furnish the sumptuously decorated rooms, and guests are pampered by an attentive staff.
The very highly rated Hotel Moresco, on a canal in Dorsoduro, is only five minutes from the Piazzale Roma bus station (where airport buses arrive), 10 minutes from Santa Lucia train station, and close to local restaurants.
Also one of the top-rated hotels in Venice, the Hotel Antiche Figure overlooks the Grand Canal from a 15th-century building opposite Piazzale Roma, where visitors arrive by bus, train, or transfers from the airport. The Vaporetto leaves from here, as well, connecting to San Marco and Rialto, or they are a 25-minute walk through characterful Venetian neighborhoods. Two of the rooms have balconies over the canal, and breakfast is included.
The Hotel Nani Mocenigo Palace is a new addition to Venice's hotel scene, located in Dorsoduro, close to the Guggenheim and Academia art museums. Set in a 14th-century palazzo, rooms are a luxurious blend of antique features and furnishings–such as Murano chandeliers, sumptuous draperies, Baroque gilt mirrors, brocade upholstery, and marble baths–and the clean lines of its modern renovations. Enjoy the included breakfast on the garden terrace.
The recently restored Canal Grande is a boutique hotel set in an elegantly decorated Rococo palace in the Santa Croce neighborhood, close to Santa Lucia train station. Many rooms have windows or terraces with romantic views overlooking the Grand Canal. A vaporetto stop is conveniently close, as are the attractions of Cannaregio and San Polo, and it's a pleasant walk to St. Mark's Square. This is a good choice for couples who want to be a part of Venetian life but seek a more serene atmosphere than the streets of St. Mark's.
Where to Stay in Venice for Families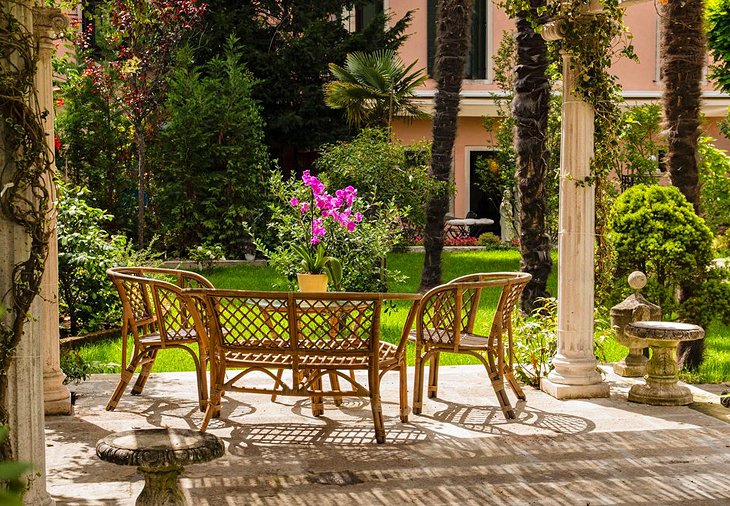 Like most adults, children can't help being enchanted by Venice and its carnival of colors and curiosities. Streets that are water, buses that are boats, buildings that look like illustrations from a fairy tale, and gelato for sale on every corner–what's not to like? But finding rooms big enough to share with children can be a challenge in this city known for its small hotel rooms.
Hotel Sant'Antonin, beside a small canal between San Marco and Arsenale, has spacious rooms in a quiet neighborhood where there are plenty of small, friendly restaurants. The hotel has a beautiful garden.
Near the San Stae Vaporetto stop on the Grand Canal and a 15-minute walk from St. Mark's, Hotel Al Duca di Venezia is also in a quiet neighborhood with a number of restaurants.
Hotel Ala is a green hotel with a rooftop terrace, close to St. Mark's and to the Santa Maria del Giglio landing. There are no bridges to climb between it and the Vaporetto stage, and the hotel has an elevator.
The budget-friendly Hotel Tiziano, in the quiet but convenient residential neighborhood of Dorsoduro, occupies a 15th-century home only a few minutes from vaporetto stops on the Grand Canal. The neighborhood has cafés, restaurants, and bakeries, and the hotel serves a generous breakfast.
Where to Stay in Venice near St. Mark's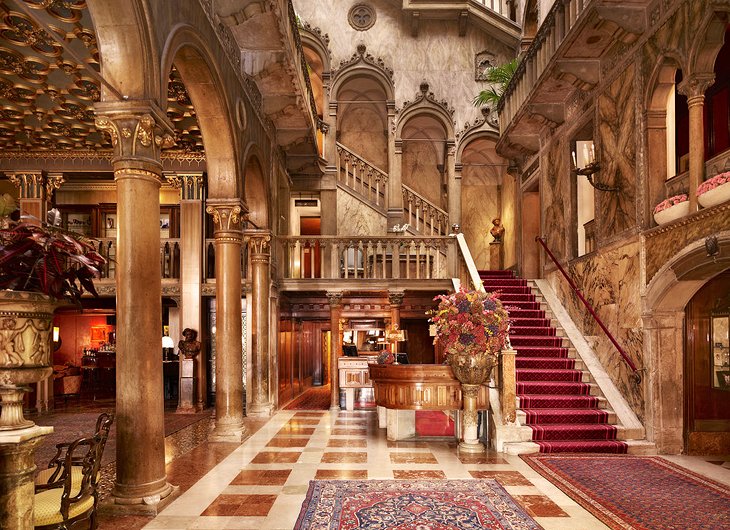 This is the most central location in the city, easily reached from any entry point and closest to major attractions. You'll find many hotels (see other categories here) between St. Mark's and Rialto or in the streets behind the basilica, in the Castello sestiere.
One of the legendary hotels of Venice, the opulent Hotel Danieli is awash in grandeur, with elegant staircases and sparkling Murano glass chandeliers. Located at the San Zaccaria boat landing almost next to the Doge's Palace and around the corner from Piazza San Marco, the luxurious rooms have balconies and windows overlooking the lagoon.
At the elegant and luxurious Hotel Monaco & Grand Canal, a few steps from the San Marco Vaporetto stop, you can eat breakfast overlooking the Grand Canal.
For a more intimate boutique hotel, choose Ca' dei Dogi, on the tiny Corte Santa Scolastica in Castello, right behind Basilica San Marco. This romantic mid-range hotel has a rooftop terrace, and some rooms have private balconies.
Where to Stay in Venice for the Best Views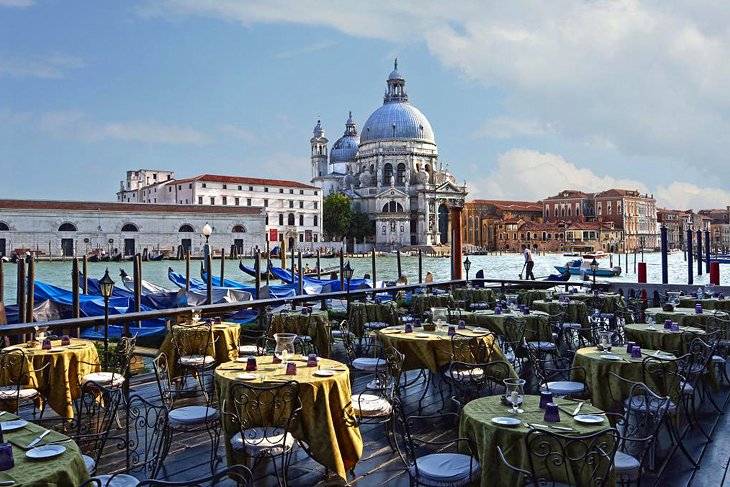 If your dream of Venice is to wake up to a postcard-perfect view, you'll need to ask for a room with a view when you reserve, or contact the manager after you book to make your preferences known. Even though a hotel sits right on the Grand Canal, rooms on the back and sides of the building may have no view at all, or they could overlook a charming, small canal or an equally enchanting neighborhood square. Room rates at many hotels may specify "Canal View," although all may not be a sweeping vista of the Grand Canal.
The Bauer Palazzo hotel sits on the Grand Canal and also overlooks the campo (except for Piazza San Marco, in Venice a piazza is called a campo) and elegant façade of San Moise. Although it occupies a grand old palazzo, its decor is more sleek and modern than many others.
The luxurious Baglioni Hotel Luna sits right on Piazza San Marco, and its rooftop terrace has sweeping views across the lagoon. This may be the best place in Venice to watch a full moon rise.
The 27-room boutique Hotel Locanda Vivaldi overlooks the Venetian Lagoon with views of Santa Maria delle Salute and San Giorgio church and tower. Be sure to ask for a room with a lagoon view to get perfect sunset views from your own room, or enjoy it with other guests from the hotel's terrace.
Where to Stay in Venice for Art and Design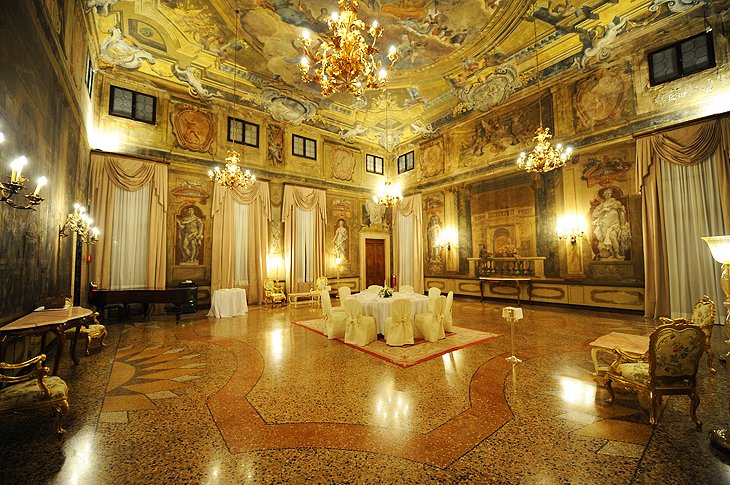 Venice is a city of art, and everywhere you go you'll find works by its artists from the Byzantine, medieval, and Renaissance eras, when Venice was at its height. But the city's love of the arts has continued. It is home to the Peggy Guggenheim Collection, a major world landmark in modern art, and every two years hosts the Biennale, a festival of contemporary art and design. These hotels are of special interest to those who revel in artistic surroundings.
Living amid the frescoed walls, stucco work, and deeply paneled ceilings of Ca'Sagredo Hotel, you can savor original works by the premier Venetian painters: Giambattista Tiepolo, Sebastiano Ricci, Nicolò Bambini, Pietro Longhi, and other 17th- and 18th-century artists. The 15th-century palace overlooking the Grand Canal provides a museum setting for its collections, which include antique furnishings and decorative details.
Jump to another era, at a design hotel just steps from the Peggy Guggenheim Collection in the quiet, but convenient, Dorsoduro neighborhood. Individually designed guest rooms and public areas of Ca' Pisani Hotel are decorated in a stylish Art Deco mode, and it has a rooftop terrace with good views.
While the Lido can be crowded in the summer, in other seasons it is peaceful and seems far away from the crowds of Venice, although it's only a short Vaporetto ride away. A short walk from the boat landing, Hotel Villa Pannonia offers a chance to appreciate the works of contemporary Venetian artists, who are often overlooked in the abundance of art from Venice's past centuries. Furniture and décor by famous designers lend an avant-garde atmosphere to the early 1900s building, amplified by a continuously rotating exhibition of contemporary art.