10 Top Beaches in Rovinj
Author Meagan Drillinger spent May 2023 traveling around Croatia and visited the beaches of Rovinj on her journey.
Croatia's Istria County is a treasure trove of rolling hills, medieval towns, and hidden coves with beautiful beaches. The fishing port and medieval city of Rovinj, perched on the western coast of the peninsula, is an epicenter of stunning Istrian beaches. The village and surrounding area have a coastline that is carved out from every angle with picture-perfect Mediterranean-style beaches waiting to be explored.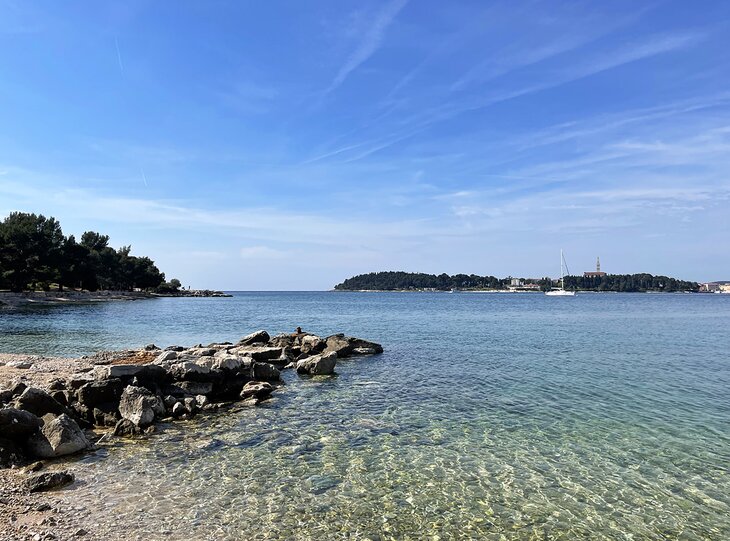 I spent several days in Rovinj traveling around to its beautiful white-pebble and rocky beaches, all of which had beautifully clean and clear water, lovely facilities, and plenty of places to relax. Many of these beaches ended up being some of my favorite beaches in Croatia overall.
The beaches of Rovinj have many things in common, like rocky shores in lieu of sand, and concrete or stone pathways that run along the shore. Most beaches in Rovinj have facilities like bathrooms, showers, and places to eat. But the beaches in Rovinj are also distinctly different in other ways. Some are tucked away down rugged dirt roads, while others are in the heart of town with stunning views of the Old City.
Unlike other beaches in Croatia, the beaches of Rovinj are not about loud music and amped-up energy. Rather, they are places for thoughtful introspection, a good book, and a refreshing dip. No matter which beach in Rovinj you choose, you'll find something about each one to love. Learn more about the best beaches in Rovinj with my list of favorites.
1. Cuvi Beach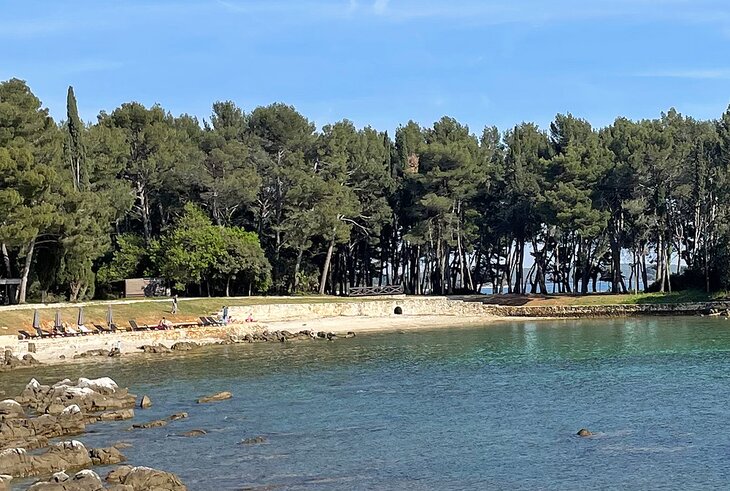 South of Rovinj's charming Old Town, Cuvi Beach is a quiet, secluded beach tucked in the crook of a calm cove. The rocky beach is actually a series of small bays that make up the entire beach area, linked with a stone walking path and wreathed in bushy green trees.
The first thing I noticed about this beach is how completely peaceful it was. Close your eyes and listen. The soundtrack was a loop of turquoise water gently splashing against the white and gray rocks, and the wind shaking the green leaves. If you take a deep breath, you'll smell the rich smell of pine.
The crowd was a mix of individuals reading quietly on the sun-warmed rocks, as well as walkers and cyclists who had stopped for a cold drink at the cafe. The stone pathway that borders the bay has a set of loungers, which sun-worshippers can splay out on and enjoy the solitude.
The beach itself is not very broad and is quite rocky, but that is often the case with beaches in Istria. You'll find people spreading towels out on boulders and jumping into the water directly from the rocks.
2. Mulini Beach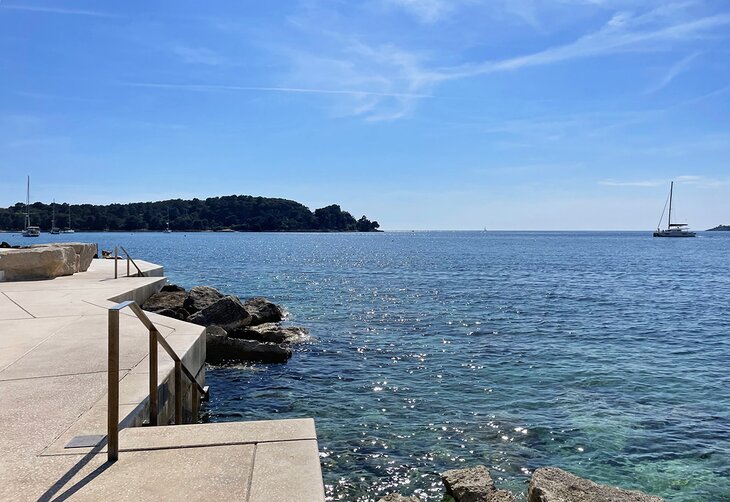 Sandwiched between Rovinj Old Town and the Zlatni Rat Forest Park, Mulini Beach is a sparkling clean beach with boldly blue water and views of the elegant marina. You can even make out the tips of the rooftops of Old Town from here.
You'll notice a pattern in Rovinj beaches in that none of them are particularly sandy, and Mulini Beach is no exception. Instead, this beach is made up of white rocks and a concrete boardwalk that looks brand-new. The boardwalk features showers and restrooms and plenty of space to sunbathe. Steps with railing lead straight down into the water.
This is a lovely part of Rovinj, with the tree-covered park just around the corner and a slew of hotels nearby. Parking for the beach can be challenging. You can park closer to Old Town and walk along the waterfront path to reach the beach. If you do find parking closer to the beach, you'll walk down a broad stone staircase to reach the promenade and the water.
Address: Šetalište Lona, 52210, Rovinj
3. Punta Kris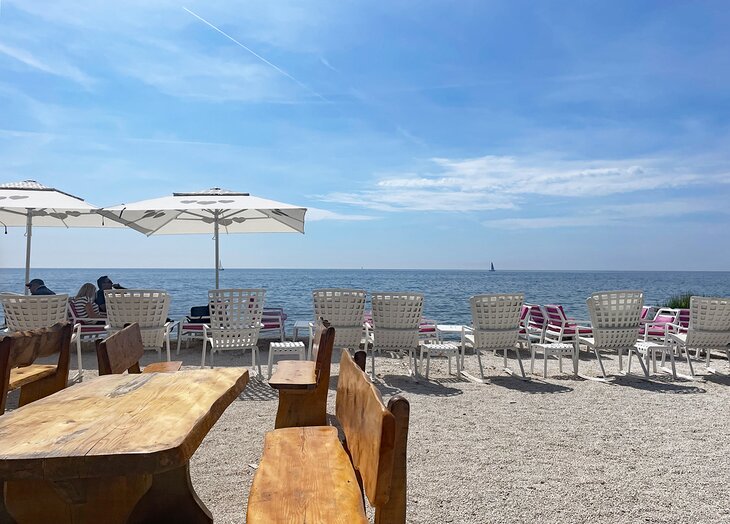 North of Rovinj's Old Town is a rugged little mini peninsula that sticks out into the Adriatic. Along this stretch of land are several secluded bays and coves that have beautiful, quiet beaches. At the end of a dusty, rocky road you'll find Punta Kriz, one of the most beautiful beaches in Rovinj. This beach has far more foot and bicycle traffic than car traffic, which makes it extra appealing.
The beach at Punta Kriz is made up of white and black rock that leads out to the seemingly endless Adriatic Sea. The beach is definitely not sandy, nor is it particularly pebbly. It is a shoreline of mostly volcanic rock, but locals still love it for its peaceful views and privacy. We packed a picnic lunch and sat to watch the sailboats drift slowly by.
Of course, you do not have to bring your own food. A beautiful outdoor cafe is available right at the beach. Restaurant Punta Kriz is a series of shady wooden tables right on the water and a menu of fresh seafood, grilled meats, salads, and drinks. Because Italy is so close, you'll notice a big Italian influence all across Istria, so the menu items here swing very Italian — which is a big plus, if you ask me.
One thing to note is that because of the privacy, this is a nudist-friendly beach, especially on the northern end. You certainly do not have to be nude to enjoy the beach, but it is something to note for people who may not be comfortable.
Address: de Castelan, Val, 52210, Rovinj
4. Cisterna Beach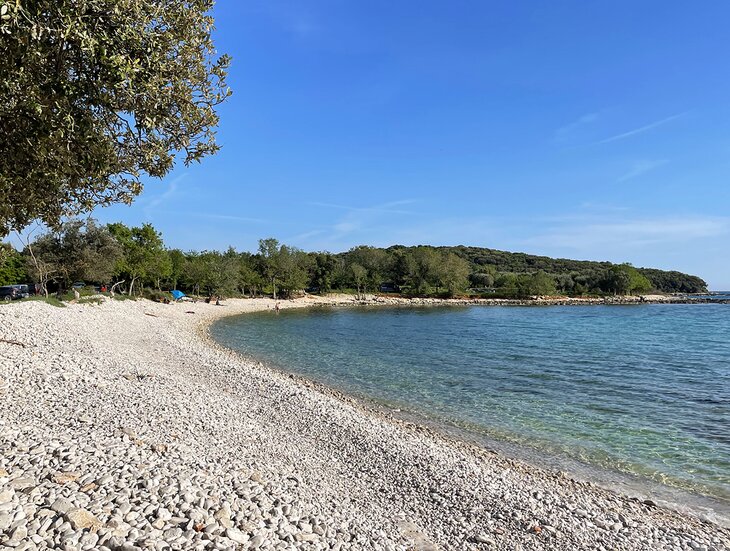 Cisterna Beach may not be the highest-ranked beach in Rovinj, but it was one of my favorites. Down a bumpy, bouncy road south of Old Town, Cisterna Beach is close enough to be easily accessible (you will need a car, though) but far enough out of the way to be considered "remote."
This is a beautiful beach with large, smooth bone-white stones that contrast nicely against the turquoise water. The beach is rimmed with lovely green trees and the water is calm enough for wading or stand-up paddle boarding. Cisterna Beach is also a perfect place to watch the sunset. And if you go before the high season (or just after), you may find you have the beach to yourself. If you do go in the high season, though, the restaurant will be open.
I visited in May and saw only a handful of other people scattered across the stones. Most people come to this part of Rovinj for camping because it is so quiet and secluded. You cannot camp directly on this beach, but you will find campgrounds very nearby.
While the road to get to Cisterna is a bit of an adventure, you will find that the beach has plenty of free parking.
5. Lone Bay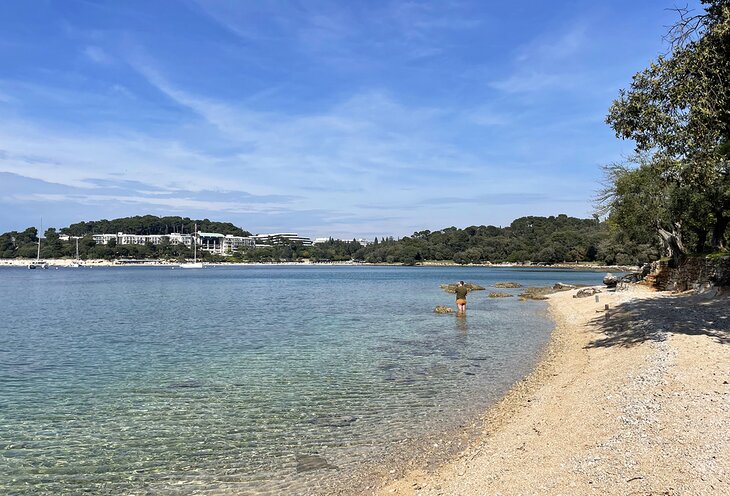 Tucked in a cove on the north coast of the Zlatni Rat Forest Park peninsula, Lone Bay is a small pebbly beach with distant views of the marina and Old Town.
It's opposite the bay from Mulini Beach. But unlike Mulini Beach, you'll find ample parking for Lone Bay within the park. From the parking lot, a series of walking paths lead to all the different nooks and crannies of the forested peninsula, You'll find several beaches here, but Lone Bay is the closest beach to Old Town with the best views.
The views here are really lovely, with the steeple of Old Town rising in the distance. The park overall is a tranquil spot to spend the afternoon beach-hopping or snacking at the little sea-view restaurants within the park. You'll also find bathrooms near the shoreline.
6. Skaraba Beach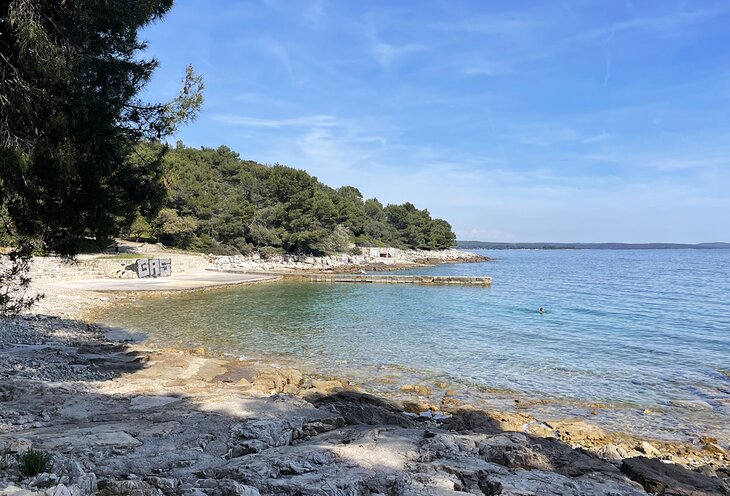 Within the same park is Skaraba Beach, just a quick walk to the other end of the peninsula from Lone Bay. A forested path leads from the same parking lot down to a white-rock beach completely shrouded in trees. A short concrete pier also sticks out into the clean, clear bay.
The beach is mostly rocky, but it does have a concrete pavilion platform for sunbathers that you can reach via a few steps. When I visited, I had the entire beach to myself. It was so calm and quiet. I loved that it felt a little bit abandoned, particularly with the overgrowth of trees and the skeleton of an old building just behind the beach.
The water in the cove is very calm and gentle, which makes it perfect for families or people who want to stand up paddleboard.
7. Plaza Borik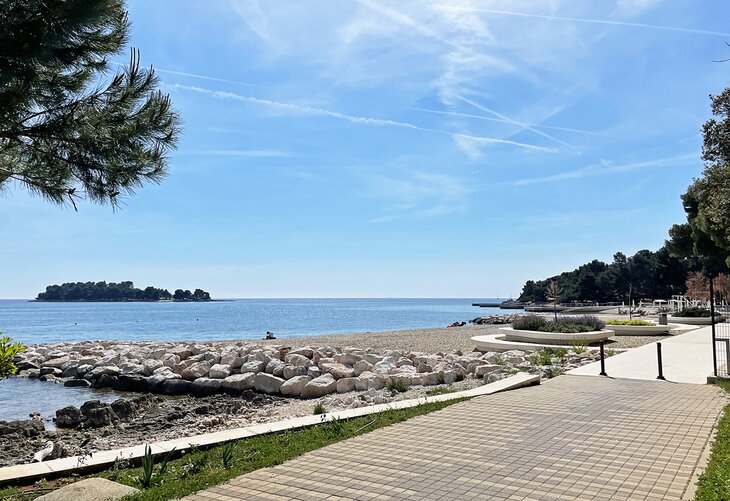 Two coves over from Rovinj's Old Town, Plaza Borik is a lovely, well-landscaped beach with a rocky shore and a paved walking path directly behind it. Because of its location, it also has a really close view of Old Town. (You're looking at Old Town from the opposite side of Mulini, for reference.)
The beach is pebbly with a few jetties made of larger stones. The manicured park behind it has a beautiful path for walking, as well as a playground and lots of trees to provide shade. You can even get a massage at the beach or grab a bite to eat at the little grill tucked in the trees.
For something more elegant, Locanda Blu has refined food with white tablecloths and a stunning sea view.
8. Polari Beach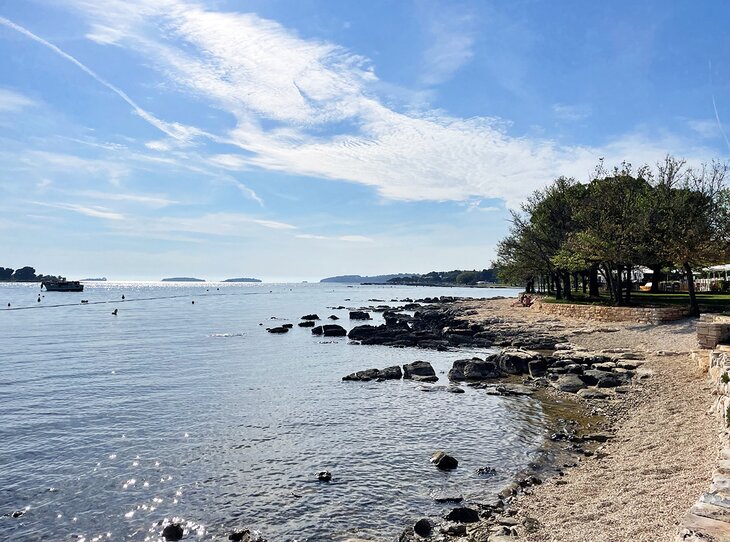 Polari Beach can be a little confusing to reach because it's located within the Polari Campground. That means that unless you're a guest of the campground, you cannot drive in. All beaches in Croatia are public, though, so you can use the parking lot outside the gate and head to the beach on foot.
This beach is really best for people who are camping at it. It's a beautiful spot with a restaurant, walking paths, and washrooms with showers. If you are a guest of the campground, you'll really love this beach and the privacy that it offers. But for people not staying at the campground, I suggest visiting one of the many other beaches in Rovinj that are much easier to access.
Address: Polari 1, 52210, Rovinj
9. Biondi Beach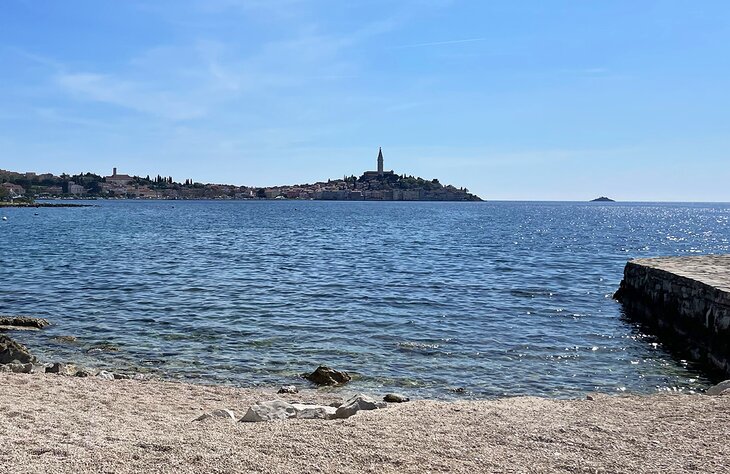 Tucked in the cove directly north of Old Town Rovinj, Biondi Beach has one of the most impressive views of Old Town. A beautifully kept stone pavilion sticks out into the blue-and-clear water, creating the perfect perch from which to drink in views of Old Town and the boats zipping by.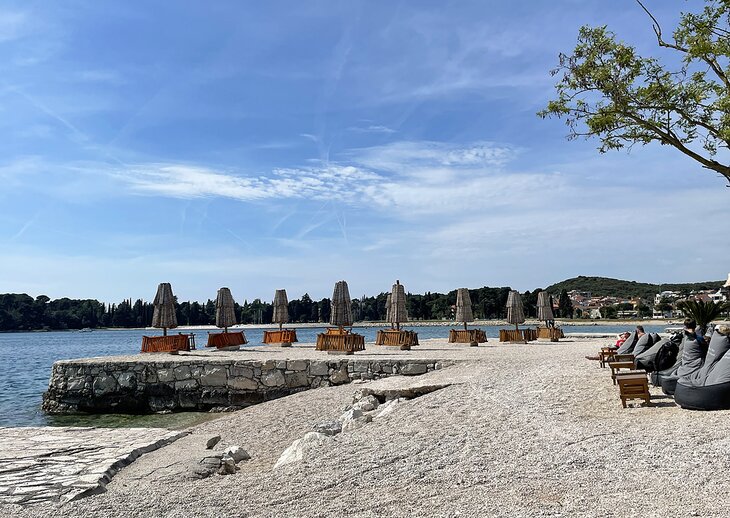 Restaurant Natura has outdoor tables and lounge chairs. I heard that the food is fabulous, but sadly the restaurant was not open when I visited. I would suggest inquiring about the rental costs of the lounge chairs if you want to use them. Most reviews say that the restaurant is worth every penny, but others say the prices for the chairs are too high. Best to ask beforehand.
Of course, you can always do what I did and sit on the stones. The views are free but look like a million bucks. Parking is available across the street.
10. Vestar Beach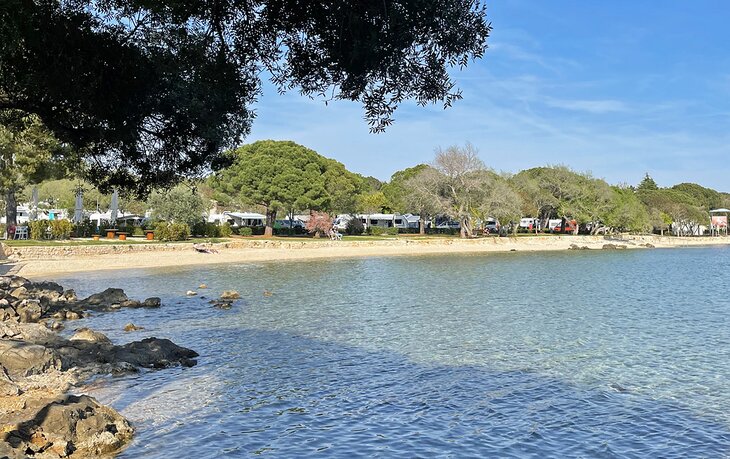 Tucked between Polari Beach and Cisterna Beach is Vestar Beach, another pebbly beach located within a campground. Similar to Polari, you cannot access the beach with a car if you are not a guest of the campground, but you can park outside the gates and walk in.
That said, if you are a guest of the campground, it seems like an incredibly entertaining place. The beach itself is small and pebbly, but the campground has lots of facilities, including a pool and a small waterpark that overlook the beach.
Stone steps lead down to the rocky shore and the water here is tranquil and beautifully clean. Several campsites directly abut the beach, so if you are staying here try to reserve one of the beachfront sites.
The park is clean with showers and restrooms and paved walking paths all around.
Address: Veštar 1, 52210, Rovinj