Palazzo dei Cavalieri, Pisa
This palace in the Piazza dei Cavalieri, to the east of the Botanic Garden, was originally the Palazzo degli Anziani (Palace of the Elders); then in 1562 Giorgio Vasari began the rebuilding and enlargement which produced the magnificent Palazzo dei Cavalieri or Palazzo della Carovana, named after the training courses for knights (cavalieri) of the Order of St Stephen which were held here; the courses were known as carovane (caravans). The imposing facade is decorated with sgraffito ornament, coats of arms and busts of six Grand Dukes of Tuscany (from Cosimo I to Cosimo III). The effect of the building is enhanced by the wide projection of the roof and the handsome double staircase leading up to the entrance. Since 1810 the palazzo has housed the Scuola Normale Superiore, an élite college of higher education founded by Napoleon. In front of the building is a statue of Cosimo I by Piero Francavilla (1596).
Palazzo dei Cavalieri Map
Palazzo dei Cavalieri Highlights
Palazzo dell'Orologio
On the north side of the Piazza dei Cavalieri can be seen the Palazzo dell'Orológio, built in 1607 for the Order of St Stephen (founded 1554), incorporating the remains of two tower houses. This palazzo was also the work of Vasari, who very skillfully contrived the combination of a State prison, the Torre delle Sette Vie (named after the seven streets running into the square), and the Palazzetto dei Gualandi or Torre della Fame (Tower of Hunger). In the latter tower, as Dante recounts in the "Divine Comedy" ("Inferno" 33), Count Ugolino della Gherardesca is said to have been starved to death in 1288, having been accused - probably unjustly - of seeking to establish his personal rule during his period of office as Capitano del Pópolo.
Santo Stefano dei Cavalieri
The Church of Santo Stéfano was also designed by Vasari. Originally built in 1565-69, it was provided in 1594-1606 with a marble facade designed by Giovanni de' Médici. The two side wings (17th century) were originally changing-rooms for the knights of the Order of St Stephen, who wore their ceremonial costume for services. These rooms were later incorporated in the church. Since the aisles are linked with the nave only by two doorways on each side, the first impression is of a aisleless church. In the panels of the coffered ceiling are paintings depicting the history of the Order of St Stephen, whose function was to defend the city against enemy raids, like those suffered in the 16th century, mainly at the hands of Saracens from North Africa. On the walls are numerous trophies and captured enemy flags recalling Pisa's Turkish wars. Other features of interest are the richly decorated high altar (1709), with the throne of the martyred Pope Stephen I (254-257), and the Baroque organ.
Map of Pisa Attractions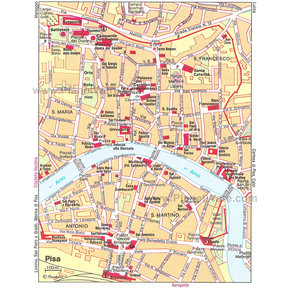 Pisa Map
More Pisa Attractions
Popular Destinations Nearby