Marien Square, Munich
Marienplatz
Marienplatz has been Munich's central square since the foundation of the town. For many centuries, until 1807, it was the market square, and during the Middle Ages it was frequently the venue of knightly tournaments. The present buildings date mainly from the 19th and 20th C.The dominant feature of the square is the New Town Hall (Neues Rathaus), a building of overpowering proportions which occupies the whole of the north side.
Important Information:
Transit:
S-Bahn: S1-S7 (Marienplatz) U-Bahn: U3, U6 (Marienplatz).
At the east end of the square stands the Old Town Hall (Altes Rathaus), with its reconstructed tower. The massive modern department store at the southwest corner is one of the most controversial of the new buildings in Munich's Old Town.Marienplatz, today boasting some good-sized department stores and several well-known restaurants, is the focus of much of the festive life of the Bavarian capital. Here processions traditionally start and end, and political parties hold their rallies. Always crowded with tourists from every part of the world, it is the stage on which buskers, mime artists and amateur acrobats choose to display their skills. Celebrations reach a crescendo on carnival Sunday when the Narren-Lindwurm (Dragon) dances over the square, also during the summer festivals and at Advent when there is an huge Christmas market.
Related Attractions
Virgin's Column
In the center of Marien Square rises the Mariensäule (Virgin's Column), erected in 1638 in thanksgiving for the preservation of Munich and Landshut during the Swedish occupation (1632). The red marble column bears a gilded figure of the Virgin as Patroness of Bavaria, with the infant Jesus and a crescent moon, originally carved by Hubert Gerhard for the high altar of the Frauenkirche. The four winged figures of children on the base (probably by Georg Petel) are respectively combating plague, war, famine and heresy.
Fish Fountain
At the northeast corner of Marienplatz square is the Fischbrunnen (Fish Fountain), recently erected here, with bronze figures from an earlier fountain of 1865. Until 1901 this was the scene, each year on Shrove Tuesday, of a light-hearted event known as the Metzgersprung (Butchers' Leap). Apprentice butchers, released with much ceremony from their indentures, were then required, wearing sheepskins, to jump into the fountain basin from where they threw nuts into the crowd and splashed the small boys who ran to get them.
More Marien Square Pictures
Map of Munich Attractions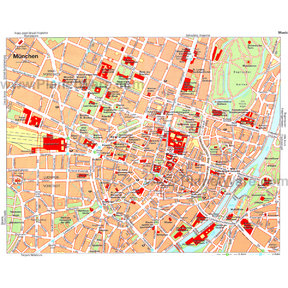 Munich Map