Greenwich Park, London
It is now one of London's most pleasant parks and leisure areas, with beautiful gardens and walking paths.Greenwich Park is London's oldest enclosed park. Contained within the park are the "Wilderness" with free roaming deer, as well as a number of historically significant sights and a restaurant. The Old Royal Observatory, can all be found here, and just north of the park are the Queen's House and the National Maritime Museum.There are great views from the park looking out across the River Thames.
Important Information:
Address:
King William Walk, Greenwich SE10, England
Useful tips:
Open from 5am. to dusk.
Transit:
BritRail: Greenwich, Maza Hill, Blackheath; Bus: 53, 54, 177, 180, 188, 199, 286, 386
Related Attractions
Old Royal Observatory
The Royal Observatory, founded in 1675 by Charles II to promote safer navigation, was housed until 1967 in Flamstead House, designed for the purpose by Sir Christopher Wren. The Observatory was moved to Herstmonceux in Sussex and subsequently to Cambridge in 1990. Flamstead House contains a collection of old astronomical instruments, including Harrison's Original Chronometer. Four of the rooms are furnished in the style of the 17th century. On a mast topping one of the towers of the house is a red time ball which drops from the top of the pole at 1 pm precisely every day - a device originally intended to enable vessels in the river to regulate their chronometers.The zero meridian of longitude, dividing the globe into eastern and western halves, runs through the Meridian Building. The point is marked by a steel rod in the floor. The building also houses an interesting exhibition of old astronomical instruments.The Equatorial Building is dominated by the dome housing the largest telescope in Britain. Public demonstrations of the telescope take place every afternoon.The Royal Observatory has undergone some extensive renovations, to build a new planetarium and astronomy galleries.
Ranger's House
Ranger's House is a red-brick villa adjacent to Greenwich Park, built in the early 18th C. It was once the residence of 'Ranger of Greenwich Park', thus giving the house its name. At that time, in the early 19th Century, the position was held by Princess Sophia Matilda.Today the Ranger's House holds the Werner Collection, which was the private collection of Sir Julius Werner. Werner was a wealthy diamond miner who died in the early 20th Century. The collection includes a wide range of items including jewelry, glassware, silver, paintings, and other Renaissance decorative arts.
Greenwich Park Pictures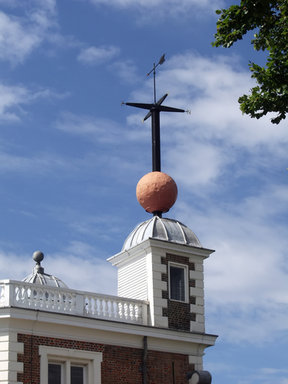 Map of London Attractions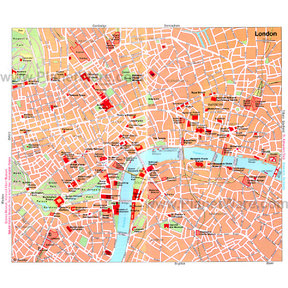 London Map