Birmingham, England Tourist Attractions
Birmingham, popularly known as "Brum", is Britain's second largest city and one of the biggest industrial centers in the world.Birmingham makes a good base from which to explore the Cotswolds, the Malvern Hills and the Vale of Evesham.
Birmingham International Airport
Following a program of expansion completed in 1991 Birmingham International Airport is now one of the most modern in the world, with bus and rail connections to the city center and a Maglev (magnetic levitation) monorail link to the National Exhibition Centre (NEC).
New Street Station
New Street Station, Birmingham's city center mainline railroad station, has half hourly InterCity services to London Euston and good rail connections with all parts of the country.
Victoria Square
The older public buildings in Birmingham are grouped around Victoria Park.

Town Hall
Birmingham's Town Hall (1832-50), a masterpiece of Victorian architecture, takes the form of a Roman temple, with 40 Corinthian columns of Anglesey marble; the large hall can seat 2000. It has been the center of the city's musical life since the first performance of Mendelsohn's "Elijah" here in 1847, and has one of the finest organs in the country.Adorning the forecourt are two memorials, one to Queen Victoria and another to the inventor James Watt. Both are the work of Alexander Monro and date from 1899.
Chamberlain Square
In Chamberlain Square (pedestrian precinct), north of Birmingham's Town Hall, a fountain commemorates Joseph Chamberlain, Lord Mayor of Birmingham from 1873 to 1875. There is also a statue of Joseph Priestley, the discoverer of oxygen, who was minister of the Unitarian church here from 1680 to 1691.
Central Library
The Birmingham Central Library has what is probably the largest Shakespeare collection outside the United States, (50,000 volumes in 90 languages). The coin and stamp collections and the archaeological section are also outstanding.
City Museum and Art Gallery
The Birmingham City Museum and Art Gallery, designed by H. Yeoville and opened by HRH the Prince of Wales, later Edward VII, in 1885, is one of the finest in the country outside London. Its art treasures include a matchless collection of Pre-Raphaelites (Ford Madox Brown, Arthur Hughes, Dante Gabriel Rossetti and others), as well as paintings from the 17th to 19th centuries, among them Canaletto's picture of Warwick Castle (1748), Lely's portrait (1654) of Oliver Cromwell, Victorian works by David Cox, the Birmingham landscape painter, and modern art - pictures by Wendy Ramshaw and sculptures by Henry Moore, Rodin and James Tower.There are also interesting displays related to the city's history, ranging from medieval coins and historic paintings to Cadbury's chocolate products and turn-of-the-century modes of transport. Other sections are devoted to archaeological finds dating back to the Stone Age and superb 17th to 19th century silver. The Pinto Collection contains 6,000 toys and other items (including "love spoons"), all of them made of wood.
Museum of Science & Industry (closed)
Close to the Post Office in Newhall Street, the Museum of Science and Industry celebrates Birmingham's industrial history. It has fine collections of machinery and motor cars.Attraction closed in 1997.
Jeweler's District
A short distance north of the Museum of Science and Industry, along Newhall Street, lies an area of Birmingham steeped in tradition. Here more than 200 jewelers' workshops and silversmiths are concentrated, chiefly in the vicinity of the Clock Tower on the corner of Vyse Street and Frederick Street and around the Georgian church of St Paul's.
Civic Centre
The Birmingham Civic Center is located southwest of the Central Library.
Hall of Memory
The Hall of Memory opposite Baskerville House (municipal offices) was erected in 1925 to commemorate the 14,000 Birmingham men who lost their lives in the First World War.
Repertory Theater
On the far side of Centenary Square (pedestrian precinct) near the new International Convention Center stands Birmingham's celebrated Repertory Theater with the Studio Theater adjoining.
International Convention Centre
The ultra modern International Convention Center has eleven conference halls (seating from 30 to 3000 people). Incorporated into the complex are the Hyatt Regency Hotel - a palace of glass - and an elegant concert hall.
Symphony Hall
The Symphony Hall concert hall (with 2200 seat auditorium) is the new home of the famous Birmingham Symphony Orchestra with Simon Rattle as principal conductor since 1980.
National Indoor Arena
Birmingham's National Indoor Arena near the canal was opened in 1992 accommodating up to 12,000 spectators.
Brindley Place
The historic canals south west of Brindley Place are destined to become the central feature of a modern leisure complex.
St Philip's Cathedral
The Palladian style St Philip's Cathedral built between 1711 and 1715 by Thomas Archer began life as a parish church, being elevated to its present status in 1905; the pulpit was added in 1897. The church has four stained glass windows by Burne-Jones, manufactured by William Morris in 1884-85.
St Chad's Church
St Chad's, north of Birmingham city center, has the distinction of being the first Roman Catholic church built in Great Britain after the Reformation (by Pugin in 1839-41). Now the seat of an archbishop it boasts a 16th century oak pulpit and 15th century choir stalls and lectern from Cologne.
Birmingham University
Birmingham University was founded in 1900, the Chamberlain Tower (325ft/996m) being named after the first Chancellor.
University of Aston
The University of Aston is of more recent origin than Birmingham University, formed when the College of Advanced Technology was granted a charter in 1966. King Edward VI School, east of the University, was established in 1552.
Barber Institute of Fine Arts
Situated close to Birmingham University is the Barber Institute of Fine Arts. Evolving initially from a private bequest by Lady Barber, the Institute now houses the University's excellent collection of art from the Renaissance to the 20th century. It includes works by Botticelli, Bellini, Tintoretto, Rubens, Rembrandt, Watteau, Manet, Monet, Gainsborough, Constable and Degas.
Selly Oak Colleges
The Selly Oak Colleges, with the large Rendel Harris Library (1903), are noteworthy.
Rendel Harris Library
In the Selly Oak Colleges, the large Rendel Harris Library (1903), is noteworthy.
Weoley Castle
In Alwold Street in Birmingham stands Weoley Castle, the ruins of a moated house of the 12th-14th century. There is a museum of local history which has some interesting archaeological finds.
Cadbury World
Just to the south of Birmingham lies Bournville, headquarters of Cadbury Bros., the well known chocolate and cocoa manufacturers established in 1831 (now Cadbury-Schweppes). This attractive suburb started life as a garden village, built by the company for its factory workers in 1895.

Selly Manor Museum
The 15th century Selly Manor Museum displays old furniture and household equipment.
Sarehole Mill
Sarehole Mill in Hall Green is said to have provided J. R. R. Tolkien with inspiration for his book "The Hobbit". The 200-year-old corn mill was converted into a knife factory at the turn of the century and today contains displays illustrating aspects of milling blade grinding and English rural pursuits.
Aston Hall
Aston Hall, a red brick Jacobean mansion in the pleasant surroundings of Aston Park, 2.5 mi/4km north of the Birmingham Civic Center (near "Spaghetti Junction" on the M6), was built by Thomas Holte between 1617 and 1635. From 1818 to 1848 it was the home of James Watt and is now a museum and art gallery. It has an exceptionally fine oak staircase.
Cannon Hill Park
The flower and ornamental gardens of Cannon Hill Park in Edgebaston are a haven of tranquillity amidst the urban bustle.
St Martin's Circus
The area around St Martin's Circus with its old market place and nearby Wholesale Markets is one of Birmingham's two principal shopping districts.
Pavilions Shopping Centre
The Pavilions is one of Birmingham's modern shopping precincts.
Bull Ring Market & Shopping Centre
National Exhibition Centre
Situated on the eastern outskirts of Birmingham, just off the M42, the National Exhibition Center provides a venue for all kinds of trade fairs and shows. Having opened in 1982, by 1993 the 1.3 million sq.ft/125,800sq.m of exhibition area had been enlarged by a further 0.3million sq.ft/28,000sq.m. A Maglev (magnetic levitation) monorail runs between the Center and Birmingham International Airport a mile or so away.
Drayton Manor Family Theme Park
The Drayton Manor Theme Park is set in 250 acres of parkland in the heart of the Midlands, eight miles north of Birmingham. It offers more than 50 rides including Britain's first stand-up rollercoaster and a zoo.
Perrott's Folly
The Folly is 96ft / 29m high and consists of seven small rooms on top of each other connected by a spiral staircase of 139 steps. The top room is an 18th century drawing room with an ornate dome ceiling and a fireplace.
Botanical Gardens
The Birmingham Gardens feature tropical, Mediterranean and desert glasshouses. Waterfowl and exotic birds are on display.Open daily.
Halesowen Abbey
Halesowen Abbey is the ruins of a 13th C abbey founded by King John. In the 19th C it became part of a farm.
Harbourne Botanic Gardens
The glass houses of the Harbourne Botanic Gardens are a peaceful haven amidst Birmingham.
National Motorcycle Museum
The National Motorcycle Museum in Birmingham contains hundreds of British motorcycles along with historic documentation and photographs.
Birmingham International Jazz Festival
This annual week-long festival takes place in July.
Corporation Street
This is one of Birmingham's two principal shopping districts.
Kings Shopping Centre
This is one of Birmingham's modern shopping precincts.
Pallasades
The Pallasades is one of Birmingham's modern shopping precincts.
More Birmingham Pictures






Map of Birmingham Attractions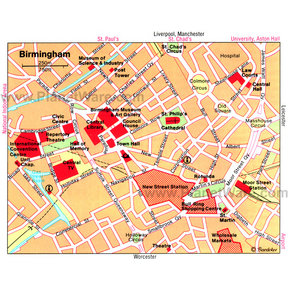 Map - Birmingham