Top Tourist Attractions in Birmingham & Coventry
Birmingham is Britain's second largest city, and its location in the West Midlands makes it a great place to begin exploring the beautiful Cotswolds and Malvern Hills areas - especially by canal. Birmingham's canals were a byproduct of the Industrial Revolution that saw the city boom, and today this extensive canal network (the city has more canals than Venice) is used mostly for pleasure boating. These days, the city is famous for its jewelry and foods as well as its numerous cultural activities and festivals, such as Europe's second-largest St Patrick's Day Parade.
Just 20 miles away from Birmingham is Coventry, the center of Britain's motor industry. A massive bombing raid in 1940 destroyed much of the city, including old Coventry Cathedral, the ruins of which were incorporated into the new cathedral. Today, Coventry's fine open squares, wide streets and pedestrian zones are well worth exploring.
1 Historic City Center, Birmingham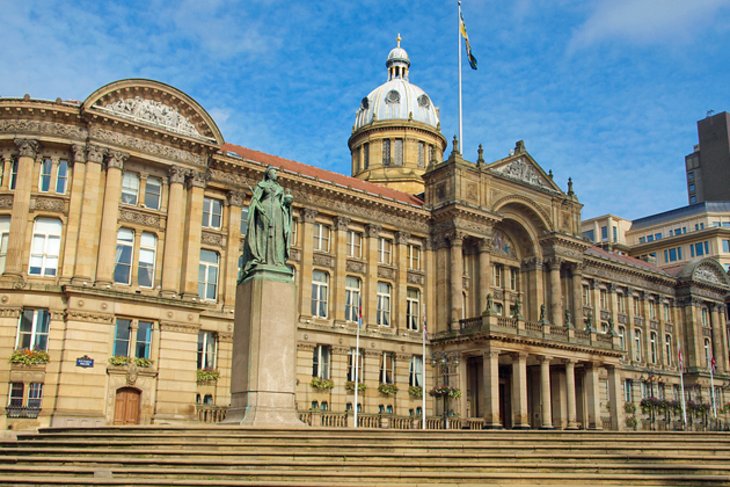 Birmingham's Town Hall was built in 1832 and is a masterpiece of Victorian architecture. Resembling a Roman temple, this impressive structure features 40 ornate Corinthian columns of Anglesey marble. It's been the center of the city's music scene since hosting the first performance of Mendelsohn's Elijah in 1847. Nowadays, its impressive Symphony Hall with its world-class acoustics and stunning auditorium regularly features A-list singers and performers, and is also home to the City of Birmingham Symphony Orchestra.
Adorning the forecourt are two memorials, one to Queen Victoria and another to the inventor James Watt, while the Renaissance style Council House (1874) with the famous 'Big Brum' clock (a slang word for Birmingham) is close by. Other old-city sites to visit: pedestrians-only Chamberlain Square, and the Central Library, home of the largest Shakespeare collection outside the United States (50,000 volumes in 90 languages).
2 Birmingham Museum & Art Gallery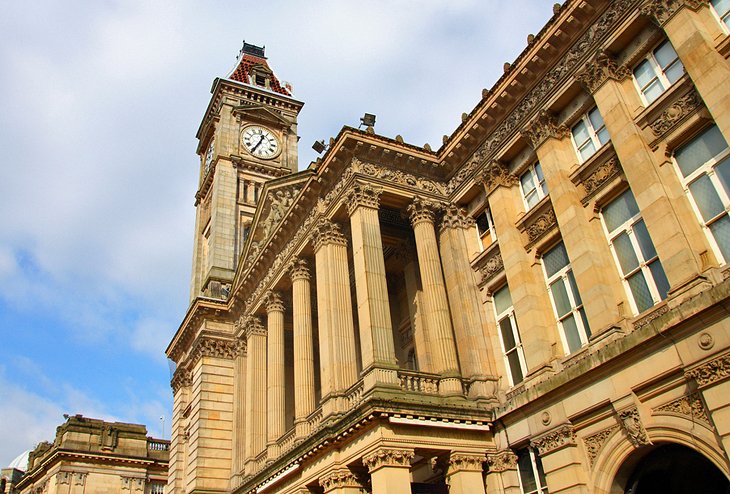 The Birmingham Museum and Art Gallery, opened in 1885, is considered one of the finest such museums outside London. Its art treasures include a collection of Pre-Raphaelite painters, as well as artwork from the 17th to 19th centuries, as well as sculptures by Rodin and James Tower. There are also interesting displays related to the city's history, including archaeological finds dating back to the Stone Age, as well as the Pinto Collection with its 6,000-plus toys and other items made of wood.
Location: Chamberlain Square, Birmingham
3 Jewellery Quarter, Birmingham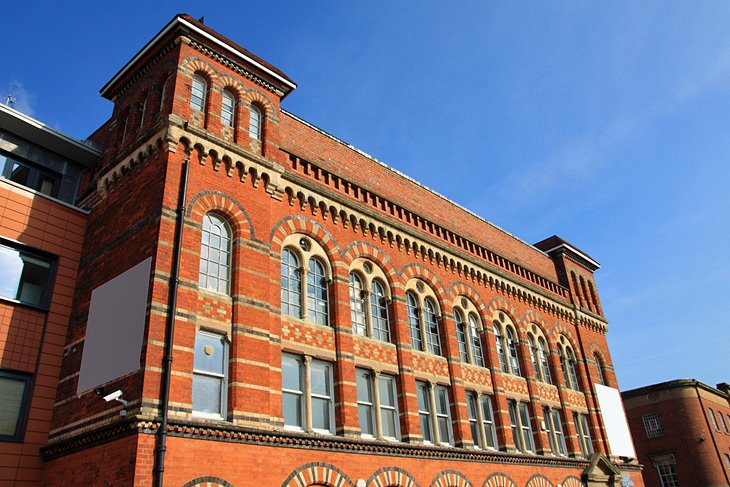 A short distance from the Museum of Science and Industry is an area of Birmingham steeped in tradition: the Jewellery Quarter. Here more than 200 jewelers' workshops and silversmiths are concentrated, chiefly in the vicinity of the Clock Tower on the corner of Vyse and Frederick Streets and around the Georgian church of St Paul's.
Be sure to visit the Museum of the Jewellery Quarter, an insider's look at the trade set-up in the fascinating Smith & Pepper Factory. Also worth a visit is the nearby Hall of Memory opposite Baskerville House, erected in 1925 to commemorate the 14,000 city men who lost their lives in WWI.
Location: Vyse Street, Hockley, Birmingham
4 St Philip's Cathedral, Birmingham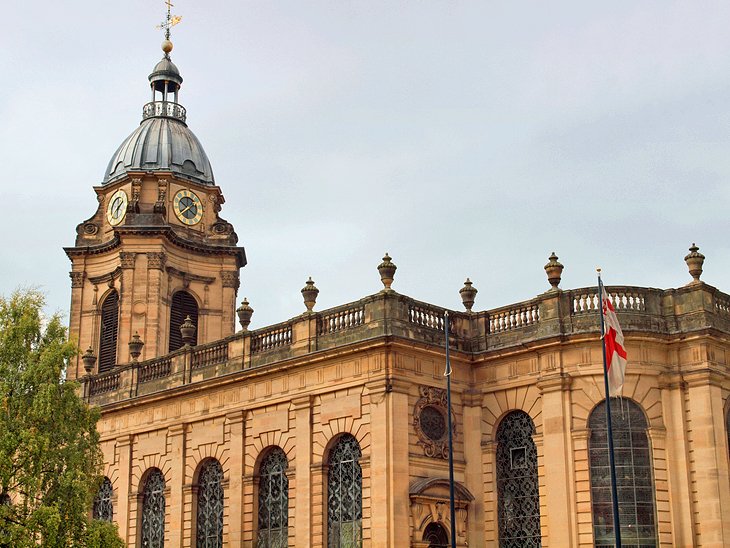 Built in 1715, St Philip's Cathedral (the third smallest in England) began life as a parish church and was elevated to its present status in 1905. The cathedral was gutted during a bombing raid in 1940, but foresight saw its famous stained glass windows by Burne-Jones (1884) removed just weeks prior. Today, these significant treasures - replaced when the cathedral was rebuilt in 1948 - are a highlight of any trip to Birmingham.
Another religious structure worth visiting is St Martin's Church. Dating from the 13th century, it also features windows by Burne-Jones.
Location: Colmore Row, Birmingham
5 Barber Institute of Fine Arts, Birmingham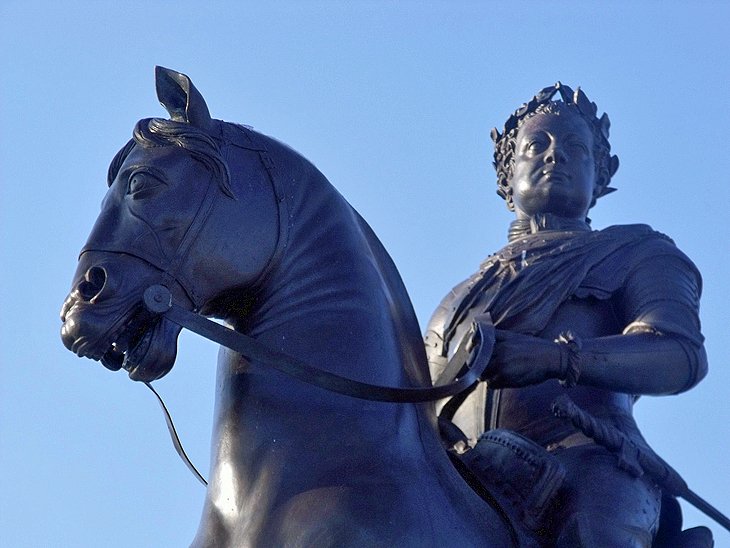 Situated close to Birmingham University, the Barber Institute of Fine Arts houses an excellent collection of art from the Renaissance to the 20th century, including works by Botticelli, Bellini, Tintoretto, Rubens, Rembrandt, Watteau, Manet, Monet, Gainsborough, Constable and Degas. The building itself should be explored, especially its excellent statue of George I, and be sure to check out the institute's schedule of classical lunchtime and evening concerts.
6 Cadbury World, Bournville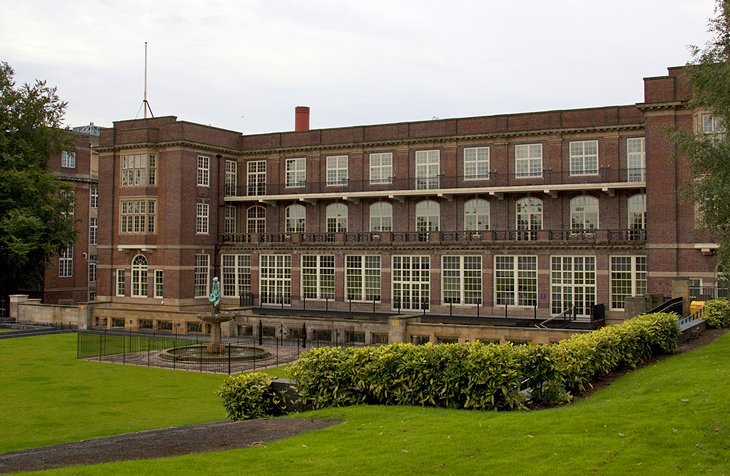 Located on Cadbury's Bournville manufacturing site just a short drive from Birmingham, Cadbury World is one of the area's largest attractions, welcoming over 500,000 visitors each year. With a focus on fun, visitors get to discover the history of chocolate, as well as learn about the origins and story of the Cadbury business, one of the world's largest confectionery.
Spend a little time exploring the picture-perfect village of Bournville itself, built up by the Cadbury family after 1860 to house their large workforce.
Location: Linden Rd, Bournville
7 Black Country Living Museum, Dudley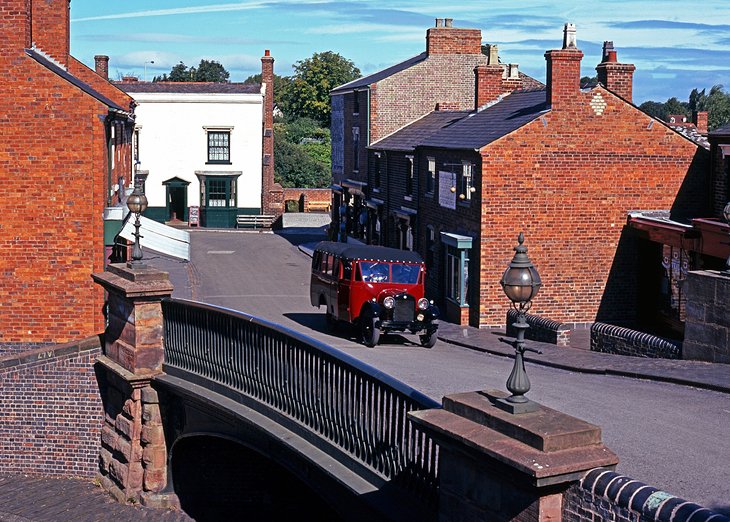 The Black Country Living Museum in Dudley, just 9 miles west of Birmingham, offers a vivid insight into the history of mining (hence the 'black'). An old mine shaft and reconstructed turn-of-the-century industrial community can be explored, as can the neighboring network of canals - this part of the adventure takes place in an authentic narrow boat once used to transport coal.
Location: Tipton Rd, Dudley
8 Broadgate, Coventry
Broadgate, a spacious pedestrian-friendly square in the heart of the city, is known for its references to Lady Godiva, the city's most (in)famous resident. A statue of her stands in the middle of the square, and Broadgate House has a unique clock on which Lady Godiva appears on the stroke of the hour, with Peeping Tom at a window above.
Holy Trinity Church, at the northeast corner of Broadgate, has one of the city's three famous spires, this one constructed in 1166 and 327 ft high. The church boasts beautiful windows, a stone pulpit from 1470, and interesting tapestries woven for the coronation of Elizabeth II.
9 Old Coventry Cathedral
The Old Coventry Cathedral, built in 1373 and originally one of the largest parish churches in England, was elevated to cathedral status only in 1918. After the devastating blitz of 1940, only parts of the external walls survived, together with the slender, 303 ft high spire. At the east end of the old cathedral, a cross - fashioned from two charred beams rescued from the ruins - is a poignant symbol and reminder of the destruction. (Interesting fact: the sacristies were rebuilt after the war with help from young German volunteers.)
Address: 1 Hill Top, Coventry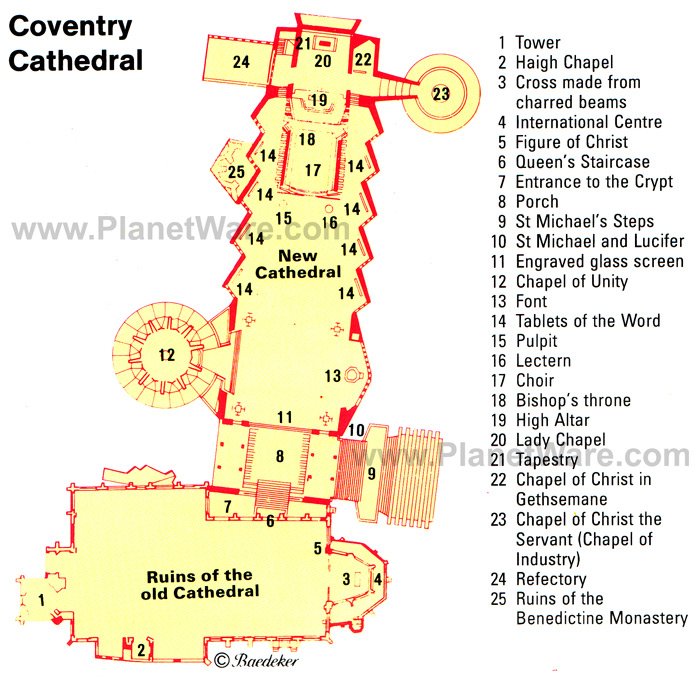 Coventry Cathedral Map
Want to use this map on your web site?
Copy and Paste the code below:
10 St Michael's Cathedral, Coventry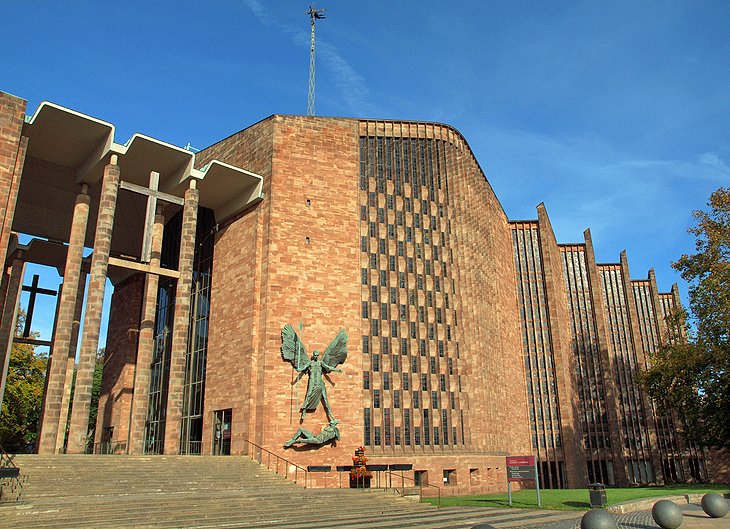 A tall, canopied porch links the old cathedral ruins with modern St Michael's Cathedral, designed by Sir Basil Spence and opened in 1962. The walls of the 420 ft long nave are built in zigzag fashion, the offset concrete panels alternating with windows facing the altar. The most striking feature, though, is the huge glass screen at the building's west end. Engraved with figures of angels, saints and patriarchs, it creates a striking visual link both with the old cathedral ruins and the busy city streets outside. Another impressive feature is the baptistery with its font hewn from stone from Bethlehem, and the stained glass Sunburst Window.
A nearby building fortunate enough to have survived the bombing was the 15th century St Mary's Hall, headquarters of the Merchants' Guild since 1342. The Great Hall (1394-1414) has impressive oak vaulting and a tapestry depicting Henry VII's visit in 1500.
Location: Hill Top, Coventry
11 Grayfriars, Coventry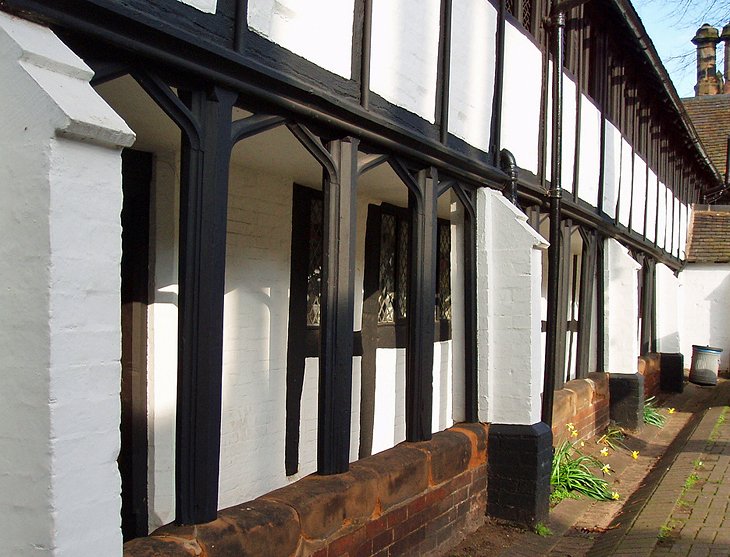 The most interesting of Coventry's surviving half-timbered buildings is Ford's Hospital in Grayfriars Lane, an almshouse for poor married couples founded in 1509. Nearby Grayfriars Monastery, destroyed in 1539, is worth visiting for its surviving steeple, now incorporated into Christ Church. The dormitory and cloister of the Whitefriars Monastery have been restored and house a local museum. Bablake Old School (1560) is also worth seeing, as is Bond's Hospital, a half-timbered almshouse for elderly men founded in 1506.
12 Coventry Transport Museum
The Coventry Transport Museum provides a fascinating account of the history of road transport in Britain. Be prepared to stay awhile, as the museum's huge, and includes an impressive collection of 300 cycles, 120 motorcycles and 250 cars and commercial vehicles - plus over a million other related items. Collections include royal limousines, cars of the 1940s, 1950s and 1960s, as well as educational displays and exhibits focusing on Coventry's unique role in Britain's automobile industry.
Location: Hales Street, Coventry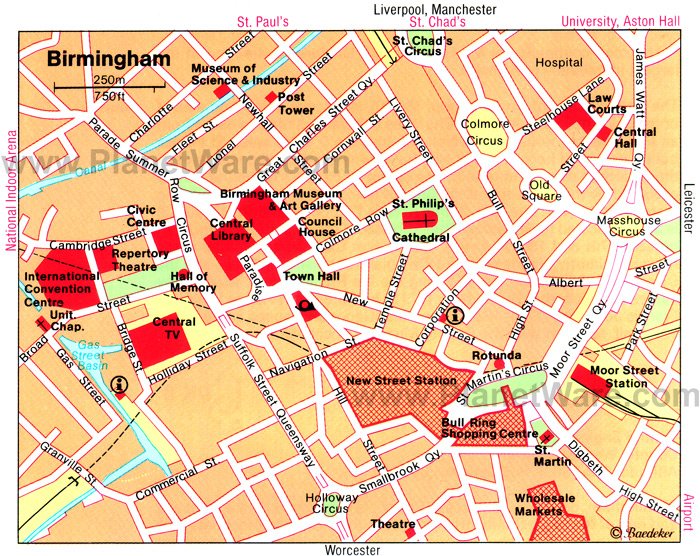 Birmingham Map - Attractions
Want to use this map on your web site?
Copy and Paste the code below:
More on England