Top-Rated Tourist Attractions in Stratford-upon-Avon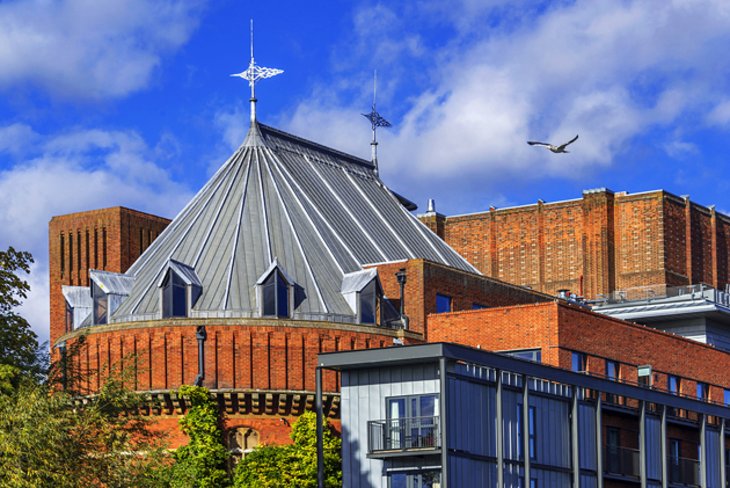 Stratford-upon-Avon
View slideshow
Stratford-upon-Avon, the small old Elizabethan market town on the River Avon, enjoys worldwide fame as the birthplace of William Shakespeare.
Shakespeare's Birthplace
Shakespeare's birthplace occupies an isolated position in Henley Street, as the surrounding half-timbered houses have been ripped down to protect it from the risk of fire. The two-storied, half-timbered complex with its many gables comprises the house in which Shakespeare was born and the additional houses bought by his father. The interior of Shakespeare's birthplace has remained unaltered and reflects the residential lifestyle of a lower middle-class family in the second half of the 16th century, the period in which Shakespeare grew up as the son of a wool dealer. The rooms have been lovingly arranged with contemporary furniture and contain much memorabilia, including the First Folio edition of his works (1623), and a window on which many illustrious visitors and admirers scratched their names.A visitor's center houses a permanent exhibition on Shakespeare: his life and background.
Address:
Henley Street, Stratford-upon-Avon CV37 6QW, England
Shakespeare Centre
Adjoining Shakespeare's birthplace is the modern Shakespeare Centre (opened 1964), the headquarters of the private Shakespeare Birthplace Trust, founded in 1847. It contains rooms for study and a library.
Quiney's House
At the corner of Stratford's High Street and Bridge Street stands Quiney's House. It was occupied from 1616 to 1662 by the merchant Thomas Quiney and his wife Judith, Shakespeare's younger daughter.
Garrick Inn & Harvard House
In Stratford's High Street, is the 16th century Garrick Inn, richly embellished with wood carvings, and Harvard House, dating from the same period. This half-timbered house was constructed in 1596 and belonged to the mother of John Harvard (1607-1638), founder of the famous Harvard University in Massachusetts, USA.
Address:
Henley Street, Stratford-upon-Avon CV37 6QW, England
Town Hall
Near Stratford's Classical Town Hall (1769) stands a statue of Shakespeare, which was presented by David Garrick (1716-1779), the famous actor and manager of Drury Lane Theatre in London. Beside the Town Hall is a hotel, partly dating from the 15th century, which bears Shakespeare's name.
New Place Town Museum
A few steps from the Stratford Town Hall, in Chapel Street, Nash's House is now home to the New Place Town Museum, displaying Roman and Saxon finds, as well as mementos of Shakespeare and Garrick. Thomas Nash, to whom the house belonged, was married to Shakespeare's granddaughter Elizabeth Hall. Next to his house stood New Place, one of the most attractive houses in the town, which Shakespeare bought on May 4, 1597 for the sum of £60. After his return from London in 1611 Shakespeare lived here until his death. The next owner, a priest irritated by the cult of Shakespeare, had the house torn down in 1759. In 1862 the land passed into the ownership of the Shakespeare Trust, which established a marvelous Elizabethan-style garden, Knott Garden, there resembling the one in which Shakespeare is said to have written "The Tempest" in 1611.
Address:
Chapel Street, Stratford-upon-Avon CV37 6EP, England
Guild Chapel
The Guild Chapel at the corner of Chapel Lane, a single-aisled Gothic church, has a fine wall painting of the Last Judgment of about 1500.
Guild Hall
The upper floor of Stratford's Guild Hall (adjoining the Guild Chapel), a Tudor half-timbered building, was for centuries used as a grammar school. Shakespeare probably received his school education in these classrooms.
Shakespeare Institute
A Shakespeare research center is Mason Croft, since 1951 the Shakespeare Institute of the University of Birmingham.
Hall's Croft
A short distance from the Shakespeare Institute, in the old town, is one of Stratford's most attractive Tudor houses, Hall's Croft, with its charming garden. This was the home of Dr John Hall, who married Shakespeare's eldest daughter Susanna.
Address:
Old Town, Stratford-upon-Avon CV37 6BG, England
Shakespeare's Tomb
An avenue of lime trees leads to the parish church of Holy Trinity, in which Shakespeare is buried. This Gothic construction dates back to the 13th century, but has been considerably altered. The writer's tomb lies in the chancel between the pulpit and the high altar and is marked by a stone bearing Shakespeare's inscription:"Good friend for Jesus sake forebeare, to digg the dust enclosed heare. Bleste be ye man y'spares the stones and curst be he y'moves my bones."On the wall above the grave is a monument to Shakespeare, set up before 1623, probably the work of the Flemish sculptor Johnson (Geraert Janssen). Close by are the graves of his wife, Anne Hathaway, his daughter, Susanna Hall, his son-in-law, John Hall, and of the first husband of his granddaughter Elizabeth, Thomas Nash. The church also contains the late 15th century font used in Shakespeare's christening and a copy of the parish registers containing the record of his baptism and burial.
Royal Shakespeare Theatre
Southern Lane follows the Avon to the Royal Shakespeare Theatre, designed by Elizabeth Scott and built between 1920 and 1932. The old Memorial Theatre, in which almost all of Shakespeare's plays had been produced after 1879, was burnt down. The figures on the facade - Love, Life, Death, Mirth, Faithlessness, War - are by Eric Kennington.
Address:
Royal Shakespeare Theater, Stratford-upon-Avon CV37 6BB, England
Shakespeare Picture Gallery
The picture gallery on the upper floor of the Royal Shakespeare Theatre contains portraits of Shakespeare and famous actors, as well as costumes and stage sets.
Swan Theatre
The Royal Shakespeare Company opened the Swan Theatre in 1936. Its architecture is mock-Elizabethan.
World of Shakespeare
The World of Shakespeare, at the end of Waterside, presents audio-visual shows giving an insight into the age of great literature.
Bancroft Gardens & Gower Memorial
Well-tended Bancroft Gardens now extend along the riverside, featuring Clopton Bridge, a 15th century stone bridge, and the Gower Memorial (1888), actually a memorial to Shakespeare given by the sculptor Lord Ronald Gower and depicting the dramatist sitting in an easy-chair, surrounded by his literary characters Lady Macbeth, Falstaff, Hamlet and Prince Hal.
National Teddy Bear Museum
A completely different attraction for both young and old is the National Teddy Bear Museum, opened in 1988. The toy animal was named after the American president Theodore ("Teddy") Roosevelt, who refused to shoot a young bear while out hunting in 1902. Among the 1,000 exhibits assembled from 20 different countries are replicas of popular heroes from children's books, such as Winnie the Pooh, Paddington and Rupert, as well as bears belonging to prominent people, including Humphrey, the bear of ex-Prime Minister Margaret Thatcher, and Teddy Iswlyn, the toy of the former Labour Party leader Neil Kinnock.
Address:
19 Greenhill Street, Stratford-upon-Avon CV37 6LF, England
Stratford upon Avon Town Walk
Daily guided walks around the historic streets of Stratford to see Shakespeare's Stratford with your own guide. sights include Shakespeare Town Houses, Royal Shakespeare Theatres, Grammar School and Holy Trinity Church. The guide will entertain and inform with amusing anecdotes, tales of fires, flood, plague, mediaeval cures and history of the town.Discover unique shops, a hidden garden, tearooms and attractions.
Winter Visitors' Festival
This annual six-week festival runs from early-February to mid-March and aims to draw tourism to Shakespeare's hometown during the winter. In this spirit, the program offers a wide array of events, including operas, orchestral, chamber and jazz concerts, recitals, theatrical performances and children's events. Performances take place in the Royal Shakespeare Theatre and the Swan Theatre.
Packwood House
Packwood House is a National Trust property located in Lapworth. The Elizabethan manor at this site has a fine sunken and topiary garden lined with clipped yews. The trees are said to symbolize the Sermon on the Mount. There are also courtyards, terraces and gazebos.
Address:
Lapworth, Solihull B94 6AT, England
Stratford Festival
Music, song and dance make up this annual two-week festival that takes place in July.
Address:
Ryon Hill House, Warwick Road, Stratford-upon-Avon CV37 0NZ, England
Mop Fair
This annual day-long festival takes place in mid-October and dates as far back as the 14th century. An ox is roasted in a large brick fireplace and is then served for the festival dinner. Other events include trade and food stalls, and a street fair.
Address:
Ryon Hill House, Warwick Road, Stratford-upon-Avon CV37 0NZ, England
Aston Cantlow
Aston Cantlow has a fine church where Shakespeare's parents were married.
Surroundings
Anne Hathaway's Cottage
Anne Hathaway's Cottage is situated in Shottery, 1mi/1.6km west of Stratford town center. This country house, a brick building with half-timbering, a thatched roof and a delightful garden, remains in almost the exact state as it was when Shakespeare won the hand of his wife, Anne, here. Until 1899 it was inhabited by descendants of the Hathaway family. Since then it has been furnished again in the style of the 16th/17th centuries. A small park has been laid out behind the fruit garden. It has been planted with all the trees mentioned in Shakespeare's works.
Address:
Cottage Lane, Stratford-upon-Avon CV37 6QW, England
Wilmcote - Mary Arden's House
Shakespeare's mother is said to have been born and lived in Mary Arden's House in Wilmcote (4mi/6.4km northwest of Stratford). This magnificent Tudor-style farmhouse now houses a museum devoted to the country customs of the county of Warwickshire.
Address:
Station Road, Wilmcote CV37 9UN, England
Charlecote Park
Shakespeare is supposed to have hunted in Charlecote Park (4mi/6.4km east of Stratford), was apparently caught, and lashed as a punishment by Sir Thomas Lucy, whereupon Shakespeare turned him into the somewhat laughable justice of the peace Shallow in "Henry IV". The Lucy family owned the estate after 1247. In 1558 Sir Thomas rebuilt the country seat and received there, among others, Elizabeth I.
Alcester, England
A popular outing from Stratford is to Alcester (8mi/13km west of Stratford; pop. 4,500). The town features many old half-timbered houses, including the Old Malt House (about 1500) and the picturesque Town Hall.There are a number of well-preserved Tudor style houses and the Old Rectory is a good example of Georgian architecture. Ragley Hall in Alcester is the home of the Jerwood Sculpture Park, a collection of 20th and 21st century sculpture.
Ragley Hall

Ragley Hall is the distinguished country seat of the Marquis of Hertford. Built in the Palladian style, it lies 1.5mi/2km southwest of Alcester. Built to the design of Robert Hooks between 1679 and 1693, James Gibbs (1682-1754) decorated the salon after 1750 with splendid stucco work. Chippendale furniture, paintings by Rubens and Reynolds, Meissen and Sèvres porcelain embellish the rooms. The 18th century country garden was created by "Capability" Brown.
Coughton Court

Coughton Court is a National Trust property near Alcester. This Tudor house has been home to the Throckmorton family since 1409. The house is associated with the Gunpwder Plot and is said to have seen a great deal of activity during the Civil War. Some impressive features in the house are the central gatehouse, collections of furniture, porcelaine and paintings.
Address:
Throckmorton Estates, Alcester B49 5JA, England
Kinwarton Dovecote
Kinwarton Dovecote is a National Trust property located near Alcester. The 14th century circular dovecote with an ogee doorway still houses doves.
Address:
Kinwarton, England
Sightseeing Nearby: