9 Top-Rated Tourist Attractions in Stratford-upon-Avon
Stratford-upon-Avon, the small old Elizabethan market town on the River Avon in Warwickshire, enjoys worldwide fame as the birthplace of William Shakespeare. The town center is extensively 16th and 17th century, surrounded by areas of greenery and charming sections of riverbank. Many attractive rows of half-timbered houses include Shakespeare's house, where visitors can still follow in the footsteps of the famous playwright.
The town is internationally famous as a research center and a stage for Shakespeare's works, as well as for the five wonderfully preserved homes associated with him. This culturally blessed setting has repeatedly been used as a backdrop in literature, and today the town lives primarily by the marketing of its most famous son. Numerous events and festivals include the famous Mop Fair, which has been held in the town center since the 15th century.
1 Shakespeare's Birthplace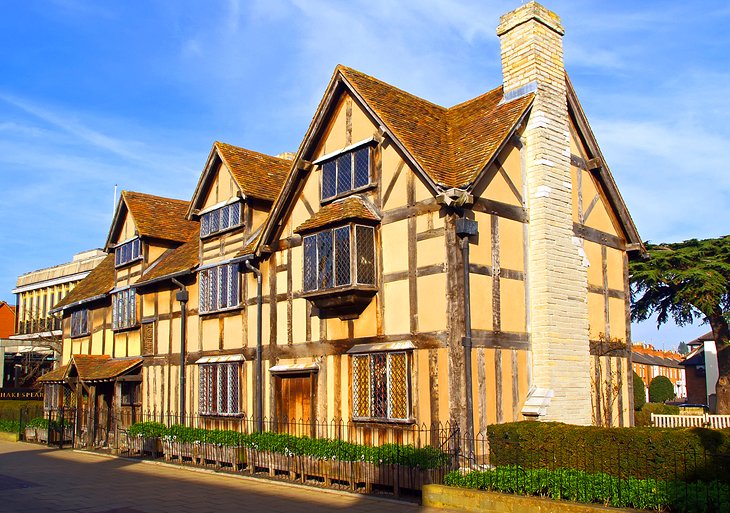 Shakespeare's birthplace is a lovely two-storied, half-timbered complex, its interior unaltered and reflecting the residential lifestyle of a lower middle-class family in the second half of the 16th century. The rooms have been carefully arranged with contemporary furniture, and include the First Folio edition of his works (1623). Look for the window on which many illustrious visitors have scratched their names, including Charles Dickens, Thomas Hardy and John Keats.
Admission includes the fascinating Shakespeare's Treasures Exhibition with its rotating displays of memorabilia, and Shakespeare Aloud, a chance to watch his plays being brought to life by a troupe of professional actors. Adjoining Shakespeare's birthplace is the Shakespeare Centre, headquarters of the Shakespeare Birthplace Trust with its library and study rooms.
2 Anne Hathaway's Cottage and Gardens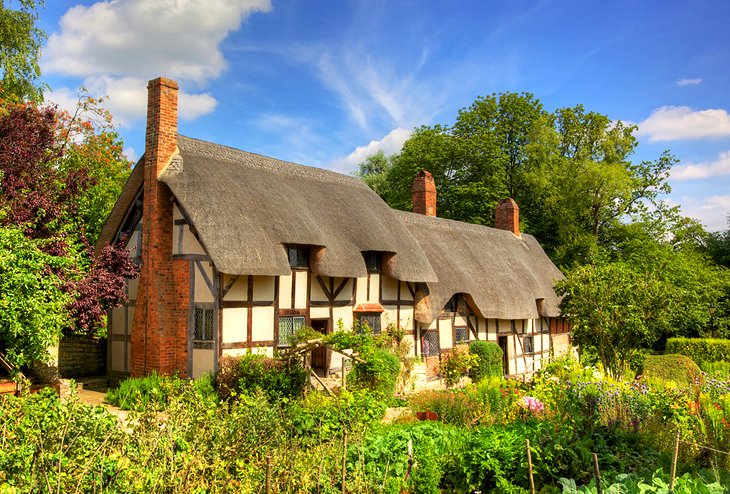 Anne Hathaway's Cottage is situated in Shottery, a pleasant one-mile stroll west of the town center. A brick building with half-timbering, a thatched roof and a delightful garden, this picture-perfect country house remains in almost the exact state as when Shakespeare won the hand of his wife, Anne. Until 1899, descendants of the Hathaway family inhabited the property.
Since then it has been furnished in the style of the 16th and 17th centuries. A lovely park has been laid out behind the garden containing examples of each of the trees mentioned in Shakespeare's works. It also features other sightseeing attractions such as the Greenwood Singing Tree, the Music Trail (a musical journey through the woods accompanied by a unique composition inspired by Shakespeare), the Butterfly trail and exhibits exploring the symbolism of flowers during the Elizabethan period.
Location: Cottage Lane, Stratford-upon-Avon
3 Nash's House and New Place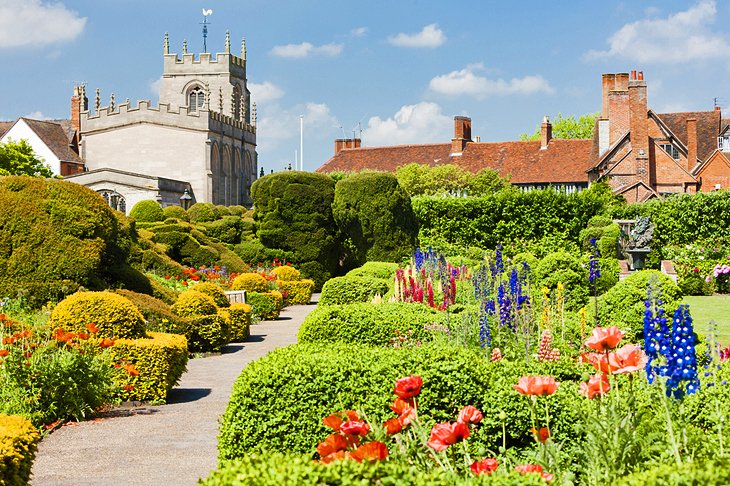 Named after Thomas Nash, first husband of Shakespeare's granddaughter Elizabeth, Nash's House is a well-preserved Tudor building furnished as it would have been in that period. Next-door are the foundations of New Place, bought by Shakespeare in 1597 and where he died in 1616. It's also where he wrote later works such as The Tempest.
While there, be sure to explore the traditional knot garden, as well as the hands-on activities and Tudor games.
Address: 22 Chapel St, Stratford-upon-Avon
4 Hall's Croft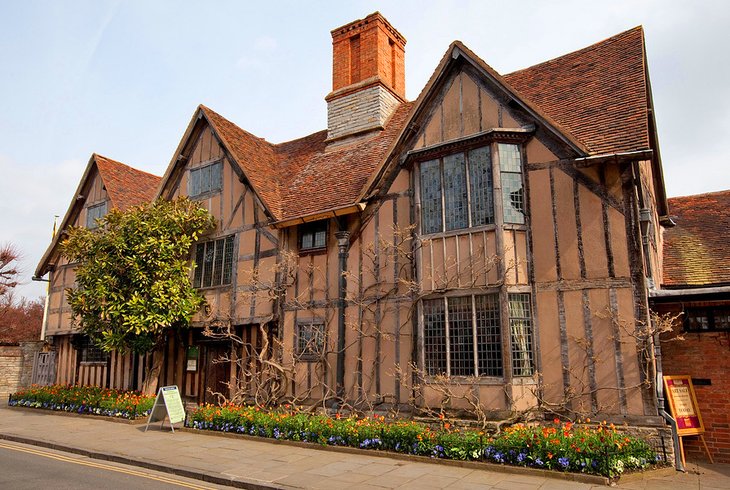 One of Stratford-upon-Avon's most attractive Tudor houses, Hall's Croft was the home of Dr John Hall, who married Shakespeare's eldest daughter Susanna. Visitors can explore the home's luxurious rooms while examining the fascinating collection of apothecary equipment and books in the doctor's consulting room, along with a first edition of his medical notes published in 1657.
Afterwards, enjoy the beautiful garden and café, as well as The Arter, a shop specializing in local hand-made arts and crafts.
Location: Old Town, Stratford-upon-Avon
5 Garrick Inn and Harvard House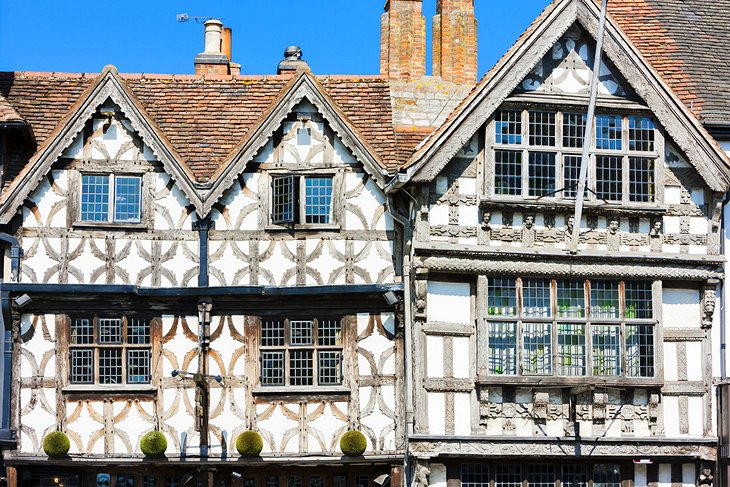 The 16th century Garrick Inn is richly embellished with wood carvings and remains a wonderful place for a meal while soaking up the atmosphere of this historic town. Neighboring Harvard House is a half-timbered home constructed in 1596 that belonged to the mother of John Harvard, founder of Harvard University.
Location: High St, Stratford-upon-Avon
6 Town Hall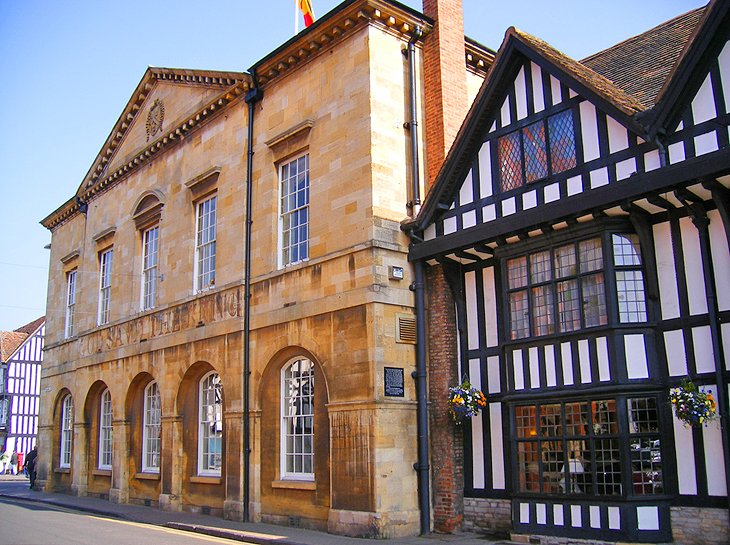 Near Stratford-upon-Avon's Town Hall (1769) stands a statue of Shakespeare presented by David Garrick, the famous actor and manager of Drury Lane Theatre in London.
The nearby Guild Chapel at the corner of Chapel Lane is a single-aisled Gothic church with a fine wall painting of the Last Judgment from about 1500. The upper floor of the adjoining Guild Hall was, for centuries, used as a grammar school. It's believed Shakespeare received his education here.
Location: Sheep St, Stratford-upon-Avon
7 Shakespeare's Tomb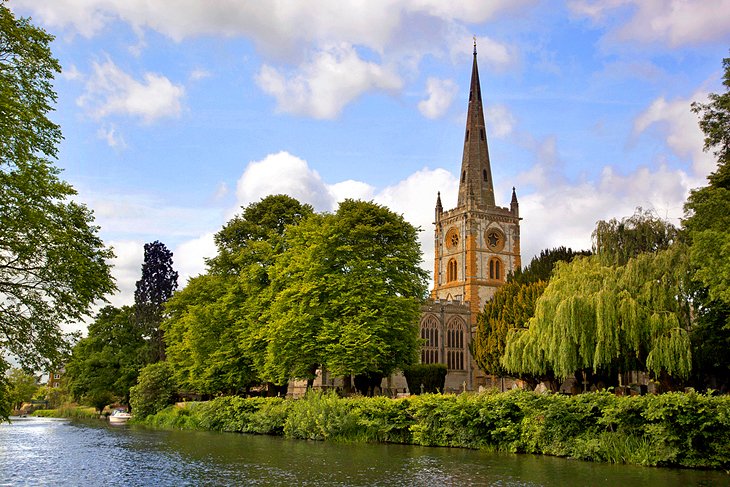 An avenue of lime trees leads to the 13th century parish Church of the Holy Trinity, in which Shakespeare is buried. The writer's tomb lies in the chancel between the pulpit and the high altar and is marked by a stone bearing this inscription: "Good friend for Jesus sake forebeare, to digg the dust enclosed heare. Bleste be ye man y'spares the stones and curst be he y'moves my bones."
On the wall above is a monument to Shakespeare, and close by are the graves of his wife, Anne Hathaway, his daughter Susanna Hall and her husband John Hall, as well as of the first husband of his granddaughter Elizabeth, Thomas Nash. The church also contains the late 15th century font used in Shakespeare's christening and a copy of the parish registers containing the record of his baptism and burial.
Location: Old Town, Stratford-upon-Avon
8 Royal Shakespeare Theatre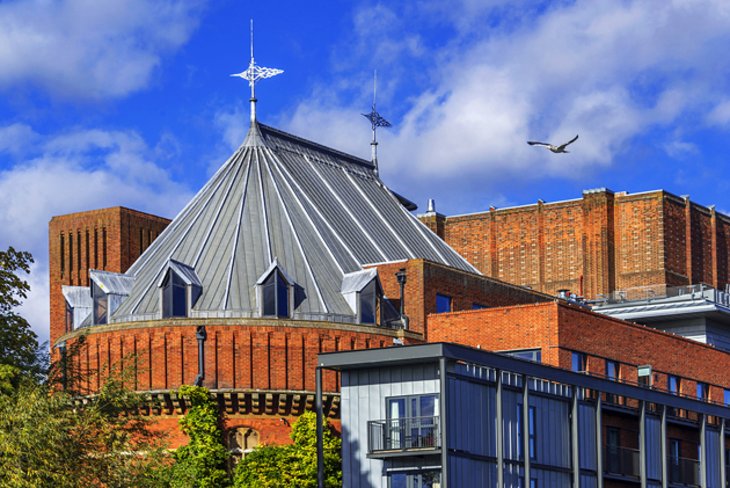 Located on the banks of the River Avon, the Royal Shakespeare Theatre is home to the Royal Shakespeare Company. The unique "one-room" theatre allows actors and audience to share the same space, just as they did in Shakespeare's time.
In addition to hosting the works of the great Bard, the theatre is home to a rooftop restaurant with stunning views over the Avon, a riverside café and terrace, and a colonnade linking it to the Swan Theatre. It also has exhibition space with displays related to the RSC's productions. The 118 ft high tower offers excellent views across the town and the surrounding area. Afterwards, explore the riverside walk stretching from Bancroft Gardens and the Gower Memorial (1888) to Holy Trinity Church (excellent guided walking tours are available throughout the year).
Location: Waterside, Stratford-upon-Avon
9 MAD (Mechanical Art and Design) Museum
The MAD (Mechanical Art and Design) Museum is a unique project developed to showcases "Kinetic Art and Automata" by pioneering artists from around the globe. This fun attraction offers a chance to experience and interact with fantastic machines including marble runs, high-tech robots and intricate moving contraptions. There are plenty of buttons to press, and the museum has proven popular with all ages.
Address: 4-5 Henley St, Stratford-upon-Avon
Surroundings
Packwood House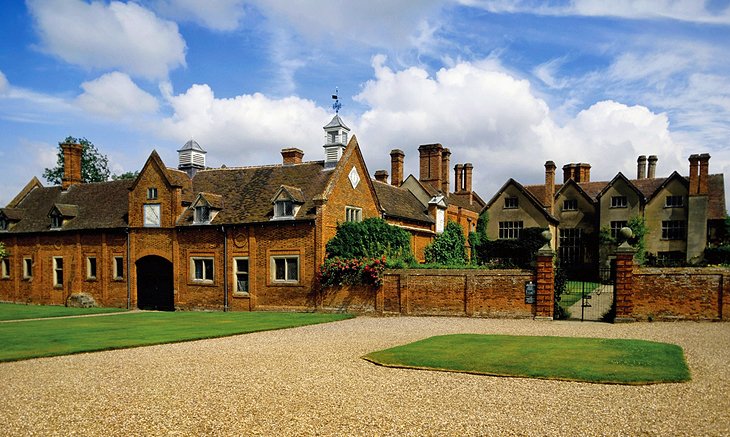 Packwood House in Lapworth is a spectacular Elizabethan manor with a fine sunken and topiary garden lined with clipped yews said to symbolize the Sermon on the Mount. There are also courtyards, terraces and gazebos for visitors to explore.
Location: Packwood Lane, Lapworth, Warwickshire
Mary Arden's Farm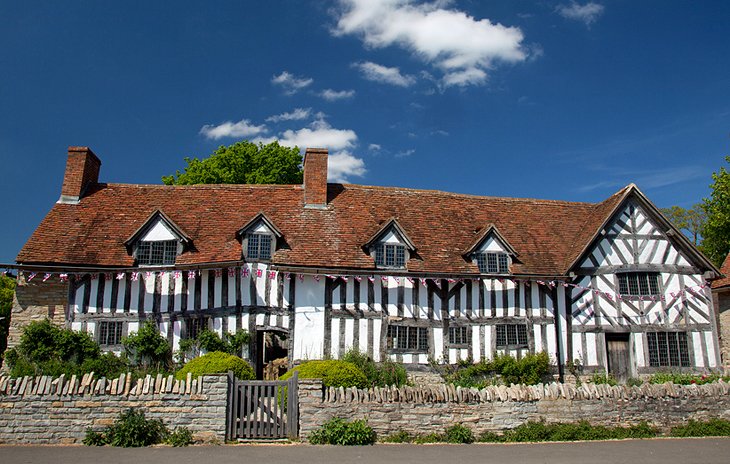 A magnificent Tudor-style farmhouse just four miles northwest of Stratford, Mary Arden's Farm in Wilmcote was the home of Shakespeare's mother. Now a museum, visitors can experience the daily routine, skills and crafts that the young Shakespeare would have known from visits to his grandparents in the 1570s. Hands-on things to do include basket-weaving and traditional chores such as threshing, bread making, gardening and animal-tending at Palmer's Farm. Other attractions include archery, falconry displays, rare breed animals, nature trails and wildlife.
Location: The Green, Wilmcote, Stratford-upon-Avon
Alcester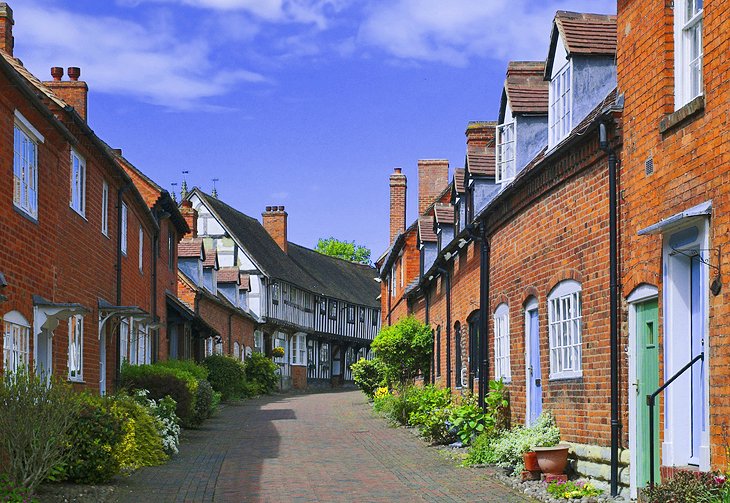 A popular tourist outing is to Alcester, eight miles west of Stratford. This quiet town features many lovely half-timbered houses, including the Old Malt House (1500) and the picturesque Town Hall. There are also a number of well-preserved Tudor houses, and the Old Rectory is a good example of Georgian architecture.
Nearby Ragley Hall, built in 1679, contains a fine collection of Chippendale furniture, paintings by Rubens and Reynolds, and Meissen and Sèvres porcelain. The 18th century country garden was created by Capability Brown, and is home to a collection of modern sculpture known as Jerwood Sculpture Park.
Location: Alcester, Warwickshire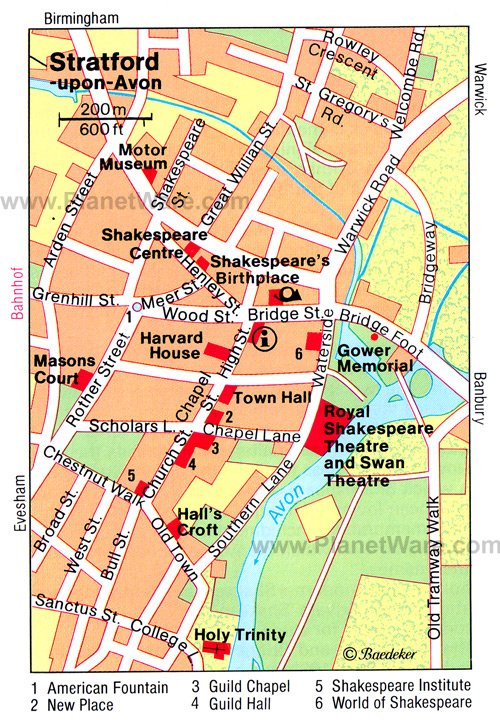 Stratford-upon-Avon Map - Attractions
Want to use this map on your web site?
Copy and Paste the code below:
Destinations
popular right now