Bristol Tourist Attractions
Although the old town center suffered heavily from bomb damage during the Second World War, Bristol (only 6mi/10km from the Bristol Channel) retains its charm as a historic port.
Popularly known as the Floating Harbor, Bristol's Old Port features restored wharves and warehouses.
Proms Festival
This annual two-week festival takes place in May and includes at least a dozen performances including orchestral, choral and chamber concerts and recitals.Each year the festival focuses on a different theme or musical style, although the finale is always a performance of "Last Night at the Proms." Both classical and contemporary music has been showcased in the past, in venues including Colston Hall and St George's Church.
Avon Gorge Nature Reserve
The nature reserve, located in Leigh Woods, is a National Trust property. The Avon Gorge is cut out of limestone and is famous for its abundance of rare trees and plants. The Gorge is home to invertebrates and breeding peregrine falcons.
Horton Court
Horton Court is a National Trust property located in Horton, near Chipping Sodbury. It was built in the 12th century and includes Perpendicular styled walkways in the garden.
Long Ashton
An account of daily life in Long Ashton was published by the local Vicar, John Collinson in 1791, although some of the buildings he wrote about have since been destroyed. A medieval church built in 1839 still stands.
Westbury College Gatehouse
Westbury College Gatehouse is a National trust property that dates back to the 15th century. It was the gatehouse of the College of Priests that was founded in the 13th century.
Bristol Gallery
The Bristol Gallery features regularly changing exhibitions as well as space to hire for events or parties.
Old Down Country Park
Old Down Country Park has a fishing lake, gardens, playground, animals on display, a picnic area, and a croquet lawn.
Temple Church
Temple Church in Bristol is a 15th C church which survived the bombings of World War II. The graveyard is now a public park.
Oldbury-on-Severn
This small town is the site of a nuclear power station.
Surroundings
Circles and Cove, Stanton Drew
Stanton Drew Circles and Cove are an assembly of stone circles, avenues and a 'cove' of three standing stones. It has been revealed that there was once a huge timber structure within the Great Circle. The complex dates from about 3000BC.Stanton Drew is also home to a number of notable buildings from the 13th to 15th centuries including St Mary the Virgin and the Watermill.
Portbury
Portbury is a small village with a rather large, partly-Norman church and a former priory.
Map of Bristol Attractions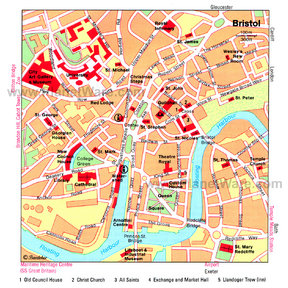 Map - Bristol