Top-Rated Tourist Attractions in Hull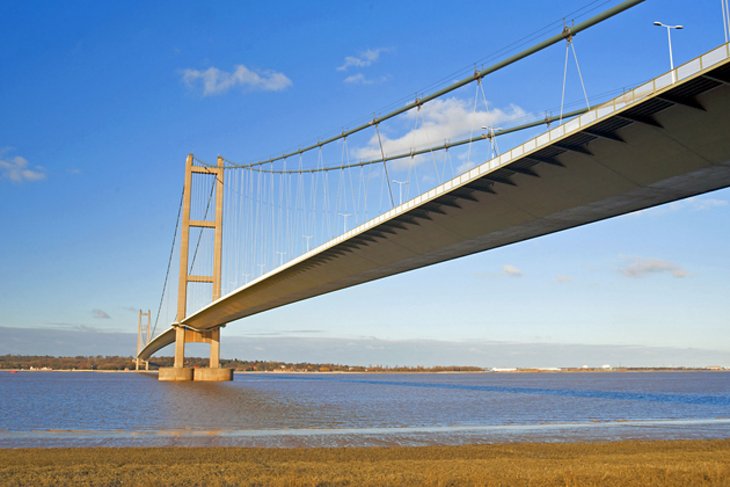 Kingston upon Hull
View slideshow
The city of Kingston-upon-Hull, usually known simply as Hull, lies on the north bank of the Humber, which flows into the North Sea 22mi/35km to the southeast.
ENLARGE MAP
PRINT MAP
EMBED < >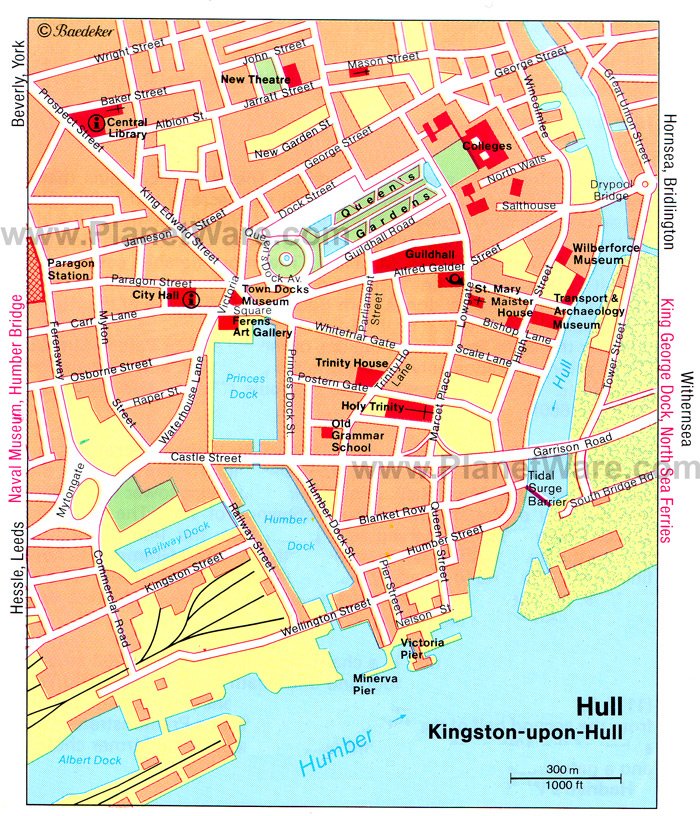 Hull Map - Attractions
Ferens Art Gallery
The extensive collection in the Ferens Art Gallery, restored and extended in 1990/1991, includes works by Frans Hals, Canaletto and Constable, together with William Hogarth and Henry Moore.Permanent collections of old masters, marine paintings and modern art.
Address:
Queen Victoria Square, Hull HU1 3RA, England
Trinity House
Whitefriargate leads to the oldest part of Hull by way of Trinity House Lane to Trinity House, founded in 1369 for the care of the sick or needy seamen and from 1456 it was their guild house. In 1787 the first naval school in the world was founded; even today the cadets wear the historic 18th C naval uniform.
Holy Trinity Church
Holy Trinity Church in the Hull market place, which can accommodate a congregation of over 2,200, is said to be the largest parish church in the country. It is in Decorated and Perpendicular style, and has a very fine tower and richly decorated Gothic style windows.
Address:
Market Place, Hull HU1 1RR, England
Elizabethan Old Grammar School
The Elizabethan Old Grammar School, southwest of Holy Trinity Church, was founded in 1583. Among its most famous pupils were the Puritan writers Andrew Marvell and William Wilberforce (1759-1833), one of the most vigorous opponents of the slave trade, who was MP for Hull and Yorkshire for many years. Since 1988 the school house has housed a museum on local history.
Address:
South Churchside, Hull HU1 1PS, England
Wilberforce House
No. 25 High Street in Hull is Puritan writer William Wilberforce's birthplace and now a museum with interesting exhibits from the 18th and 19th C, especially concerning the slave trade. Nos. 23 and 24 are two Georgian houses from the mid-18th C with fine furniture.
Address:
23 - 25 High Street, Hull HU1 1NE, England
Transport and Archeology Museums
Not far from Wilberforce House is the Transport Museum, opened in 1989, with old coaches, engines, cars and bicycles and the Hull and East Riding Museum, a remarkable archaeological collection from East Yorkshire, including the "Hasholme Boot" from prehistoric times and Roman mosaic floors (fourth century).
Address:
South Churchside, Hull HU1 1PS, England
Maister House
The merchant's house of the Maister Family was built in 1744 in Late-Renaissance style with a Palladian style facade and an artistic wrought-iron banister by Robert Bakewell.
Address:
160 High Street, Hull HU1 1NL, England
Blaydes House
The residential house, No. 6 High Street in Hull, was built for the merchant Benjamin Blaydes in 1740 with the original Georgian features restored in the early 1970s.
Historic Docks
In the Middle Ages the harbor stretched between the Drypool Bridge and the River Humber. The old docks have undergone a change of function. Elegant yachts are anchored in the marina in the former Humber and Railway Dock and at Princes Quay. Victoria Pier and Nelson Street were modernized during the 1980s.
Tidal Surge Barrier
In April 1980 the 100m high tidal surge barrier across the Humber was completed which protects the old town from high water.
Humber Bridge

To the west of Hull town center the Humber Bridge was opened in 1981, a harmonious blend of technology and aesthetics. At 4,954ft/1,510m it is the longest suspension bridge in the world without supporting columns.
Viking Way Walking Trail
The 140-mile / 255-kilometer trail begins at the Humber Bridge, goes through the Lincolnshire Woods and ends in Oakham, in Leicestershire. There is also a 17 mile extension near Woolsthorpe, leading to Melton Mowbray.
Oakham
Oakham (pop. 8,035) is a market town 19mi/31km northeast of Leicester. The market in Oakham is a popular attraction that takes place every Wednesday and Saturday offering a wide variety of food items, clothes and household goods. Oakham also contains the remains of a Norman castle that dates from 1180 and features Romanesque architectural details.
Barton-upon-Humber - St Peter's Church
St Peter's Church spans more than 1,000 years. This 15th C church in the village of Barton has a remarkable Anglo-Saxon tower and baptistry and is one of the most studied churches in England. The displays within the church illustrate the church's prosperity through the ages, including a tenth-century carved face of Christ in Majesty and a carved head of the young Queen Victoria.
Burton Constable
One of the more noteable rooms of this 18th C manor house is Great Drawing Room, with its excellent Chippendale furnishings and designs by James Wyatt. As well fine Dutch and Flemish paintings adorn the walls of this room.A number of museum rooms now display the scientific equipment of William Constable.
Address:
North Humberside, Sproatley HU11 4LN, England
East Park
East Park is Hull's largest park. It features an animal compound wutg deer, wallabies, rheas and peacocks, also there is an aviary where you can hear the laughing jackass or kookaburra - native Australian birds.
Queens Gardens
Queens Gardens are situated in the heart of Hull's city center. The floral displays, fountains and ponds provide a haven for relaxation. The park is also a popular location for outdoor concerts and charity events.
University Art Collection
The University of Hull Art collection, while small, has outstanding paintings, sculpture and drawings produced in Britain between 1890-1940. Featured artists include: Sickert, Peploe, Lucien Pissarro, Stanley Spencer, Epstein and Moore.
Address:
The Middleton Hall, University of Hull, Cottingham Road, Hull HU6 7RX, England
Sightseeing Nearby: