Top-Rated Tourist Attractions in Hastings, England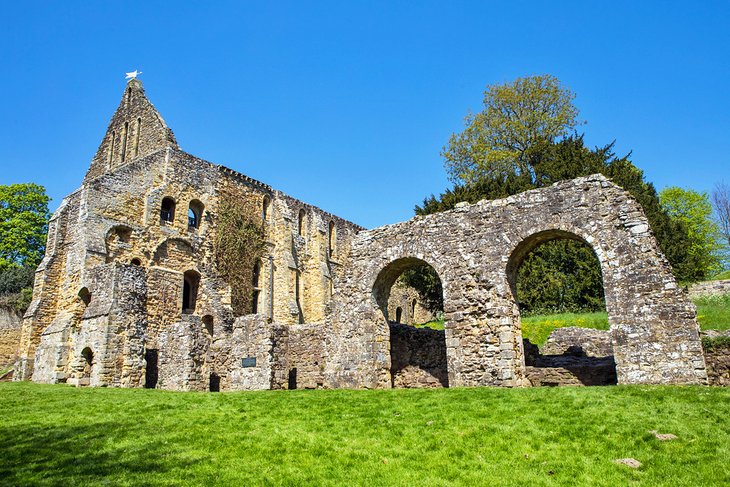 Battle Abbey, near Hastings
View slideshow
From Winchelsea the next large seaside resort is Hastings, which together with St Leonards-on-Sea, forms a municipal area with some 75,000 inhabitants. A popular seaside resort, the town is famed for sporting and cultural events as well as the site of the Battle of Hastings in 1066, which in fact took place at Battle 6mi/10km away. Its importance as one of the Cinque Ports ended with a series of destructive floods and repeated arson attacks by the French at the end of the 14th century. The town experienced another heyday in the 19th century when it became a seaside resort, taking Brighton as its model.
Net Lofts
A row of typical "net lofts" have been retained in the old town of Hastings. These traditional tall sheds were used by fishermen to store and dry their nets. A coat of black tar helped the horizontally positioned wooden boards to remain weatherproof; known as weatherboarding, this building style is typical of East Sussex and Kent.
Fisherman's Museum
Fisherman's Chapel in Rock-a-Nore Street was built in the 19th century and now houses a museum which describes very clearly the development of the local fishing industry. Exhibits include the "Enterprise", the last fishing cutter to be built in Hastings (1909).
Old Town

Attractive half-timbered houses stand in the narrow High Street and in All Saints Street, with its church of the same name. Pelham Crescent, below the castle, was constructed by Joseph Kay between 1824 and 1828. Hastings seafront promenade is lined with hotels, restaurants and places of entertainment. Next to the pier, completed in 1872, is the Conqueror's Stone at which William the Conqueror is said to have eaten for the first time in England.
Hastings Castle
The remains of the Norman castle, constructed to protect the harbor, are situated on West Hill above Hastings and can be reached by a funicular railroad from George Street.
Smugglers Adventure
Smugglers Adventure is set in the St Clements Caves in Hastings. As you explore the labrynth of caves you will discover the secrets and dangers facing smugglers over 200 years ago.
Address:
St Clements Caves, West Hill, Hastings TN34 3HY, England
St Clement's Caves
The entrance to St Clement's Caves is near Hastings Castle.
Bateman's (Rudyard Kipling's house)
Rudyard Kipling (1865-1936), winner of the Nobel Prize for Literature, lived in 17th century Bateman's House, 11mi/17km northwest of Hastings, near Burwash, from 1902 until his death.At Bateman's visitors can see Kipling's 1928 Rolls Royce and the gardens as they were kept during his lifetime.
Address:
Burwash, Etchingham TN19 7DS, England
Battle, England
The delightful little market town of Battle is situated just 6mi/10km from the South Coast, north of Hastings. Although nearly every schoolchild is taught that the battle in which William the Conqueror defeated the Saxon king Harold in 1066 was fought at Hastings, in fact this most notorious of encounters on English soil took place here, on the site of the town later named after it. To commemorate his victory, and in atonement for all the blood shed during his invasion, William built an abbey where his rival Harold fell. The finest portrayal of the battle itself is found on the famous Bayeux Tapestry, embroidered in the 11th century.Remains of the foundations of the Norman church and a refectory are also found within Battle.
Battle Abbey and Battlefield
The 223ft/68m Benedictine abbey church was consecrated in 1094, its high altar marking the spot where Harold died. In 1539, at the time of the Reformation, Henry VIII gave the abbey to his Master of the Horse, Sir Anthony Browne, following which large parts of it were torn down. The Norman church was demolished and the west wing converted by Sir Anthony for use as his private residence. Altered in 1857 in neo-Gothic style, this latter is now a girls' school and closed to the public. The gatehouse, completed in 1339, and the ruins of the monks' dormitory (1120), remain particularly impressive today.The tomb of Sir Anthony Browne (died 1548), a splendid Renaissance sarcophagus, can be seen in St Mary's, the parish church a little to the north.
Address:
High Street, England
ENLARGE MAP
PRINT MAP
EMBED < >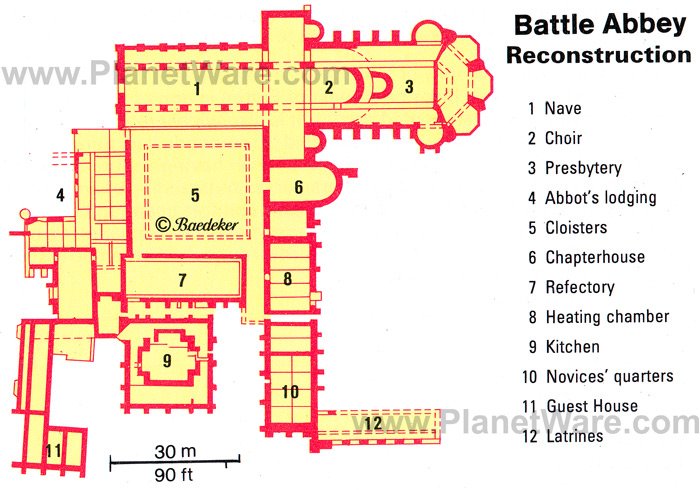 Battle - Battle Abbey Map
Herstmonceux Castle Grounds and Gardens
Herstmonceux Castle, (10mi/16km west of Battle), is a splendid 15th century moated and fortified, red brick Renaissance manor house. Until 1990 it was the home of the Royal Observatory, which moved there from its original site in Greenwich and has now been transferred to Cambridge.
Address:
Herstmonceux, Hailsham BN27 1RN, England
Buckleys Yesterday's World
Buckleys "Yesterday World" at 90 High Street offers a nostalgic glimpse of bygone days with shop interiors and fittings from 1850 to 1950.Displays include a Victorian kitchen, grocers, chemists, 1930s railroad station, and a wireless shop. Children's playground and mini golf.
Address:
89-90 High Street, Battle TN33 0AQ, England
Memorial Hall (Battle & District Historical Society Museum)
The Memorial Hall houses the Battle and District Historical Society Museum.Local exhibits include artefacts and memorabilia from various periods in history.
Address:
Memorial Hall, High Street, Battle TN33 0AQ, England
Bodiam Castle

Built on the northern slopes of the Rother valley between 1385 and 1389, Bodiam Castle (8mi/13km northeast of Battle) is one of the country's best preserved medieval moated castles. It is also widely regarded as one of the most romantic castle ruins in England (a reputation it acquired in the 19th century due in no small measure to J. Fuller). Never having endured a siege, Bodiam retains much of its original character, an outstanding example of a medieval fortress from a time when domestic comfort began to be prized as well as security. The unusually wide moat creates the appearance of a lake, in which the square castle with its sturdy, round, battlement corner towers, stands as if on an island.
Bexhill-on-Sea, England

Bexhill-on-Sea (pop. 37,000) is a modern seaside resort with a good golf course. It is known for its Victorian town houses and for being the first place in Britain to have a motor-racing track (0.5mi/1km).Bexhill-on-Sea is home to the modern De La Warr Pavilion, built in 1935. It now serves as a contemporary arts centre.
Pevensey Bay
William the Conqueror is supposed to have landed in the small resort of Pevensey Bay in 1066. As all along the coast, Martello towers were erected here between 1805 and 1810 when it was thought that Napoleon might invade.
Castle, Pevensey, England

Pevensey is a small village near the town of Eastbourne. The Normans built their castle in Pevensey using the remains of a Roman fort, the walls still standing 20ft/6m high. During the 13th C the site was strengthened with the addition of a gate tower and circular walls. The Mint House, where coins were minted, was built in 1340 and is now a museum.Pevensey is noted for its sailing club, which offers classes on Pevensey Bay.
Northiam - Great Dixter House and Gardens
Great Dixter is a 15th century manor house with fascinating furniture and needlework displays. It is set in a garden designed by Lutyens featuring a wide variety of plants. The garden, which is worth a visit at any time of the year, includes a sunken garden, a walled garden and a lily pond as well as fascinating topiary.The present owner, Christopher Lloyd, is a world-renowned garden author and broadcaster.
Hastings Country Park
Hastings Country Park is situated on an unspoilt stretch of coastline on England's south coast. There are several walks to enjoy that will lead you through the 640 acres of woodland, grassland and coastal scenery. Watch for unusual migrating birds that cross the English Channel.
Sea Life Centre
At the Hastings Sea Life Centre visitors can view sharks, stingrays and many other fish through an ocean tunnel display. Daily talks are offered at the Sea Lab and Touch Pool.
Sightseeing Nearby: