Oxford Tourist Attractions
Top Tourist Attractions in Oxford
Oxford is one of the oldest and most celebrated university towns in Europe and for centuries has rivaled Cambridge for academic pre-eminence in England.
The famous Colleges in Oxford are a popular tourist attraction in England. The Colleges buildings date back to the 13th century and reflect a Medieval architectural style.
Handel in Oxford Festival
This annual 10-day festival takes place in early June and pays tribute to Handel's appearance at the Sheldonian Theatre in 1733. At least two daily performances of Handel's works are scheduled, including orchestral, choral and organ concerts and recitals. The highlight of the festival is the finale, which is an open-air performance by the Handel Festival Orchestra of "Music for the Royal Fireworks," accompanied by a fireworks display by the lake. The other performances take place in the Sheldonian Theater.
Museum of Oxford
The Museum of Oxford is the only museum about Oxford itself. It begins by examining the geology and prehistory of the area and continues through to its development into a modern industrial city.
Thame, England
Thame (pop. 8,500) is a nice little town with a church. It is located on the A418 between Oxford and Aylesbury. Many of the buildings in Thame are from the 18th century and feature locally produced salt glazed bricks.
Rycote Chapel
Rycote Chapel is a small chapel built in the 15th C. Original furniture inside includes exquisitely carved and painted woodwork. Among the site's other intriguing features are two-roofed pews and a musicians' gallery.
Long Crendon Courthouse
Long Crendon Courthouse is a National Trust property located near Thame. The 14th century house is partly half-timbered and was probably first used as a wool store.
North Hinksey Conduit House
Dating from the early 1600s, this roofed reservoir was part of Oxford's first water mains.
Oxford Story Exhibition
The Oxford Story Exhibition tells the story of the University with commentaries available for adults, children and non-English speakers.
More Oxford Pictures




Map of Oxford Attractions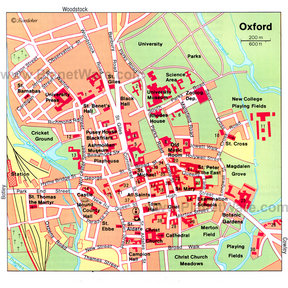 Map - Oxford