Top-Rated Tourist Attractions in Windsor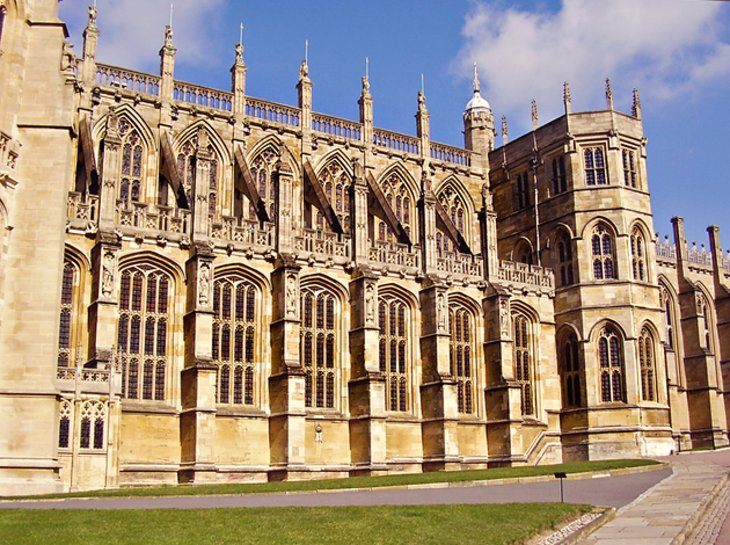 Windsor
View slideshow
The small town of Windsor lies on the south bank of the River Thames about 22mi/35km west of London. With its old half-timbered houses and 17th and 18th C inns, winding alleyways and cobbles, it retains in its center a picturesque medieval appearance.The town is a popular tourist destination due mainly to Windsor Castle, one of the official residences of the Royal Family.
Windsor Castle
A grand castle built atop a chalk hill, Windsor Castle serves as the summer residence for the British Royals. Tourists are permitted to visit the State apartments when the Queen is not in the Castle.
Queen's Gifts & Royal Carriages
To the south of Windsor Castle in a building in St Albans Street is a display of some of the official gifts presented to Queen Elizabeth II. The Coach House contains some of the royal carriages.
Address:
Basingstoke Road, Spencers Wood, Reading RG7 1PH, England
Windsor Festival
This annual two-week event, Windsor Festival, runs from late September to early October with daily events in venues such as the Waterloo Chamber, the Windsor Castle, St George's Hall and Chapel and the Eton College Chapel.
Since its inception in 1969, the festival has offered orchestral, choral, chamber and organ concerts, recitals, dance performances and lectures. International performers are invited every year to perform a repertoire of classical works.
Address:
Theatre Royal, Windsor SL4 1PS, England
Crown Jewels Museum
The Crown Jewels of the World Museum in Windsor features crowns, regalia and state treasures from 15 countries. This collection is valued at millions of pounds sterling. The museum boasts far shorter line-ups than those at the Tower of London jewel display.
Address:
47-50 Peascod Street, Windsor SL4 1DE, England
LEGOLAND
Legoland is a unique family park set in 150 acres of parkland. It is dedicated to the creativity and imagination of children of all ages with rides, interactive play areas and millions of LEGO bricks. It is fun for whole family.
Address:
Winkfield Road, Windsor SL4 4AY, England
Slough Museum
Slough Museum presents the unique and fascinating local history of Slough. Its history, which dates back thousands of years, is portrayed in a permanent exhibition: A Journey Through Time.
Address:
278 / 286 High Street, Slough SL1 1NB, England
Guild Hall
Begun in 1687, the Guildhall was completed by Christopher Wren. Its south face is embellished with a statue of Prince George of Denmark, husband of Queen Anne.
Queen Victoria Monument
The bronze monument to Queen Victoria on Castle Hill was unveiled in 1887.
Surroundings
Thames Boat Trips

From Windsor it is possible to undertake several charming trips along the Thames. The Thames is not a monotonous river, but continually branches off and forms islets, resulting in lively parkland scenery. Launches not only take passengers into London, but also to Kingston upon Thames, within the precincts of London (journey time approximately five hours).To reach Oxford (about 70mi/113km northwest) it is a two-day journey through very charming scenery. The launches only travel by day, passengers can stay overnight in Wallingford or Henley.
Eton, England
The small town of Eton (pop. 4,500), with its world-famous college, is situated on the north side of Windsor Bridge.The school was founded in 1440 by Henry VI. Eton is also noted for the attractive historic buildings found throughout town.
Eton College
Choice of school plays a far greater role in England than in other European countries; those graduating from the "right" school can later find this a decisive factor both socially and in their careers. Eton College is synonymous with English education at its best. Founded in 1440 by Henry VI, it is the British public school most steeped in tradition. The pupils comprise 70 "collegers", whose position at top of their class entitles them to free study and accommodation, and rather more than 1,000 "oppidans" (day boys), who pay fees and live in halls of residence or guest-houses, often supervised by teachers or lecturers. All pupils wear a uniform: cutaway coat and striped trousers. Many very influential men have attended Eton, including Henry Fielding, William Pitt, Percy B. Shelley, William Gladstone, the Duke of Wellington and 20 English prime ministers. The red-brick main building, which dates from the school's founding, extends around two quadrangles. Most of the buildings opposite are new. The Lower School was established 1624-1639, the Upper School between 1689 and 1692. The school chapel is particularly remarkable. Completed in the Perpendicular style in 1441, it is actually only the choir of a church planned to be almost twice this size. It contains old brass plates and, more importantly, some wonderful grisaille paintings (1470-1490), depicting scenes from the life of Mary. These were painted over in the second half of the 16th century, but were later restored. A bronze statue of Henry VI stands in the school quadrangle, the work of Francis Bird (1719). A passageway leads from Lupton's Tower (1520) to the cloisters with the hall (1450) and the library (1729).
ENLARGE MAP
PRINT MAP
EMBED < >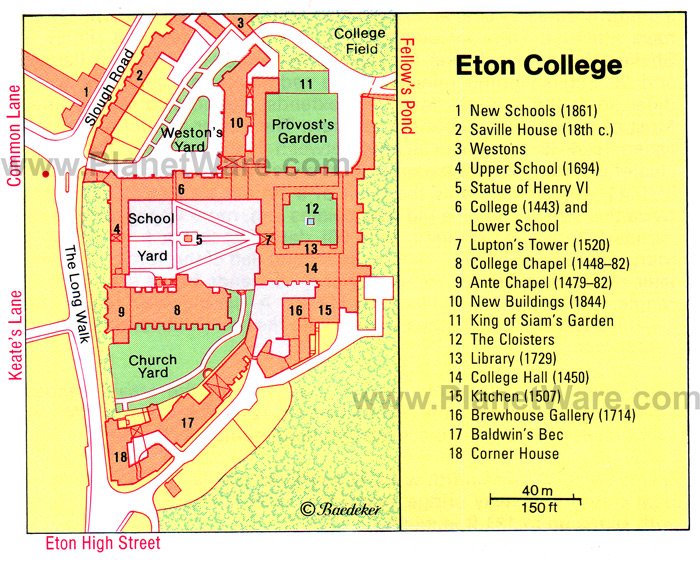 Eton College Map
Sightseeing Nearby: