Mont des Arts / Kunstberg, Brussels
The Mont des Arts was created between 1956 and 1958, occupying the elevated site between the Place Royale and the Place de l'Albertine. The architecturally imposing complex of large buildings includes the Bibliothèque Albert I and the strikingly modern Palais de la Dynastie and Palais de Congrès. From the square between them a fine view can be obtained of the Lower Town.
Related Attractions
Bibliothèque Albert I (Bibliotheek Albert I)
Although named after King Albert I the library is actually of much older origin, having been founded during the period of Burgundian rule. Its stock now comprises more than three million volumes together with a valuable collection of manuscripts. The library incorporates several interesting museums; also the Chapelle St Georges (1520), part of an earlier mansion belonging to the Nassau family.
Book Museum
The Musée du Livre (Book Museum) which, in addition to outlining the history of books from antiquity to the present day, has exhibitions of manuscripts, reconstructed interiors of the studies used by Emile Verhaeren and Michel de Ghelderode, for example, and several very fine private collections built up by the Van de Velde family among others.
Literature Museum
The Musée de la Littérature (Literature Museum) contains literary manuscripts by mainly French-speaking authors; and the Graphics Room has a collection of more than 5,000 engraving plates etc.
Print Museum
The Musée de l'Imprimerie (Printing Museum) illustrates the history of printing and bookbinding.
Hôtel Ravenstein
Just up the hill from the Palais de la Dynastie, at the end of the Rue Ravenstein in what was once the Jewish Quarter, the 15th C. Hôtel Ravenstein is the city's sole building of any size surviving from the Burgundian period.
Map of Brussels Attractions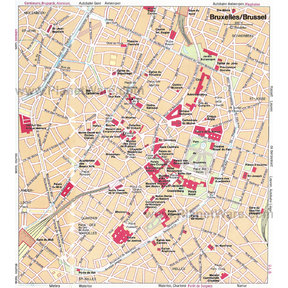 Brussels Map
More Brussels Attractions