12 Top Tourist Attractions in Rotterdam & Easy Day Trips
The second largest city in the Netherlands, Rotterdam lies on both banks of the Nieuwe Maas, the tidal southern arm of the Rhine, where it's joined by the little River Rotte. It's also the world's largest port, home to the massive Europoort facility through which so much freight passes on its way to and from the continent. Although almost completely destroyed by German air attacks in 1940, central Rotterdam was energetically rebuilt after the war and re-planned with modern shopping streets, residential districts, and high-rises, making it one of the most modern and architecturally interesting cities in Europe. Despite it's modernity, the city dates back to medieval times and was already prosperous by the 13th century when a dam was built to separate the Rotte from the Nieuwe Maas (hence the city's name). Rotterdam has also long been important as a cultural hub, its early prosperity leading to the birth of Rotterdam's most celebrated citizen, the humanist Erasmus, born here in 1467. Today, it's as popular a destination for its vibrant entertainment options as it is for its many fine museums and splendid architecture.
1 Grote of Sint-Laurenskerk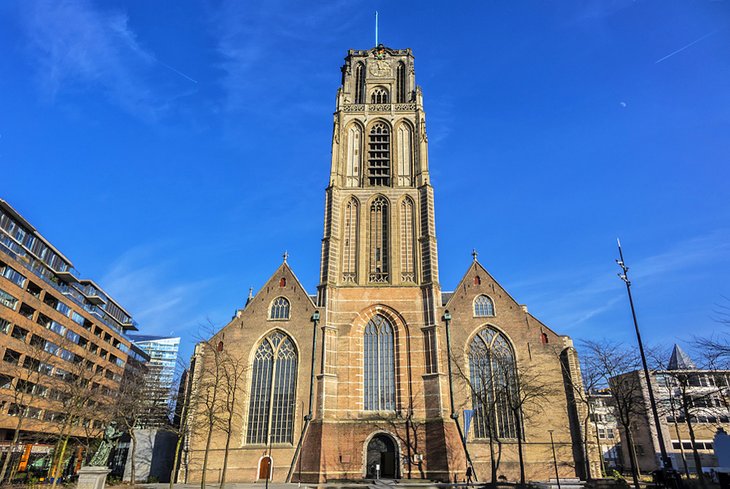 Great St. Lawrence Church - Grote of Sint-Laurenskerk - is all that's left of Rotterdam's medieval buildings, most of which were destroyed during WWII. In Grote Kerkplein, Sint-Laurenskerk dates from the 15th century and was built on once marshy ground giving the building a peculiar lean that was only halted after its foundation was rebuilt in 1650. Upon entering the church, you'll be struck by the beauty of the bright interior, an effect heightened by the colored glass of its windows. The church is famous for its three Danish organs, the largest of which stands on a marble base on the inside wall of the tower. The bronze doors of the main entrance, on the theme of War and Peace, are by the Italian artist Giacomo Manzu, and in front of the church is a statue of Rotterdam's most famous son, Erasmus. Guided tours and special tower climbs are available.
2 Museum Boymans-van Beuningen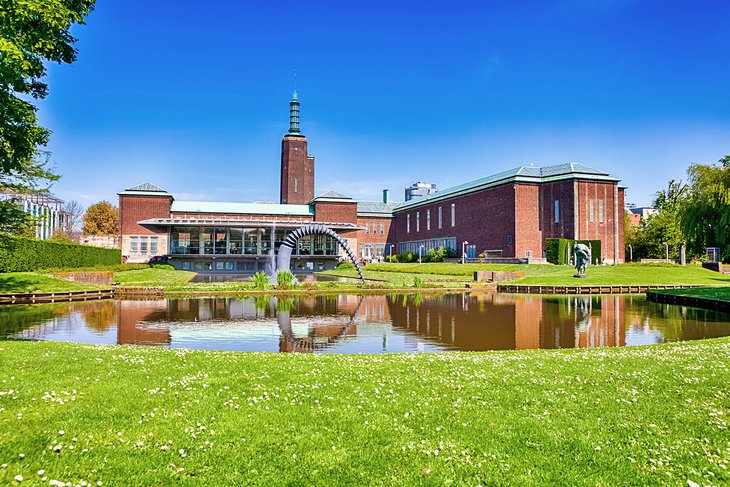 Museum Boijmans Van Beuningen, one of the Netherlands' most important art establishments, is known around the world for its superb collections of paintings, sculptures, and applied and decorative arts from across Europe. Painters of the 14th to 16th centuries are particularly well represented, with works by Hubert and Jan van Eyck, Hieronymus Bosch, and Pieter Bruegel the Elder. The 17th century is represented by Rembrandt and Rubens (26 of the latter's works can be viewed), while later centuries are represented by Monet, Gauguin, and Van Gogh. Contemporary painters represented include Picasso, Matisse, and Chagall. Another museum of note is the Wereldmuseum Rotterdam, an ethnographic museum established in 1883 with excellent displays of artifacts from ancient and modern cultures from around the world.
Address: Museumpark 18, 3015 CX Rotterdam
3 Kinderdijk's Windmills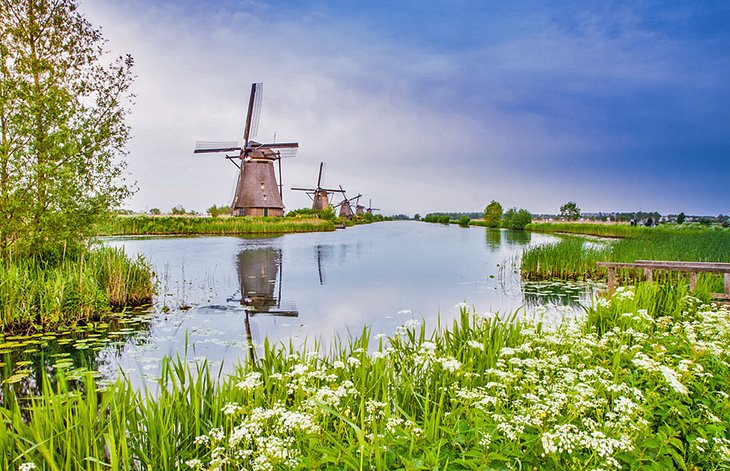 On the River Noord just 23 kilometers east of Rotterdam is the beautiful little village of Kinderdijk (the "children's dyke"). Taking its name from a famous legend that describes a baby's cradle being stranded here during the St. Elizabeth's Day flood of 1421, it's one of the most visited places in the Netherlands thanks to its 19 perfectly preserved 18th-century windmills, each designated as a UNESCO World Heritage Site. Built between 1722 and 1761, together they comprise the largest surviving concentration of windmills in the country, a history that's celebrated during special Mill Days when their sails are once again set in motion.
4 The Euromast
One of Rotterdam's most distinctive landmarks, the Euromast lies at the north entrance to the Maas Tunnel. Erected in 1960, this 185-meter-high tower boasts two restaurants with superb views over Rotterdam, each at the 92-meter mark. For thrill seekers looking for more than just great views there's the chance to abseil down the building, while those looking for a unique overnight stay can book one of two stunning suites located at the 100-meter point. (English language guided tours are available.)
Address: Parkhaven 20, 3016 GM Rotterdam
5 Better by Design: The Cube Houses
Rotterdam is home to many fine examples of modern architecture, much of it inspired by the city's waterside setting as well as a response to the devastation of WWII. Pushing the architectural envelope to the max are the city's famous Cube Houses (Kubuswoningen). Designed by Dutch architect Piet Blom, this block of houses with their unique cube-shaped upper stories can be enjoyed as part of a walking tour of the city (one of them, the Show Cube, is open to the curious and contains displays regarding the design and history of the buildings). Another architectural gem is the White House (Witte Huis). Once Europe's tallest building, this stunning ten-story Art Nouveau structure was built in 1898 and is now a National Heritage Site with superb views from its rooftop. Finally, those with an interest in the design of buildings should visit the Netherlands Architecture Institute, home to a superb museum outlining the development of various architectural movements over the decades.
Address: Overblaak 70, 3011 MH Rotterdam
6 Editor's Pick Europoort and Boat Tours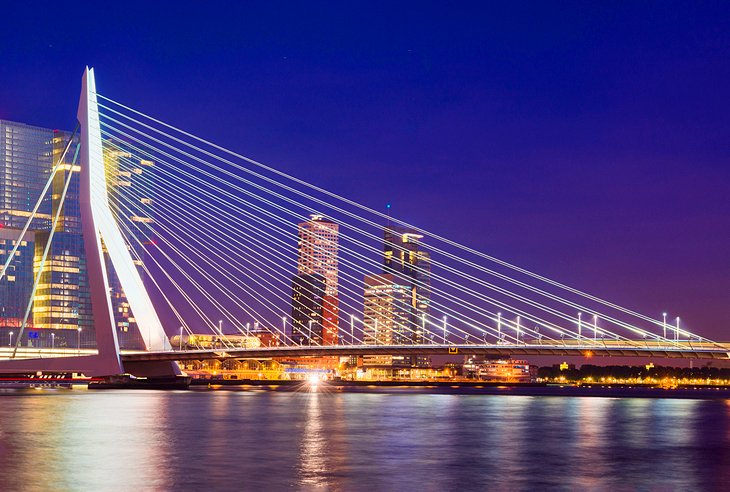 Rotterdam's massive port occupies half the city's total area of 247 square kilometers, much of it in turn occupied by Europoort, a huge complex known as the Gateway to Europe. It's a fascinating area to visit as part of a boat tour, and numerous tourist options are available sailing from various locations around Rotterdam, often in conjunction with tours of other parts of the city. In addition to countless massive ships, you'll see mile after mile of quays and storage facilities built to service the world's busiest port. One of the most popular excursions begins at Maeslantkering near Hoek van Holland (Hook of Holland) and includes a close-up look at the city's massive surge barrier. Evening tours are also fun, especially with Rotterdam's most famous landmarks, including the superb Erasmus Bridge, being spectacularly illuminated.
7 Diergaarde Blijdorp: The Royal Zoo
Established in 1857 - and one of the oldest zoos in the Netherlands - Rotterdam's Royal Zoo (Diergaarde Blijdorp) makes for a very pleasant outing. The zoo is well known for its successful breeding programs, highlights of which include a number of young elephants, as well as the rare red panda, fascinating creatures to watch as they explore the large enclosures designed to resemble their natural habitats. Other features of note are the Asian section, complete with a swamp forest with two large aviaries for exotic birds, a Mongolian steppe, a bat cave, a Chinese garden, and numerous creatures indigenous to the region. Also worth exploring is the Oceanium, an excellent aquarium featuring a large collection of marine life from the Americas.
Address: Blijdorplaan 8, 3041 JE Rotterdam
8 Sea-Themed Museums and the City Center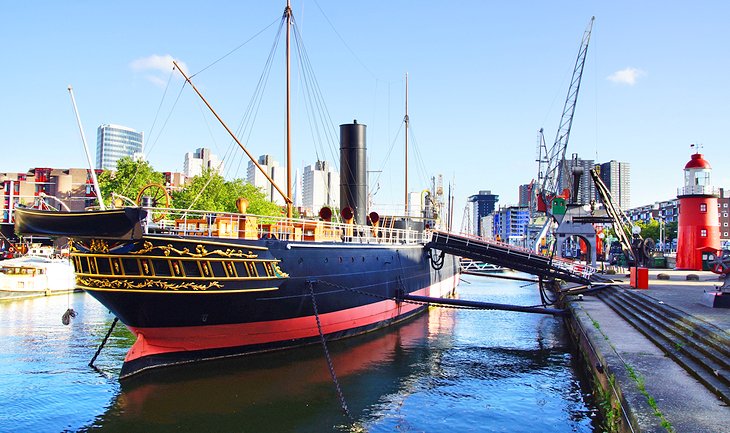 Established in 1873, Maritime Museum Rotterdam provides a fascinating look into the city's connection to the sea and its many waterways. The museum boasts a large collection of material on the history of shipping and seafaring, including ship models, a reconstruction of a 2,000-year-old vessel, and numerous seafaring paintings. Another marine-related tourist attraction is the adjoining Harbor Museum, an open-air facility that's home to the wonderfully preserved 19th-century Buffel, an ironclad ram ship, as well as an old lightship (all told, more than 20 historic vessels are on display). Both facilities offer English language guided tours. A recent addition to Rotterdam's roster of important old vessels is the SS Rotterdam, launched in 1958 and considered the finest Dutch-built passenger vessel. A truly memorable experience is taking lunch or dinner aboard this sumptuously decorated vessel, which is now a hotel and museum.
Walk about eight minutes north from the Maritime Museum and you'll come to Coolsingel, the main street of Rotterdam's city center. Here, you'll find the Town Hall (Stadhuis), built between 1914 and 1920 in Dutch Renaissance style, with a handsome tower graced by a carillon and a richly decorated interior. Opposite the Town Hall, in Stadhuisplein, is a war memorial designed by Mari Andriessen. Other Coolsingel highlights include the World Trade Center, a high-rise building with a facade of greenish-blue glass, and the Bijenkorf ("Beehive") department store (by Marcel Breuer, 1958). Fronting Bijenkorf is the 26-meter-high work of sculpture, Construction (1957), by Naum Gabo, a French sculptor of Russian origin. Wander a few blocks northwest from Bijenkorf, and you'll come to De Doelen, a concert hall and congress center rebuilt in 1966 after its destruction in 1940. It offers seating for 2,200 and excellent acoustics. Nearby is the Schouwburg (Municipal Theater), which opened in 1988.
Address: Leuvehaven 1, 3011 EA Rotterdam
9 Kunsthal: Rotterdam's Art Hall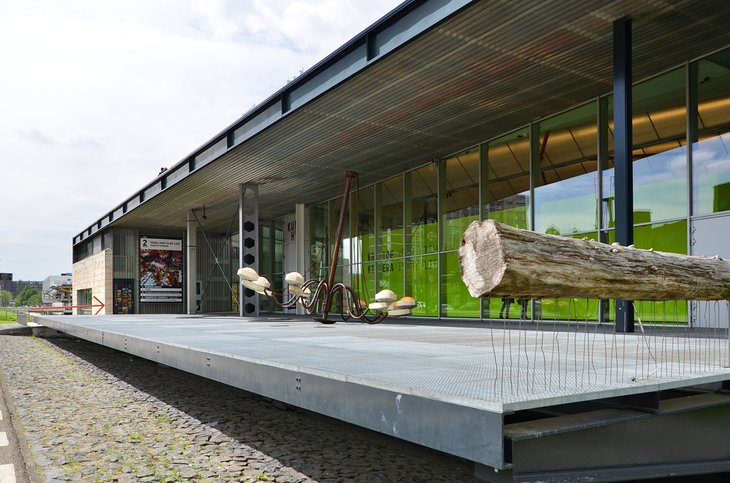 Another example of Rotterdam's modern-yet-functional architecture is the Kunsthal, or Art Hall. This trendy gallery opened in 1992 and hosts a variety of constantly changing exhibits of visual arts, design, architecture, and culture from across the globe. Another gallery of note is the Chabot Museum featuring the works of Dutch painter and sculptor Henk Chabot, housed in a superb white villa built in 1938. For those with an interest in photography, a visit to the Netherlands Photo Museum (Nederlands Fotomuseum) is time well spent; highlights include a broad collection of historical images by numerous Dutch photographers.
Address: Museumpark, Westzeedijk 341, 3015 AA Rotterdam
10 The Church of Our Lady (Grote Kerk), Dordrecht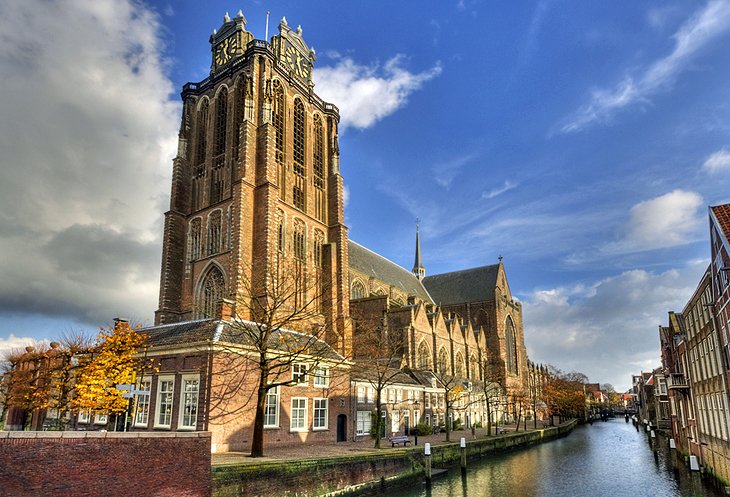 About 24 kilometers southwest of Rotterdam in the town of Dordrecht, the Church of Our Lady (Onze Lieve Vrouwekerk) has one of the most picturesque settings of any Dutch church. Built on the site of an earlier 15th-century church, it overlooks a quaint canal that dissects the old town center. As a result of a fault in construction, the tower began to sink, resulting in its present half-finished appearance (it was later topped by four Baroque clock faces and a carillon of 49 bells). Interior highlights include its magnificent oak choir-stalls, carved in Renaissance style in 1541 and the finest of their kind in the Netherlands, along with stained glass windows depicting important events in the town's history. Also of note is the large organ, built in 1671 and decorated with the coats of arms of Dordrecht. Afterwards, be sure to explore Dordrecht itself, famous for its many surviving historic buildings such as the Old Town Hall (Stadhuis) from 1544.
Address: Groenmarkt, Dordrecht
11 Delfshaven and the Pilgrim Fathers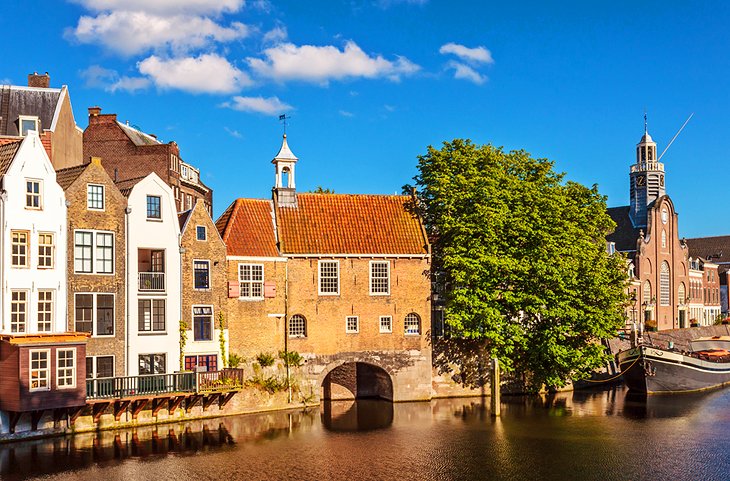 The old district of Delfshaven, which unlike much of Rotterdam survived WWII largely unscathed, is consequently one of the most popular spots in this big bustling city. Famous as the birthplace of Admiral Piet Hein, a 16th-century hero of the country's long war against Spain, it's also where, in the Old Church (Oude Kerk), the last service was held in 1620 by the Pilgrim Fathers before sailing for the New World (the event is commemorated with a memorial and bronze tablet). Also worth visiting is Dubbelde Palmboom Museum housed in a 19th-century warehouse containing a large collection of material on the history of Rotterdam, including archaeological finds, implements, and equipment.
12 Schoonhoven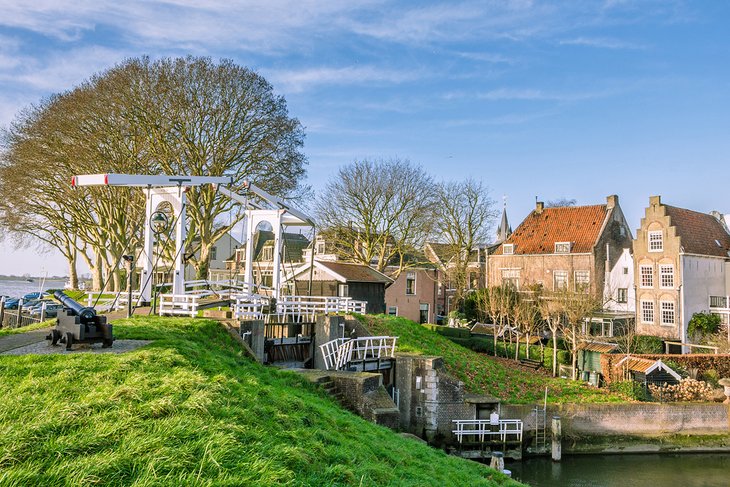 Schoonhoven, halfway between Rotterdam and Utrecht, is a wonderful excursion due to its many superbly preserved medieval buildings. A must-see is St. Bartholomeuskerk, founded in the 13th century and notable for its tendency to lean off the vertical, and its stalls carved with scenes from the life of Christ. Other features are the 17th-century pulpit with its figures of the 12 Apostles, and the tomb of Olivier van Noort, the first Dutchman to circumnavigate the globe in the early 1600s. The Schoonhoven Town Hall (Stadhuis) is also worth a look. Built in 1452 in Late Gothic style but much altered in later centuries, it possesses a domed hexagonal tower containing a carillon of 50 bells. Other town highlights include the picturesque Weigh House (Waag) from 1617 on top of a dam above the harbor; the Gold, Silver, and Clock Museum (Nederlands Goud-, Ziver- en Klokkenmuseum) with its displays relating to the crafts of gold- and silversmithing and clock making; and the Edelambachtshuis, a granary built in 1566 that now houses a collection of jewelry from the 1600s to the 1900s.
Day Trips from Rotterdam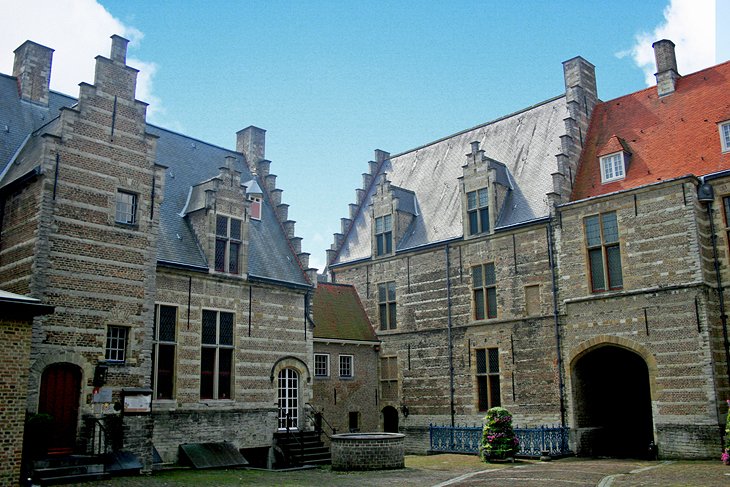 Many pleasant excursions await within an easy commute of Rotterdam. One of the most popular is Bergen op Zoom, a historic old town some 67 kilometers south that is noted for its large squares and pleasant pedestrian zones. It's also where you'll find Markiezenhof Palace, a 15th-century mansion that now houses a cultural center and museum with numerous fine paintings and period furniture. Also worth a visit are Breda, 52 kilometers southeast of Rotterdam, with its museums and monuments, and the town of Gorinchem, 44 kilometers to the east. Another must-see is the Witches Weighhouse (Museum de Waag) in Oudewater, famous for once having been used to weigh those suspected of witchcraft; if you were considered light enough to ride a broomstick, the theory was that you were a witch (fortunately for the women of Oudewater, none of the accused were considered light enough to be punished). About 70 kilometers from Rotterdam, Zierikzee on the island of Schouwen-Duiveland lures tourists with its yacht harbor, a picturesque old town center, and beautiful beaches fringed by wooded dunes.
Sponsored Links

Rotterdam Deals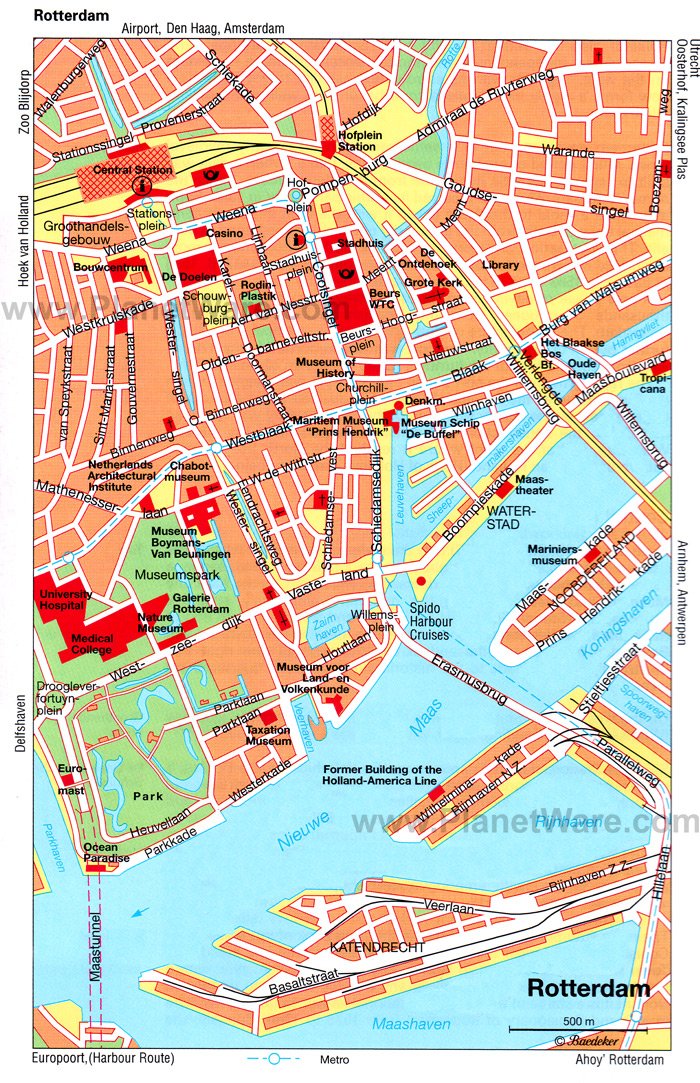 Rotterdam Map - Attractions
Want to use this map on your web site?
Copy and Paste the code below:
More on Netherlands