10 Top-Rated Tourist Attractions in Eindhoven
The largest town in southern Netherlands (and the fifth largest in the country), Eindhoven is well worth exploring. Known by locals as "Lichtstad" - the City of Light - due to its connections with electronics giant Philips (a monument near the station is dedicated to the company founder's son), this modern town is one of the country's industrial powerhouses. Located on the River Dommel, its rapid growth began soon after the establishment of the Philips works in 1891 and was cemented with the founding of the car and truck manufacturer, DAF. A busy university town, the city is home to a diverse collection of tourist attractions, from art museums to historic churches and lovely parks. It's also notable for its connection to Vincent Van Gogh who lived and painted in the nearby village of Neunen.
1 Art in Eindhoven: The Van Abbemuseum
Housed in one of the city's most interesting modern buildings, the Van Abbemuseum is one of the most important galleries of modern art in the Netherlands. Highlights of its more than 2,700 pieces include works by modern painters Marc Chagall and Pablo Picasso and the world's largest collection of material by El Lissitzky. Other notable collections include numerous sculptures and art installations, video works, and posters, including a large Paris collection from Jacqueline de Jong, as well as examples from the USA, Germany, and Eastern Europe. Another attraction of interest is the Kempenland Museum with its displays illustrating the history and culture of the area around Eindhoven, including 19th-century farm life and the textile industry.
2 St. Catherine's Church
Attractive St. Catherine's Church (St. Catharinakerk) was built in Neo-Gothic style in 1867. The original building - dedicated to St. Catherine of Alexandria - was consecrated in the 13th century and was many times severely damaged by war and fire, even spending part of the 18th-century as a stables and weapons store. The current structure incorporates a number of symbolic references to the work of Joseph Thijm, one of the country's best-known writers. Highlights include its twin French Gothic towers, each 73 meters tall and known respectively as David and Maria. Interior highlights include its stained glass windows and its two organs, one of them boasting 5,723 pipes.
Address: Kerkstraat 1, 5611 GH Eindhoven
3
Editor's Pick

Van Gogh Village: Nuenen

Just eight kilometers northeast of Eindhoven is the picture-perfect village of Nuenen, famous the world over for its inclusion in the art of Vincent Van Gogh, who lived here from 1883 to 1885. His temporary home was in the pastor's house, which has been completely restored to its original style. A highlight of a visit is the Vincentre, an excellent new attraction dedicated to the artist and his time in Nuenen, and the focal point of many great walks following in Van Gogh's footsteps. These self-guided tours through what's referred to as The Outdoor Museum lead you to more than 20 different locations spread around the village that relate to the artist (some with audio commentary).

Address: Berg 29, 5671 CA Nuenen
4 The Philips Museum
Housed near the factory where Gerard Philips made his first incandescent light bulbs in the 1890s, the Philips Museum shows how this once small enterprise has grown to become one of the world's largest electronics companies. A visit to the ultra-modern Philips Museum gives visitors an excellent overview of the company's success, as well as the workings of its most memorable products. One of the museum's most popular features is Mission Eureka, a fun interactive game involving digital quizzes and puzzles. (English language guided tours of the museum and Philips-related city landmarks are available.)
Address: Emmasingel 31, Eindhoven
5 The Eindhoven Museum
The Eindhoven Museum is a fun open-air facility with a focus on life during the Iron and Middle Ages in North Brabant (Noord Brabant), the second largest of the Dutch provinces. Agriculture was once the main livelihood in the province before the textile, electrical, and metalworking industries blossomed after 1900. As a result, most of the settlements in the province were small hamlets and villages with farms growing crops such as rye, potatoes, oats, and fodder plants for dairy cattle. With an emphasis on the everyday lives and routines of the people, the museum traces this rich history and features demonstrations of centuries-old customs and skills by costumed staff, including baking, cooking, and blacksmithing, as well as authentic recreations of period buildings and structures. (English language guided tours are available.)
Address: Boutenslaan 161 B, 5644 TV Eindhoven
6 The DAF Museum
Eindhoven has been home to DAF, one of Europe's largest truck manufacturers (and, at one time, cars), since the company's founding in 1928. Started by brothers Hub and Wim Van Doorne in a small blacksmith's shop, the company - short for Van Doorne's Aanhangwagen Fabriek - started off making simple engineering products, gradually progressing from trailers to cars and trucks. The DAF Museum is a testament to the company's success and includes a replica of the original workshops and offices, along with samples of its vehicles throughout the decades, including a number of prototypes.
Address: Tongelresestraat 27, Eindhoven
7 The PSV Eindhoven Museum
Calling Eindhoven football-obsessed is an understatement. But such claims seem reasonable when you're home to Philips Sport Vereniging (PSV), one of the most successful football (soccer) franchises in Europe. And with the club having celebrated its 100th anniversary in 2014, there's plenty of history on display at the PSV Eindhoven Museum, from historic outfits to photos and film footage of career highlights. Guided tours of the team's Philips Stadium are also available and include packages that take in team practices so you can see the players in action.
Address: Stadionplein 4/ Ingang 17, Eindhoven
8 Genneper Parken and Stadswandelpark
Eindhoven is blessed with a number of excellent green spaces providing locals and visitors alike with ample room to relax and pursue favorite pastimes. One of the most popular is Genneper Parken in a pretty location on the Tongelreep and Dommel rivers in a valley conservation area. Thanks to its well-marked meandering trails, it's a fun place to explore on foot, especially as you discover such delightful landmarks as the Genneper Watermill and the neighboring Environmental Education Center with its exhibits relating to the area's flora and fauna. Also noteworthy is City Park (Stadswandelpark), a popular place for a stroll thanks to its 30 unique sculptures, as well as monuments such as the Radio Monument celebrating the first radio communications with the Dutch East Indies in 1927.
Address: Antoon Coolenlaan 1, 5644 RX Eindhoven
9 Inkijkmuseum and Ton Smits Huis
One of Eindhoven's most interesting museums - and certainly the city's smallest - is the Inkijkmuseum, literally translated as a "look-in" museum. Housed in what was the washhouse of a former linen factory, the ground floor of this fascinating little museum is viewed by peeking through its windows at the often-changing artworks inside (it's a fun experience that can only be improved by booking a night stay in the Inkijkmuseum's B&B). Another art-related home to visit is the Ton Smits Huis, a museum in the former studio of one of the Netherland's most famous cartoonists.
Address: Jacob Reviuslaan 25, Eindhoven
10 Eindhoven Events and Festivals
In addition to its many great attractions, Eindhoven is home to a number of first rate concert venues and theaters. One of the most iconic is the spaceship-like Evoluon, former home of the Philips Science Center and now a conference center and music venue famous for hosting such legendary acts as Germany's Kraftwerk. Eindhoven also boasts a number of dedicated pop and rock music venues, including the state-of-the-art Effenaar. Founded in 1971, its two music halls are legendary and draw audiences from across Europe to its regular roster of concerts. One of the city's most important annual festivals is Lichtjesroute, held each autumn to mark its liberation from German occupation in 1944.
Sponsored Links

Eindhoven Deals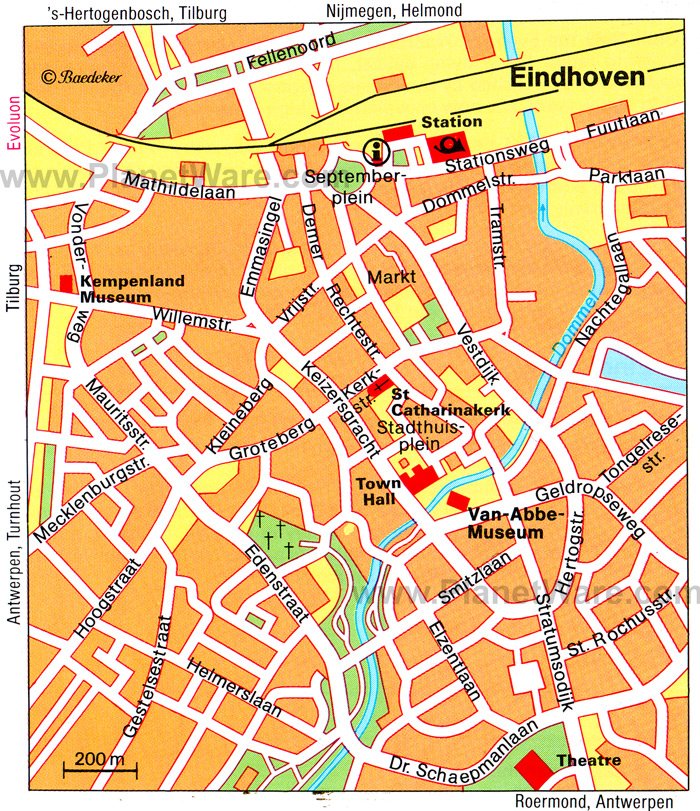 Eindhoven Map - Attractions
Want to use this map on your web site?
Copy and Paste the code below:
More on Netherlands