The Hague Tourist Attractions
The Hague, officially called 's- Gravenhage, is the third largest city in the Netherlands and part of "Randstad Holland", capital of the province of Zuid- Holland, the seat of the Dutch government and the residence of the royal family.
Haagse Bos
From the Korte Voorhout, Leidsestraatweg goes east between the Malieveld and the Koekamp deer park to the Haagse Bos (Het Bos), a 2km/1.25mi-long expanse of wooded parkland in The Hague, with beautiful avenues.
Huis ten Bosch
At the east end of the Haagse Bos, surrounded by a moat, is the Huis ten Bosch, built by Pieter Post in 1644-46 as a country residence for Amalia van Solms, wife of Stadholder Frederick Henry. The facade was rebuilt by Daniël Marot in 1734-37, and two wings were added in 1748. The first international peace conference met here in 1899. The house is now the residence of Queen Beatrix and her family. A notable feature is the octagonal Orange Hall, the 15m/50ft high walls of which were entirely covered by the widowed Amalia van Solms between 1648 and 1653 with pictures in memory of her husband.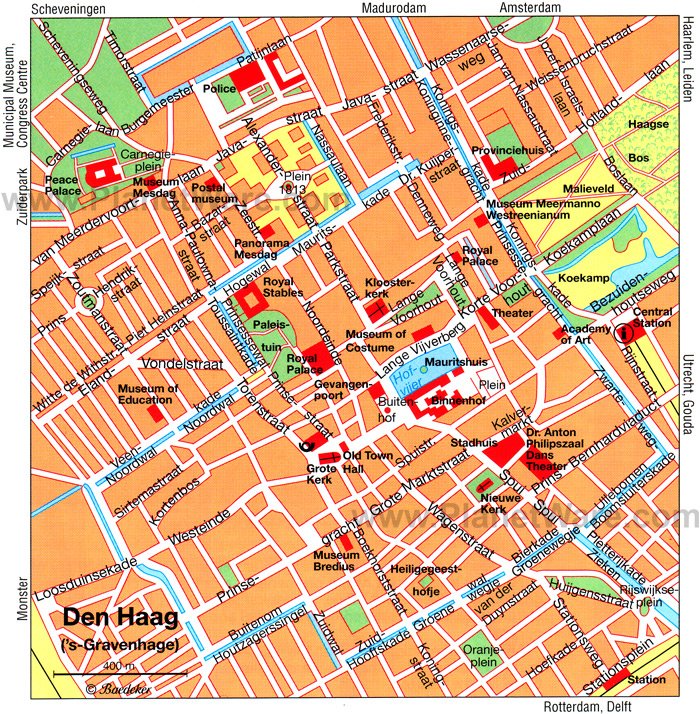 The Hague Map - Attractions
Popular Pages
Destinations
popular right now