14 Top-Rated Tourist Attractions in Taupo
We may earn a commission from affiliate links ()
The little town of Taupo is an excellent base to explore the central region of New Zealand's North Island. Sitting on the shore of vast Lake Taupo and close to the mountains of Tongariro National Park, Taupo has grown into an action-adventure center with an abundance of hiking, boating, and river rafting opportunities for travelers who want to explore New Zealand's famed natural scenery. Both the Tongariro Alpine Crossing and hiking on Mount Ruapehu are among the best day hikes you'll find anywhere in the Southern Hemisphere.
Like Rotorua, the Taupo region is full of geothermal activity, with wild-colored silica terraces, hot springs, and steam vents bursting from the ground. For visitors not looking to get hot and sweaty while trekking up a volcanic cone, these areas, such as Orakei Korako, offer an easy way to witness the geological wonders of New Zealand's volcanic foundations.
For more information on these and other fun things to do, be sure to read our list of the top tourist attractions in Taupo.
1. Lake Taupo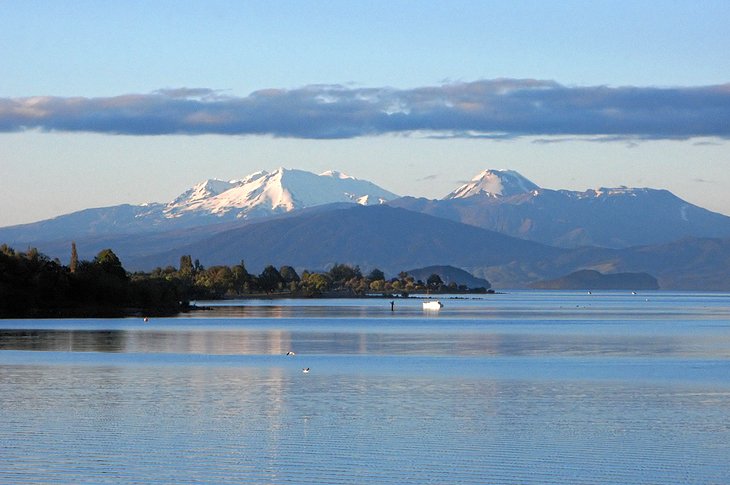 Created from the seismic forces of a supervolcano eruption, the vast and shimmering Lake Taupo lies in the volcano's caldera and is, at 616 square kilometers, New Zealand's largest lake.
Today, the tranquil waters offer a bounty of outdoor activities. For keen anglers, Lake Taupo is all about the trout fishing with abundant stocks of brown trout and rainbow trout, introduced by settlers to the lake in the late 19th century.
For visitors not so interested in casting a line, the deep, blue waters are perfect for swimming, kayaking, and scenic cruises. Both sailboats and motorboats can be chartered from Taupo's harbor, or shorter jaunts can be made by hopping on one of the many tour boats that ply the lake.
For an interesting background on the region and its history, spend an hour at the Taupo Museum with excellent exhibits and art displays, as well as an attractive garden.
Accommodation: Where to Stay in Taupo
2. Huka Falls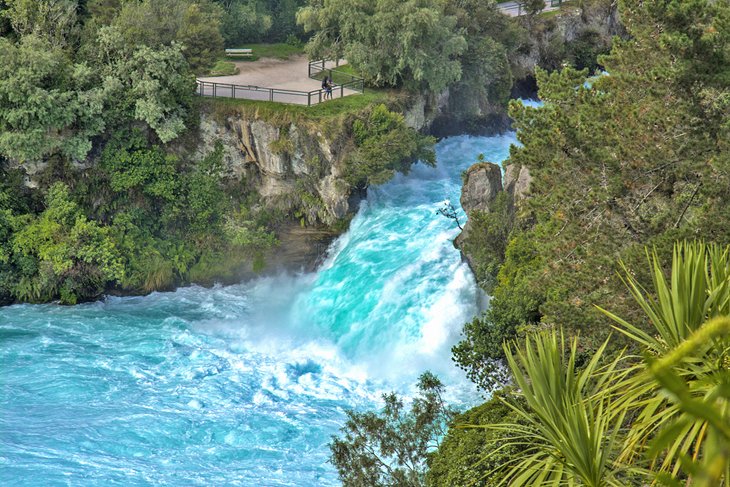 Although not a particularly high waterfall, the thundering Huka Falls is a majestic sight for the sheer force and spray whipped up as the waters of the Waikato River plunge over the rocky ledge into the gorge eight meters below. A startling 22,000 liters of water is funneled over the ledge every single second in a deafening fury of foam.
Close-up access to the churning waters is provided by a pedestrian bridge and variety of platforms, while travelers looking for a more exciting viewpoint can choose to jet boat through the turquoise waters of the gorge right up to the falls' base. For nature lovers wanting to combine a visit with a stroll, there is an excellent (and easy) one hour hiking trail from Taupo to Huka Falls.
Also close by, Huka Prawn Park offers interesting tours of the facility's hatchery and nursery, along with fun activities for kids, including paddleboats and a restaurant serving the local delicacy.
Location: Wairakei Park, 10 kilometers north of Taupo
Official site: www.hukafalls.com
3. Waikato River Jet Boat Ride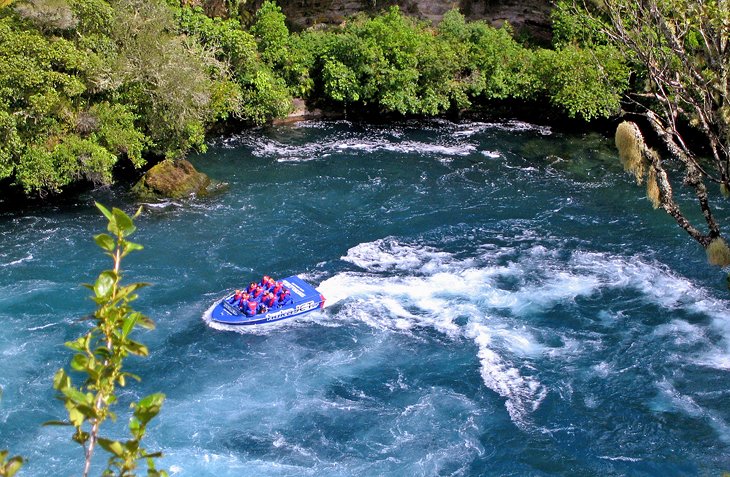 While you can of course remain content with viewing the fast-flowing Waikato River from the shoreline, nothing says "been there, done that!" quite like a selfie taken aboard a thrilling Rapids Jet Waikato River Jet Boat Ride. These 35-minute high-speed adventures zip over the mighty Nga Awa Purua Rapids on the Waikato River and up through the narrow canyons at break-neck speeds, ensuring a heart-pumping, adrenalin-rush-of-an-experience you won't soon forget.
Along the way, you'll hear commentary from your professional tour guide, ensuring you don't miss any of the many points of interest along the way. Limited to groups of just 11 people, these excursions include waterproof gear, life jackets, and a keep-sake photo.
4. Mine Bay Maori Rock Carvings Cruise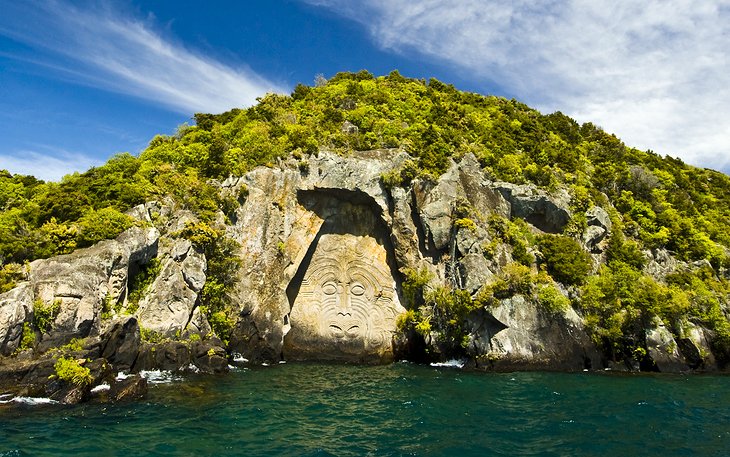 In the 1970s, Maori carver Matahi Whakataka-Brightwell gifted the Taupo region with a dazzling display of Maori art when he crafted a series of Maori rock carvings into the cliffs of Lake Taupo's Mine Bay. The main carving towers 14 meters above the water's surface and depicts the Maori navigator, Ngatoroirangi, who brought the Maori to New Zealand in the 13th century.
This stunning piece of contemporary art can only be seen from the water, and a kayak (or sightseeing cruise) is the best way to get close up to the rock wall and really admire Whakataka-Brightwell's artistry. One of the most popular options is the Maori Rock Carvings Eco Sailing Taupo excursion, which includes a fun sailboat ride to the carvings, commentary from a professional guide, and a complimentary beverage (or bring your own). And take your swimsuit: this 2.5-hour adventure includes an opportunity for a dip in Lake Taupo.
5. Tongariro Alpine Crossing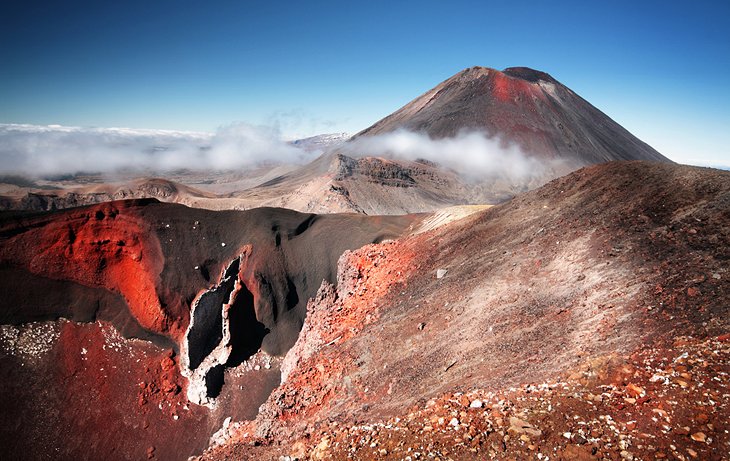 It's been called one of the top 10 day walks in the world for good reason. The Tongariro Alpine Crossing–19.5 kilometers in length and taking between seven to nine hours–is a slice of New Zealand's raw nature, where you can trek amid the volcanic craters and emerald-hued lakes of Tongariro National Park. Hikers traverse a barren yet beautiful lunarscape of craters and active volcanoes, pitted by ancient lava flows and speckled with steam vents and mountain springs.
The spectacular alpine views, which can reach as far as Mount Taranaki on a clear day, are worth the sweat of the ascent, while experienced walkers keen to fit in more exercise can add side trips to climb either Mount Tongariro or Mount Ngauruhoe (which stood in for Mount Doom in the Lord of the Rings movie trilogy) if they set off early in the morning.
6. Orakei Korako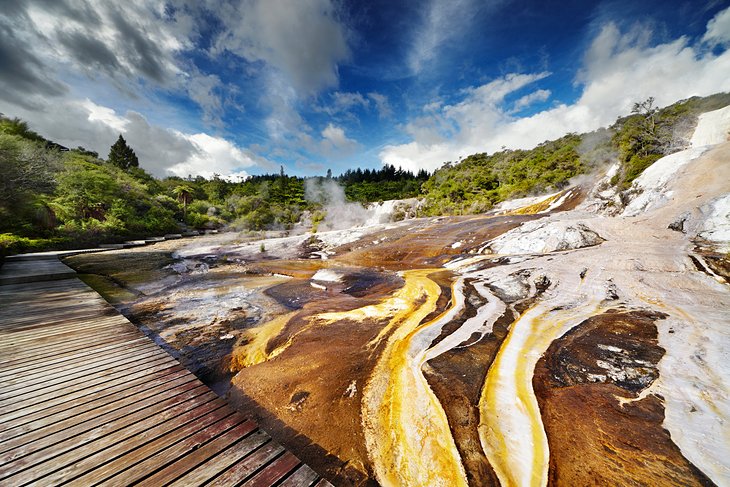 If you only visit one geothermal area in New Zealand, make it this one. Just 25 minutes north of Taupo, Orakei Korako–also known as the Hidden Valley–is an otherworldly place of geysers and bubbling mud amid surreal silica terraces coated in weird and wonderful splotches of green, yellow, and orange algae. Don't miss 40-meter-long Te Kapua Terrace, the "Golden Fleece Terrace," covered in a rippling, white sinter coating.
Following the walkways around the area brings visitors to a platform overlooking Ruatapu Cave, the only geothermal cave in New Zealand and one of only two in the world. This unique natural feature (no entry allowed) plummets down for 35 meters to an acid-water hot pool.
A pleasant café with water views is worth stopping at for refreshments. To ensure you get the most out of your visit, opt into a self-guided tour of Orakei Korako, fun, do-it-yourself excursions that have been crafted to ensure you don't miss a thing along the way (ferry ride to the attraction included).
Address: Orakei Korako Road, Reporoa
Official site: www.orakeikorako.co.nz
7. Craters of the Moon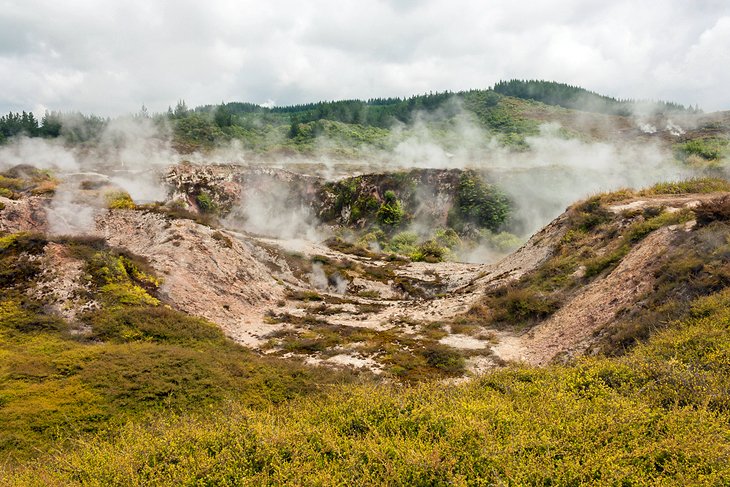 The Craters of the Moon National Monument & Preserve features an excellent walking trail. Following an easy 45-minute loop that starts at the modern visitor center, you'll get up close with New Zealand's weird and wonderful geothermal scenery.
A wooden boardwalk traverses the gentle hills of the scrub-lined countryside, allowing easy viewing of a multitude of steam vents, billowing white funnels of smoke out of the ground, and vast craters that bite into the landscape.
For the overall scope across the entire area, head up the steep trail of stairs to the lookout platform; though it's an extra 20-minute walk, you'll be rewarded with a bizarre panorama of this fascinating, steamy, smoky terrain.
Address: Karapiti Road, Taupo
Official site: www.cratersofthemoon.co.nz
8. Wairakei Terraces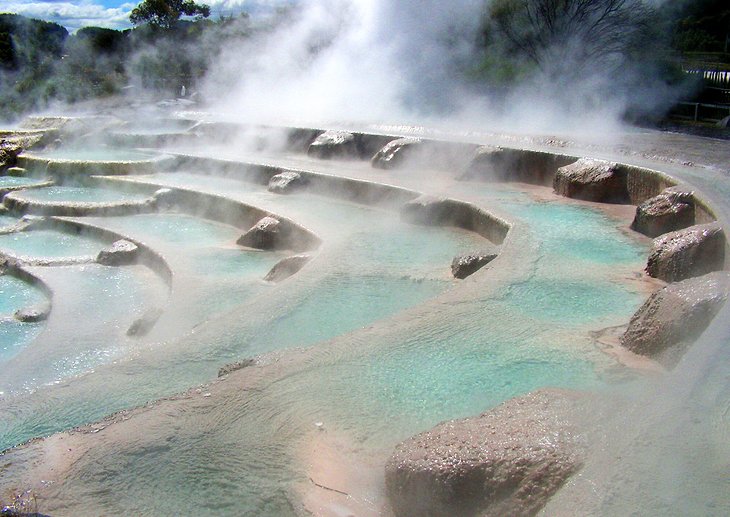 Rich in minerals, the hot springs of the Wairakei Terraces are a great place to soothe travel-weary joints. Used by the local Maori tribes for centuries, these therapeutic waters are now a top Taupo spot for a few hours of relaxation. A series of thermal pools of varying heat sit below a white silica terrace with a gushing waterfall replenishing the aqua blue water.
For travelers who want to explore the area further, a boardwalk leads over a series of silica terraces nearby, complete with steam vents and geysers. Culture vultures can discover New Zealand's Maori heritage and artistry with an evening tour (including a traditional dinner) of Wairakei Terraces' Marae, a Maori meeting house, and Maori village.
Official site: www.wairakeiterraces.co.nz
9. Tongariro River White Water Rafting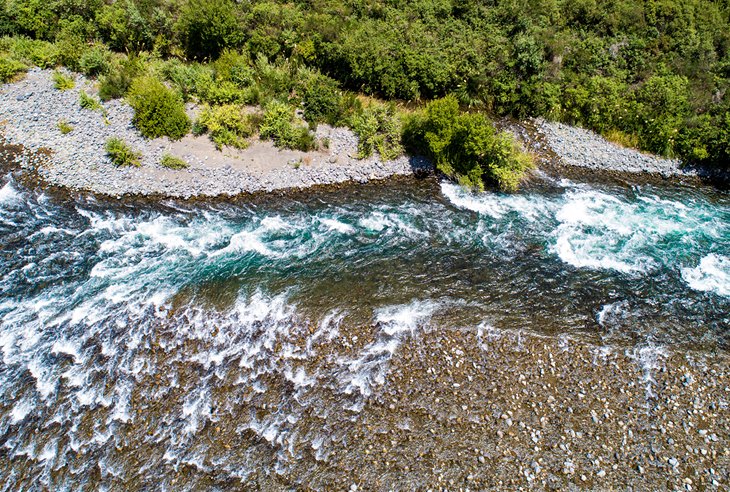 Adventure seekers are guaranteed an adrenaline rush during the white-knuckle Tongariro River White Water Rafting Adventure from Taupo. These epic three-hour excursions depart from Taupo and include a professional guide, a safety briefing, along with a wetsuit and waterproof gear, and plenty of fun.
Once on the river, you'll be faced with no less than 60 rapids to tackle, along with plenty of quieter stretches to simply enjoy the stunning canyon scenery and its resident wildlife.
Other inclusions consist of hotel pickup/drop-off and a deli-style meal. Suitable for experienced and newbie rafters alike, these highly recommended adventures rank among the top things to do in Taupo for families.
10. Mount Ruapehu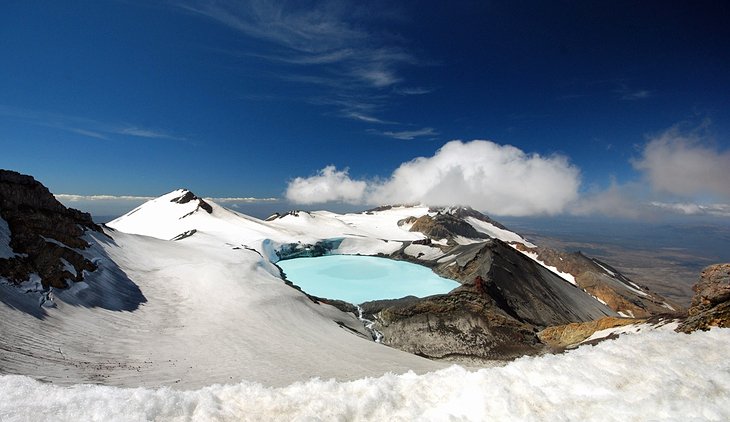 Mount Ruapehu gives adventure fans plenty of reasons to don their hiking shoes. Although this is one of New Zealand's highest peaks outside of the South Island's Southern Alps, you don't need to be a mountaineer to experience its rugged, volcanic beauty. If you want jaw-dropping alpine views without the sweat, a scenic chair-lift ride can whizz you up to 2,020 meters above sea level to sit amid a landscape surrounded by Mount Ruapehu, Mount Tongariro, and Mount Ngauruhoe.
Otherwise, the real highlight is scaling the mountain ridge up to the crater lake on a guided tour. During winter (June-September), visitors can ski on Mount Ruapehu's lower slopes.
Location: Tongariro National Park, 80 kilometers southwest of Taupo
Official site: www.mtruapehu.com
11. Aratiatia Scenic Reserve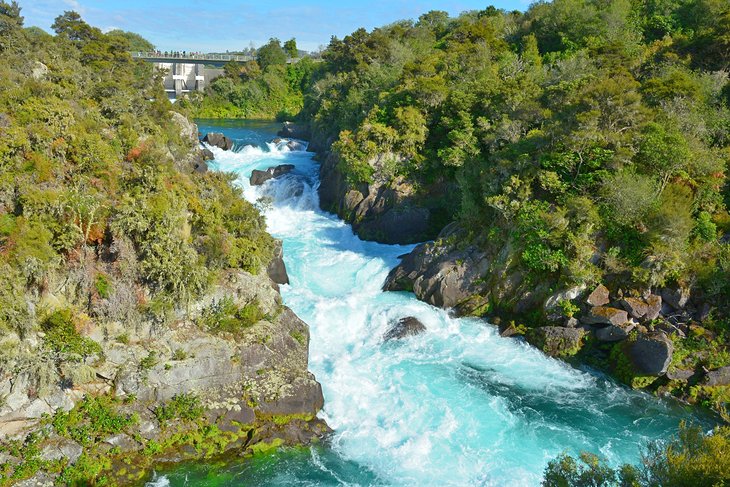 The Aratiatia Scenic Reserve is a slice of lush forest packed with family-friendly walking trails and mountain biking tracks. For those only on a short stay in Taupo, this area offers a good chance to get acquainted with New Zealand's native fauna on an afternoon stroll.
The reserve's highlight is watching the opening of the Aratiatia Dam gates. Three times daily, the gates are opened to turn the dry Aratiatia Gorge into a turbulent series of rapids flowing at approximately 90,000 liters per second. A pedestrian bridge right over the dam gates offers a prime viewpoint on which to perch as it happens.
12. Taupo Bungy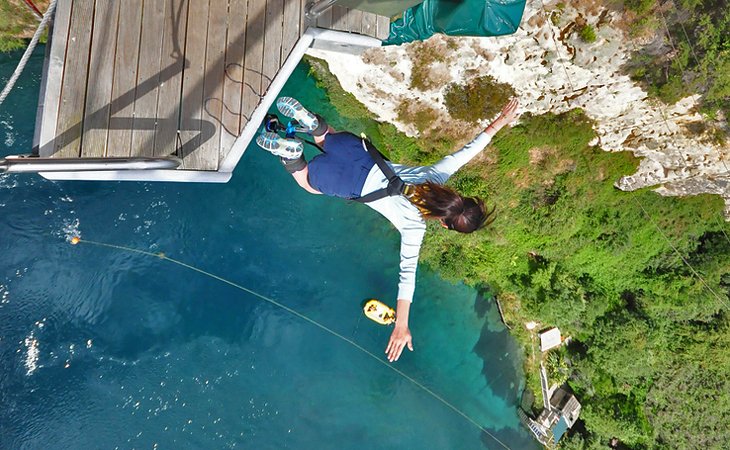 No self-respecting tourist destination in New Zealand is without its own bungee experience, and Taupo doesn't disappoint. Taupo Bungy plunges you headfirst for 47 meters down to the Waikato River below and lays claim to being New Zealand's highest water-touch bungee experience.
If diving off a platform, perched on a sheer cliff face over a river, with only an elastic cord tied around your ankles isn't your idea of a good time, there's also the extreme-swing, which arcs you over the river, reaching speeds of 70 kilometers per hour. These tourist attractions are definitely not for those afraid of heights, but adrenaline-junkies will relish them.
Address: 22 Spa Road, Taupo
Official site: www.taupobungy.co.nz
13. Taupo DeBretts Hot Springs
After all of Taupo's hiking, biking, and boating activities have been crossed off your New Zealand travel itinerary, a soak at Taupo DeBretts Hot Springs is a worthwhile spot of pampering. The mineral-rich thermal pools here sit within lushly manicured gardens full of ferns and native flowers, while the on-site spa offers a tempting array of local mud wraps and other rejuvenating treatments for a truly luxurious way to top off your Taupo stay.
The hot springs are family-friendly with a dedicated children's warm-water pool complete with an aquatic playground and hydroslides.
Address: 76 Napier-Taupo Road, Taupo
Official site: www.taupodebretts.co.nz
14. Waipahihi Botanical Reserve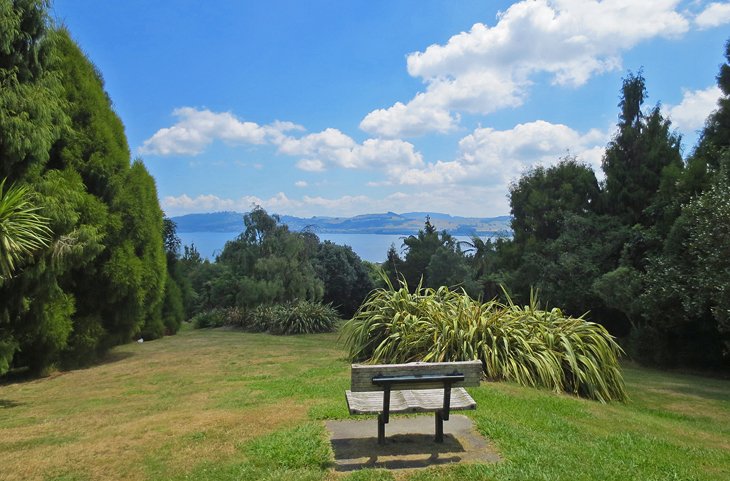 With fantastic views of both Lake Taupo and the peaks of Tongariro National Park, Waipahihi Botanical Reserve is a gorgeous place to take a stroll. The gardens here span 35 hectares, sitting on a hill above the town of Taupo, and are full of trails leading between native kauri and rata trees and colorful flowerbeds brimming with rhododendrons and azaleas. It's a great place to take an easy amble and soak up the tranquil ambience.
The reserve was envisioned in 1966 by a group of local volunteers, and astonishingly, the vast and beautiful gardens and park land here are still maintained nearly completely by volunteer workers. It's one of Taupo's most serene spots and a definite must-do for nature lovers.
Address: Hyde Ave, Waipahihi, Taupo 3330
Official site: www.waipahihibotanicalgardens.co.nz
Where to Stay in Taupo for Sightseeing
When visiting Taupo, try to find somewhere reputable to stay that's close to the city center. You'll be rewarded with plenty of fun things to do, such as shopping and visiting the town's top restaurants, as well as being able to easily explore the lovely waterfront without having to travel too far. Here's our list of top-rated places to stay in Taupo:
Luxury Hotels: The Hilton brand knows a thing or two about luxury, and the elegant Hilton Lake

Taupo

is certainly no exception. The hotel's hillside location offers incredible lake views, classy rooms and suites, a tennis court, and a chic bistro restaurant. Lake views are also part of the fun at Millennium Hotel and Resort Manuels

Taupo

, which offers upgraded suites overlooking the water, a fine-dining restaurant, plus a café with a terrace. For the ultimate in pampering, though, go for the ritzy Lake Taupo

Lodge

. Highlights include an upscale bed and breakfast featuring a sumptuous breakfast, chic rooms, and a variety of excursion packages including fishing and dining options.
Mid-Range Hotels: A good choice for those seeking mid-priced accommodations, VU Thermal

Lodge

features lake views, thermal pools, spacious rooms with kitchens and living areas, plus upgraded suites with private mineral pools. Those who enjoy a quality bed-and-breakfast experience should check out No. 6

Heathcote

, located in a quiet neighborhood close to the lake and attractions, and featuring cozy rooms and a delightful garden. The Lake

Motel

is another great choice, and features quality beds and bedding, comfortable rooms, and modern décor.
Budget Hotels: Topping our list of favorite budget accommodations is Taupo Urban

Retreat

, a hostel-style location popular with backpackers that features a mix of shared and private rooms, all just a few minutes' walk from the lake. Finlay Jack's

Backpackers

is another good hostel and features dorm style rooms (plus a few private rooms) close to public transit. Those on a tight budget should also check out Tiki

Lodge

with its comfortable hostel setting, communal kitchen, and central location.
More Related Articles on PlanetWare.com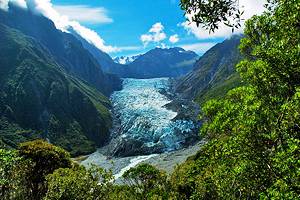 The Natural Wonders of New Zealand: Adventure seekers in New Zealand (and those from overseas) typically head to the spectacular Fiordland National Park, where fun things to do include camping, kayaking, and hiking. Also popular, the Westland Region offers a number of thrilling white-water experiences, along with the chance to get up close to the amazing Franz Josef Glacier. As popular with sightseers as it is hard-core adventurers, the Bay of Islands features plenty of water-based activities, as well as sandy beaches suitable for families.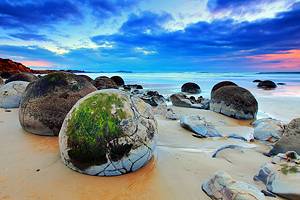 Historical Destinations: Considered by many to be the Art Deco capital of the world, the town of Napier is a delight to explore, and features thrilling sights on every corner. The country's colonial history can be experienced in the tiny town of Dunedin, which celebrates its Scottish heritage in themed events and at attractions such as Larnach Castle. And in the country's largest city, Auckland, the colonial past can be explored in the harbor area and at attractions such as Howick Historical Village.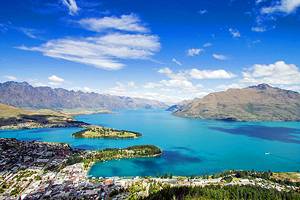 New Zealand Vacation Ideas: Try to include the capital city of Wellington in your New Zealand travel itinerary; you'll be rewarded with no end of fun things to do, from museum-hopping to shopping, sightseeing, and dining. At the ritzy-end of things, Queenstown has become the must-visit NZ destination for luxury stays and ski vacations. Also worth considering is the community of Rotorua, a favorite vacation destination for its many hot springs.