13 Best Beaches in Sicily
Some of the most beautiful beaches in Italy ring the shores of Sicily, lapped by turquoise-blue Mediterranean waters that are warm enough for swimming from mid-May through October. While some of the beaches are inside nature reserves with only basic tourist services, others are fully equipped with the typical stabilimento balneare, where you can rent a lounge chair (lettino) and use the changing tents, showers, and restrooms.
Lounge chairs are particularly enticing on the many beaches that are composed of sea-smoothed pebbles rather than sand, but wherever you go, there will be stretches of free beach where you can drop a towel to claim your spot for sunbathing.
Sicily's variety of beaches means that you can choose a lonely spot in a nature reserve; an idyllic island beach close to a tourist center (Taormina's Isola Bella is one); or a beach right at the foot of the busy town center, as in Cefalù. Many are surrounded by knockout coastal scenery, such as the dramatic stepped cliffs above the beach at Scala dei Turchi.
These beaches are not secrets and are very popular with Sicilians and other Italians, who flock to them in the summer. If you don't want to be part of a crowded beach scene, plan your trip for spring or fall and avoid even the most remote beaches in August.
You're certain to find your perfect holiday retreat with our list of the best beaches in Sicily.
1. San Vito Lo Capo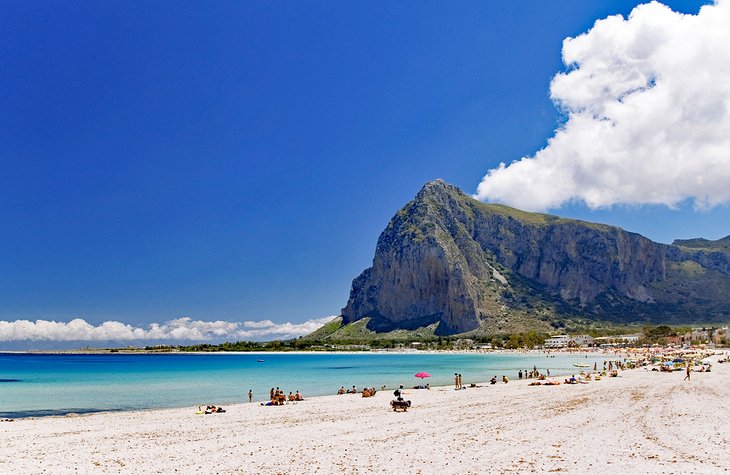 The wide kilometer-long stretch of soft white sand, palm trees, and clear blue-green waters, sheltered by a soaring headland at one end, make the beach at San Vito Lo Capo look like a postcard scene. No wonder that it's one of the top beach destinations in Italy. The surprise is that it's less crowded than many others in the summer.
The location next to Zingaro Nature Reserve, on Sicily's northwestern coast, gives it an air of remote seclusion, while the modern little white-washed town offers places to stay and plenty of dining options, with a mellow, laid-back après-beach scene. It is not centrally located for day trips, although you can get here by bus from Palermo or Trapani.
Explore the nature reserve by following its hiking trails, or take a boat tour to discover the marine life and secluded cove beaches.
2. Isola Bella, Taormina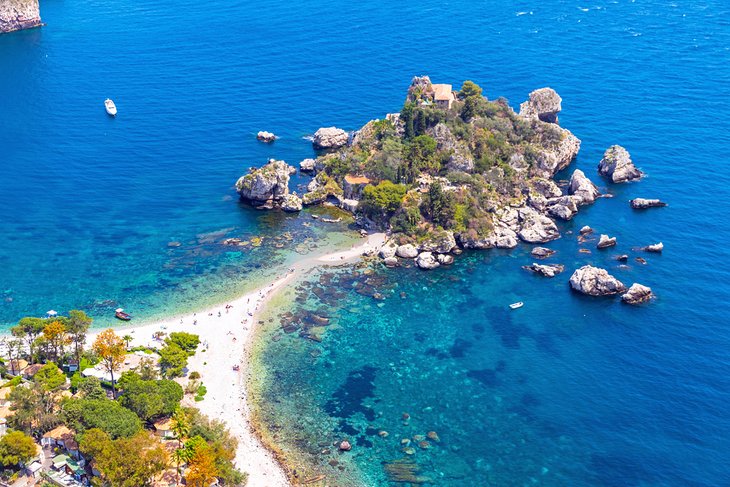 Directly below the precipitous shore of Taormina, the tiny island of Isola Bella is protected as a World Wildlife Federation nature reserve, an idyllic tuft of green-clad rock connected to the mainland by a wisp of rocky beach. Because of the uneven surface, you'll probably want to hire a lounge chair from one of the beach clubs, and wear shoes, especially if you plan to walk the path around the island.
The shallow water around the island is a rich cerulean blue, and its clarity makes it a perfect place for snorkeling. You can also rent kayaks here to explore the island and coast.
The easiest way to reach the beach from Taormina is by the cable car, a 10-minute trip. You'll find other beaches along the shore below town, but none so scenic as those along the spit leaving to Isola Bella.
3. Mondello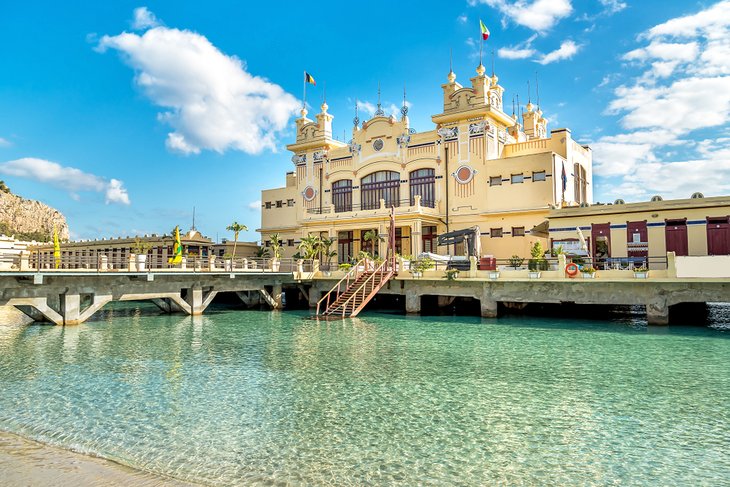 You'll mix with locals at Palermo's popular beach, only a 15-minute bus ride from Sicily's capital city. The Art Nouveau Stabilimento Balneare on its pier and the colorful changing cabins give the entire scene the feel of the genteel European bathing resorts of a century ago.
Adjacent to the beach is the old fishing village, with its colorful boats and several restaurants featuring the day's catch.
Beyond the rows of rented lounge chairs, you'll find a large free area with white sand, usually crowded with families in mid-summer. The water is shallow, good for children, and popular for snorkeling. You can also rent windsurfer equipment at the beach.
This is not a beach for secluded solitude, but a lively immersion in Sicilian summer life.
Read More: Top-Rated Tourist Attractions in Palermo
4. Cefalù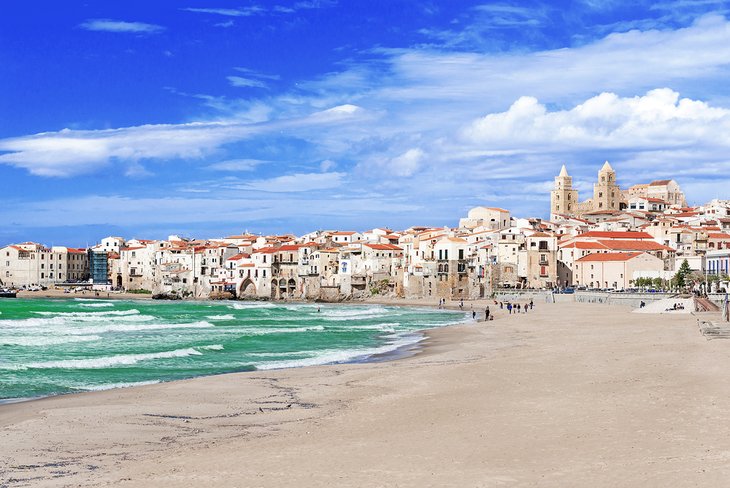 In Cefalù, on Sicily's north coast, it's easy to combine sightseeing with time at the beach. The long sandy beach, protected by a breakwater, lies right at the foot of the historic old town, with its Norman cathedral and winding stone streets. The pedestrian-only shopping street, Corso Ruggero, parallels the shore within easy reach, and the colorful fishing harbor is within sight of the beach.
Backed by a promenade with benches, Lungomare Giuseppe Giardina - the favored route for locals' evening stroll, -- the beach has a free area along with the usual rows of lounge chairs for rent. Along with swimming and sunning, the beach and marina are a hub for water sports and excursions, including snorkeling in the especially clear water, sailing cruises and paddleboard tours to explore the neighboring sea caves.
Cefalù is an especially good choice for families, with quiet, shallow water; real sand; and plenty of other activities to make a well-rounded holiday. If you have not seen Giuseppe Tornatore's 1988 film Cinema Paradiso, you might want to see it before you visit - most of it was filmed in Cefalù.
5. Scala dei Turchi (Stairs of the Turks)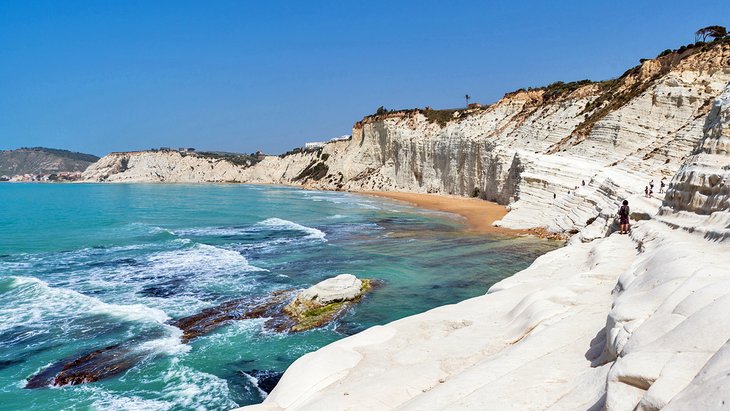 Surely the most dramatic scenery of any Sicilian beach is the towering rock formation of Scala dei Turchi, a white rock cliff formed of marl in receding layers that have eroded to look like a giant staircase. The name means "Stairs of the Turks" and refers to the frequent raids by Arabian pirates, whose ships often hid in their shelter (another story is that they used the steps as a landing stage to climb ashore).
Beaches lie at either side of the stairs, the first preferred by families for its placid shallow waters. Follow the shelf of the stairs to the longer sand beach beyond.
Scala dei Turchi has in recent years gained more attention as a tourist attraction, after being included in one of Andrea Camilleri's Commissario Montalbano books. Only 15 kilometers from Scala dei Turchi are the outstanding Greek temples of Agrigento, one of Sicily's top places to visit.
6. Torre Salsa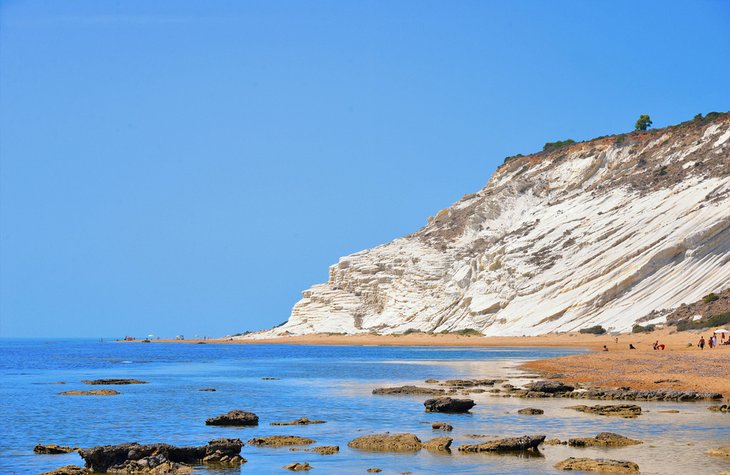 One of Sicily's longest beaches, Torre Salsa lies inside a nature reserve administered by the World Wildlife Fund, without any of the usual beach facilities and tourist services. No rows of lounge chairs, no food kiosks, just six kilometers of unspoiled -- and unlittered - golden sand beneath white chalk cliffs.
Although it lies between two of the most visited attractions in Sicily, the ancient Greek ruins of Agrigento and Selinunte, the beach is overlooked by most tourists and by many locals who prefer more developed beaches. The unpaved track through the preserve also discourages many, but it's well worth navigating for those who prefer solitude and an unspoiled natural setting. Even in August, you'll find elbow room here.
The surrounding waters are as pristine as the beach, with a clarity and abundance of marine life that makes them popular for snorkeling and scuba diving. Trails through the reserve lead to beautiful panoramas of the mountains and coast; reserve ahead for guided nature walks through the rich wildlife habitat.
7. Spiaggia dei Conigli, Lampedusa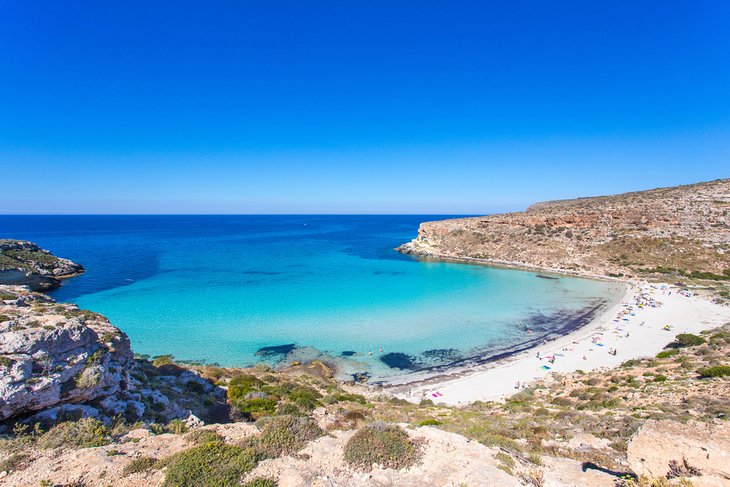 It's been called the world's most beautiful beach, with its fine white sands and iridescent waters that shimmer through every shade of blue. The long beach faces the Isola dei Conigli, a short swim away through shallow water - or a walk across the sand when the water is low.
One of Italy's most pristine beaches, the entire cove is protected as part of a nature reserve, and no boats are allowed here. Colorful fish approach snorkelers, and loggerhead turtles climb ashore to lay their eggs in the sand, one of the rare places in Europe where this happens.
With all this going for it, this paradise must have a catch - and it does. It is on Lampedusa, one of the Pelagic Islands in the Mediterranean, south of Sicily's mainland. In fact, it is closer to Africa than it is to the rest of Sicily, and reached by air or by a four-hour ferry trip. But for beach lovers, this perfection is worth the trouble to get here.
8. Sampieri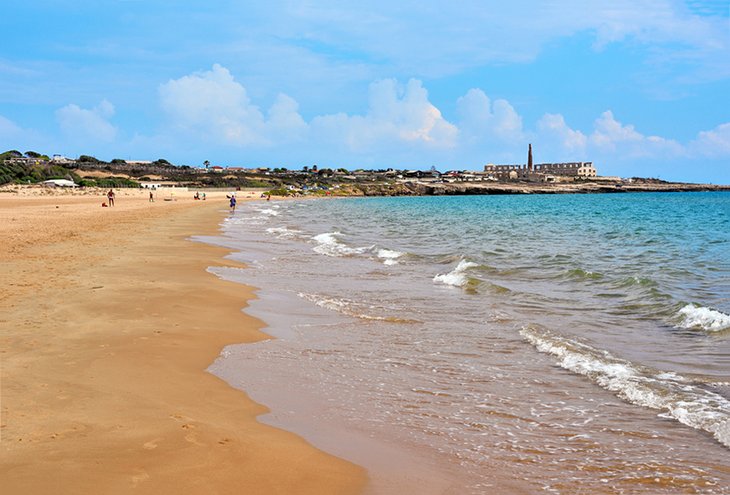 Even though it did play a role in one of the Commissario Montalbano books, the ruins of an early 1900s brick factory might not sound like a promising landscape. But its silhouette along the shore adds a pleasantly haunting note to the scenery behind this four-kilometer beach.
The wide stretch of sand beach begins in a small fishing town and is lined by pine woods and dunes. The water is shallow and calm, and crowds are rare, even though the beach is close to the towns of Ragusa and Modica. You will need a car to get here.
At the town end of the beach are umbrellas and loungers for rent, and showers, but there is little else. Another long sandy beach is farther along the coast road, near the village of Donnalucata, and farther on is a nature reserve with paths through the dunes to more swimming areas.
9. Calamosche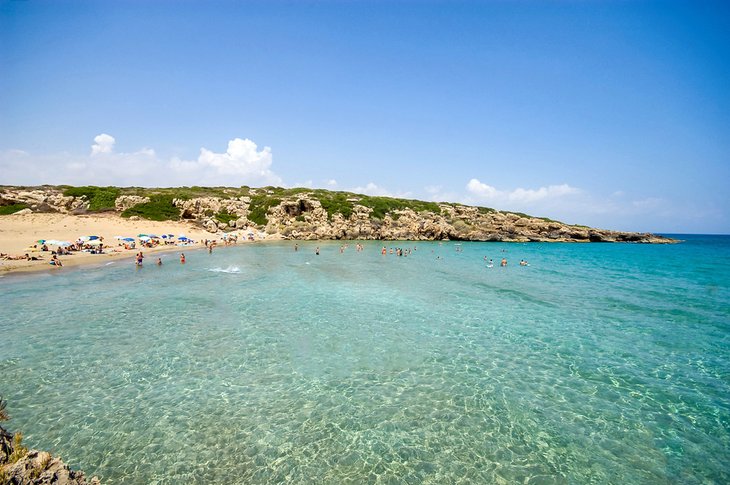 Inside the Vendicari wildlife reserve, on Sicily's eastern coast near Syracuse, Calamosche is a beautiful sandy cove bounded by two promontories. These rock faces, carved by caves and studded with myrtle and other wild shrubs, bring a wild contrast to the 200-meter beach of fine, smooth sand. The water is shallow, clear, brilliant blue, and calm.
Calamosche is the best known of the beaches in the Vendicari Reserve, but paths along the shore lead to other sandy stretches of shoreline between the rocky outcrops. Walking in the reserve, you may see flamingoes, herons, and storks in the wetlands, which are an important migratory stop between Africa and northern Europe.
10. Laghetti di Marinello, Tindari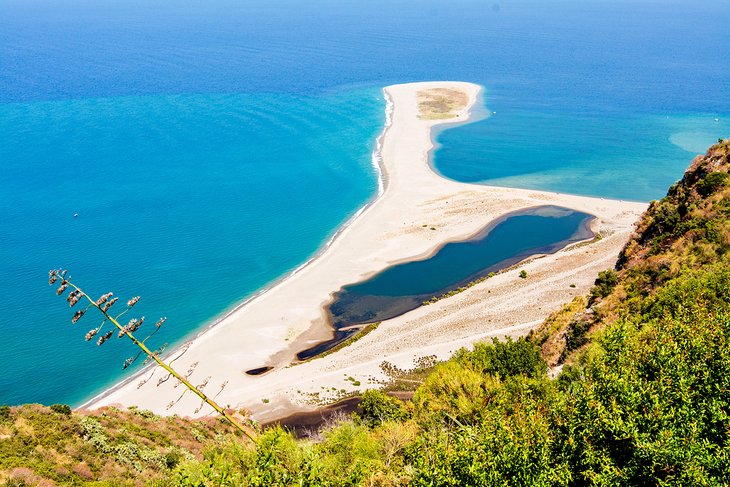 Looking down from the mountaintop sanctuary of Tindari – home of the famous Black Madonna – you can see a long tongue of sand stretching out into the Tyrrhenian Sea. Shallow pools and the larger Marinello Lake dot the golden sand of the Riserva Naturale Orientata Laghetti di Marinello and its 1.5 kilometers of undeveloped beach.
The only way to reach these beaches underneath the promontory is on foot or by boat from the village of Oliveri. An inexpensive boat service shuttles beachgoers, who can arrive by bus or park at the launch site, which is a short walk from the Oliveri Tindari bus stop.
More developed beaches stretch along the coast east of the reserve, with lidos providing sun loungers, umbrellas, and refreshments. You can also rent windsurfing equipment and small boats in Tindari.
11. Isola delle Correnti and Fontane Bianche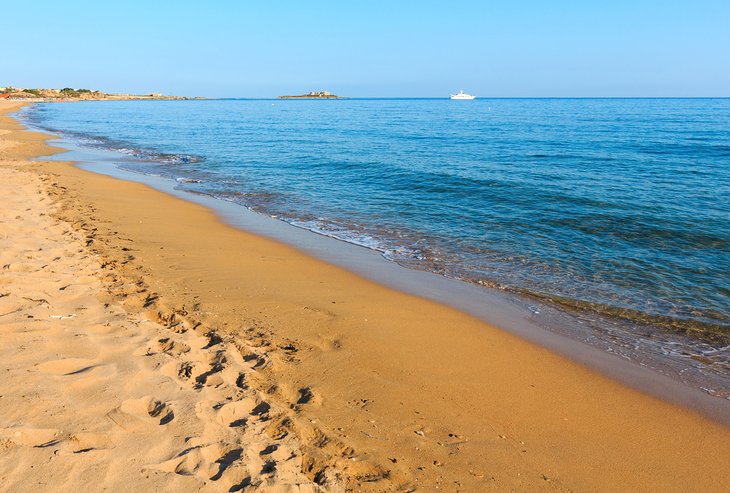 At Sicily's southern tip, the waters of the Ionian Sea meet those of the Mediterranean, and the fine sugar-like sands of Isola delle Correnti (Island of Currents) are shaped by the opposing currents. The clear water is a paler color here, and the currents cause more waves than you'll find at Sicily's northern beaches.
Although the long beach has some facilities, including showers and a restaurant, it is not highly developed, and not easy to get to without a car, which means that it is usually uncrowded, with plenty of sand for everyone.
For more activity and services, the beach at Fontane Bianche is about 19 kilometers from Syracuse and easy to reach by train. Although it's not especially scenic, it is a popular choice for families, with fine sand and a gentle slope into the sea and lots of play space for children.
Lido di Noto is a lively beach town about 15 minutes from Syracuse, with all the expected stabilimento facilities for rent, but with free public access to half the long beach.
12. Sciacca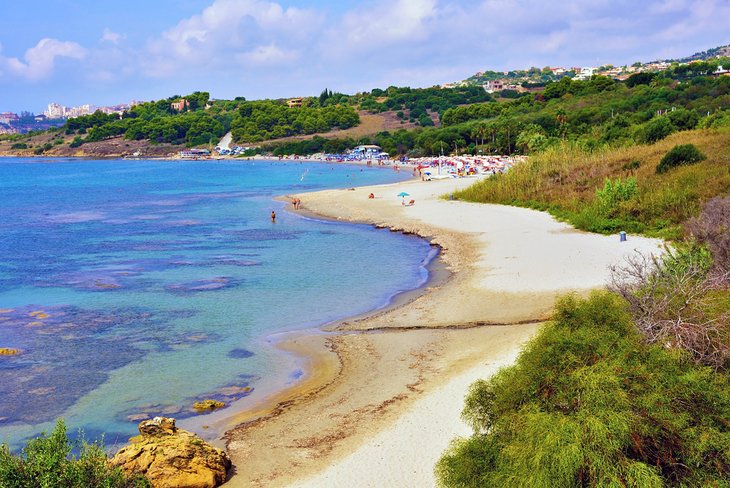 Half a dozen sandy beaches mark the coast around this ancient fishing town, so there's something for everyone, from shallow protected waters for children and party beaches for a young crowd to long stretches of golden sand with few tourist amenities.
The long beaches of Sovareto and Capo San Marco are the most beautiful – some say in all of Sicily – with fine golden sand and crystal water. Each has a nice blend of wild and uncrowded beach and more populated areas with restaurants and lidos, where you can rent umbrellas and chairs.
Scuba divers choose San Marco for the plants and sea life in its reefs, and everyone will appreciate the views of Capo Bianco and Capo Granitola, which flank the beach to the east and west.
13. San Leone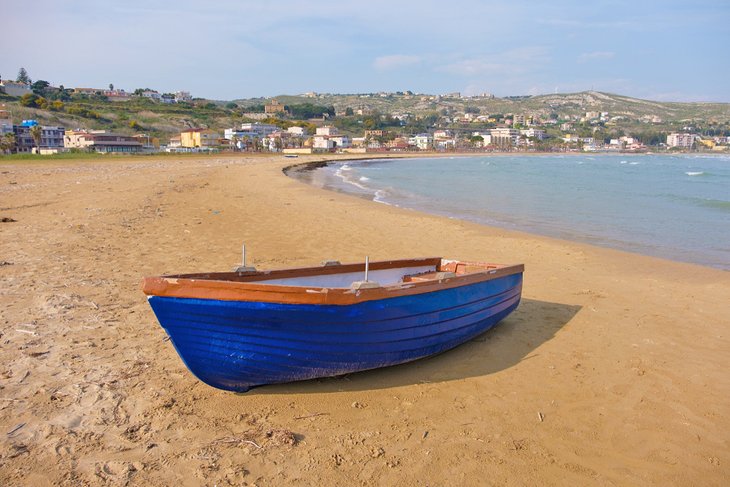 The town of San Leone, on Sicily's southern shore near Agrigento, is a happy mix of lively developed beaches and sandy dune-backed shore for those who prefer more solitude. Each beach seems to lead to another along the shoreline, from San Leone to Porto Empedocle and beyond.
In the evening, the beaches morph into cafés and nightlife venues, again with something for all tastes and ages, from raucous clubs to quiet piano cafés - even two fun fairs for children. Locals and tourists join to watch the sunset as they stroll the palm-lined Lungomare Falcone and Borsellino along the shore. Several kilometers of the beach are free to the public.
South of San Leone, the Viale delle Dune is a natural area of dunes and native vegetation that stretch for several kilometers along the low shore. Because of the wind, the beaches are popular with windsurfers.
Map of Beaches in Sicily
More Related Articles on PlanetWare.com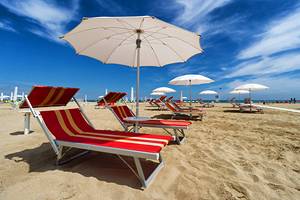 Where to Find Beaches in Italy: Like Sicily, Italy's other large island is lined with miles of sandy shore; you can find these described in our page on the best beaches in Sardinia. For information on the Adriatic beaches, refer to the: Top Tourist Attractions in Rimini & Easy Day Trips.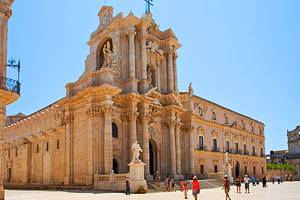 What to See in Sicily: Along with its beaches, Sicily is known for its outstanding temples and other remains from the Greek and Roman eras. Several of these are close to beaches described here, including the Valley of the Temples in Agrigento and the Greek and Roman theaters of Syracuse.