Where to Stay in Nice: Best Areas & Hotels
We may earn a commission from affiliate links ()
Nice offers a wide variety of attractions within a compact area that is easy to get around on foot or public transportation.
Waterfront hotels offer both beach access and extraordinary views of the vibrant Mediterranean, as well as natural proximity to the French Riviera's famous Promenade des Anglais. They are also a popular choice for romantic getaways or family vacations.
For those interested in the history and architecture of the city, the best place to stay is in Vieille Ville (the old town), which is full of romantic boutique hotels and central to the city's main sightseeing destinations.
Hotels just to the north of the city center offer the benefit of elevation, with stunning panoramic views, and are a great choice for those with vehicles.
When booking your lodgings, if you have mobility issues or small children, you should remember that many of the older buildings may not have elevators, and the terrain may require a climb up to hotels that are situated farther from the shore.
On This Page:
Where to Stay in Nice for Luxury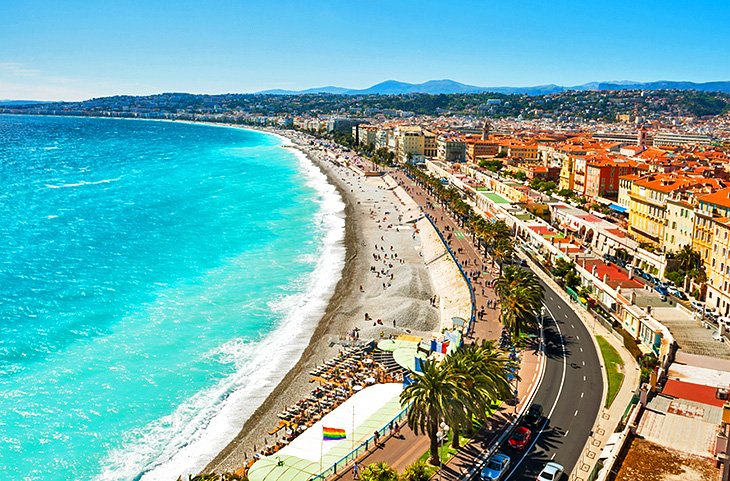 The Hyatt Regency Nice Palais de la Mediterranee sits on the Promenade des Anglais and overlooks the waterfront and Nice's Blue beach. Guest rooms are modern and well-appointed, and the hotel offers a full range of amenities, including a spa, fitness center, and a spectacular pool atrium that looks out over the Mediterranean.
Just down the street and next to the Villa Massena and Musee d'Art et d'Histoire, the Hotel Negresco is a landmark historic building with a beautiful columned façade. This opulent hotel is worth a visit even if you don't stay here - the domed lobby and carousel-themed restaurant are the height of elegance, and the stunning rooms are filled with 19th-century-style furniture.
Also on the water, near Castle Hill and within walking distance to downtown, seclusion seekers will fall in love with the Hotel la Perouse. It was built around the base of the cliffs beneath Colline du Chateau, offering spacious suites with floor-to-ceiling windows that look out over the sea, and furnishings that are modern but have personality. Guests will particularly enjoy the seaside dining and views from the rooftop pool and hot tub.
Set back from the waterfront in a residential neighborhood and up on a hill that provides views over the city to the sea, the Hotel du Petit Palais is in a lovely 19th-century mansion convenient to the Chagall and Matisse Museums. This romantic boutique getaway spoils guests with a pool and hot tub, a terraced garden area, and relaxing Mediterranean patio.
Boscolo Nice Hotel & Spa is another luxury option. This boutique property features a great locale just a few minutes from the Promenade des Anglais and Old Town. The white-on-white décor is trendy and elegant in the rooms and suites, which also come with private balconies.
Amenities include access to a private beach, an Italian restaurant, a swimming pool, workout room, and full-service spa. Airport transport is offered. There is also paid private parking nearby if you are driving.
Where to Stay in Nice: Mid-Range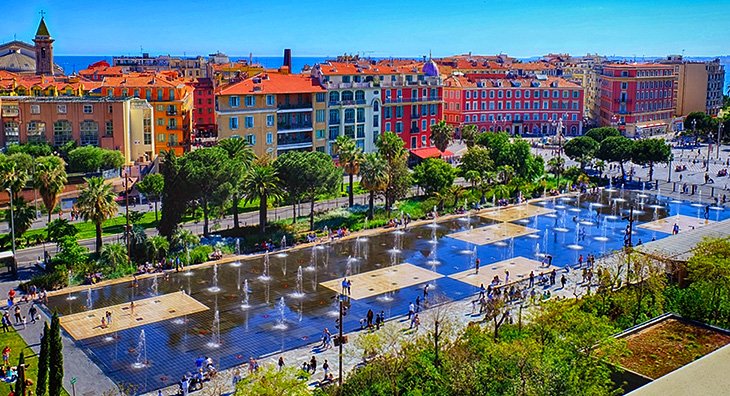 For waterfront value, the Hotel de la Fontaine is ideally situated one block from Blue Beach and ten minutes by foot to Place Massena. This newly refurbished hotel, with clean, bright, colorful rooms, features allergen-conscious measures and is welcoming to families. Amenities like free Wi-Fi, soundproofed rooms, and laptop safes add even more value to your stay.
Close to the train station next to Place Mozart park, and just a few blocks over from Avenue Jean Medecin, the Ibis Styles Nice Centre Gare is also family friendly, with a play area for young children. The staff is attentive and helpful, and there is a generous complimentary breakfast buffet and dining available in the sunny courtyard.
The freshly renovated Aparthotel Ammi Vieux Nice is an excellent mid-range choice for those who appreciate the convenience of apartment-style lodgings. Located in the heart of the Old Town, right on Place Saint-Francois, the Ammi is just steps from tourist attractions like the Musée du Palais Lascaris and the Crypte Archéologique, and is within a 10-minute walk of dozens of restaurants and cafés. Guest rooms are on the smaller side, but are very well-appointed, featuring balconies, sofas, and a dining space.
The quiet but elegant La Villa Nice Victor Hugo has modern rooms with unique touches and large bathrooms, as well as amenities like a guest tennis court. This Belle Époque mansion sits on a tree-lined street next to a beautiful church with lovely grounds, three blocks from Cathédrale Orthodoxe Russe Saint-Nicolas and about 15 minutes by foot from Vieille Ville.
Also close to the old town and across from the Nice Etoile shopping center is the Hotel Florence Nice. Dedicated to green living, the hotel has honeybee hives on the roof (whose products you can sample) and offers a clean, cozy atmosphere.
Where to Stay in Nice on a Budget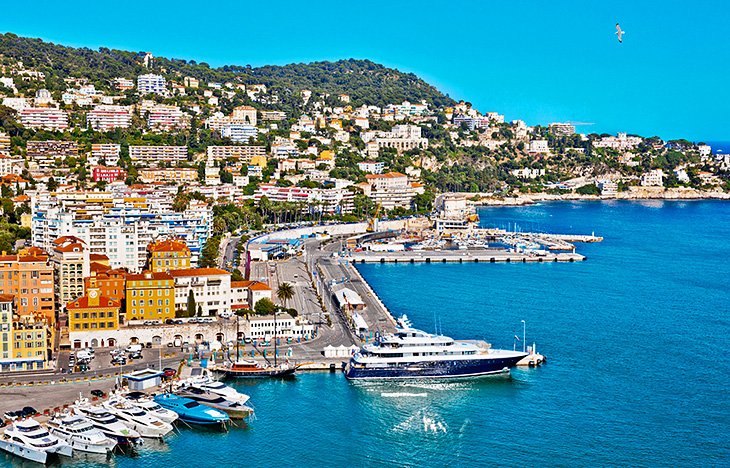 Nice is fortunate to have budget options that do not require a long drive into the city center nor the sacrifice of quality–these more traditional European hotels will tend to have smaller guest rooms but provide personal service that parallels their pricey counterparts.
The Star Hotel is a budget option conveniently located just a block and a half from Avenue Jean Medecin and the Basilique Notre-Dame de Nice and close to the train station. The property has 24 tidy and comfortable rooms, some with small balconies. If you're traveling with an infant, cribs are available upon request. There is no on-site restaurant, but there are numerous dining options within walking distance.
Another good budget choice is the nearby Hotel du Centre. Recently renovated, it offers charming rooms with wallpapered accent walls and soothing color schemes. Staff is friendly, and there are many dining options in the surrounding neighborhood.
As its name suggests, Le Panoramic Boutique Hotel offers amazing views from atop a secluded spot just north of the city center. The rooms are decorated with a truly Mediterranean ambience, and many have their own terraces with breathtaking views of the scenery below.
Where to Stay in Nice for Couples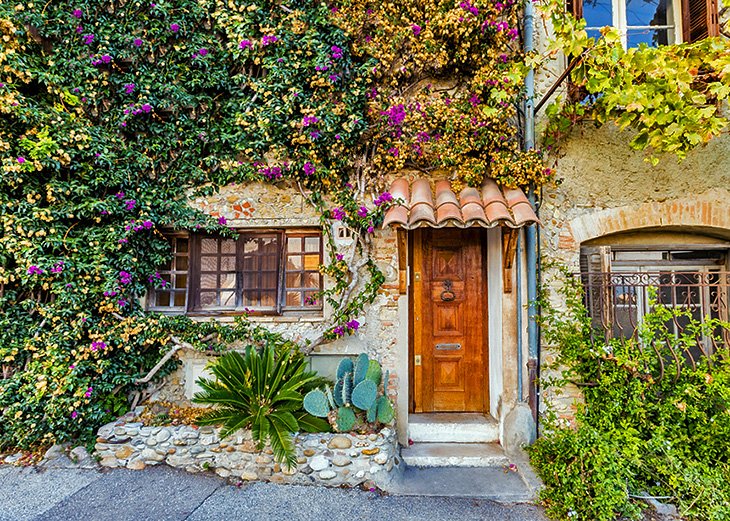 Near both the Vieille Ville and the beach, as well as plentiful high-end shopping, the all-suite mico-boutique Le Dortoir offers couples a romantic haven. Guest rooms are incredibly spacious, and feature modern furnishings, balconies, and luxury amenities including an in-room Nespresso machine and huge soaking tubs.
Right in the heart of the old town, overlooking the activity and amusements of Massena Square, Les Suites Massena is close to Opera Plage beach and Esplanade Georges Pompidou. Rooms are beyond spacious, with posh, modern décor and luxurious amenities.
The boutique Hotel Villa Les Cygnes offers couples incredibly spacious and comfortable rooms and suites within its villa-style setting. This hotel is perfect for your romantic getaway in Nice, with balconies overlooking the beautiful courtyard garden or the quiet neighborhood below.
Despite its sense of seclusion, this hotel is conveniently located within a short walk of the Promenade des Anglais, which is full of shopping, dining, and, of course, beaches. It's also just steps away from the Musée des Beaux-Arts, and close to the tram stop.
Couples will also enjoy the cozy, shaded courtyard and classic Mediterranean architecture of the Hotel Rossetti. Although the guest rooms are on the smaller side, they feel spacious thanks to cool colors and modern amenities. This lovely hotel is centrally located within the Old Town, sitting next to the Cathedrale Sainte-Reparate and within a short walk of Vieille Ville attractions like the Palais Lascaris and the photography museum.
Nearby, the Palais Saleya offers apartment suites that include washer and dryer for those who want to settle in and savor Nice for more than a few nights. Rooms are expansive and have simple but artistic and whimsical décor, as well as great views of the city's historic neighborhood. There is abundant shopping and dining all around, and the nearby flower market will add the finishing touch to the lovely setting.
Where to Stay in Nice for Families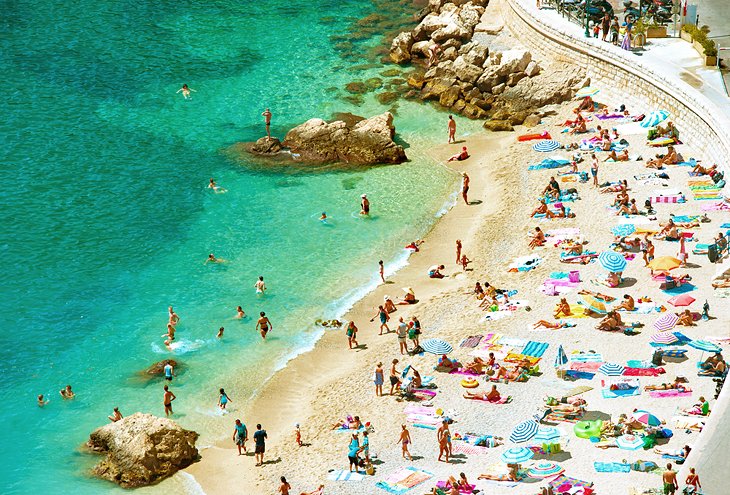 Le Malmaison Nice Boutique Hotel is in a trendy central location, just five minutes' walk from the Promenade des Anglais and Old Town. This luxe four-star hotel features Art Deco style, including a wonderful spiral staircase made from Carrara marble that leads up from the lobby area.
The Roaring 20s theme continues in the rooms and suites, which feature Art Deco lamps and comfy beds. For families, children under 13 are accommodated on free fold-out beds and there are also free cots for younger babes. Children under 13 also get free breakfast.
Hotel Le Grimaldi by HappyCulture also caters to families, with children under 12 sleeping free with an adult. The hotel is in a central location, just off Boulevard Victor Hugo, between Old Town and the main train station and within walking distance of the beach and Promenade des Anglais.
Rooms and suites are stylish, with lots of color and vintage flair, and each features slightly different decor. There is no on-site restaurant, however ice-cream is served for free daily in the lobby - which is a surefire hit with the kids.
Right next to the Place Alziary Malaussena, and just a few minutes' walk from the beach, the Nice Garden Hotel is a good pick for families with children over the age of six (the minimum age required to stay). The small guesthouse has just nine rooms done up in French-country chic style with comfy beds and wood floors. There is a wonderful garden area with orange trees where kids can play.
Hotel Villa Victoria is a good-value option that is also within walking distance of the Promenade des Anglais and other main Nice attractions. This family hotels offers triple rooms, and will add an extra bed to an existing room for kids. There is also a small play area in the lobby.
The 38 rooms are done up in modern South of France style and include luxe bath products. There is no proper restaurant on-site, but guests can get their coffee fix with free Nespresso coffee makers in the lobby. Room service and breakfast for a fee are also available.