14 Top-Rated Attractions & Things to Do in Nantes
A wealthy medieval trading port and formerly the capital of the Brittany region, Nantes immerses visitors in its fascinating history. Walking around the old town's cobblestone streets feels like a stroll back in time.
Cultural attractions abound, especially in the historic center of Nantes. Always teeming with activity, the Quartier Bouffay encompasses several must-see attractions: the Cathédrale Saint-Pierre et Saint-Paul, the Château des Ducs de Bretagne, the Palais des Beaux-Arts, and the Jardin des Plantes. The Quartier Graslin is another inviting neighborhood where tourists will enjoy browsing elegant shopping streets or stopping for a traditional meal.
Nantes also has a modern side. It's a vibrant metropolis with an industrial economy and large university-student population. The city's happening social scene includes a dazzling opera house, trendy restaurants, bustling cafés, and lively squares.
To truly discover the city, tourists should wander around and explore at leisure. The city center delights visitors with its elegance and sophistication. Even though Nantes is one of France's largest cities and definitely has an urban feel, there are many beautiful gardens that provide refreshing spaces for relaxation.
Learn about the best places to visit with our list of the top attractions and things to do in Nantes.
1. Cathédrale Saint-Pierre-et-Saint-Paul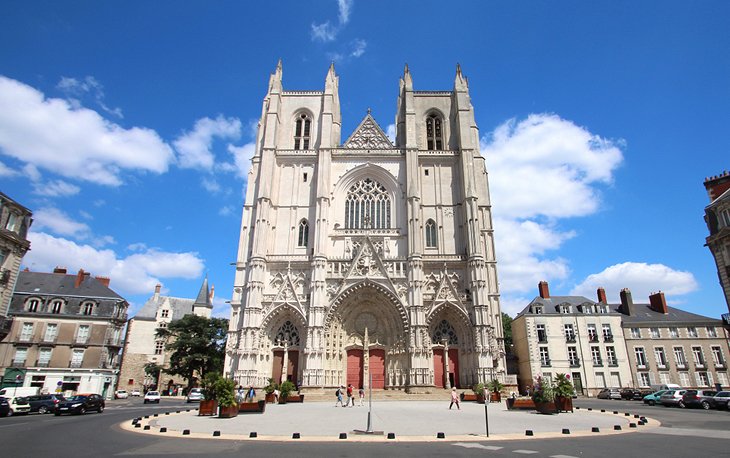 Flamboyant Gothic style finds perfect expression in the ornate facade and soaring vaulted interior of this 15th-century cathedral. The height of the nave is 37.5 meters, which is higher than the Notre-Dame Cathedral in Paris.
The Cathedrale Saint-Pierre-et-Saint-Paul houses a Renaissance masterpiece of funerary art, the tomb of François II and Marguerite de Foix. Another treasure of the cathedral is the 11th-century Romanesque crypt, which displays an exhibition of the cathedral's history.
A well-known moment of history in Nantes occurred here on April 13th, 1598, when King Henry IV signed the Edict of Nantes. The edict guaranteed freedom of religious practices to French Protestants, the Huguenots. One of the first decrees of religious rights in Europe, the Edict of Nantes ended the over 30-year Wars of Religion between Protestants and Catholics in France.
Note: The Cathédrale Saint-Pierre-et-Saint-Paul was damaged by a fire in July 2020 and is currently closed to the public. The city is planning to renovate the cathedral with the goal of restoring it to its former state.
On a nearby side street (5 Impasse Saint-Laurent) is the Parc de la Psallette, a verdant courtyard that overlooks the cathedral. Fringed with leafy trees, this quiet hidden garden is a pleasant spot to relax for a moment.
Address: Place Saint-Pierre, Nantes
2. Château des Ducs de Bretagne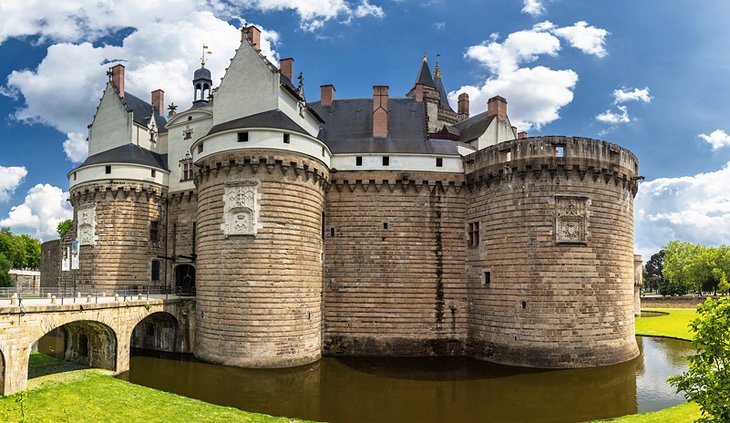 At the heart of Nantes, this monumental medieval fortress was founded by Francois II in the 15th century. The imposing construction testifies to the building's defensive purpose, ensured by seven crenellated towers, 500 meters of sturdy granite ramparts, and a deep moat that was once filled with water.
In contrast to the rough exterior, the inner courtyard reveals the refinement of early Renaissance architecture with its white stone walls and sculpted details.
By the 15th century, the Château des Ducs de Bretagne (Castle of the Dukes of Brittany) became the residence of French kings when Brittany was integrated into France. Later the castle was used as a prison, arsenal, and military barracks. During the Second World War when the Germans occupied France, they built a bunker on the castle grounds.
Today, the château houses the Musee d'Histoire de Nantes (Museum of History) within its grand Flamboyant Gothic halls. The museum focuses on the history of Nantes, presenting chronological and thematic exhibits about the city's heritage.
The Château des Ducs de Bretagne has a boutique that sells history books; château-themed notebooks and souvenirs; and candies including Berlingot Nantais, a specialty of Nantes. Tourists can also sample local flavors at the castle's ice-cream shop, La Fraiseraie, which serves frozen treats made from strawberries grown in the region.
Entrance to the château interior and museum requires a ticket. Opening hours of the Château des Ducs de Bretagne are from 10am to 6pm Tuesday through Sunday year-round. In July and August, the château is open every day from 10am to 6pm.
The castle's courtyard, outdoor space, and ramparts are open to the public free of charge every day (from 8:30am to 7pm year-round and until 8pm in July and August). Visitors will enjoy exploring the moat gardens, as well as taking a walk along the ramparts.
Address: 4 Place Marc Elder, Nantes
Official site: http://www.chateaunantes.fr/en
3. Musée d'Arts de Nantes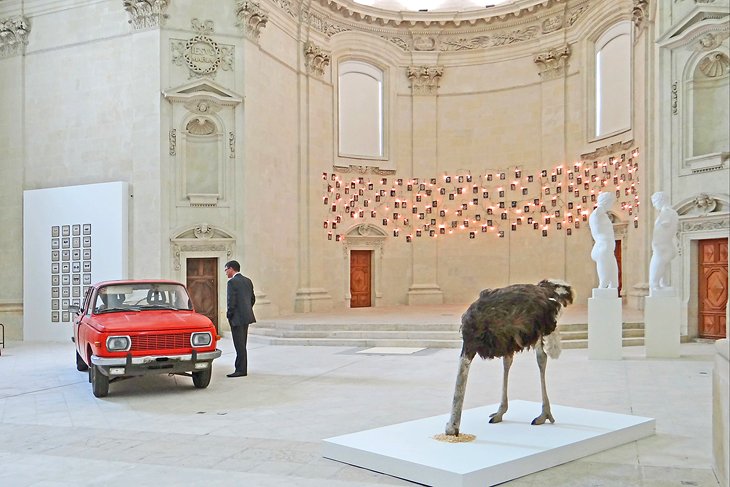 In 1801, Napoléon Bonaparte founded the Musée des Beaux-Arts (Museum of Fine Arts) in Nantes with a small collection of artworks donated from the Louvre. Nearly a century later (in 1891) Nantes created the Palais des Beaux-Arts to house the museum's enhanced collections. In 1989, the museum enlarged its space by converting the 17th-century Chapelle de l'Oratoire (located next to the Palais) into additional gallery space.
Since renovations in 2017, the museum has expanded its exhibition area with the sleek 2,000-square-foot "Le Cube," four levels of galleries that display artworks to the best advantage in natural lighting. A raised walkway connects "The Cube" to the Palais des Beaux-Arts building.
The museum displays over 900 works of art, including an exceptional collection of European paintings. The assortment of 13th- to 18th-century French, Italian, Flemish, and Dutch paintings includes many noteworthy masterpieces.
Not to be missed are David et Isaïe (David and Isaac), a classic piece of religious art by Le Pérugin; Apparition d'Ange à Saint Joseph (Apparition of Angel to Saint Joseph) by Georges de La Tour; and the richly detailed Portrait de Madame de Senonnes by Jean-Auguste-Dominique Ingres. Other highlights are paintings by Peter Paul Rubens, Philippe de Champaigne, Jean-Antoine Watteau, and Tintoret.
Impressionist and modern art is also well represented. Outstanding works include Les Nymphéas à Giverny (Water Lilies in Giverny) by Claude Monet, Le Phare d'Antibes (Lighthouse at Antibes) by Paul Signac, and Le Port du Havre (The Port of Le Havre) by Raoul Dufy. In addition, the museum is considered to have one of the best collections of contemporary art (from the 1980s to the present) in France.
Throughout the year, the museum hosts temporary expositions on various themes.
The Musée d'Arts de Nantes is open from 10am until 7pm every day except Tuesdays. On Thursdays, the museum is open late, until 9pm. The museum has a café, as well as a boutique that sells books and art-related gift items.
After visiting the Musée d'Arts de Nantes, tourists can take a short walk to the nearby Jardin des Plantes (Botanical Garden).
Address: 10 Rue Georges Clemenceau, Nantes
Official site: https://museedartsdenantes.nantesmetropole.fr/en/home.html
4. Quartier Bouffay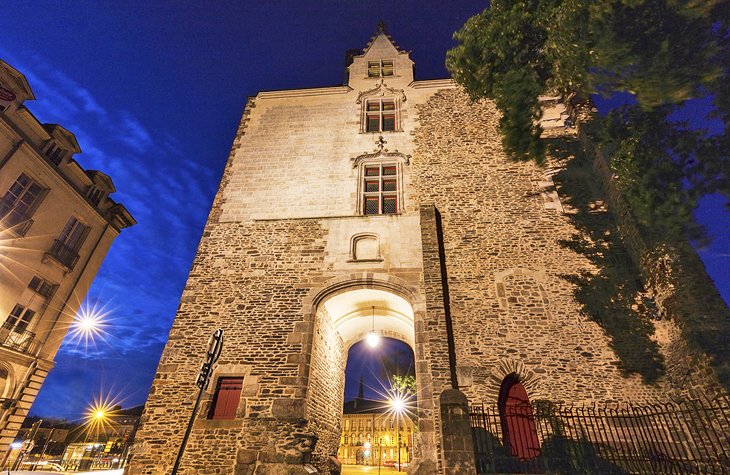 To discover the old-world charm of Nantes, tourists should explore the area around the Château des Ducs de Bretagne. This medieval quarter, known as the Bouffay district, is a maze of winding cobblestone streets lined with quaint half-timbered houses, as well as 15th- and 16th-century buildings.
The area also includes the Cathédrale Saint-Pierre-et-Saint-Paul and the Musée d'Arts de Nantes, which should be prioritized on a tourist itinerary.
The best place to begin a tour of the Quartier Bouffay is at the Porte Saint-Pierre, which is a few steps away from the cathedral. During the Middle Ages, when the entire town was surrounded by defensive walls, the Porte Saint-Pierre was the entrance point; it is the only remaining vestige of the town's ancient fortifications. By walking through this 13th-century gate, visitors are transported into an enchanting medieval world.
It is a delight to wander the quarter's narrow pedestrian lanes. Tourists will be tempted to stop for a treat at a small bakery, take a break at a little café, or dine at a traditional restaurant.
The streets around Place du Bouffay are packed with retail shops and a wide variety of restaurants catering to all tastes. Visitors will find many authentic crêperies, as well as trendy restaurants; cozy bistros; and ethnic cuisine such as Japanese, Chinese, and Indian.
Boutique browsing is another way to while away some time, especially on the Rue de Verdun, which is dotted with specialty shops including La Boulangerie d'Antan, a typical French bakery; Les Rigolettes Nantaises, which sells old-fashioned candies, fine chocolates, and other confections; and Pâtisserie Saki Création, a purveyor of fancy French desserts.
After visiting the Château des Ducs de Bretagne, it's worth going a bit out of the way to discover an exquisite chapel. From the château, Rue Premion and Rue Henri IV leads to a cobblestone alleyway (Rue Malherbe). At the end of this pedestrian path in a quiet courtyard is the Chapelle de l'Immaculée (open Wednesdays from 2pm until 6pm). A gem of Gothic architecture, this 15th-century chapel is still used as a place of religious worship.
5. Quartier Graslin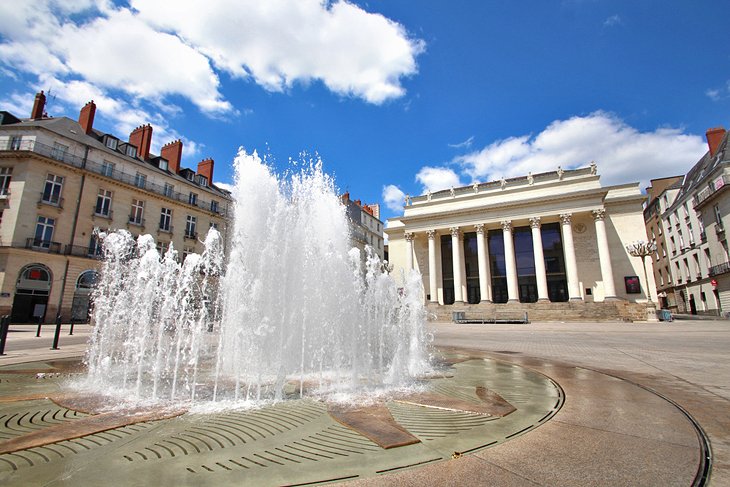 The Quartier Graslin owes its fashionable ambience to elegant city planning of the 18th and 19th centuries.
A prime example of this graceful urban design is the Passage Pommeraye; access is from Rue de la Fosse. Listed as a Historic Monument, this arcaded passageway (open Monday to Saturday from 8am until 8pm and Sunday from 9am until 8pm) is filled with upscale retail boutiques.
Steps away from the Passage Pommeraye (via Rue de la Fosse) is the pedestrian-only Place Royale. This spacious square impresses visitors with its emblematic marble fountain, which symbolizes the Loire River and the maritime vocations of Nantes.
The streets around Place Royale are packed with shops, restaurants, and cafés. Rue Crébillon in particular has many chic fashion boutiques.
A short walk from the Place Royal leads to the Place Graslin, a bustling square that is a hub of social activity. Presiding over the square is the Neoclassical Théâtre Graslin, a gorgeous 18th-century theater that presents opera, dance performances, and music concerts.
Tourists should be sure to take a jaunt from the Place Graslin to the Cours Cambronne, an immaculately manicured tree-lined garden courtyard which centers around a statue of General Cambronne.
A short walk from the Cours Cambronne is the Musée Thomas Dobrée, a museum of art, archaeology, and history. Although the museum is currently closed for renovations, the property's lovely gardens are still open.
Many of the quarter's commercial streets are designed for pedestrians, which makes the area a good place to stroll and admire the stylish storefronts. While exploring the area, tourists will be enticed by the sidewalk cafés, crêperies, and restaurants.
Facing the opera house is the most famous establishment in the Quartier Graslin, La Cigale (4 Place Graslin), an elegant brasserie that dates to 1895. This institution of classic French cuisine merits a reservation just to see the exquisite Art Nouveau interior.
For casual meals, visitors can try the authentic Breton crêpes at the Crêperie Heb-Ken (5 Rue de Guérande).
6. Île Feydeau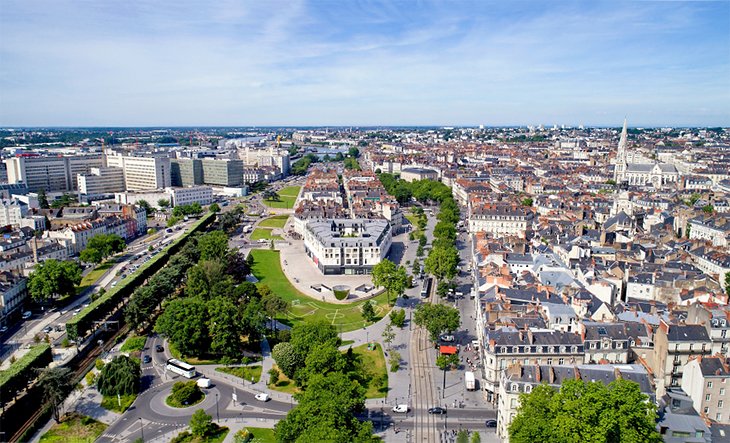 This historic quarter was once an island in the Loire River that flows through Nantes. A landfill project (completed in the 1940s) joined the island to the rest of Nantes. However, the quarter has retained its 18th-century character. The main street of the Île Feydeau is the Rue Kervégan.
During the 1700s when Nantes was one of the most important ports in Europe, local shipowners became extremely rich from maritime trade. Opulent houses reveal the shipowners' extravagant lifestyle. Visitors can admire the facades of these grand mansions on Allée Duguay-Trouin, Place de la Petite-Hollande, and Allée Turenne.
7. Musée Jules Verne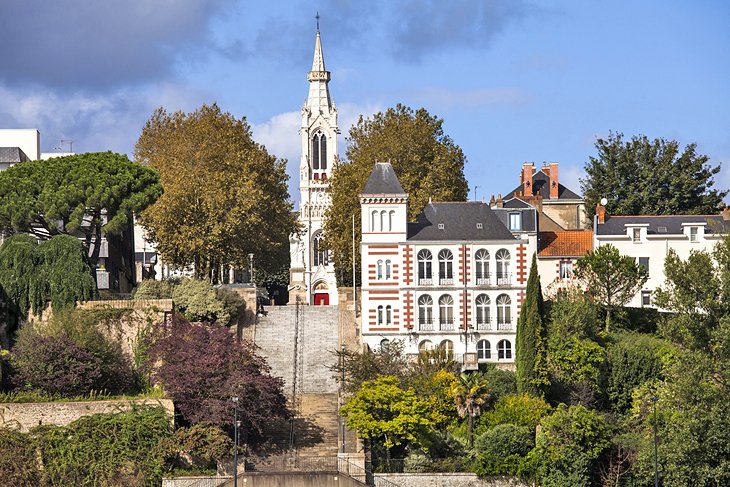 This museum is dedicated to the work of celebrated author Jules Verne, who was born in Nantes in 1828. His novel Le Tour du Monde en Quatre-Vingts Jours (Around the World in Eighty Days) is one of the most-often translated French books. The collection is displayed in a 19th-century bourgeoise mansion on a hillside overlooking the Loire River.
Designed to take visitors on a "Vernian" journey, exhibits are presented in a creative way with multimedia presentations, posters, and representations of the author's fictional descriptions (for instance, a model airplane). Also on display are autographed manuscripts and objects of the author's daily life. The exhibits are presented in French, however non-French speakers will still appreciate the visual aspects.
The museum is open year-round Wednesday through Monday from 2pm to 6pm and closed on Tuesdays. On Saturdays, the museum is also open in the morning from 10am to 12pm in addition to the afternoon hours. During July and August, the museum extends its hours and is open every day from 10am to 1pm and 2pm to 7pm.
Address: 3 Rue de l'Hermitage, Nantes
8. Eglise Sainte-Croix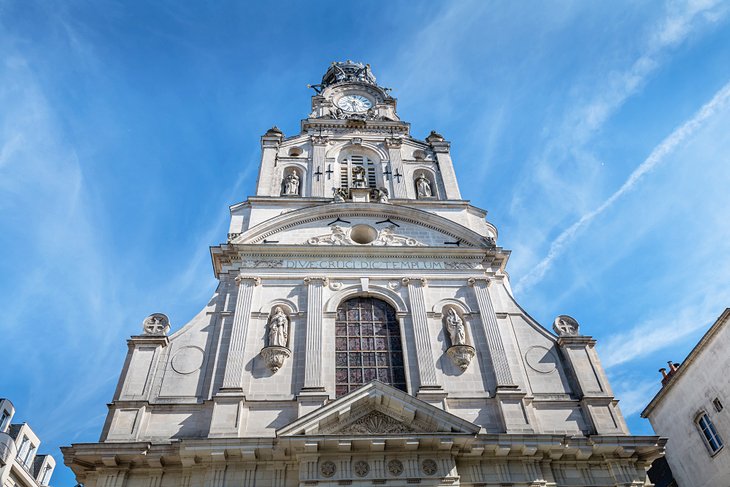 Found in a small square in the Quartier Bouffay, the Eglise Sainte-Croix is admired for its handsome 17th-century Baroque facade and vibrant stained-glass windows in the sanctuary.
The Eglise Sainte-Croix is one of the parish churches of Nantes. Mass is celebrated here Tuesday through Sunday; services begin at 12:15pm on Tuesday and Thursday; at 11:15am on Wednesday, Friday, and Saturday; and at 11:30am on Sunday.
Address: Place Saint-Croix, Nantes
9. Musée Thomas Dobrée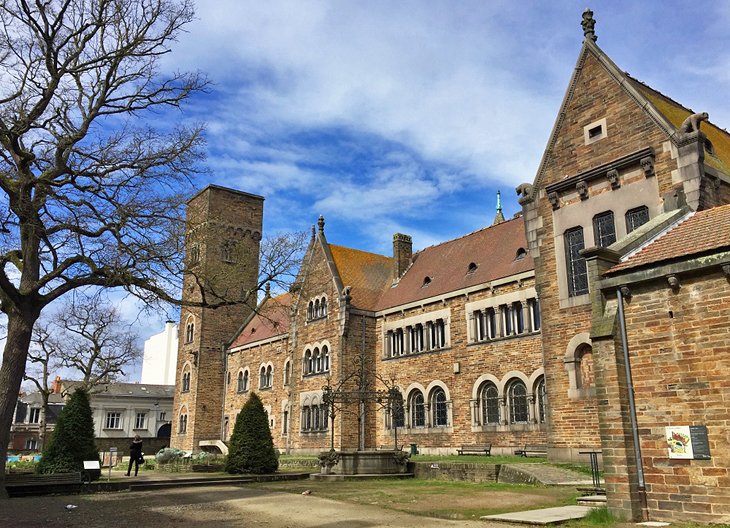 Wealthy 19th-century shipowner and merchant Thomas Dobrée amassed an exceptional collection of art objects during his lifetime. Dobrée also created a splendid neo-Romanesque palace (designed by architect Viollet-Le-Duc) on a former episcopal estate, which became his private residence.
In 1894, Dobrée donated his home and his wide-ranging archaeology collection to the city. In the grand rooms of the Dobrée palace, visitors can admire ancient Greek and Etruscan pottery and Egyptian archaeological finds, as well as medieval and Renaissance art that belonged to Dobrée. The museum also displays the collections of the Archaeological and Historical Society of Nantes.
Note: The Musée Thomas Dobrée is currently closed for renovations and is expected to reopen in 2023. The museum continues to host temporary expositions, and the gardens of the palace remain open to the public year-round from 8am until 6:30pm (and until 7:30pm in July and August).
Address: 18 Rue Voltaire, Nantes
10. Jardin des Plantes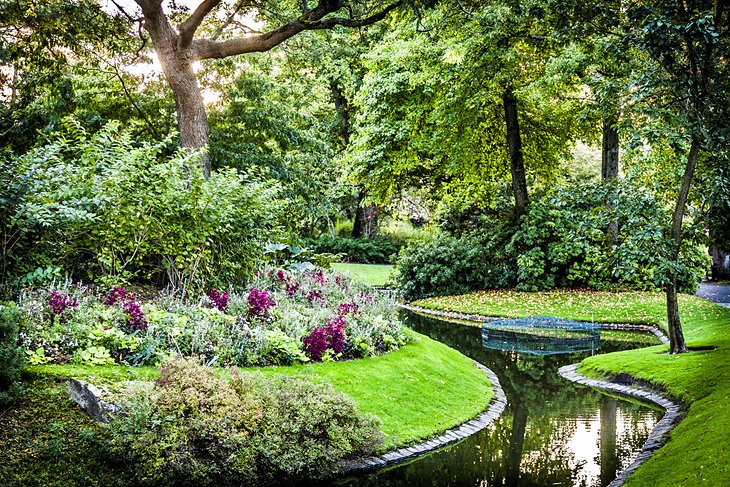 Shaded by towering trees and manicured with thousands of flowers, the Jardin des Plantes is listed as a "Jardin Remarquable" (Remarkable Garden). In fact, the seven-hectare green space is one of only four botanical gardens in France to be awarded the prestigious label.
Visitors will appreciate the walking paths and benches that allow for leisurely enjoyment of the tranquil setting. There are also whimsical landscaping exhibits, such as a giant manicured bush that resembles a sleeping cat.
Within the garden, the Café de l'Orangerie (15 Rue Gambetta) serves lunch and refreshments in a cheerful dining room or on the pleasant outdoor terrace.
The Jardin des Plantes is open to the public free of charge on afternoons (12:30pm - 5pm) Monday through Friday, and on Saturday and Sunday from 10am to 5pm (9:30am to 6pm March through July). Guided tours are available.
Address: Rue Ecorchard or Place Sophie-Trébuchet, Nantes
11. Les Machines de l'Île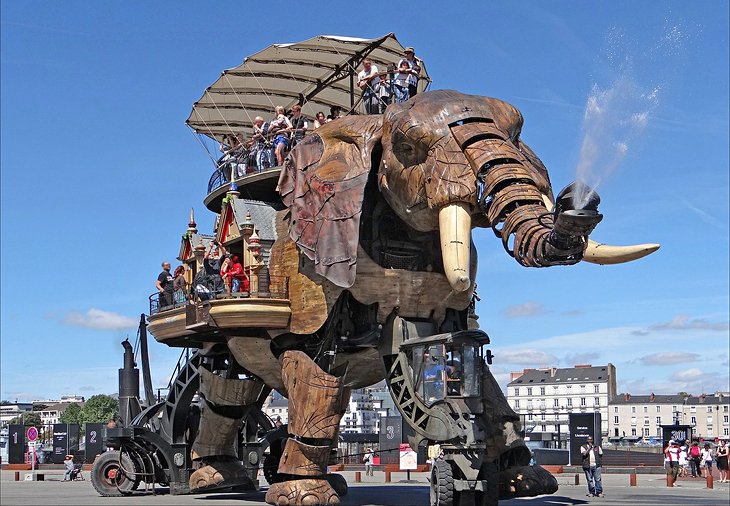 Seemingly born from fantastical tales, the surreal world of Les Machines de l'Île delights children and adults alike. This incredible amusement park is found on the banks of the Loire River, across from the attractive Quai de la Fosse, a riverside embankment lined with handsome 18th-century houses.
Unbridled creativity and the technical savvy of machinists are the source of the park's amazing attractions. An enormous 48-ton mechanical steel elephant, the Grand Eléphant transports passengers on an exciting half-hour walking itinerary.
The magic of machines continues in the Galerie des Machines. which presents a giant spider, an enormous ant, and an aviary with flying birds, all skillfully crafted from machines.
Les Machines de l'Île earned a 2014 Thea Award for its Carrousel des Mondes Marins, which means it is considered one of the most original children's attractions in the world. An impressive three-level structure, the carrousel takes visitors on a spin through a marvelous ocean-themed scene. The carrousel seats feature artistically rendered sculptures of marine creatures, fish, sailboats, and seashells.
12. Mémorial de l'Abolition de l'Esclavage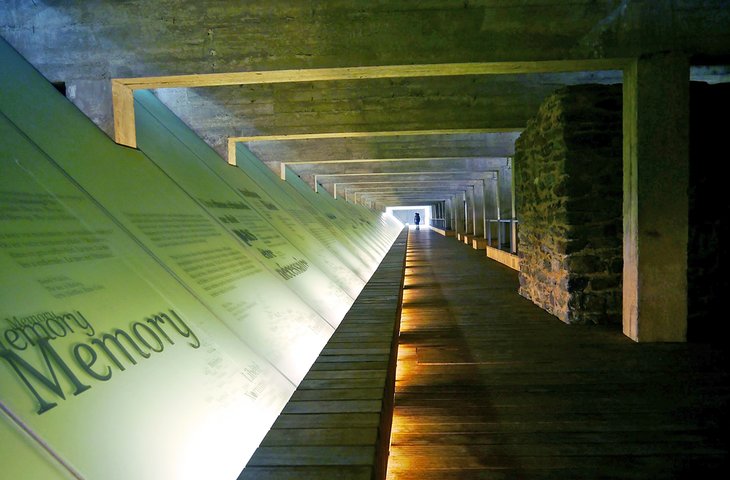 The Mémorial de l'Abolition de l'Esclavage (Abolition of Slavery Memorial Museum) is dedicated to sharing the legacy of slavery, which is intertwined with the history of Nantes.
Covering 1.73 acres along the banks of the Loire River, a memorial walking path commemorates over a thousand slave ships that departed from Nantes. Below the riverside esplanade, an underground passageway displays the Universal Declaration of Human Rights.
The Abolition of Slavery Memorial Museum presents exhibits on the history of slavery, with a special focus on the slave trade in Nantes from the 17th century until the mid-19th century and the 18th-century abolitionist movement in North America.
The museum is open every day from 9am to 6pm (until 8pm from mid-May through mid-September). There is no charge to visit the museum or the outdoor memorial space.
Address: Quai de la Fosse, Passerelle Victor-Schoelcher, Nantes
Official site: http://memorial.nantes.fr/en/
13. Aire de Jeux
An attraction that is sure to delight kids, this small playground features creative installations, such as a rhinoceros and dragon, that are designed to spark children's imaginations. There are areas for kids to run, jump, and play, while they take part in exciting adventures.
The Aire de Jeux playground is located within the Square Élisa Mercoeur park (near the Château des Ducs de Bretagne) and is open every day, free of charge.
Address: Square Élisa Mercoeur, Cours John Kennedy, Nantes
14. Planète Sauvage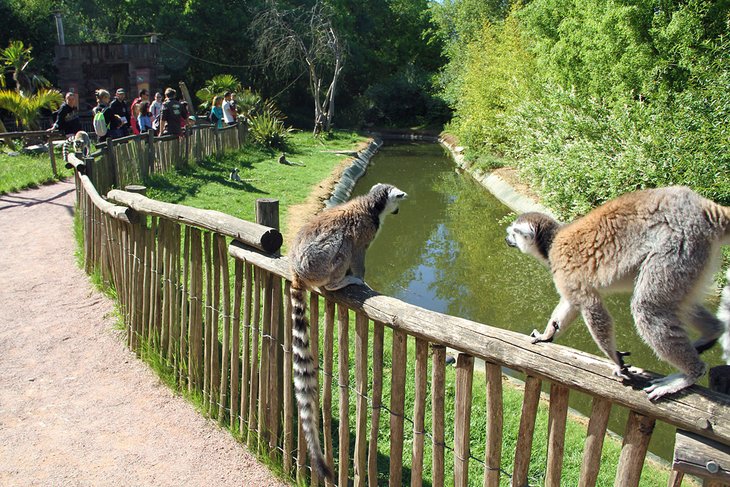 Just a 20-minute drive from Nantes, the Planète Sauvage safari park introduces visitors to the exotic world of wild animals. Attractions include driving safari tours, complete with views of giraffes, lions, tigers, and zebras.
There are also walking tours to get a close look at pelicans, tortoises, and tiny African antelopes.
Kids especially love the entertaining water acrobatics performances given by a group of dolphins at the park's Cité Marine theater.
For those who want to get as close as possible to the experience of going on a safari vacation in Africa, the Planète Sauvage offers authentic safari-style lodges. Each beautifully designed lodge features large bay windows and a spacious terrace for viewing the animals.
Address: Planète Sauvage, La Chevalerie, 44710 Port-Saint-Père
Map of Attractions & Things to Do in Nantes
More Related Articles on PlanetWare.com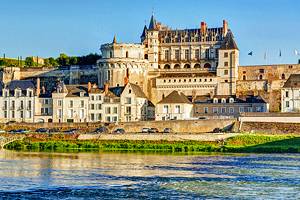 Cultured Cities and Castles: Nantes could be visited as a day trip from Paris, just 2.5 hours away by train. Travelers could also make Nantes their base for a travel itinerary that includes the sights of the Loire Valley, famous for its magnificent Renaissance châteaux, and Brittany, a region brimming with fairy-tale castles, medieval cities, and quaint fishing villages. A few of the most cultured Breton towns include Rennes, the region's old capital; Quimper, which has top-notch museums; and the artists' village of Pont-Aven.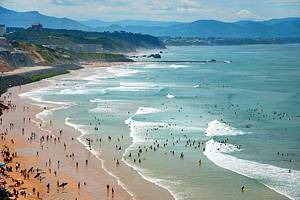 Atlantic Coast Seaside Resorts: A one-hour drive from Nantes, La Baule in Brittany boasts expansive sandy beaches and an excellent choice of oceanfront hotels. Another favorite Breton seaside destination is Dinard (a two-hour drive from Nantes), which is one of the best beach resorts in France. Less than two hours south of Nantes is the historic port town of La Rochelle and the picturesque seaside resort of Île de Ré, prized for its unspoiled sandy beaches and UNESCO-listed capital, Saint-Martin-de-Ré.