Murano Island
Once a pleasure park where the rich nobility of Venice had their summer villas and where the first botanic garden in Italy was laid out, the face of Murano was transformed when the Republic transferred the glass workshops here in 1291. Officially a safety measure to counteract the fire risk in central Venice, the unofficial reason, and probably the more likely one, was that this was the most effective method of safeguarding what, until the 17th century, was Venice's best-kept secret - its method of glass-making. The glass-makers were well paid and enjoyed many privileges (they were allowed to carry swords and marry into the Venetian nobility) but were never allowed to leave the lagoon, thus retaining the knowledge of glass-making within Venice.A Decree of the Council of Ten of 1454 runs thus: If a glass-blower takes his skill to another country to the detriment of the Republic he shall be ordered to return; should be refuse, his nearest relatives shall be thrown into prison so that his sense of family duty may induce him to return; should he persist in his disobedience secret measures shall be taken to eliminate him wherever he may be."The art of the glass-blowers can be admired in the workshops; each factory has its own shop for the sale of Murano glass - a rather expensive but much sought after souvenir.The most important monument on the island is the Church of Santi Maria e Donato
Opening hours:
Jan 1 to Dec 31:
Closed: Sun, Sat
Related Attractions
Murano - Santi Maria e Donato
Santi Maria e Donato church on Murano Island was built between the seventh and 12th centuries and combines Veneto-Byzantine and Early Romanesque features. Its facade with its superimposed arcades is well-known.
Madonna with Saints
"The Madonna with Saints" in the entry to the Baptistery was painted by Lazzaro Bastiani in 1484.
Greek Marble
The splendors of the interior of Santi Maria e Donato church on Murano Island include the columns of Greek marble with Veneto-Byzantine capitals which separate the two aisles from the nave, and the 12th century mosaic floor with its animal figures.
Figure of St Donato
The figure of St Donato (above the first altar on the left) dated 1310, is the earliest example of Venetian painting. It is said that the Venetian Crusaders brought the body of St Donato to Venice from Euboea and gave it to the basilica together with the remains of a dragon which Donato had killed; these relics can be seen on the wall behind the High Altar.
Sarcophagus
Santi Maria e Donato church on Murano Island includes a Sarcophagus from Altinum in the Baptistery which was once used as a font.
Murano - Glass Museum
The Glass Museum on Murano Island is housed in the Palazzo Giustinian which was built for the Bishop of Torcello in the 17th century. It contains one of the largest and most important collections of Venetian glass from the time of the Romans to the 20th century - about 4,000 items.There are also displays of Bohemian and Moorish glass.The most valuable piece is a 15th century marriage bowl, dark blue and richly enameled.Most of the museum furnishings have been assembled from the churches on the island.
Murano - San Pietro Martire
The 14th century church (rebuilt in 1511 after a fire) contains several splendid Venetian paintings: "Madonna in Majesty with St Mark and the Doge Agostino Barbarigo" by Giovanni Bellini (1488; right aisle) and his "Assumption of the Virgin" which he painted between 1505 and 1513."St Jerome in the Wilderness" and "St Agatha in Prison" (left aisle) are by Paolo Veronese.
Murano Island Pictures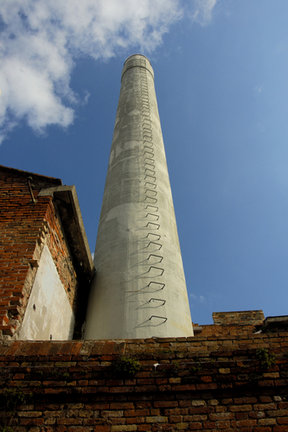 Map of Venice Attractions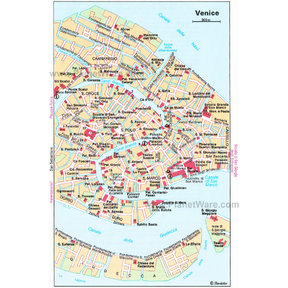 Venice Map