Trieste Tourist Attractions
SituationThe port of Trieste, capital of the region of Friuli-Venezia Giulia, lies on the Gulf of Trieste, framed by the precipitous slopes of a limestone plateau, in the northeast corner of the Adriatic.
Harbor
On the west side of Trieste lies the harbor, which has no natural anchorage and is exposed to strong northeast winds (the bora) blowing down from the plateau. To the north the Punta Franco Vecchio (Old Free Port) has four piers and a long breakwater. To the south, beyond the Campo Marzio station, are the Punta Franco Nuovo (New Free Port) and the industrial zone, with a number of large shipyards.
Sights in the North
Sant'Antonio
At the end of the canal (Canale Grande) we come to the Neo-Classical church of Sant'Antonio (1849), Trieste's largest church. To the right of this is the Serbian Orthodox church of San Spiridione.
Museo Civico del Risorgimento
A short distance to the east of Sant'Antonio the Via G. Carducci runs northwest from near the castle hill to the Piazza Oberdan, the main square of the newer part of the town. In this square is the Museo Civico del Risorgimento. From the Piazza Oberdan we can go north by tram to the Piazza Scorcola, with the lower station of an electric funicular to Villa Opicina. From the Piazza Oberdan the Via Fabio Severo leads past the massive Palazzo di Giustizia to the university, built in 1939-50.
Surroundings
The surroundings of Trieste include the villa suburb of Villa Opicina and the little port and seaside resort of Duino.
Villa Opicina
Reached by road from Piazza Oberdan or by funicular from Piazza Scorcola is the villa suburb of Villa Opicina (348m/1,148ft). From the obelisk at Villa Opicina there are magnificent views of Trieste and the sea. A footpath runs northwest from the obelisk to the viewpoints of Villa Opicina (397m/1,310ft) and Vedetta d'Italia (335m/1,100ft), from which there are extensive prospects in all directions.
Grotta Gigante
3km/2mi north of Villa Opicina is the Grotta Gigante, a stalactitic cave with a huge chamber approx. 130m/430ft long and 100m/330ft high; at the entrance is a museum.
Map of Trieste Attractions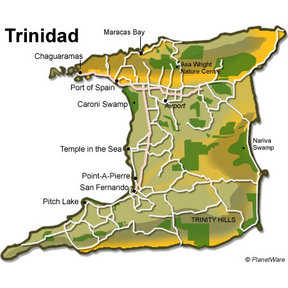 Map - Trinidad