Lido (Island), Venice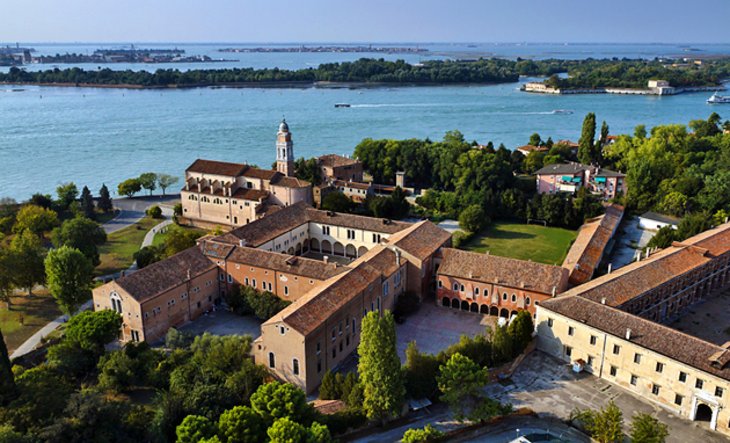 San Nicolo
In previous centuries for Venetians the Lido only represented a trip into the country. Subsequently a fashionable resort, today it is a Mecca for tourists.The island is 12km/7.5mi long, almost half of which is a beach of fine smooth sand. Apart from the usual bathing (each section of the beach belongs to one or several hotels), there are facilities for golf, tennis, horse-riding and clay-pigeon shooting, as well as places of entertainment. In August and September every year the Lido is the venue for the International Film Festival (in the Palazzo del Cinema).The main architectural feature is the massive fin de siècle hotels (the hotel Des Bains and its beach was the setting for Thomas Mann's novel "Death in Venice").In the north part of the island there are villas, functional modern buildings and hotels, beach and residential districts.Cars can be taken over by ferry, otherwise it is possible to get around on foot or by bus or horse-drawn cab.Lido hosts the annual International Film Festival, where the Golden Lion is awarded to the best films in the competition. The festival takes place between August and September.
San Nicolò
San Nicolò dates back to 1044 but was reconstructed in the Baroque style in the 17th century and has an unfinished facade.It was once thought that this church contained the remains of St Nicholas that Venetian sailors had stolen from the cathedral of the town on Myra (which belonged at that time to the Byzantine Empire) on the south coast of Asia Minor (opposite Rhodes). Some time after this had been celebrated and the monastery and church had been founded, the Venetians discovered that the people of Bari in Apulia had made away with the remains of the "real" St Nicholas.The cloisters and paintings by both Palma the Elder and Younger are of interest.
Address: Campo San Nicolò, I-30100 Venice, Italy
Venice Map - Attractions
Golden House
Santa Maria di Nazareth
Turkish Commodity Exchange and Natural History Museum
Santa Maria Assunta
Ghetto and Jewish Museum
Santa Maria dell'Orto
Palazzo Corner della Regina
Gallery of Modern Art
Palazzo Vendramin-Calergi
San Giacomo dell'Orio
San Marcuola
Sant'Eustachio
San Simeone Piccolo
Fish Market
Santi Apostoli
Ca' da Mosto
Santa Maria dei Miracoli
Confraternity House of San Marco
San Giovanni et Paolo
Napoleonic Wing
Basilica of St Mark
Ca' Foscari
Campanile
Santa Maria del Carmine
Columns of St Mark and St Theodore
German Commodity Exchange
Santa Maria Gloriosa dei Frari
Giardinetto
Loggetta
Merceria
Colleoni Monument
Town Hall
Archeological Museum
Correr Museum and Risorgimento Museum
Icon Museum
Palazzo Balbi
Palace of the Lords of the Exchequer
Palazzo Contarini del Bovolo
Palazzo Corner-Spinelli
Palazzo Dolfin-Manin
Doges' Palace
Palazzo Grassi

Palazzo Grimani
Palazzo Mocenigo-Nero
Palazzo Querini-Stampalia
Palazzo Rezzonico
St Mark's Square
Piazzetta
Rialto Bridge
Procurators' Office
San Bartolomeo
San Moisè
San Polo
San Salvatore
San Silvestro
San Zaccaria
Santa Maria della Fava
Santa Maria Formosa
Santo Stefano
Confraternity House of the Carmelites
Confraternity House of San Rocco
La Fenice Theater
Torre dell'Orologio
Santi Giovanni et Paolo
Santi Gervasio e Protasio
Palazzo Loredan dell'Ambasciatore
Grand Canal
San Nicolo
Procurator's Office
Loggeta
House of the Lions and Peggy Guggenheim Collection
Santa Maria del Rosario
Old Customs House
Academy of Fine Arts
La Giudecca
Church of the Redeemer
Santa Maria della Presentazione
Palazzo Cavalli-Franchetti
Palazzo Corner della Ca' Grande
Academy Bridge
San Giorgio Maggiore
Santa Maria della Salute
Santa Maria del Giglio
Seminary Building and Art Gallery
Want to use this map on your web site?
Copy and Paste the code below:

Lido Di Venezia Map
Want to use this map on your web site?
Copy and Paste the code below:
Popular Pages