Oslo Tourist Attractions
Top Tourist Attractions in Oslo
Oslo lies at the north end of the Oslofjord, which cuts deep inland and is joined by the Akerselv. The city is surrounded by forest-covered hills from which there are far-ranging views.
Winter Sports
The Oslo region (Oslomarka), with Nordmarka, Krogskogen, Vestmarka, Østmarka, etc., offers excellent skiing, with a reasonable assurance of good snow conditions from January to March.The Nordmarka is most easily reached on the Holmenkollen railroad. There are 2,200km/1,400mi of prepared cross-country trails, 200km/125mi with floodlighting. There are downhill pistes, with lifts, at Tryvannskleiva, Rødkleiva, Wyllerløypa, Kirkerudbakken, Ingierkollen, Grefsenkleiva, Fjellstadbakken, Trollvannskleiva, Vardåsen and Varingskollen. The most easily accessible Alpine skiing area is on the Norefjell (northwest of the city, via Hønefoss and Noresund; 2.5 hours by car), with four lifts up to 1,800m/5,700ft. In the surrounding area there is a ski school and ski-hiring station (Voksenkollen Stasjon). Within the city itself there are three ice rinks.
Underground (T-Banen)
The Oslo Underground (T-Banen) was opened in 1966 and is made up of seven lines with 98km of track, 14.5km of which are underground. There are sixty-five stations, thirteen of which are underground. The system has a flat fare structure with full integration of fares with other modes of transport in the city.The system serves about fifty-five million passengers yearly with a rolling stock of 205 cars. During peak hours trains run every one and three-quarter minutes.
More Oslo Pictures










Map of Oslo Attractions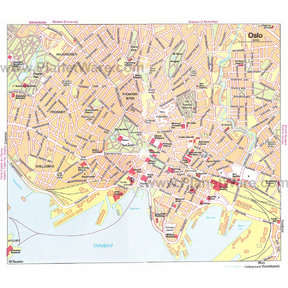 Map - Oslo