Bergen, Norway Tourist Attractions
Situation and characteristicsBergen, Norway's second largest city, lies in the inner reaches of the Byfjord. It is the largest port on the west coast of Norway, with a considerable merchant fleet and several large shipyards, the administrative center of the Bergen district and the county of Hordaland, the seat of the Lutheran bishop of Bjørgvin and an educational center, with a university and a commercial college.
Bergen International Festival
Music, drama, folk events are held in Bergen through May and June.This annual two-week festival runs from late May to early June and includes a vast array of events under the motto "Quality for the Majority." There are usually over a dozen daily events, including operas, orchestral, choral and chamber performances, dance recitals, ballets, jazz and folk concerts and theatrical plays. The repertoire of the festival is equally rich, ranging from baroque to gospel to modern.Various venues are used throughout the festival, such as the Bergen National Theater, the Bryggen Museum, the Wharf, and many state homes, churches and halls.
Floybanen Funicular and Mount Floyen
The Floybanen Funicular takes visitors to the top of Mount Floyen, which is 320 meters above sea level. Views of Bergen are the highlight while visitors can also take one of the main paths to walk or hike in the mountains.
Night Jazz
This annual festival takes place during the last week in May. The concerts begin late at night and last until the morning. Both local and internationally-acclaimed musicians perform during the festival.
Cruise Port
From here, majestic cruise ships depart for distant ports of call. While docked, these mighty ships are a spectacle for all to see.
Map of Bergen Attractions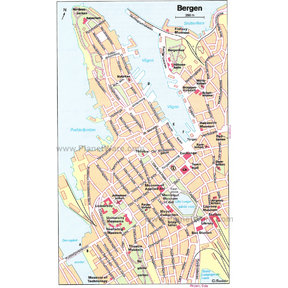 Map - Bergen