14 Top-Rated Tourist Attractions in Bergen
Bergen, Norway's second largest city, is also the west coast's largest port, and one of Scandinavia's busiest cruise ship stopovers. Surrounded by a ring of hills known locally as the Seven Mountains, the city's idyllic setting and stunning natural harbor has cemented its reputation as one of Norway's most popular tourist spots. It's also one of the country's leading cultural destinations, boasting popular arts and music events such as the annual Bergen International Festival (May-June), Nattjazz Festival (May) and Bergenfest (June). It's also home to one of Europe's oldest orchestras, the Bergen Philharmonic Orchestra, founded in 1765.
1 Market Square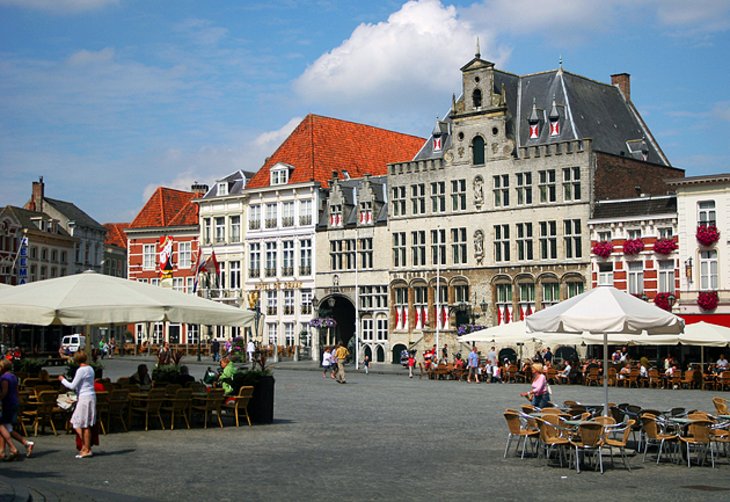 Located at the southeast end of the city's beautiful main harbor, Bergen's Market Square (Torget) is always bustling. Its busy quays are where local fishermen land their catches each morning and, along with the 700-year old Fish Market, it's a fascinating spectacle for early risers.
2 Bryggen Hanseatic Wharf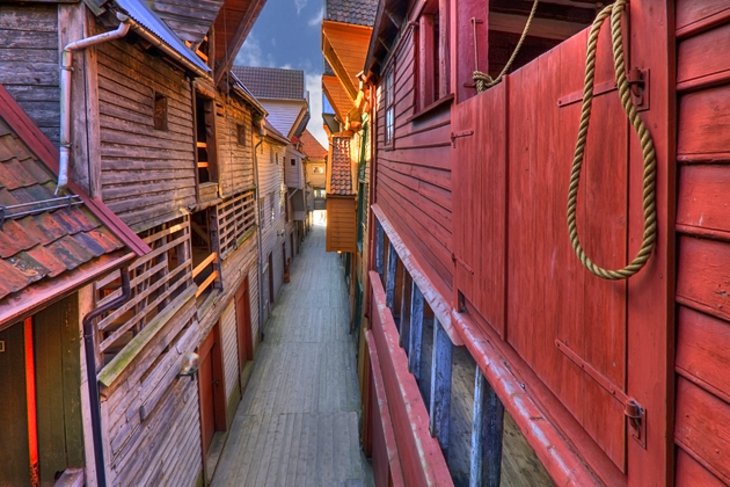 Colorful Bryggen Hanseatic Wharf is one of Bergen's most popular tourist attractions. Chock full of restaurants, studios, workshops and boutique shops, its narrow alleyways and old wooden merchant houses simply beg to be explored. While there, check out the fascinating Bryggen Museum with its many displays and artifacts dating back to the 14th Century and the city's early settlers.
Address: Bryggen, 5003 Bergen
3 Hanseatic Museum
The best preserved of Bryggen's 18th Century merchant homes, Finnegård, has housed the Hanseatic Museum since 1872. This former counting house provides an excellent insight into the lives of the largely German merchants (the Hanseatics) who inhabited the harbor area, and includes displays of weapons, furnishings and equipment.
Address: Finnegården 1a, 5003 Bergen
4 Bergenhus Fortress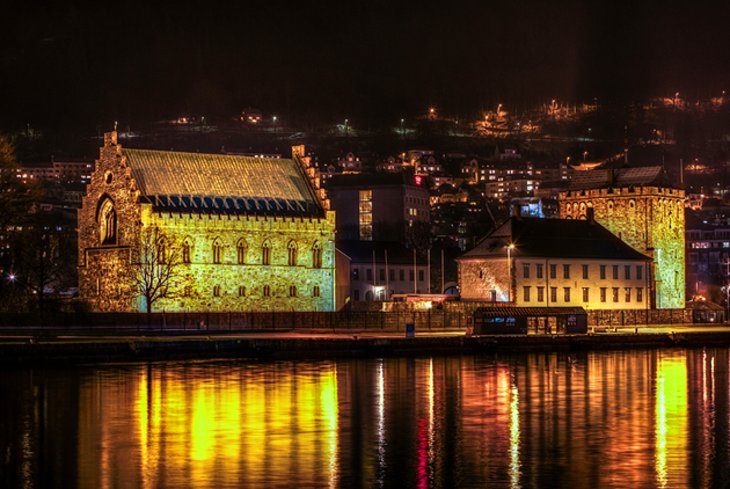 The old Bergenhus Fortress has dominated the entrance to Bergen's harbor since the late 16th Century, and remains one of the most impressive such structures in Scandinavia. Be prepared to spend time in the excellent Bergenhus Fortress Museum with its fascinating exhibits relating to the contribution of women and resistance groups during the 1940-45 German occupation. Afterwards, stroll up to the walled remains of Sverresborg, a fortress built around 1660 on the remains of an even older 12th Century castle.
5 Old Bergen Open-Air Museum
Tucked away in the old city district of Sandviken is the Open-Air Museum of Old Bergen (Gamle Bergen). It's well worth it, and contains an excellent collection of 35 historic wooden buildings and depictions of Bergen's architecture and life in the 18th and 19th Centuries.
Address: Sandviken, Bergen
6 Bergen Cathedral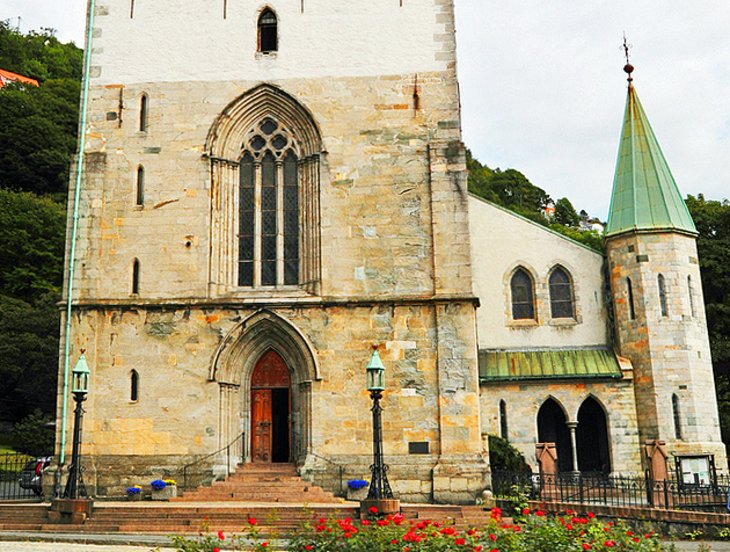 The earliest recorded reference to Bergen's splendid cathedral dates back to 1181, when it began life as a monastic church. It was while being rebuilt after fires in 1623 and 1640 that the cathedral received its present façade, while architect Christian Christie added its Rococo interior during renovations in the 1880s.
Address: Domkirkeplassen 1, 5003 Bergen
7 Grieg Hall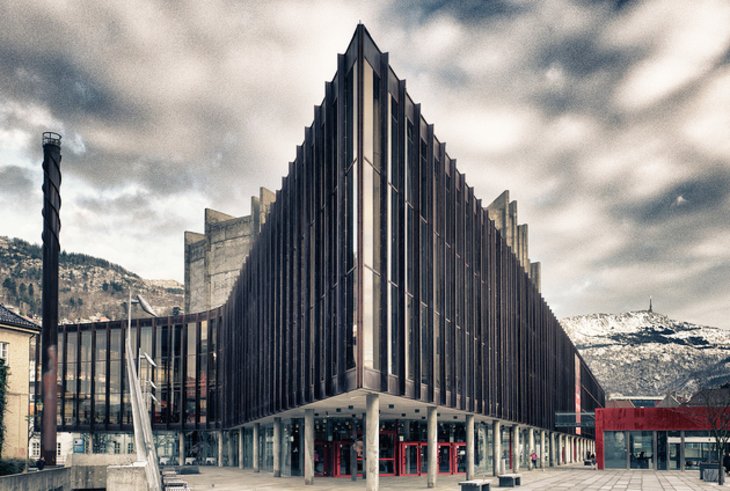 If you're a fan of the daring architecture Norway has adopted for so many of its public buildings, Bergen's Grieg Hall won't disappoint. This impressive example of modern architecture is equally famous for its excellent acoustics and offers a first-class repertoire of concerts, opera and ballet, as well as classical works by Bergen's most famous son, Edvard Grieg.
Address: Strømgate, Bergen
8 Rasmus Meyer Collection
Bequeathed to the city in 1923, the Rasmus Meyer Collection includes paintings and sketches by some of Norway's most prolific artists (collections include works by Dahl, Egedius, Munch and Munthe). If art's your thing, you may also want to check out the Museum of Applied Art with its collection of rare porcelain and pottery, as well as goldsmith's work and modern Norwegian applied and decorative art.
Address: Rasmus Meyers Allé 7, Bergen
9 University Museum of Bergen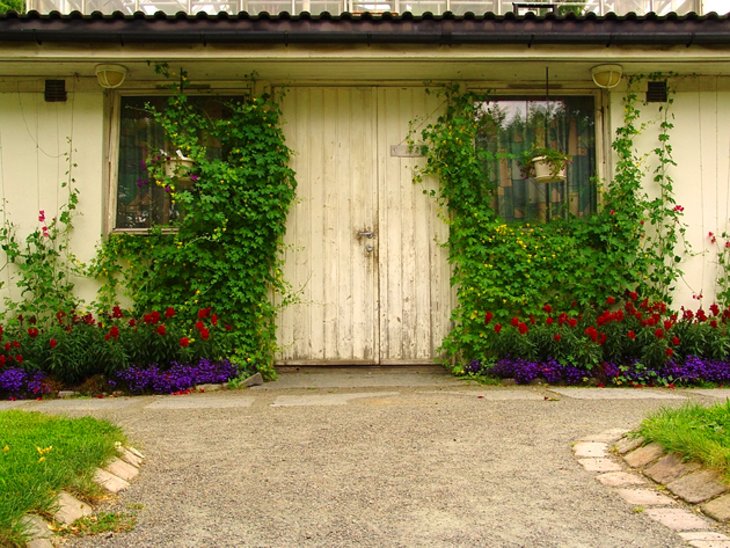 Bergen is famous for its university, which in turn is famous for its world-renowned museum collections. Well worth spending a day at, the university's museums include the Natural History Collection, the Cultural History Collection, and the Seafaring Museum. When you're ready for a break from all that learning, take a stroll in the university's lovely Botanic Garden. If you are interested in gardens, stroll across to nearby Nygårdspark for a peek at the flora and famous Unicorn Fountain by Gustav Vigeland. Afterwards, make your way to the Norwegian Arboretum, a superb collection of over 5,000 plants from around the world.
Address: Museplass 3, N-5007 Bergen
10 Fløyfjell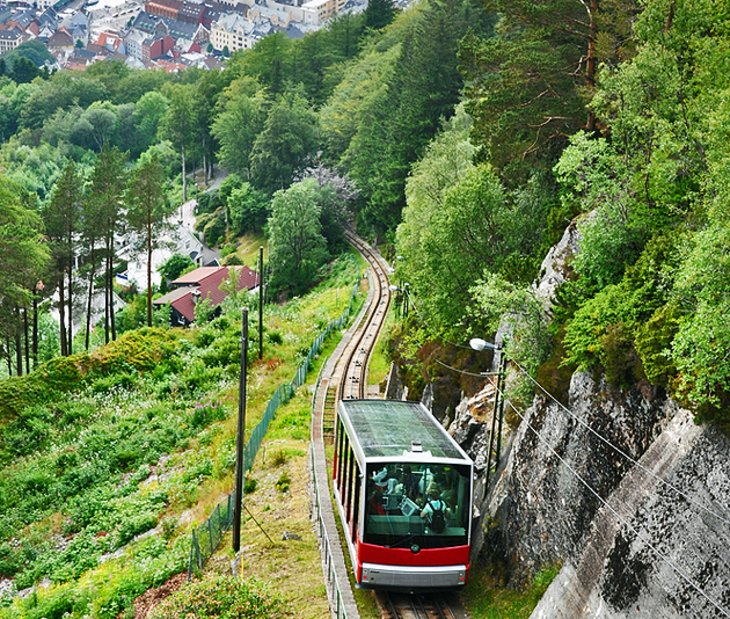 To the northeast of Bergen rises Fløyfjell, a 1,047 ft peak offering magnificent views of the city and the surrounding area (visit early morning or at dusk for the most dramatic vistas). If walking is not your thing, you can take a tramway to the top. When you're done with the spectacular views of Bergen, leave the station behind and head to Blåmann - at 1,808 ft, the panoramic views from the top of this peak are well worth the effort.
11 Grieg Museum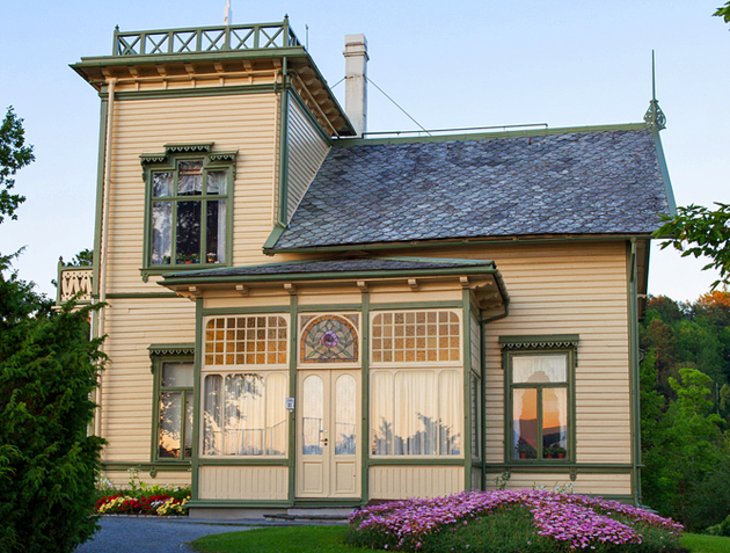 Located just a short trek to the south of Bergen, Troldhaugen is famous as the former home of Norwegian composer Edvard Grieg. Built in 1885, the well preserved home is now the site of the Grieg Museum and is dedicated to the life and work of the composer. Time it right, and you can even enjoy concerts featuring Grieg's music (summer and fall).
Address: Troldhaugvegen 65, 5232 Paradis-Bergen
12 Lisøy and Lyse Abbey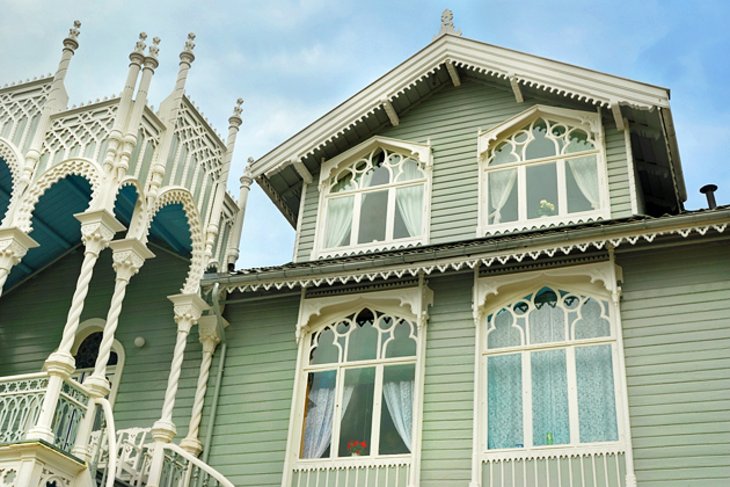 On Lisøy, an island in the suburb of Fana, sits the villa (built in 1873) of the famous Norwegian fiddler, Ole Bull. While an interesting medley of different architectural styles, the real reason to visit the island is Lyse Abbey. The ruins of the first Cistercian house in Norway, founded in 1146 by monks from York, England, the site provides a vivid impression of monastic life in the Middle Ages.
Address: Lisøy, Fana, Bergen
13 Bergen International Festival
This annual two-week festival runs late May to early June and features more than a dozen daily events including operas, orchestras, choral and chamber performances, dance recitals, ballet, jazz and folk concerts, as well as theatrical productions. The repertoire of the festival is equally rich, ranging from baroque to gospel to modern. Various venues are used, including the Bergen National Theater, the Bryggen Museum, the Wharf, as well as many stately homes, churches and halls.
14 Royal Residence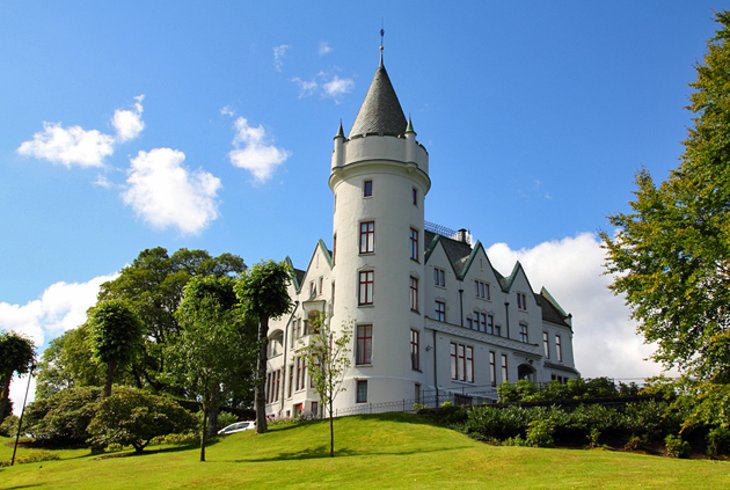 Bergen's Royal Residence and banqueting hall, Håkon's Hall, was completed for Norwegian King Håkon Håkonsson in 1261. Situated adjacent the Rosenkrantz Tower, which dates from the 1270s, this exquisite structure has been extended several times to act as a fortification and display of power.
Address: Bergenhus Festning, 5835 Bergen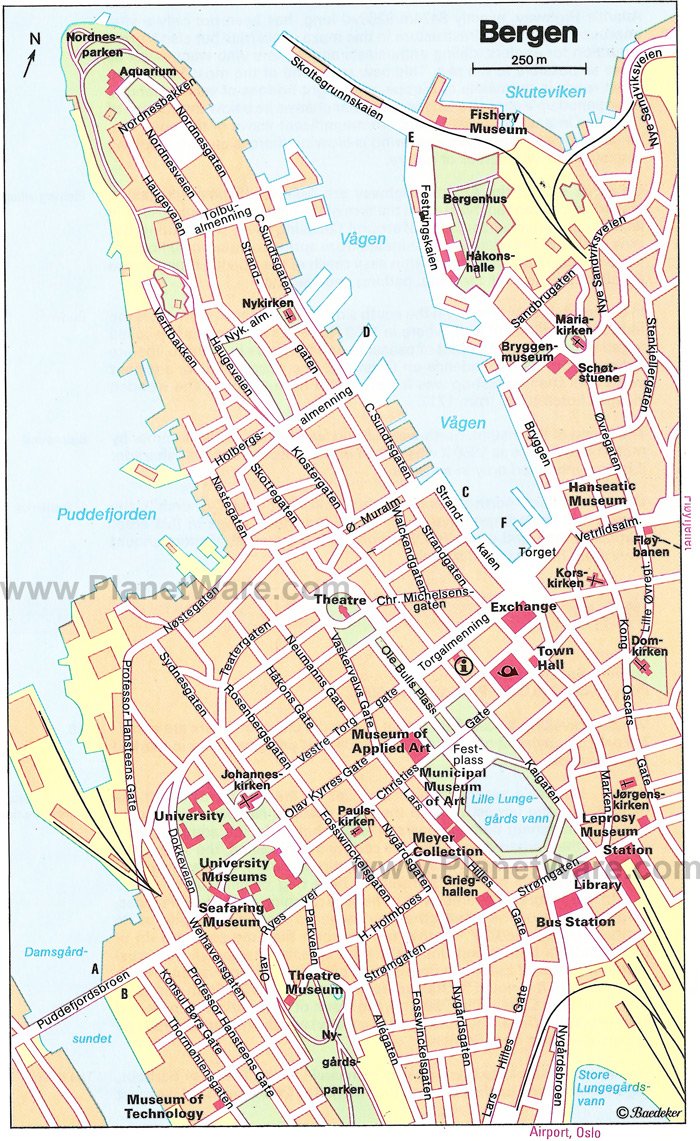 Bergen Map - Attractions
(A) Express coastal ships to Northern Norway (Hurtigrute)
(B) Ships to Sognefjord and Nordfjord
(C) High speed catamarans to Sognefjord and Nordfjord
(D) High speed catamarans to Haugesund and Stavanger to the Hardangerfjord and Sunnhordland
(E) Ferries to Newcastle, Iceland, Faroes and the Shetland Islands
(F) Excursion boats
Leprosy Museum
Bergen University
Harbor Area
Grieg Hall
Municipal Museum Of Art

Museum Of Applied Art
Museum Of Technology
Nygårdsparken
Rasmus Meyer Collection
St Mary's Church
Schøtstuene
Fishery Museum
Bryggen Museum
Bergenhus
Hanseatic Museum
Aquarium
Want to use this map on your web site?
Copy and Paste the code below:
More on Norway