11 Top-Rated Tourist Attractions in Tromsø
The port of Tromsø, Northern Norway's largest city, lies between Narvik and Hammerfest on a small island 217 miles north of the Arctic Circle. Established in the 13th Century, Tromsø remains an important fishing port, as well as a popular location from which to view (and study) Norway's famous aurora borealis, or northern lights. It's also a great place to experience the midnight sun, visible here from mid-May to mid-July.
Tromsø's northern location and natural harbor ensure the city remains important as a base for Arctic expeditions, as well as for the numerous Norwegian fishing vessels based here. It's also a much-used jumping-off point for ferries and cruise ships to and from major ports such as Bergen, and in summer for coastal cruises to destinations such as Spitzbergen.
1 Tromsø University Museum
Tromsø University Museum is a great place to begin your tour of this picturesque northern Norwegian city. Along with fascinating facts and relics focusing on the region's indigenous peoples, the Sami, and famed explorer/adventurer Johan Adrian Jacobsen, the museum also features a fantastic exhibit on Norway's number one tourist attraction: the Arctic's spectacular northern lights.
2 Tromsø Arctic-Alpine Botanic Garden
The Tromsø Arctic-Alpine Botanic Garden and its unique collections are a must-see for those interested in Northern Norway's unique flora. Despite the snow, the flowering season starts early in May, rewarding visitors with displays of purple saxifrage and yellow cushion plants, pasqueflowers, and a variety of flowering bulbs. Flowering continues until the snow returns in October.
Address: The Arctic University of Norway, Tromsø
3 Elverhøy Church
To the west of Tromsø's town center stands the Elverhøy Church (or kirke). Built in 1803, this beautiful red wooden structure was originally located at the site of the city's cathedral, but was dismantled and moved in 1861, then again 100 years later to its current location overlooking Tromsø. Notable interior features include the altar and a medieval Madonna carved in wood.
4 Arctic Cathedral
Just before the Tromsø bridge on the mainland sits the delightfully triangular Tromsdal Church, better known as the Arctic Cathedral. This striking example of the bold modern architecture now common throughout Norway was designed by Jan Inge Hovig in 1965, and is worth visiting for the immense 1500 sq. ft. stained glass window showing the return of Christ that occupies the building's entire east end.
Address: Hans Nilsens vei 41, 9020 Tromsdalen
5 Tromsø Cathedral
Constructed in 1861, Tromsø Cathedral is located southwest of the main quay in the city center. The wooden cathedral's altarpiece is a spectacular copy of the Adolph Tidemand's Resurrection. Other important features include the large stained glass windows in the front of the church, designed by Gustav Vigeland and installed in 1960.
Address: Storgata, 9008 Tromsø
6 Science Center of Northern Norway
The Science Center of Northern Norway, home to Norway's largest planetarium, offers visitors a thrilling up close look at Tromsø's spectacular northern lights on its huge digital screen. In addition, the center offers visitors a chance to explore regional phenomena and universal questions on more than 80 interactive installations covering arctic related themes such as energy, climate and weather, as well as resources and the environment.
Address: Hansine Hansensveg 17, 9019 Tromsø
7 Polaria
It's hard to miss Polaria, Tromsø's unique new museum dedicated to everything to do with the Arctic. Designed to look like Arctic ice floes pressed up on land by rough seas, Polaria is located just a few minutes walk from the centre of Tromsø and boasts an Arctic aquarium (complete with bearded seals), interesting knowledge-based exhibits, and an incredible panoramic cinema featuring films on the Arctic wilderness. Afterwards, visit the Arctic Walkway to experience firsthand an Arctic winter storm, a dozing polar bear, the tundra and the aurora borealis.
Address: Hjalmar Johansensgate 12, 9296 Tromsø
8 Mount Fløya
With its tremendous number of mountains, there's really no such thing as a bad view in Norway. One of the best views of Tromsø can be had from the top of Mount Fløya (1,380 ft.), accessible by cable car. Other vistas around the area are a little more difficult to access, but are definitely worth the effort, and include views from the summits of the Lyngen Alps, Mount Tromsdaltind in Tromsø, and the Istindan Mountains in Bardu.
9 Northern Lights Festival
Founded in 1988, the Northern Lights Festival - held annually in late January/early February - is a musical extravaganza that attracts artists such as Jan Garbarek, Mari Boine and Dee Dee Bridgewater, as well as the best symphonic orchestras from across Scandinavia.
10 Skansen
Starting life as a customs station in 1789, Skansen is the oldest house in Tromsø. Even older than this picturesque house and the many smaller buildings that surround it are its foundations, the remnants of mediaeval fortifications dating from the 13th Century.
Address: Søndre Tollbugate 8, 9008 Tromsø
11 Hella, Kvaløy
Located 20 miles south of Tromsø on the east side of the island of Kvaløy, lies the village of Hella and its open-air museum containing a number of houses from old Tromsø. Also worth a visit are the Kvinnafossen Falls, located between Leikanger and Hella - particularly stunning during the spring thaw when visitors park on the road to feel the spray from the waterfall. (For military enthusiasts, Kvaløy was also where British aircraft sank the German battleship Tirpitz in 1944.)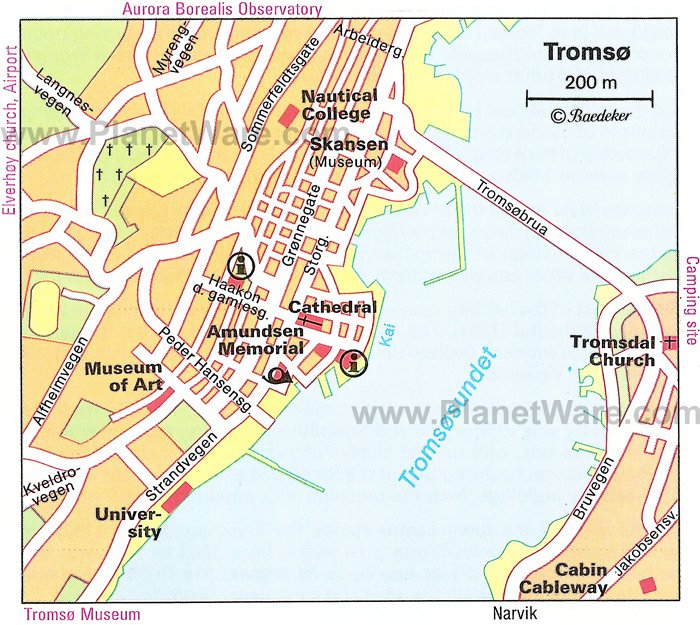 Tromso Map - Attractions
Want to use this map on your web site?
Copy and Paste the code below:
More on Norway