Château Frontenac, Québec
Built in 1894 for the Canadian Pacific Railway the majestic Château Frontenac, visible for miles around, is Québec's most famous landmark. The palatial hotel, standing on the site once occupied by Fort St-Louis, the governor's residence in colonial times, is named after the Comte de Frontenac, a French nobleman who was a leading figure in "la Nouvelle France".From the moment the huge building was completed it became adopted as a fitting emblem for Québec City. Still the provincial capital's foremost hotel, it was here at the Québec Conference in August 1943 that the Allied Powers in the persons of Winston Churchill, Franklin D. Roosevelt, William L. M. King, Vice-Admiral Lord Mountbatten and the U.S. Chief of Staff, General George C. Marshall, and others, laid preparations for the D-Day landings in Normandy (June 6th 1944).
Address:
1 rue des Carrières, Québec, QU G1R4P5, Canada
Related Attractions
Jardins du Gouverneur
Adjoining the Château Frontenac, on its southern side, are the pretty Jardins du Gouverneur. Here Generals Montcalm and Wolfe, adversaries in life but united in death, are honored by a single monument.
Terrasse Dufferin
The Terrasse Dufferin in Québec, with its oriental-style baldachins (also the entire length of the Promenade des Gouverneurs) affords stunning views northwards to the Laurentians and south-eastwards where, in good visibility, it is possible to make out the foothills of the Appalachian Mountains in the north-east USA.
Promenade des Gouverneurs
From Dufferin Terrace the Promenade des Gouverneurs - a footway high (about 90 m (300 ft)) above the St Lawrence in places - leads southwards from the Château Frontenac, past the Citadel and then along the cliffs of Cap Diamant to the Plains of Abraham.
More Chateau Frontenac Pictures
Map of Quebec City Attractions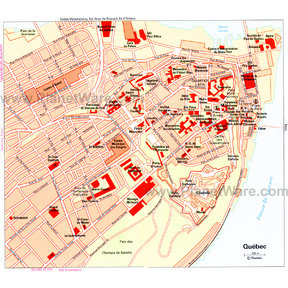 Quebec City Map
More Quebec City Attractions
Popular Destinations Nearby