10 Top-Rated Tourist Attractions in Old Montréal
Said to be North America's most remarkable concentration of 17th, 18th, and 19th-century buildings, Old Montréal is the delightful Parisian-style quarter between the harbor and the banking district. Lovingly restored in recent decades, and very popular with tourists, Old Montréal is best explored on foot, starting from the Champ de Mars Metro Station. City Hall and Place Jacques-Cartier are just south of the station, with Rue St. Paul and Rue Notre-Dame leading to more historic sites, high-end restaurants, and luxury shops.
1 Old Port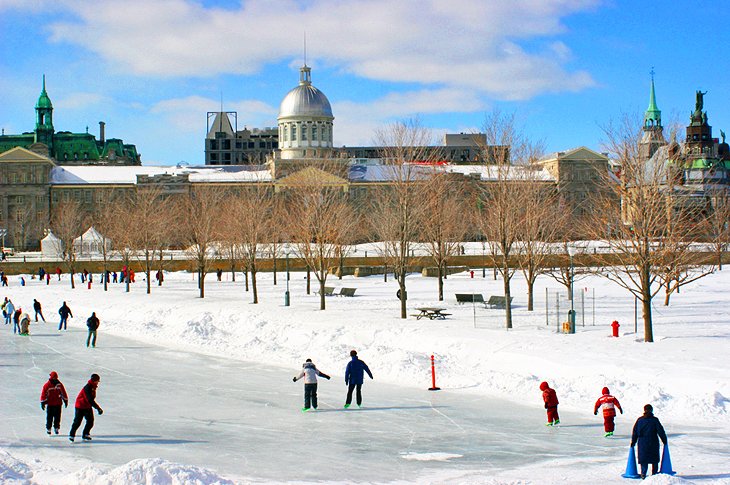 Bonsecours Skating Rink
Extending along the river, close to Marché Bonsecours, is the site of the old port. It was restored at great cost and now enjoys a role as an entertainment and leisure center. Special attractions include an IMAX cinema, a Clock Tower reminiscent of Big Ben, and the Montréal Science Centre. In winter, skaters take to an open-air rink. From the old port a magnificent view is obtained of the impressive Montréal skyline. Boat tours run from the quays.
Address: 333 Rue de la Commune Ouest, Montréal
2 Notre-Dame Basilica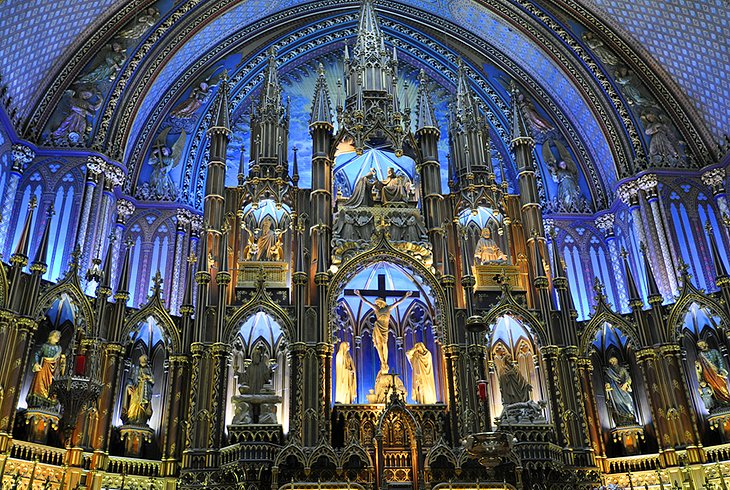 Notre-Dame Basilica
On Place d'Armes, the neo-Gothic façade of the Basilica of Our Lady is Montréal's oldest Catholic parish church (founded 1656). Its twin towers (69 meters) are impressive, but the amazing interior of the 1829 building is even more awe-worthy. Resplendent woodcarving is the work of Victor Bourgeau, and stained glass illustrates the history of Montréal. The Sacré Coeur altar (1982), in the chapel of the same name, consists of 32 bronze panels by Charles Daudelin. The great organ is a Casavant, and recitals held in the church throughout the year are very popular.
Address: 110 Rue Notre-Dame Ouest, Montréal
3 Place Jacques-Cartier
Place Jacques-Cartier
Stretching from the Old Port to Rue Notre-Dame in Old Montréal are the gardens of Place Jacques-Cartier. Under its Nelson's Column, there is a popular market of arts, crafts, and souvenirs surrounded by inviting street cafés and fine 19th century townhouses and mansions.
Many historic Montréal attractions are nearby, including City Hall, the Old Palace of Justice, and the elegant 1705 mansion Chateau Ramezay Museum.
4 Rue Bonsecours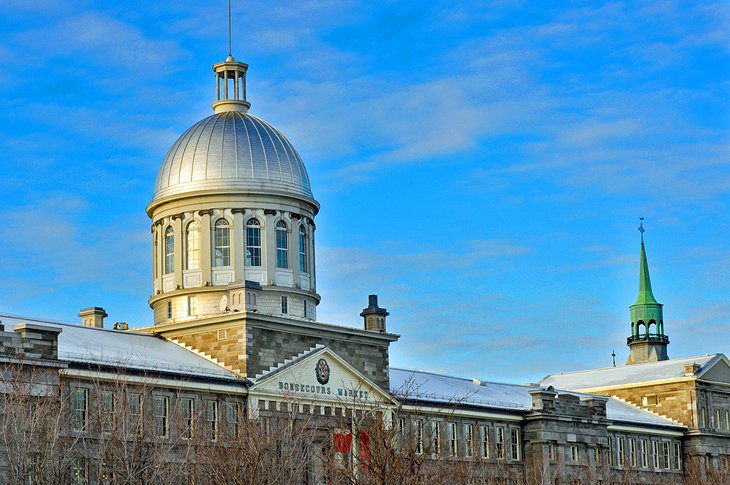 Bonsecours Market
The delightful Rue Bonsecours, off Rue Notre-Dame, is one of Vieux-Montréal's oldest streets. It exhibits a whole range of the French architectural styles featured in the 17th to the 19th century townscape of New France. Marché Bonsecours served as the town hall before becoming Montréal's vegetable market from 1878 to 1963. Today the building houses a number of interesting shops and boutiques and is a popular spot with tourists. Montréal's oldest church, the Chapel of Our Lady de Bonsecours, is at the end of the street. Nearby, Sir George-Étienne Cartier National Historic Site was the home of the first Canadian Prime Minister from 1841 to 1871.
5 Pointe-à-Callière, Musée d'archéologie et d'histoire
Editor's Pick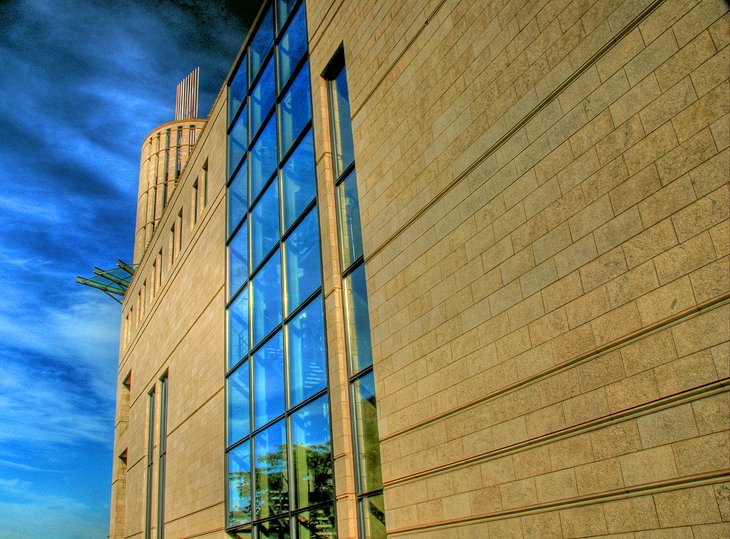 Pointe-à-Callière, Musée d'archéologie et d'histoire chispita_666
At the southeast corner of Place Royale in Montréal lies the Pointe-à-Callière, the "cradle of Montréal city." Place Royale was the heart of French colonial life, its market, and its parade ground, until transformed in the 19th century with various government buildings. The Musée d'archéologie et d'histoire documents the city's beginnings by taking visitors underground to the see remains of the first foundations. Two plaques and an obelisk, the work of Québécois artists, unveiled in 1894, commemorate the 1642 founding of the French settlement.
Address: 350 Place Royale, Montréal
6 Place d'Armes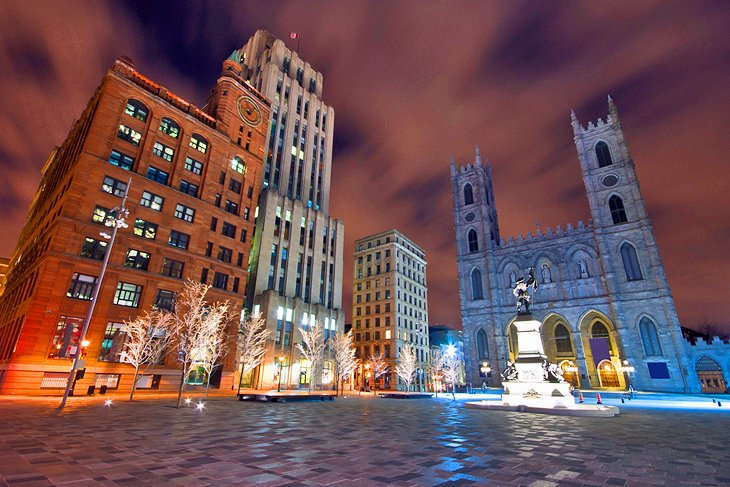 Place d'Armes
The busy square of Place d'Armes is very much in the city center. The twin towers of Notre-Dame Basilica front the public space, as does a historic Bank of Montreal and its small museum. The Old Seminary of Saint Sulpice, adjoining the Basilica, dates from 1685. It is the oldest stone dwelling in a city where originally most buildings were constructed more cheaply and simply in timber. Just west of Place d'Armes, the Palais des Congrès is Montréal's futuristic conference center. It was built in 1983 over the Ville-Marie expressway, and is best known for its colorful glass walls.
7 Place d'Youville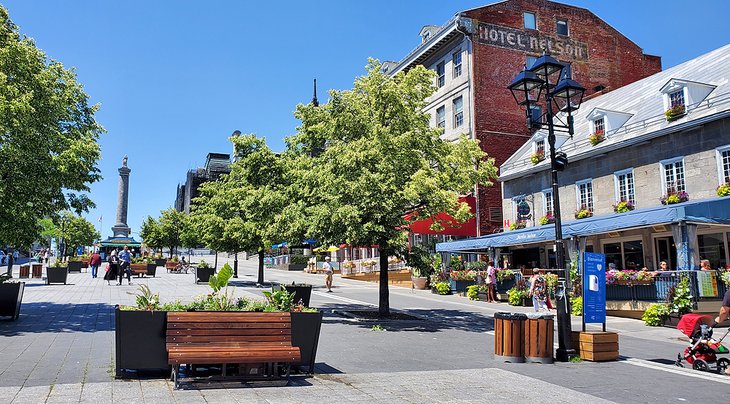 Soeurs Grises
Place d'Youville is another popular public space in Montréal and a departure point for exploring historical sites. On the park, the Montréal Centre d'Histoire is housed in the old red brick fire station (1903), and recounts Montréal's four centuries of history. Hopital général des Soeurs Grises is a short distance down Rue Saint-Pierre from Place d'Youville. Montréal's second hospital dating from 1694, it is where Marguerite d'Youville founded the Congrégation des Soeurs Grises in 1753, the charitable order of the Grey Sisters.
8 Rue Saint-Paul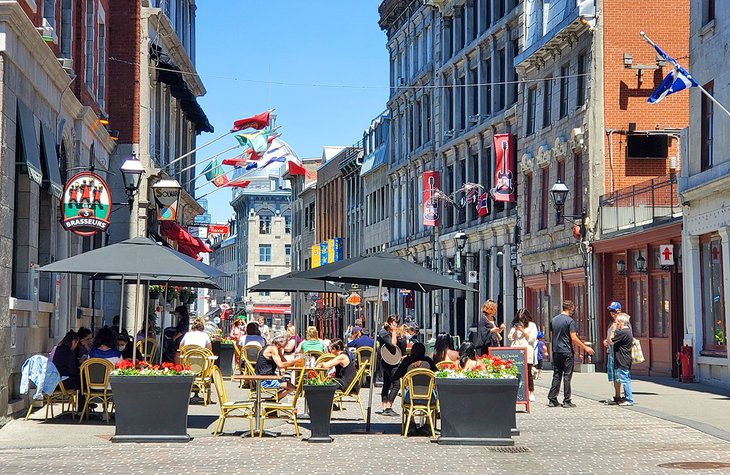 Rue Saint-Paul
Rue Saint-Paul is Montréal's oldest street, originally completed in March 1672 as the road between the fort and the Hôtel Dieu, the old hospital. Nowadays it is lined with all kinds of shops. The street gets its name as much from Paul de Chomedey, the city's devout founder, as from St. Paul the Apostle.
9 City Hall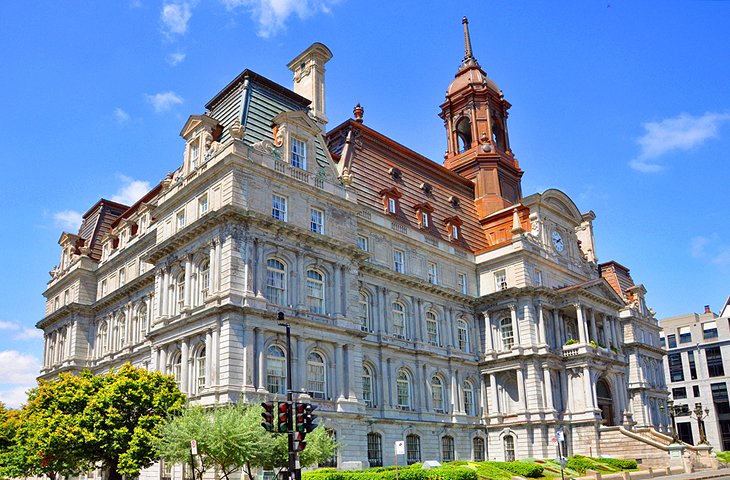 City Hall
Montréal's City Hall was designed by Perrault with an eye to the French Empire style of Napoleon III. Built between 1872 and 1878, it had to be restored following a fire in 1922.
Its hall of honor is resplendent with marble and bronze, and has a bust of Jacques Viger, Montréal's first mayor in 1833. It was from the balcony of City Hall that, during his visit to Canada in the summer of 1967, French President Charles de Gaulle uttered his clarion call "vive le Québec libre!" - long live free Québec. The statement drew an enthusiastic response from the crowds on Place Cartier below, but upset Canada's Federal Government.
Address: 275 Rue Notre-Dame Est, Montréal
10 Montreal Science Centre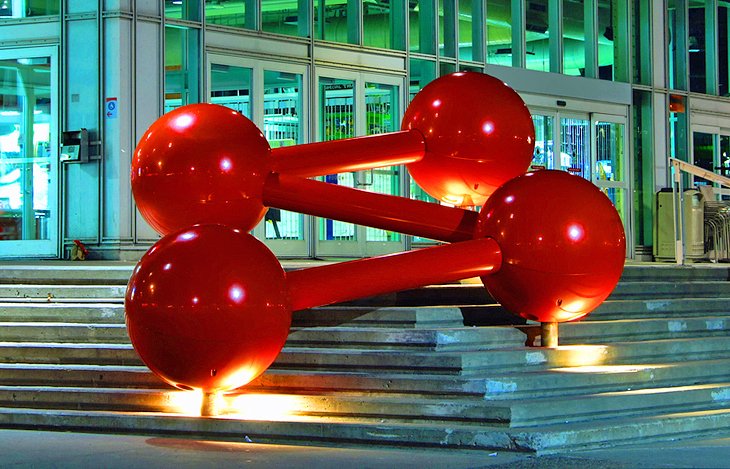 Montreal Science Centre
Located in the Old Port, the Montreal Science Centre offers a range of science and technology exhibitions, and includes an IMAX theater. The center is a favorite with families and is designed for all ages.
Address: 2 Rue de la Commune Ouest, Montréal
Sightseeing Nearby:
You may also be interested in: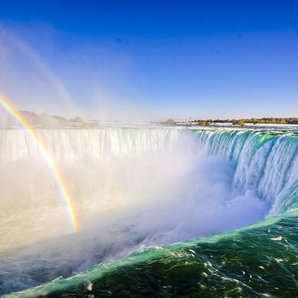 Top-Rated Canada Attractions
15 Top-Rated Tourist Attractions in Toronto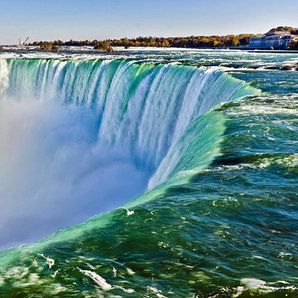 10 Top Rated Tourist Attraction in Niagara Falls, Canada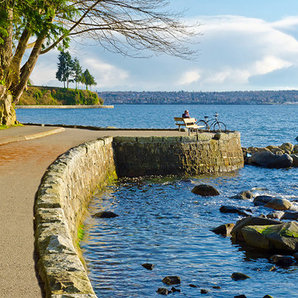 15 Top-Rated Tourist Attractions in Vancouver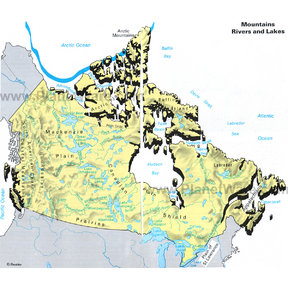 Map of Canada Mountains Rivers and Lakes