14 Top-Rated Tourist Attractions in Montreal
Located as it is on the St. Lawrence, Montréal has prospered as a cosmopolitan hub of communications and trade. Jacques Cartier landed here in 1535 and took the territory for his King, François I of France. But it wasn't until 1642 that Paul de Chomedey, the god-fearing Sieur de Maisonneuve, founded a small mission station here. Called Ville Marie de Mont-Réal this was the original settlement that today is Montréal. It has grown to be the second largest French-speaking city in the world. Part of the Hochelaga archipelago, the city itself is an island with Mount Royal (233 meters) in the city center. Montréal's climate swings between the extremes of high humid heat in summer and heavy snowfalls in winter.
1 Mont Royal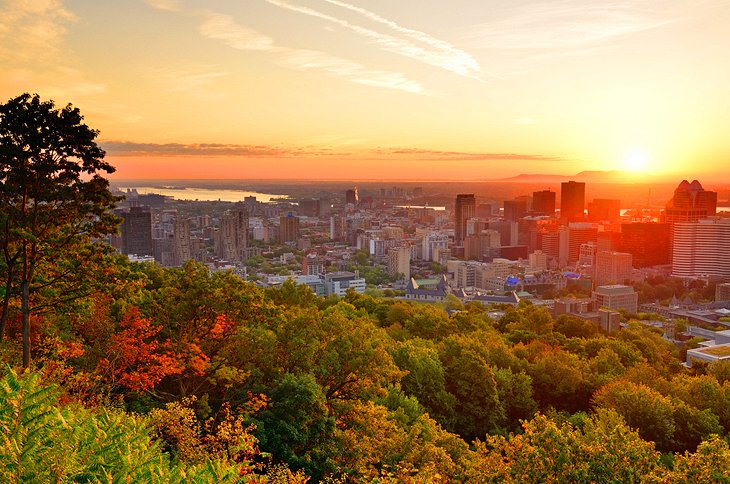 View of Montreal from Mont Royal
Mont-Royal rises 233 meters above the city and is the green lung near the city center. A stroll through this lovely park enables the visitor to see monuments to Jacques Cartier and King George VI, to spend some time by Lac-aux-Castors, and to have a look at the cemeteries on the western slope where the city's different ethnic groups have rested in peace together for centuries. From the summit, or rather from a platform below the cross, there unfolds a magnificent panorama of the whole of the 51-kilometer length of the Île de Montréal and the St. Lawrence. On clear days, the view extends to the Adirondack Mountains in the United States of America.
2 Old Montreal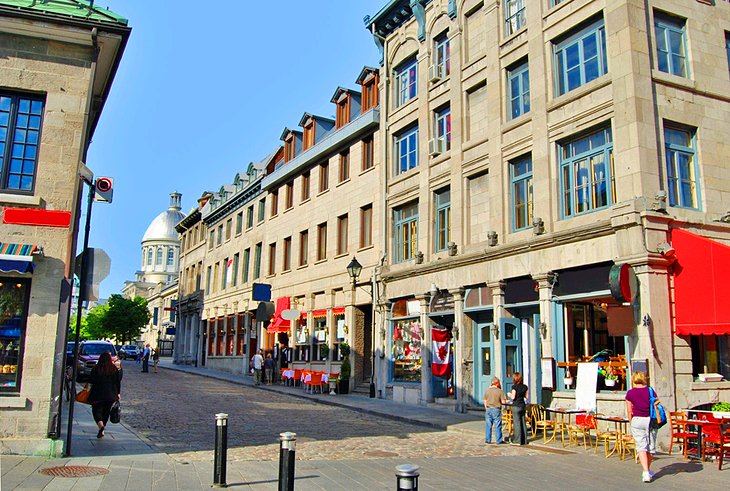 Old Montreal
Old Montréal is a remarkable concentration of buildings dating from the 17th, 18th, and 19th centuries. The district has the delightful feel of a Parisian-style quarter, situated as it is between the waterfront and the business hub. Its many historic sites, streets, and landmarks are best explored on foot. Those not to miss include the twin towers of Notre-Dame Basilica, the quays of the revitalized Old Port, and the open-air gathering space of Place Jacques-Cartier.
3 Parc Jean Drapeau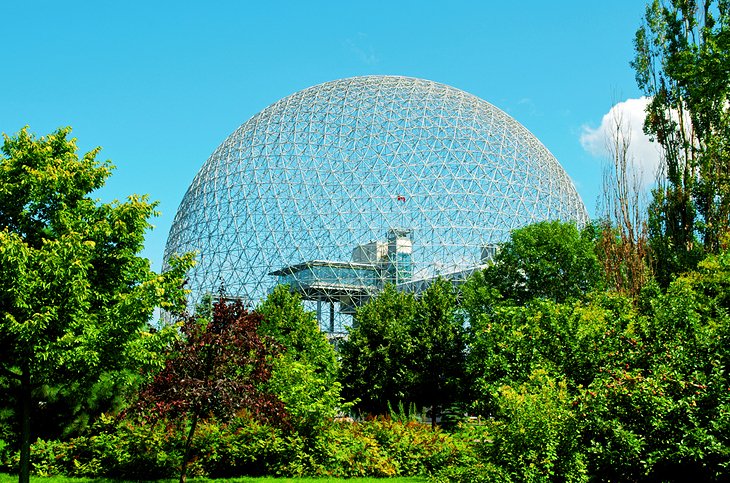 Biosphere in Parc Jean Drapeau
Île Sainte-Hélène (named after the wife of Samuel de Champlain) and the artificial island of Notre-Dame were the site of Expo '67. They are now known as Parc Jean Drapeau and have many family-minded attractions. A remnant of the 1967 world fair, the Biosphere is now a museum dedicated to ecological issues. The building is designed in the shape of a sphere and is the largest such structure in the world. Other tourist attractions on the islands include the rides and games of La Ronde Amusement Park, the historic 1820 British arsenal at the Stewart Museum, Bassin Olympique (where the Olympic rowing events were held), and race course Circuit Gilles Villeneuve.
4 Botanical Garden
Editor's Pick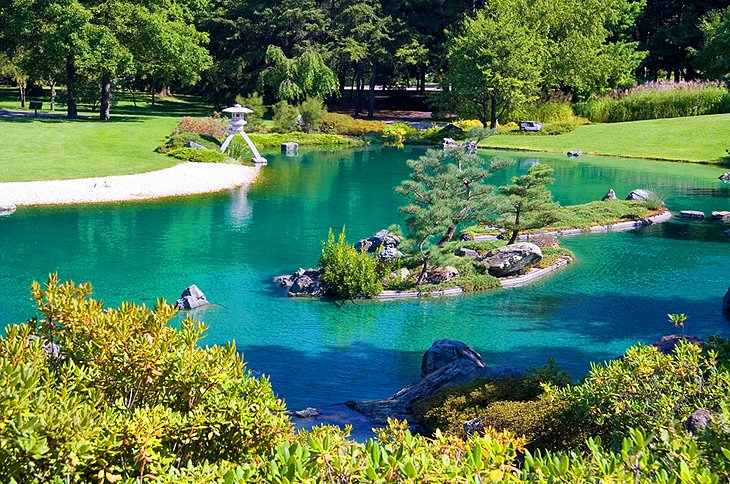 Botanical Garden
Parc Maisonneuve (Pie IX Metro) incorporates the wonderfully imaginative botanical garden. At Jardin Botanique, visitors are drawn in particular to the Japanese and Chinese Gardens, exceptional glasshouses, and displays of orchids and bonsai. There is an interesting Insectarium and huge arboretum on the grounds, as well as ponds supporting a variety of birds.
Address: 4101 Sherbrooke St East, Montréal
5 Rue Sherbrooke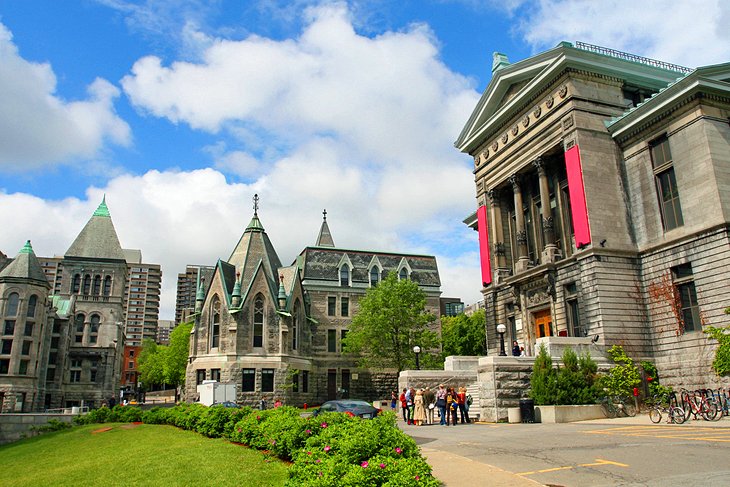 University buildings
Named after Sir John Sherbrooke, Governor General of Canada from 1816 to 1818, Rue Sherbrooke is probably the city's most elegant thoroughfare. It is the spine of the city and the location of many major museums and institutions. On Rue Sherbrooke, the McCord Museum of Canadian History has an outstanding collection of exhibits on Canada's social history, especially native peoples such as the Inuit and Pacific Coast First Nations. The Musée des Beaux Arts is the oldest museum in Canada and houses vast collections of painting, sculpture, and new media. Not far from the museum is the extensive campus of McGill University.
6 Places Jacques-Cartier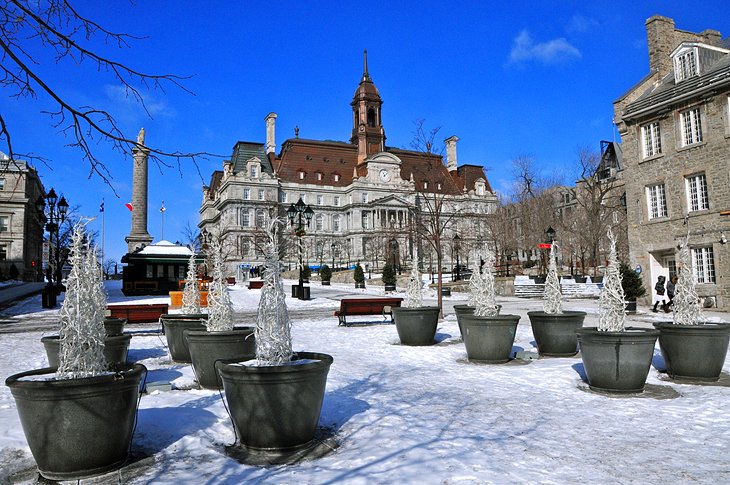 Montréal City Hall
A gathering point in Old Montréal that's especially lively in summer, Place Jacques-Cartier is a popular tourist spot surrounded by historic buildings, pretty gardens, public services, and restaurants. At the uphill end, there is a Nelson's Column and the impressive Montréal City Hall.
7 Notre-Dame Basilica
Notre-Dame Basilica
Founded in 1656, Montréal's oldest church, Notre-Dame Basilica, stands in a far grander incarnation than the original. The twin towers of the neo-Gothic façade face Place d'Armes. An intricate and resplendent interior is the work of Victor Bourgeau. Throughout the year, an evening light and sound show retells the story of Montréal's founding.
Address: 110 Rue Notre-Dame Ouest, Montréal
8 Olympic Park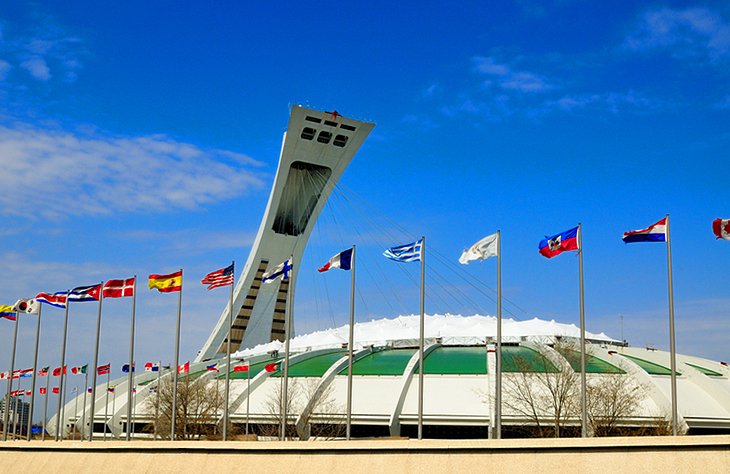 Olympic Park
Montréal's Olympic Park was the site of the 1976 Summer Olympics. With the seashell-shaped Olympic Stadium at its heart, the park is a major recreation destination. Other sites within the park include the covered botanic-zoological Biodôme garden, the creative botanical garden, and collections of creepy-crawlies at the Insectarium.
Address: 4141 Pierre-De Coubertin Ave, Montréal
9 St. Joseph's Oratory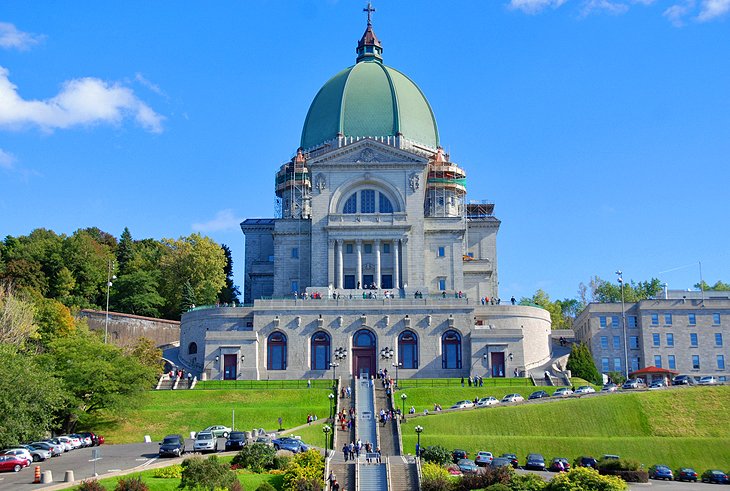 St. Joseph's Oratory
The Oratoire Saint-Joseph in Montréal, near the western exit from Mount Royal Park, is dedicated to Canada's patron saint. It is a mecca for pilgrims, with its huge Renaissance-style domed basilica dating to 1924. Brother André of the Congrégation de Sainte-Croix had already built a small chapel here in 1904, where he performed miraculous acts of healing for which he was canonized in 1982. His tomb is in one part of the sanctuary in the original chapel. Votive gifts are displayed in a second chapel. A cloister behind the church leads up to Mont-Royal. There is a good northwest view from the observatory over Montréal and Lac Saint-Louis.
Address: 3800 Queen Mary, Montréal
10 St. Mary Queen of the World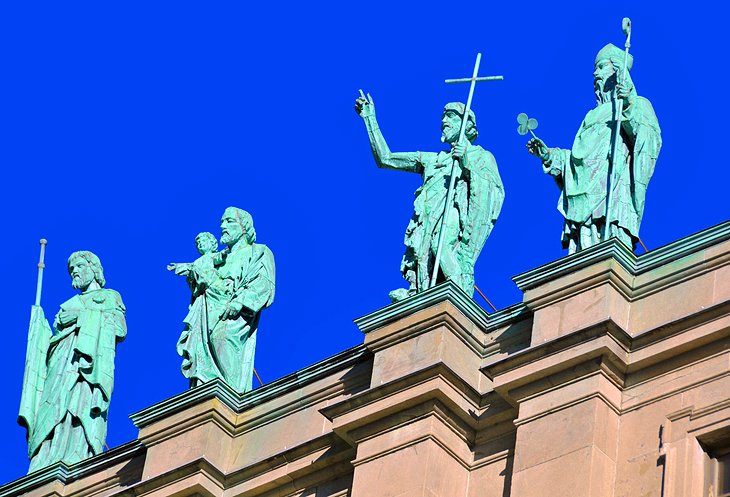 St. Mary Queen of the World
The Catholic Mary Queen of the World Cathedral, east of Place du Canada, was built in 1894 as a smaller version of St. Peter's in Rome. The massive statues represent the patron saints of the Archbishopric of Montréal in the 19th century. A series of paintings by Georges Delfosse retell Montréal's tumultuous history.
Address: 1085 Rue de la Cathedrale, Montréal
11 Square Saint-Louis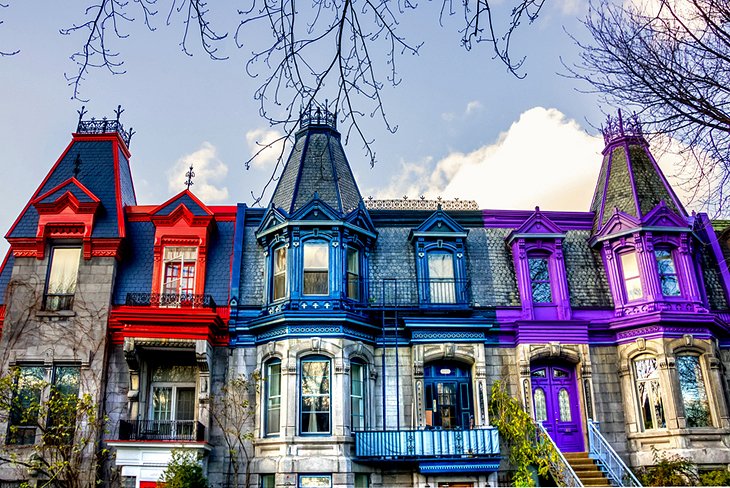 Colorful Victorian homes
Near the Sherbrooke Metro Station, Square Saint-Louis rates as one of Montréal's prettiest old squares and is set in a turn-of-the-century French-Canadian residential quarter. In the little streets around the tree-shaded square, there are still a few attractive Victorian houses. Some now house pleasant restaurants.
12 Lachine
Editor's Pick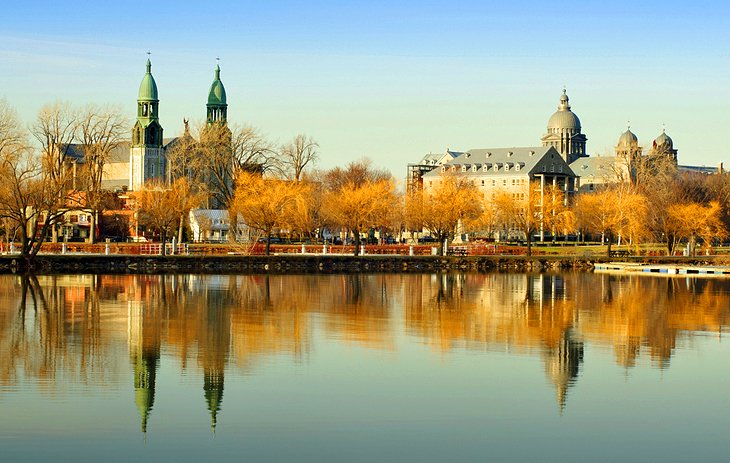 Lachine
Lachine, on the southeast bank of Montréal Island (in Lac St.-Louis), got its name from the first pioneers who, in the 17th century, made their way up the St. Lawrence looking for a route to China (in French, "la Chine"). The Lachine Canal, a way of getting round the Lachine Rapids, was dug in 1825. It is many years, however, since it was last used for shipping and nowadays forms part of a park and offers plenty of opportunities for charming trips along the canal banks.
13 Rue St-Denis
Running parallel to St. Laurent, Rue St. Denis is one of the hippest shopping, arts, and dining streets in Montréal. Historic buildings have been converted into boutiques, bistros, and cafés. At one end, St. Denis starts in the student-minded Quartier Latin neighborhood (it's handy to Université du Québec à Montréal and the Grande Bibliothèque) and heads west into the trendy Plateau area with its independent designers and chef-run restaurants.
14 Chinatown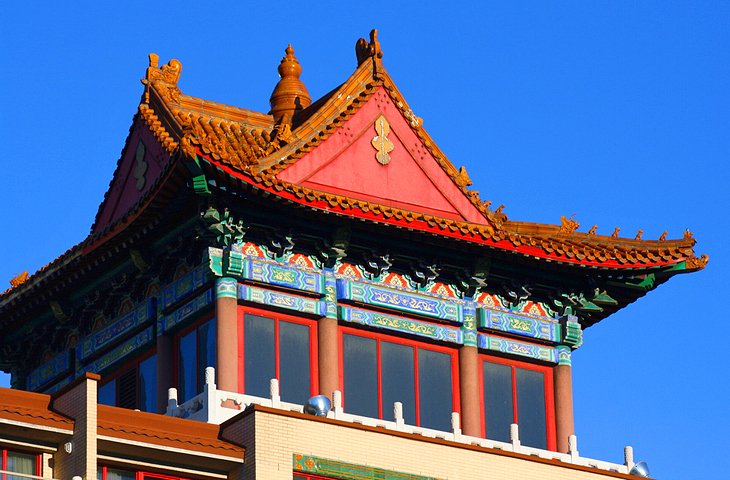 Chinatown
Montréal's Chinatown is centered on Rue de la Gauchetière, with Chinese arches marking the heart of the quarter. This dates from the late 1860s, when many Chinese laborers who originally came to work in the mines and build the railroad moved into the cities in search of a better life. Today's Chinatown is no longer exclusively Chinese, but a place where anyone can relax and enjoy a good meal.
Other Points of Interest
Rue Ste-Cathérine
Rue Ste-Cathérine, which can be reached from Dorchester Square, is Montréal's main shopping thoroughfare. Bustling with life, the busy street is lined with department stores and shops of all kinds, as well as a host of restaurants.
Bell Centre
Bell Centre in Montréal is a sports facility and home to the Montréal Canadiens hockey team. The complex can hold more than 21,000 spectators and is also used to accommodate large concerts and other events.
Address: 1909 Canadiens-de-Montréal Ave, Montréal
Montreal International Jazz Festival
The Montreal International Jazz Festival is held in late June and early July, attracting visitors from all over the world. The festival brings in some of the biggest names in jazz music for this huge event. Travelers planning on attending or visiting Montreal during the International Jazz Festival be sure to book accommodation well in advance.
Jean Talon Market
The Jean Talon Market is one of Montréal's busiest public markets. Located in a warehouse-style building, the market features vendors selling fruits and vegetables, flowers, meats, fish, cheese, baked goods, and specialty foods. There are also restaurants and cafés on site.
Address: 7070 Henri Julien Ave, Montréal
Canadian Centre for Architecture
This exceptional museum, housed in an elegant post-modern building by Phyllis Lambert and Peter Ross, boasts an unusually comprehensive collection of architectural drawings and photographs, together with a library and archive. The extensive collection enables the CCA to be a leading voice in advancing knowledge, promoting public understanding, and widening thought on architecture, its history, theory, practice, and role in society today.
Address: 1920 Rue Baile, Montréal
Musée d'art contemporain de Montréal
The Musée d'art contemporain de Montréal is particularly worth a visit, especially as young French-Canadian artists are accorded special prominence. The museum is part of Place des Arts, a complex dedicated to visual and performing arts.
Address: 185 Rue St. Catherine Ouest, Montréal
ENLARGE MAP
PRINT MAP
EMBED < >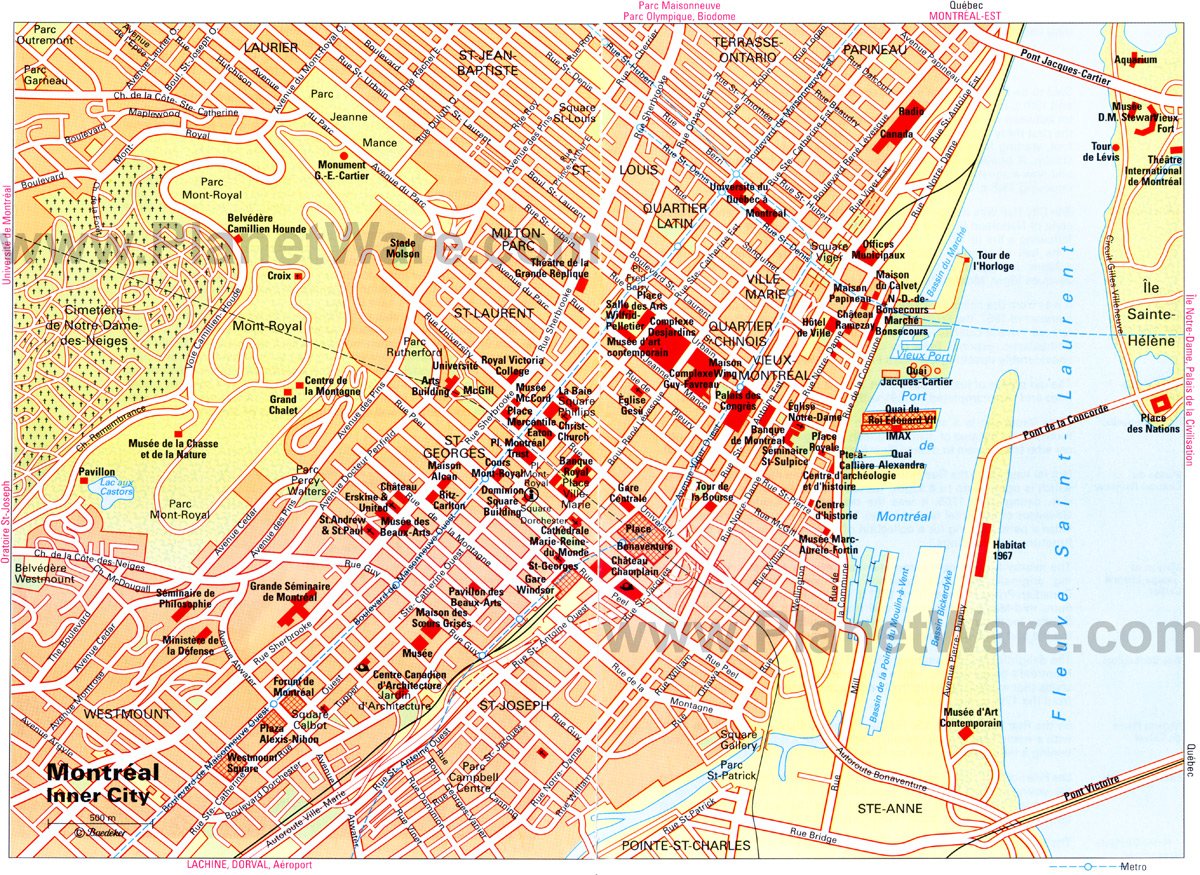 Montreal Map - Attractions
Sightseeing Nearby: