Quebec City Tourist Attractions
By plane: Québec has an international airport which foreign airlines and charter companies make use of mainly in the summer months. There are good connections with Canadian domestic flights, particularly to Montréal and Toronto (the hub of Canada's air network) as well as to New York (USA).By rail: Several trains a day run between Montréal and Québec.
ENLARGE MAP
PRINT MAP
EMBED < >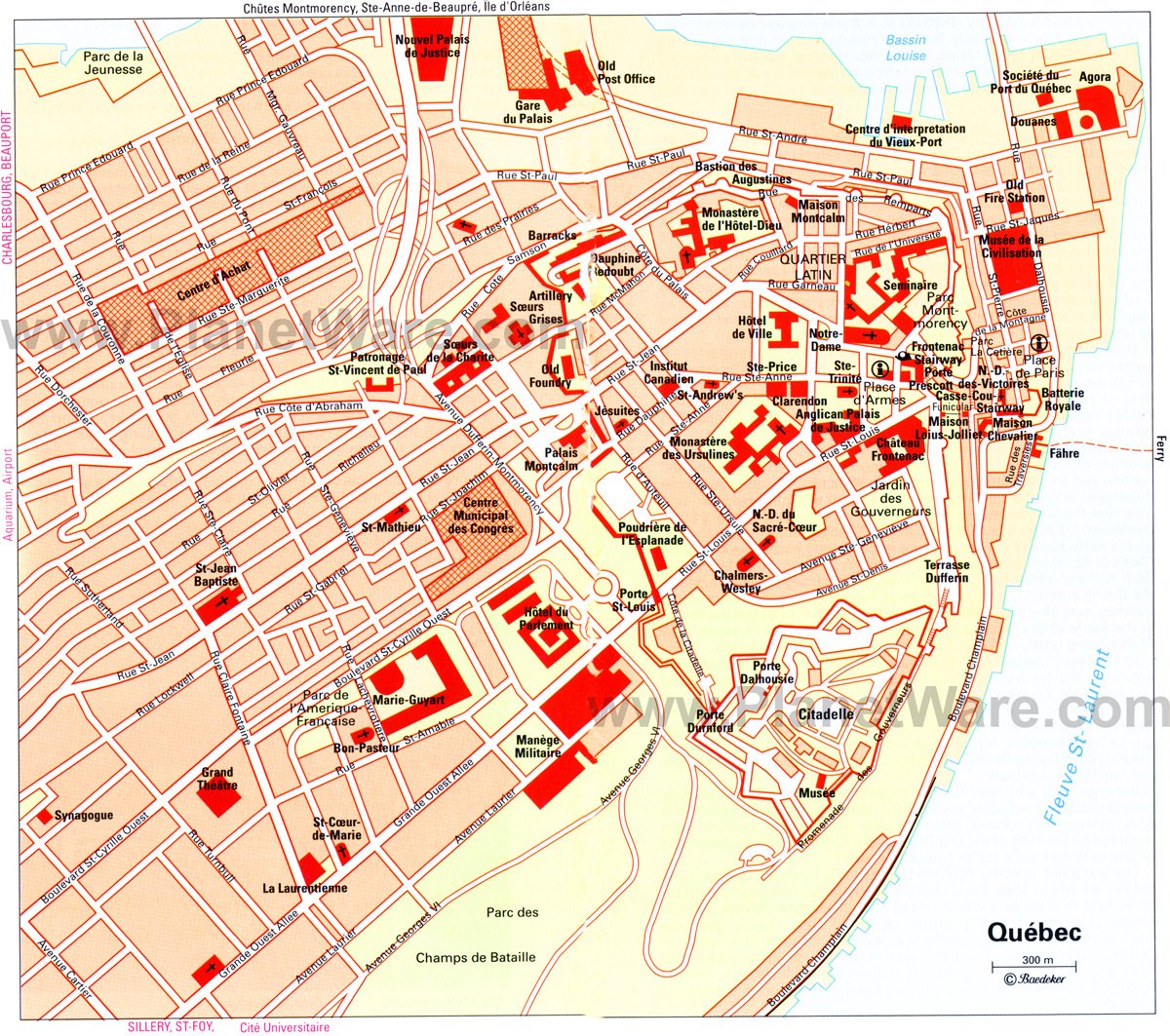 Quebec City Map - Attractions
Place Royale
Parliament Hill

The spaciously laid out district immediately south-west of the old Upper Town is the seat of Québec's provincial government. The Parliament, completed in 1877 but later extended, could have been modeled on any number of Parisian public buildings. The Salle de l'Assemblée Nationale (National Assembly) and Salle du Conseil Législatif (Legislative Council) are open to the public (tickets should again be obtained in plenty of time). Both are fine old chambers, sumptuously furnished.
Grand Théâtre
As well as plays the Grand Théâtre de Québec (along the Boulevard St-Cyrille Est) also stages concerts by the Conservatoire and the Québec Symphony Orchestra, the latter being the oldest orchestra of its kind in Canada.
Address:
269, boulevard René-Lévesque Est, Québec, QU G1R2B3, Canada
Palais des Congrès
Still on Parliament Hill but a little further down, the Palais des Congrès is a large hotel/shopping/entertainment complex in Quebec. It includes a 3800 sq. m (41,000 sq. ft) congress center capable of accommodating up to 5000 people.
Surroundings
Ile d'Orleans
Ste-Anne de Beaupre, Canada
The small town Ste-Anne de Beaupré is known primarily for the basilica of the same name.
St-Roch-des-Aulnaies, Canada
St-Roch-des-Aulnaies belongs to the "Siegneurie des Aulnaies", an imposing estate bearing the street number 132, the castle-like main building of which dates from the middle of the 19th c. A guided tour gives an insight into the way the upper classes lived.It is possible to visit the 19th c. corn-mill which is still in working order.St-Roch-des-Aulnaies which comes complete with costumed interpreters also contains beautiful gardens.
Saint-Gabriel-de-Valcartier - Valcartier Vacation Village
Village Vacances Valcartier is noted as one of the largest waterpark in Canada. The park features 35 water slides, 2 river rides, a huge wave pool, go-karting, and acrobatic diving shows.During the winter months, Valcartier becomes a winter playground with numerous snow runs that include 4 steep Himalaya runs.
Address:
1860 Valcartier Boulevard, Saint-Gabriel-de-Valcartier, QU G0A4S0, Canada