Ste-Anne de Beaupre Tourist Attractions
The little monastery town of Ste-Anne de Beaupré is situated on the banks of the St Lawrence only 40 km (25 mi.) north-east of Québec.The town is best known for the Basilica of Sainte-Anne-de-Beaupré. Also located nearby is the Canyon Sainte-Anne, which attracts visitors from all over.
First Chapel
The first chapel in Ste-Anne de Beaupré, dedicated to St Anne, was built here in the 17th c., quickly becoming a place of pilgrimage following reports of miraculous events. The original wooden building fell victim to a flood however, and in 1661 a new stone-built chapel was erected on the valley side. Fifteen years later it too was replaced.In 1872 a basilica was constructed at St-Anne, only to be destroyed soon afterwards in a fire. The present massive neo-Romanesque church, designed by the Parisian architect Maxime Roisin and completed in 1923, was the work of Louis Audet, a master-builder from Sherbrooke. Among the most pleasing features of the spaciously proportioned interior are the mosaics and colorful stained glass windows. However there are also fine sculptures and paintings by European and Canadian artists. Some services are held in the basement of the church.
Stations of the Cross
On the way up to the chapel on the hillside at Ste-Anne de Beaupre (this one built in 1878) the Stations of the Cross are marked by beautifully executed life-size metal figures. The altar dates from the 18th c. while the clock tower, designed by Claude Baillif, was already there in 1678.
Cyclorama
Painted in the 1880s this intriguing oddity in Ste-Anne de Beaupré, the Cyclorama, consists of a huge 360° panorama of Jerusalem on the day of the Crucifixion. It shows the places where Christ paused on the way to Golgotha.
Historial
Located on the large car park in front of the basilica the waxworks museum known as the Historial is dedicated to the cult of St Anne in North America and the history of the shrine at Beaupré.
Scala Santa
The Scala Santa Chapel (Chapel of the Holy Steps) was built in 1871. The steps are a replica of those which Christ mounted to be taken before Pontius Pilate.


Map of Ste-Anne de Beaupre Attractions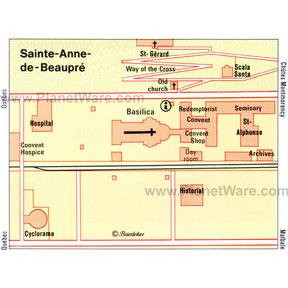 Map - Sainte-Anne-de-Beaupre