Ontario Attractions
Top Tourist Attractions in Ontario
The province of Ontario is the political, industrial and cultural heart of Canada and its second largest province, situated between Québec and Manitoba.
Northeastern Ontario
Northeastern Ontario is the region north and east of Lakes Superior and Huron. There are six cities and many smaller towns. This is a popular summer time area with great inland lakes and many summer cottages.
French River
French River, the 112 km / 70 mi long waterway between Lake Nipissing and Georgian Bay, is about an hour's drive south of Sudbury. A group of French "voyageurs" and missionaries, Samuel de Champlain among them, set off into the interior from here in 1620. Nowadays the river is very popular with canoeists, anglers, and outdoor enthusiasts generally.There are numerous fishing and recreational resorts along the river. Some of them are boat or float plane access only and offer complete packages for fishing, kayaking, or canoeing.Along the river is French River Provinicial Park with backcountry canoeing / boating campsites. The park is undeveloped and a great place to see wildlife.
Killarney Provincial Park
Also about an hour's drive from Sudbury, but to the south-west, lies the 363 sq. km / 140 sq. mi Killarney Provincial Park. This area bordering on Georgian Bay is still a part of the Canadian Shield, and includes the La Cloche mountains - sometimes snow capped even in early autumn. The Park is another much favored haunt of canoeists.
Map of Ontario Attractions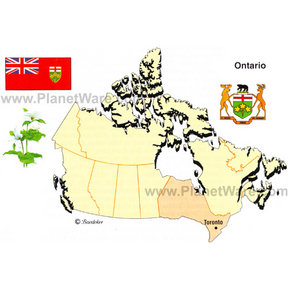 Map - Ontario