Promenadeplatz, Munich
Promenadeplatz (Kardinal-Faulhaber-Strasse)
Once Munich's salt market, Promenadeplatz, a long green space between the Frauenkirche and Dreifaltigskeitkirche, is today embellished with statues of the Prince Elector Max Emanuel, the composers Christoph Willibald Gluck and Orlando di Lasso and the Bavarian historian Lorenz von Westenrieder. The first two are by Friedrich Brugger (1848, 1861), the last two by Max von Widnmann (1849, 1854).Bounding the square on the north side are the elegant Hotel Bayerische Hof (in part the former Palais Montgelas) and the Kleine Komödie, a popular theater.
The palace, in mature Neo-Classical style, was built by Herigoyen for Count Maximilian Joseph von Montgelas, who is regarded as the creator of modern Bavaria (having preserved the independence of Bavaria between the two great powers, Austria and France, and established a central administration). In 1971-72 the palace was almost completely rebuilt and taken over by the Bayerischer Hof Hotel. Some rooms have survived in their original form.Gunetzrhainer-Haus, on the south side of the square, was built in 1730 for his own use by the then Court Architect.
Related Attractions
Archbishop's Palace
Outstanding among several fine buildings in Kardinal-Faulhaber-Strasse is the Archbishop's Palace (No. 7), an imposing Baroque mansion built by Cuvilliés the Elder in 1733-37 for Countess Holnstein, mistress of the Elector Karl Albrecht. It has a beautifully articulated facade, with a central balcony over the doorway, arched windows protected by grilles and circular windows on the ground floor. The stucco ornament (ascribed to J. B. Zimmermann) is less noteworthy than the Early Roccoco architecture of the facade.
Palais Porcia
The Baroque palace at Kardinal-Faulhaber-Strasse No. 12, now the premises of the Bayerische Vereinsbank, was built by Enrico Zuccali in 1693 for Count Fugger. Together with Montgelas-Palais and the Archbishop's Palace it gives this part of the city its distinctive character. It was the first building in Munich modeled on the Italian palaces of the Baroque period. In 1731 the Elector Karl Albrecht presented the palace to his mistress Countess Moravitzka, later Princess Porcia, and in 1736 François Cuvilliés remodeled it in Roccoco style.
St Salvator's Church
This Late Gothic brick church with its tall steeple was built by Lukas Rottaler in 1493-94. Originally the cemetery church of the parish of Unserer Lieben Frau (Our Lady), it is now the church of Munich's Greek Orthodox community. The churchyard, which was closed in 1789, contains the graves of Orlando di Lasso and François Cuvilliés. There are remains of Gothic frescoes in the Ridler Memorial Chapel on the north side of the church.
Map of Munich Attractions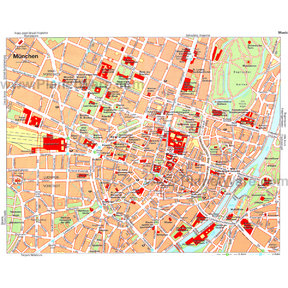 Munich Map