Queen's House, London
Queen's House is a building of great interest in its own right. A Palladian mansion, designed by Inigo Jones - imitated in many other houses of the period but never equalled - it is a masterpiece of Classical architecture, notable for its symmetrical proportions, harmoniously contrived detail and finely executed marble floors, wrought-iron ballustrades and carved and painted ceilings. The house, begun in 1617, was commissioned by James I as a residence for his wife, Anne of Denmark, but was abandoned after her death. In 1629 Charles I had it completed by Inigo Jones for his wife, Henrietta Maria. The latter, who had fled during Cromwell's domination, returned to the palace in 1660. With Greenwich Park as its garden Queen's House epitomises the entire art form of royal residences. After six year's renovation, which cost five million pounds, Queen's House was reopened in May 1990.This was the first Renaissance building in England.
Important Information:
Address:
Romney Road, Greenwich SE10 9NF, England
Opening hours:
10am-5pm
Always closed on:
Christmas - Christian (Dec 25), Christmas Eve - Christian (Dec 24), Day after Christmas, St Stephen's Day, Boxing Day (Dec 26)
Useful tips:
Last admission is 30 minutes before closing.
Transit:
BritRail: Maze Hill.
Related Attractions
National Maritime Museum
The impressive collection of the National Maritime Museum illustrates the history of the British Navy from Tudor and Stuart times to the period of the Napoleonic Wars. The collections of the National Maritime Museum, the most comprehensive of their kind in the world, are housed in the two side wings of Queen's House. These, which are connected by colonnades to the main building, were added between 1805 and 1816. Until 1933 they accommodated the Royal Hospital School for the children of mariners; the museum was opened in 1937.The paintings in the museum form a small art gallery in their own right. They include seascapes by Van de Velde, William Turner and Muirhead Bone, and portraits of famous seamen by leading artists (Godfrey Kneller, Peter Lely, Wilhelm Hogarth, Joshua Reynolds, Thomas Gainsborough and George Romney).The National Maritime museum underwent a massive expansion leading up to the year 2000, as well as some ongoing renovations post 2000.
Queen's House Pictures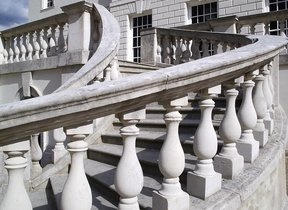 Map of London Attractions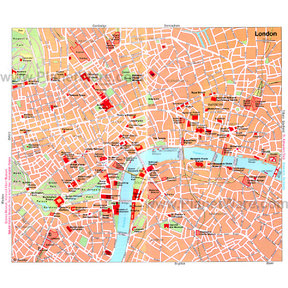 London Map