Uluru-Kata Tjuta (Ayers Rock) National Park
126,132haIn 1872 a surveyor called Ernest Giles became the first white man to see the rock. A year later it was more thoroughly surveyed and climbed by William Gosse, who named it after Henry Ayers, prime minister of South Australia.Until the end of the Second World War only a few curious visitors came here by camel, guided by local cattle drivers. In 1948 it became accessible by road; the influx of tourists grew and a number of motels and camp sites were opened close to the rock. In 1948 these were demolished and a new tourist center with its own airstrip, Ayers Rock Resort, was established 20km away.
Address:
Box 119, Yulara, NT 0872, Australia
Opening hours:
Mar 1 to Mar 31:
5:30am-8:30pm
Apr 1 to Apr 30:
6am-8pm
May 1 to May 31:
6am-7:30pm
Jun 1 to Jul 31:
6:30am-7:30pm
Aug 1 to Aug 31:
6am-7:30pm
Sep 1 to Sep 30:
5:30am-8pm
Oct 1 to Oct 31:
5am-8pm
Nov 1 to Nov 30:
5am-8:30pm
Entrance fee in AUD:
Adult $25.00, Child 16 & under FREE
Useful tips:
There are daily scheduled flights to Connellan Airport, 6km from Ayers Rock Resort. For individual travelers access is on the Stuart and Lasseter Highways, turning off at Erldunda. The road is asphalted all the way (c 450km from Alice Springs); even the notorious corrugated track between Ayers Rock and the Olgas has been straightened and asphalted. Admission is valid for three consecutive days. Parts of the park may be closed for cultural activities on occasion.
Transit:
Country buses and excursion buses from Alice Springs.
Related Attractions
Ayers Rock (Yulara) Resort
The Ayers Rock tourist center was designed by Philip Cox. It is laid out on an S-shaped plan, with a luxury hotel at each end and shops, a visitor center, restaurants, an amphitheater, a motel and a large caravan/camping park between them. The long, low buildings, ochre-colored, fit well into the surrounding landscape.Ayers Rock Resort was opened in 1984, replacing the miscellaneous tourist facilities that had grown up immediately at the foot of Ayers Rock (called Yulara officially, until 1992). The resort can accommodate up to 5000 visitors a day. The water supply is drawn from underground rivers, with a desalination plant to make it drinkable.The visitor center has displays and audiovisual presentations on the culture and mythology of the Aborigines and the wild life, landscape and geology of Uluru National Park. It also organizes tours of the resort and various tours led by rangers of the Australian National Parks and Wildlife Service (ANPWS). There are also bus trips and helicopter flights to Ayers Rock.
More Uluru-Kata Tjuta (Ayers Rock) National Park Pictures
Map - Uluru-Kata Tjuta (Ayers Rock) National Park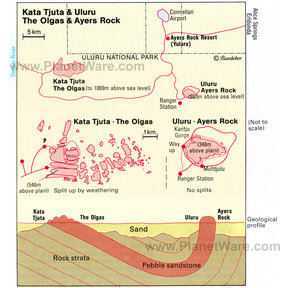 Map - Kata Tjuta, Uluru, The Olgas, & Ayers Rock