New Parliament House, Canberra
The new Parliament House (reached by way of Kings Avenue or Commonwealth Avenue) nestles into Capital Hill rather than dominate it. It was designed as the final fulfillment of Burley Griffin's vision of 1912. In order to fit it into its site the top of Capital Hill was leveled off. An international competition for the design of the new building was won by a New York architect, the foundation stone was laid in 1979 and Parliament House was formally opened by the Queen on May 9th 1988, the 200th anniversary of the landing of the First Fleet.
Address:
Parliament House, Canberra, ACT 2600, Australia
Opening hours:
9am-5pm
Always closed on:
Christmas - Christian (Dec 25)
Useful tips:
Open on sitting days from 8:30am to 5pm.
Guides:
Guided tour available as optional extra.
Map of Canberra Attractions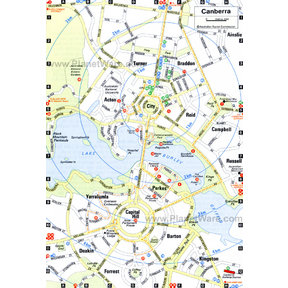 Canberra Map
More Canberra Attractions
Popular Destinations Nearby