Stonehenge, Amesbury
Stonehenge is situated 2mi west of Amesbury, 10mi/16km north of Salisbury on the dry chalk elevation of Salisbury Plain, and is Britain's most famous megalithic monument. Together with Woodhenge, the Cursus and other long barrows and round tumuli, it covers a sacral site of some 7.7sq.mi/20sq.km. Stonehenge ("hanging stones") was built in three phases from about 3000-1500 B.C. The stone circles visible today date from the Bronze Age, the final building phase.
Important Information:
Opening hours:
Mar 16 to May 31:
9:30am-6pm
Jun 1 to Aug 31:
9am-7pm
Sep 1 to Oct 15:
9:30am-6pm
Oct 16 to Mar 15:
9:30am-4pm
Always closed on:
New Year's Day (Jan 1), Christmas Eve - Christian (Dec 24), Christmas - Christian (Dec 25), Day after Christmas, St Stephen's Day, Boxing Day (Dec 26)
Entrance fee in GBP:
Family £12.50, Adult £5.00, Concession or reduced rate £3.80, Child £2.50, Child 4 & under FREE, Group discounts FREE
Useful tips:
Family ticket (2 adults, 3 children) Overseas visitor pass holders free.
Disability Access:
Partial facilities for persons with disabilities.
Guides:
Taped tours for rent.
Facilities:
Gift shop, Restaurant or food service
Transit:
Bus: Wilts & Dorset 3 Salisbury-Dorset
Stonehenge appears to have continued to exist until the Roman era, and was then presumably violently destroyed - whether during the Roman occupation as a measure against the cult of the Druids, or not until the Middle Ages, to prevent the continuance of secret heathen cults, remains unclear. This puzzling phenomenon has inspired various artists, including William Turner and Henry Moore, to create remarkable interpretations of the hanging stones.To stop streams of visitors from destroying the site, Stonehenge can now only be viewed from a distance.Building PhasesOnly the gently-curving, originally 6ft/2m tall enclosing earthwork (diameter 374ft/114m) dates from the first building phase, which occurred from approximately 3000-2100 B.C. The earthwork was surrounded by an outer ditch, originally about 6ft/2m deep, and its entrance was marked by two stone blocks. A short distance from the entrance was the Heel Stone and a free-standing wooden gateway. Around the inner side of the circular earthwork lay a ring of 56 holes, named Aubrey holes after John Aubrey who discovered them in the 17th century. These were used for some centuries as burial sites. The four Station Stones could have been added at the end of this building phase.With the arrival of new settlers from the Beaker culture between 2100 and 2000 B.C., the entrance area was extended, parts of the avenue were laid down and the Heel Stone was bordered with a magic circle. Inside the earthwork four-ton bluestones, brought from Wales, were positioned in two circles of about 6ft/1.8m in diameter, the work stopping, however, halfway through.In 2000 B.C., in the early Bronze Age, construction continued using lavish material and an enormous workforce drawn from various social classes. Sandstone blocks, weighing up to 50 tons, were transported to the site from Marlborough Downs, 22mi/35km away. Used in place of bluestones, they were fitted together into five massive trilithons, the middle one 23ft/7m high, the others about 3ft/1m lower, to form the horseshoe-shaped center of the place of worship. This was enclosed by a lower stone circle, about 14.5ft/4m high, composed of 30 sandstone blocks, each approximately 25 tons in weight, with a surrounding entablature of stone slabs, each several feet thick.Some time later an attempt was made to arrange the remaining bluestones into two circles on the outside of the sandstone ring, to which ditches, called Y and Z holes, were dug out. Nothing ultimately came of this plan.Stonehenge gained its present appearance in about 1500 B.C., when the internal horseshoe-shaped trilithon arrangement was mysteriously repeated with a horseshoe of individually positioned bluestones and a central altar stone. The sandstone circle was given concentric stela-like bluestones.Building TechniqueThe megalithic structure at Stonehenge shows evidence of great differences in its origin and its construction. The bluestones (a type of basalt) came, according to geological research, from the Preseli Hills in southwest Wales. Their journey covered a distance of 135mi/216km by sea, using boats reliant on sea and river tides, and by land. The massive sandstone boulders (sarsens) were moved across hilly land at an altitude of 394ft/120m-591ft/180m on enormous sledges using rollers, and dragged by about 250 men (on hillsides up to 1,000 men) using ropes made from cowhair or woven strips of leather. All the stones were then worked on in front of the site. The sides of the upright stones, which were supposed to point inwards, were smoothed with stone-working tools. The lintels were slightly curved to fit the circular shape of the construction. Mortises for tenons and tongue-and-groove joints were fitted at either end to attach them to the uprights. The massive uprights were then rolled to a prepared hole, tipped in using levers and gradually straightened with the use of ropes, levers and supports. The upper edge was finally smoothed to requirements with stone-working tools and a stone tenon left, on to which the lintel could then be attached. The lintels were slowly raised on permanent timber platforms around the uprights and placed on the tenons.MeaningWhy people living 4,000 years ago built this place of worship with the use of so much powerful strength and organization remains a secret. In trying to solve this puzzle, archaeologists have put forward numerous controversial theories. It has been interpreted, among other things, as a religious center used in the cult of the sun because of the exact alignment of the temple with the summer and winter solstice, as a "Stone Age computer" through which astronomical phenomena could be observed and determined, and as a secret lines of force and energy center. The most plausible appears to be a link with the cult of the dead and with sun worship, if one brings into connection the circular formation of the sacral site with the shape of the sun, an ancient symbol of decline and resurrection.The National Trust owns 1450 acres of downland surrounding Stonehenge. The National Trust Shop in Salisbury has leaflets with recommended walks and archeological information for sale.
More Stonehenge Pictures
Map - Stonehenge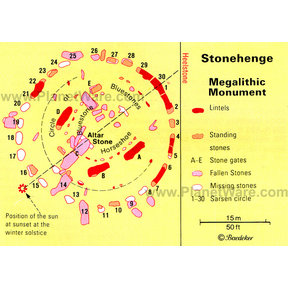 Map - Stonehenge
Popular Destinations Nearby