Top-Rated Tourist Attractions in Beijing
Beijing lies in the northwest of the North China Plain, not far from the western slopes of the mountains of Yanshan, and about 150km/93mi from the Bo-Hai Sea.A dense network of roads, railroads and airways connects Beijing with China's other major cities.Beijing, an autonomous city with the status of a province, is not only the political center of the country, it also plays an outstanding part in the nation's cultural, economic, scientific and academic life. Many trading and industrial firms are situated here. The most important educational and cultural institution include: nine colleges for the various sciences, the Academica Sinica, several universities (including the University of Peking founded in 1898; the University of Qinghua founded in 1911, and the People's University founded in 1950), technological universities, numerous colleges and institutes (in particular the Central Institute for Nationalities and the College for Foreign Languages), and research establishments, as well as museums and libraries (including the Beijing University library with its ten million volumes and 22,000 periodicals), also the planetarium and the zoological and botanical gardens.About 97 per cent of Beijing's population belong to the Han race, but also included are Hui, Manchurians, Mongolians; other ethnic minorities also live here.From the point of view of the tourist, Beijing is China's most interesting city. Among the city's historical and cultural monuments are the Imperial Palace, the Beihai Park, the Coal Hill Park and the Heavenly Temple.
Western Mountains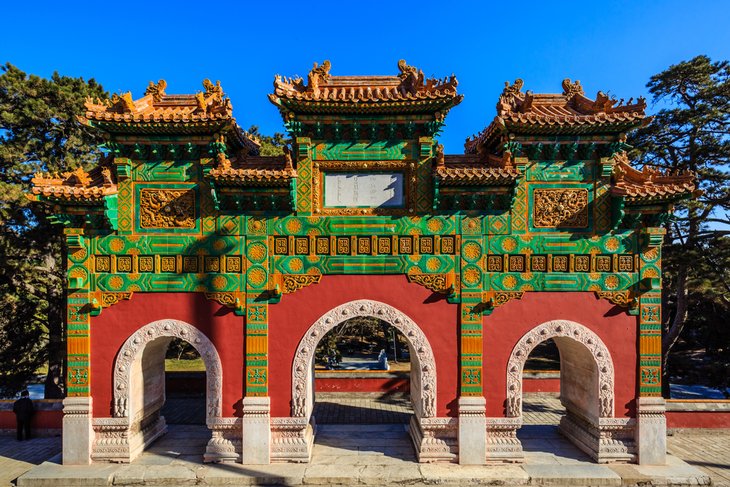 Fragrant Hill Bridget Coila
The Western Mountains, located in the Taihang Mountains, include Fragrant Mountain, numerous temples, and the pleasant Gardens of the Cherry Ravine.